Make your next date night a three-day, two-night tropical getaway onboard the Margaritaville at Sea Paradise, a one-of-a-kind cruise blending Margaritaville's fun, escapism lifestyle with a carefree sail to The Bahamas. This floating island vacation is a perfect way to escape with a loved one – or an entire crew – with an itinerary just long enough to unwind, but short enough not to eat away your precious vacation time. And with 10 passenger decks packed with plenty of food, fun, frozen concoctions, and entertainment, you're sure to discover a newfound passion, try a new favorite dish, or find your serenity at sea.
Comforts at Sea
Spacious inside and oceanview staterooms and luxurious Grand Terrance Suites aboard the Margaritaville at Sea Paradise offer private retreats dressed in nautical details and colors inspired by the sea, sand and sky. Each stateroom is crafted to ensure a comfortable and cozy journey to and from Grand Bahama. Amenities include queen-sized beds, airy lounge areas, and room service from 2 p.m. until 2 a.m.
Dining and Refreshment
Satisfy your appetite throughout your voyage at five distinct dining venues. JWB Prime Steakhouse is an upscale restaurant that pairs casual elegance with island charm and serves a culinary delight of dishes made with the highest quality ingredients. For a more casual experience, grab your favorite pizza on the high seas at Frank & Lola's Pizzeria. Fins Dining is the main dining room where guests can recount tales from their daily adventures over dinner and cocktails. If you need a break from making decisions, head for the Port of Indecision Buffet and try a little bit of everything. And any time is a good time to stop by the 5'oClock Somewhere Bar & Grill. This high energy, indoor-outdoor restaurant serves up those famous cheeseburgers, drinks, and coastally inspired eats paired with gorgeous ocean views.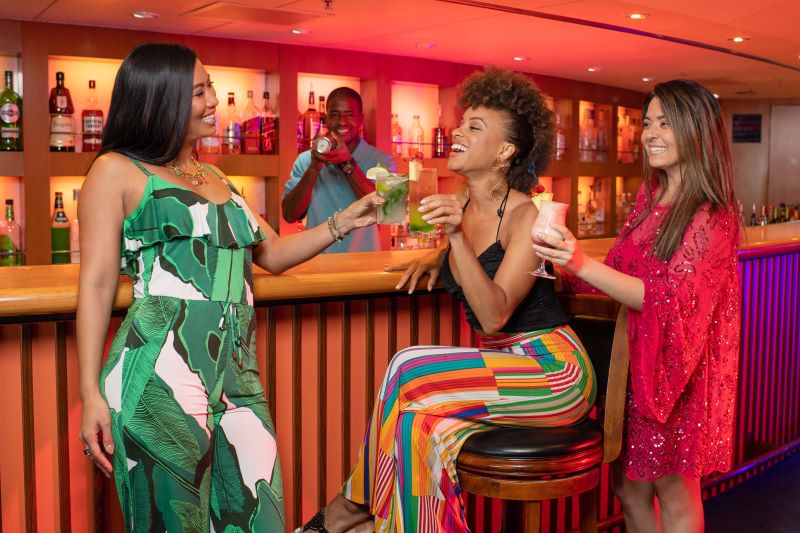 Whether you came for relaxation, a celebration or just some much-needed vitamin sea, there is a perfect drink pairing for the occasion. Bars and entertainment lounges onboard provide endless excitement paired with premium libations.
Find your vacation state of mind in the inviting atmosphere of Euphoria Lounge, dance the night away in the Oasis Room or act like a kid again at The Hangout, the highest spot to chill on Margaritaville at Sea Paradise with pool, darts, skee-ball and vintage arcade games. Those long, entertaining nights will likely lead you to the Margaritaville Coffee Shop, where they serve all-day essentials of hot and cold beverages and tasty bites.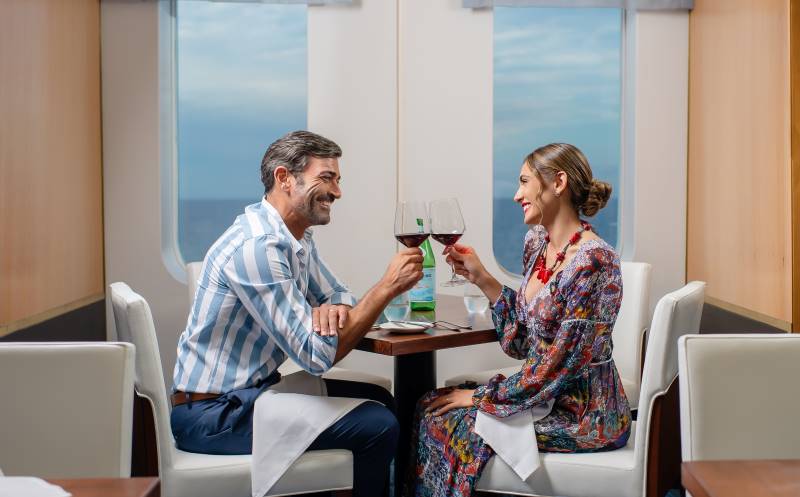 Entertainment
A whole world of non-stop entertainment awaits, including an exclusive Jimmy Buffett production. Tales from Margaritaville: Jimmy's Ship Show is a musical odyssey to the islands written and produced by Jimmy Buffett and Frank Marshall. You'll also discover talented musicians, late-night comedy, game shows for the whole family, streaming concerts, themed parties, kids programming and more aboard the Margaritaville at Sea Paradise.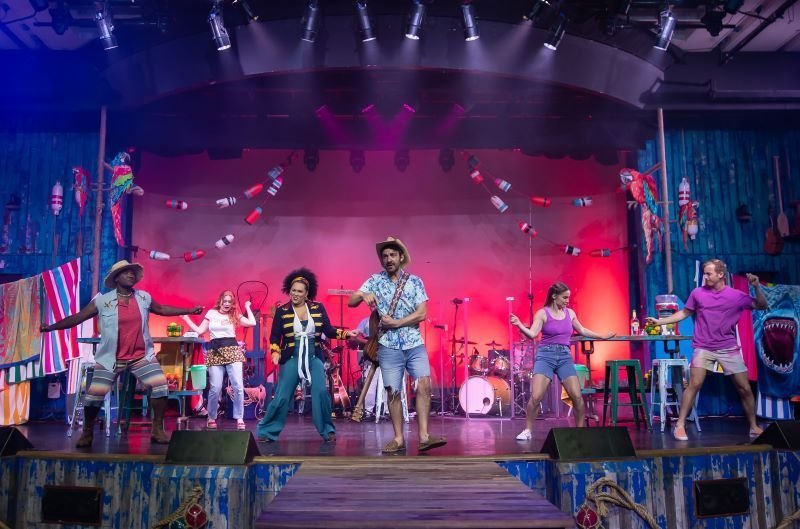 Island Excursions
Once you arrive at Grand Bahama Island, the fun follows you ashore. Onshore excursions include dolphin encounters and swimming, snorkeling with sea turtles, and lazy beach days at the gorgeous Viva Wyndham Resort or Taino Beach Resort. And swimming with the famous pigs of The Bahamas, of course! Margaritaville at Sea even offers unique 4- or 6-night Cruise-and-Stay packages, so you can extend your island time at one of their all-inclusive partner resorts – it's like getting two vacations in one.
License to Chill
Make it a date to truly remember by adding a little something extra special to your voyage. The License to Chill package offers a variety of add-ons for an unforgettable experience. Designed for two, the package includes a dinner at JWB Prime Steakhouse, special seating at Fins Dining Room, sparkling wine breakfast at JWB Prime Steakhouse each morning, reserved seating at Stars on the Water Theater as well as a special stateroom welcome, spa service for two, wine tasting, Wi-Fi access, express check-in and disembarkation at the port and more.
A fun-filled day ashore should certainly be paired with a relaxing day at St. Somewhere Spa and Salon, a full-service space offering state-of-the-art techniques and personalized experiences for the ultimate in relaxation. However, if it's more excitement you're after, place your bets at the Casino Margaritaville, offering everything from thrilling table games to slot machines.
For those needing a little more one-on-one time without the kids, Margaritaville at Sea Paradise offers kids' clubs for all ages with entertainment and supervision provided by qualified youth counselors so you can truly escape and relax while onboard.
It may only be a quick getaway, but a stay onboard the Margaritaville at Sea Paradise will get you in that island state of mind in no time.
To book your Margaritaville at Sea getaway, visit MargaritavilleatSea.com or call 800-814-7100.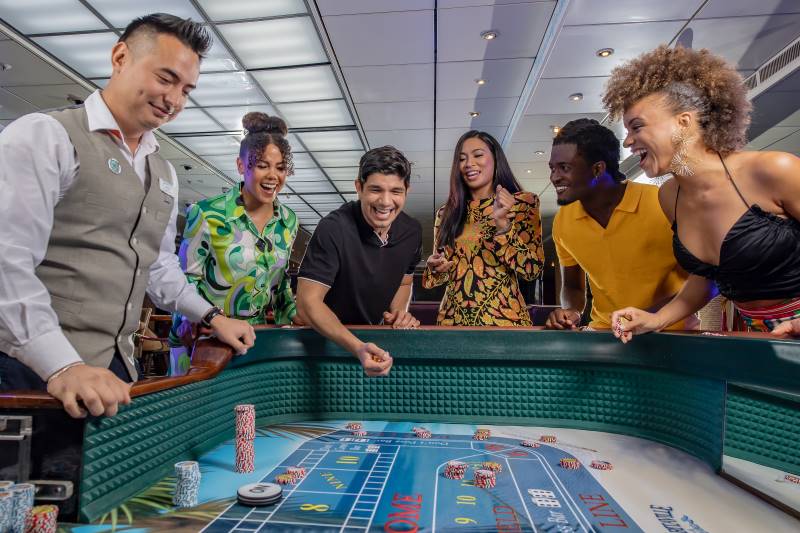 ---
More Getaway Ideas: Our Favorite Romantic Weekend Getaways from Orlando