The EPCOT International Food & Wine Festival is back at Walt Disney World! This flavorful food fest features tapas-sized sips and bites spanning six continents. The variety of offerings can feel overwhelming. So, we've come up with a few fun itineraries to help guide your culinary journey.
Whether you're a picky eater or a full-fledged foodie, you're sure to find something new to enjoy at the EPCOT Food & Wine Fest. This year's festival runs from July 14 to November 19, 2022 so let's dive in!
If you love to push the culinary envelope and try bold, unexpected flavor pairings, try these favorite bites and sips.
Kenya: Kenyan Coffee Barbecued Beef Tenderloin with Sweet-Potato-and-Corn Mealie Pap and Kachumbari Slaw ($6.00)

Flavors from Fire: Banh Mi Bao with char-grilled Asian skirt steak, chicken liver aïoli, pickled vegetables, and cilantro ($5.75)

France: Brioche aux Escargots, Sauce Crème à l'ail et Persil ($7.25)

India: Chicken Tikka Masala with Fennel-spiced Yogurt and Naan Bread ($6)

India: Mango Lassi with Somrus Chai Cream Liqueur (a rum-based liqueur with hints of exotic cardamom, almond and rosewater, $11)

Japan: Takoyaki: Octopus, green onion, and cabbage bites topped with tonkatsu sauce, bonito flakes, and nori ($8.50)

The Alps: Warm Raclette Swiss Cheese with riesling-poached pears, red wine-braised figs, candied pecans, honey, and cranberry toast ($5.50)

The Noodle Exchange: all of the options are great, but I especially love the Thai Shrimp and Coconut-Curry Rice Noodles with shitake mushrooms and Thai basil

($6.50)

Shimmering Sips: Berry Sour Ale Mimosa with Boulevard Brewing Co. Berry Noir Sour Ale and Sparkling Wine ($9)

The Fry Basket: Fry Flight ($7.50). This brand new festival offering includes three types of gourmet fries: sea salt and malt vinegar, barbecued bacon fries with smoked aioli, and sweet potato casserole fries with candied pecans, toasted marshmallow cream, and caramel whiskey.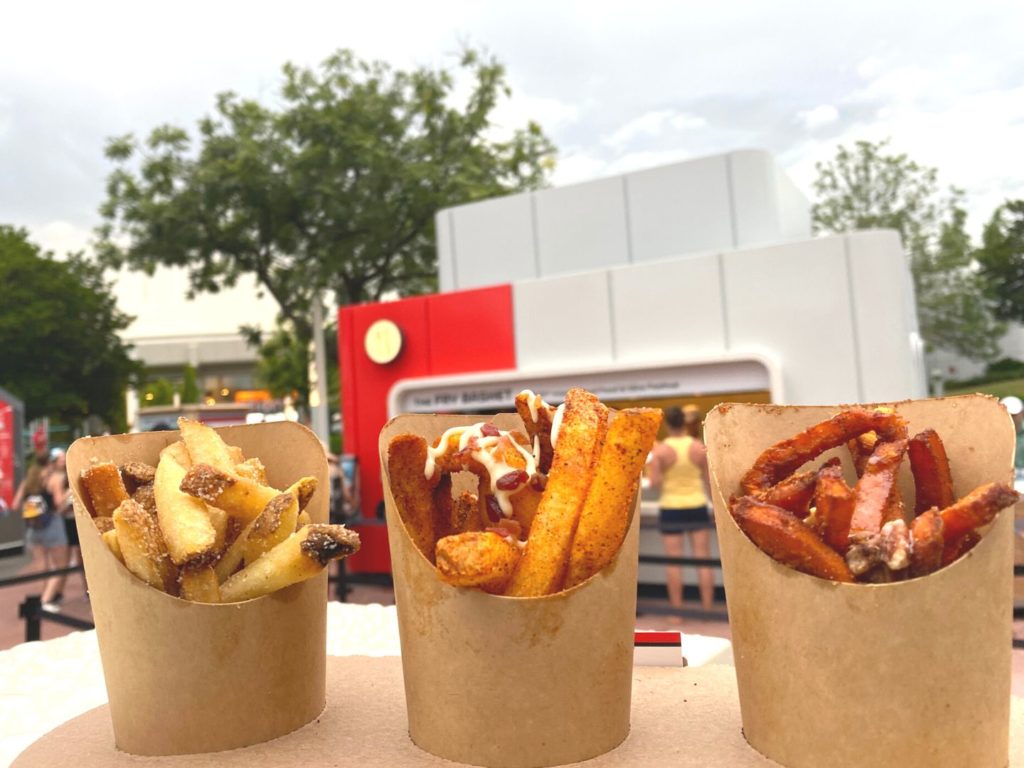 Hot noodles at The Noodle Exchange during Florida's epic summer heat may be a weird choice. And yet, the dishes at this booth are totally worth it. The festival does run until mid-November, so maybe cooler weather will kick in before the festival is up.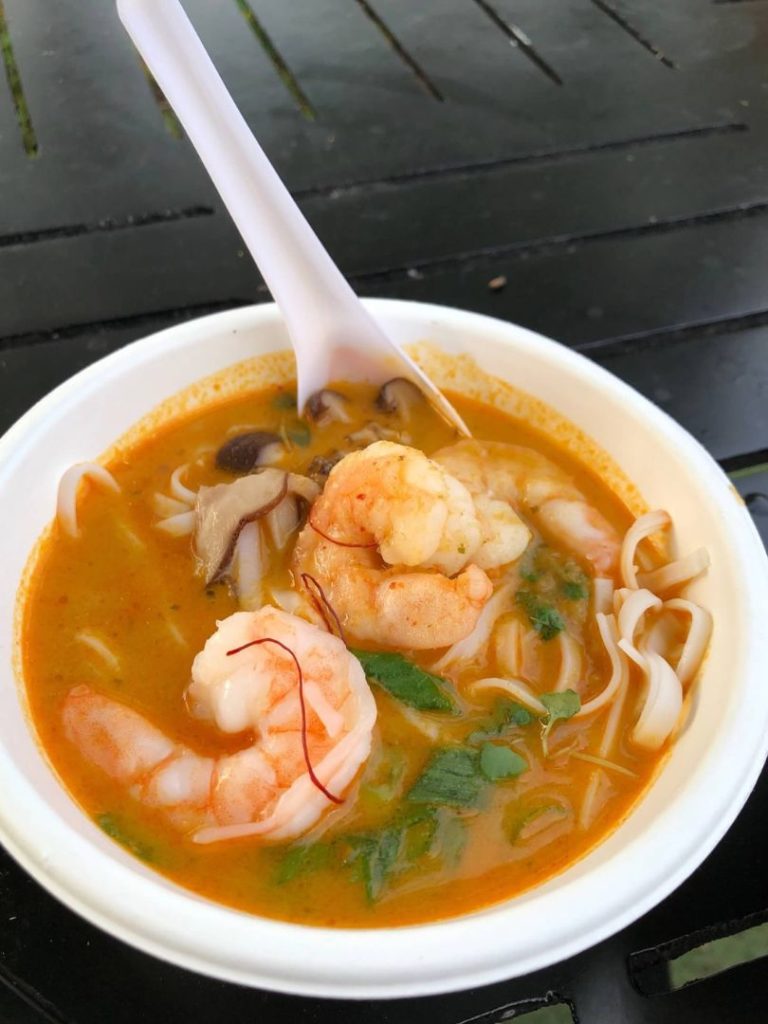 Bonus points if you dare to try the Swine Brine ($11), a drink that is as visually bizarre as its ingredient list. The cocktail is made with Jim Beam Bourbon, mustard, lemon juice, and apple cider, all topped off with a piggy wing. I wouldn't consider the Swine Brine a "best of the fest" kind of drink, but if you love trying unusual menu items, this is undoubtedly one of the most surprising drinks available at this year's Food & Wine Festival. Find it at Flavors from Fire, near Test Track.
Other unusual picks: Sticky Wings with Peanut Sauce and Grape Gel ($7.50, Brew-Wing at the Odyssey), Piri Piri Skewered Shrimp with citrus-scented couscous ($6.75, Kenya), Crispy Paneer with mango-curry ketchup ($5, India), Stone-baked Moroccan Bread with hummus, chermoula, and zhoug dips ($5, Morocco), and Dole Whip Watermelon (YEP, $5.25, Refreshment Outpost).
Round out your adventurous Food & Wine Festival date with interesting beer, wine, or cider picks. Try fun local brews like Playalinda Brewing Caramel Apple Pie Ale (Appleseed Orchard) or try brews from around the world, like Playalinda Brewing Company Ginger and Elderberry Ale (Tangierine Cafe) or Schöfferhofer Pineapple Hefeweizen (Germany). Most festival beers and ciders come in two sizes: get a 6 oz. pour for $5, or a 12 oz. pour for $9. We recommend trying a beer flight for maximum flavor impact!
Plus, don't sleep on the Refreshment Outpost, which has full sizes of Florida-brewed Key Lime Kölsch, Allspice Hard Cider, and Nairobi Coffee Dark Beer.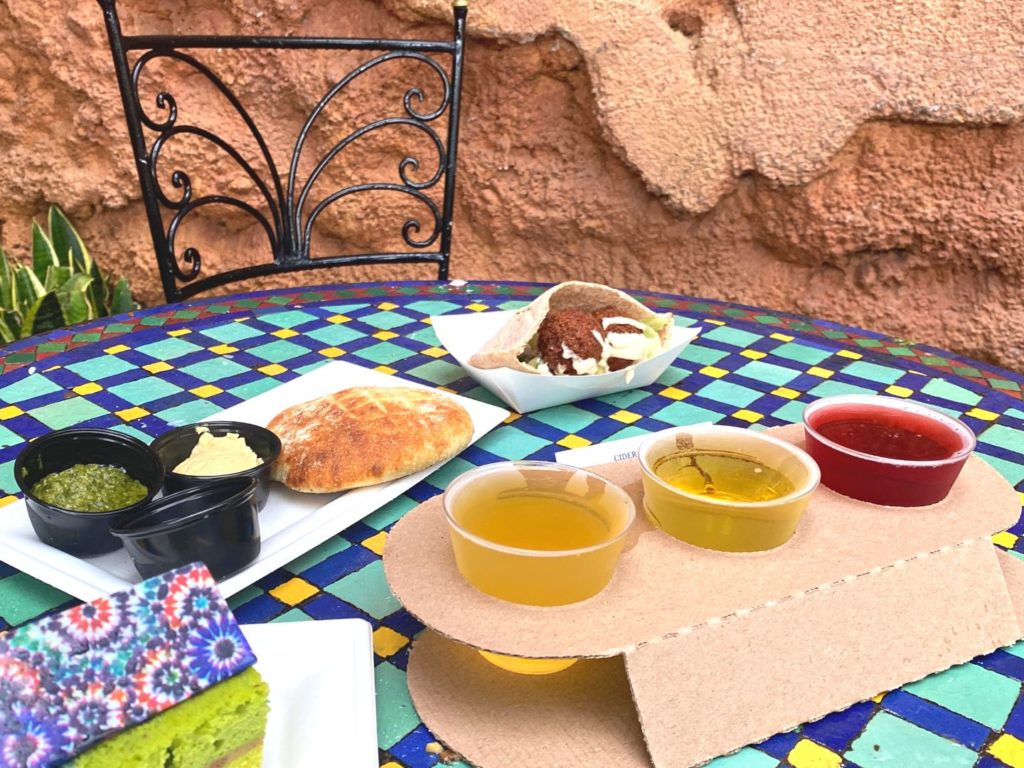 Whether you follow a plant-based diet, or you just want to try something new, you'll find plenty of flavorful plant-based dishes at this year's Food & Wine Festival.
Earth Eats: Impossible Meatball with Herbed Polenta, Rustic Puttanesca Sauce, and Basil Pesto ($5.75)

Earth Eats: The Impossible Burger Slider with Wasabi Cream and Spicy Slaw on a Sesame Seed Bun ($6)

The Fry Basket: Adobo Yuca Fries with Garlic-Cilantro Aïoli ($5.50)

India: Potato and Pea Samosa with Coriander-Lime Cream ($5.25)

Tangierine Cafe (Morocco): Fried Falafel Pita with Tahini Sauce ($5.25)

Brew-Wing at the Odyssey: Crispy Brussels Sprouts with Buffalo Sauce ($5)

The Noodle Exchange: Tofu Pho with Mushrooms and Thai Basil

($5.50)

Shimmering Sips: Guava Mousse on a Sugar Cookie with Coconut-Lime Whipped Cream ($4.75)
The Impossible slider is a festival classic, and the yuca fries and crispy brussels sprouts are the new breakout stars of this year's plant-based lineup. Of course, these are just a few of our favorites. Find even more plant-based dishes throughout the festival by looking for the green leaf symbol on menu boards or in your festival passport. These items are all made without animal meat, dairy, eggs, and honey.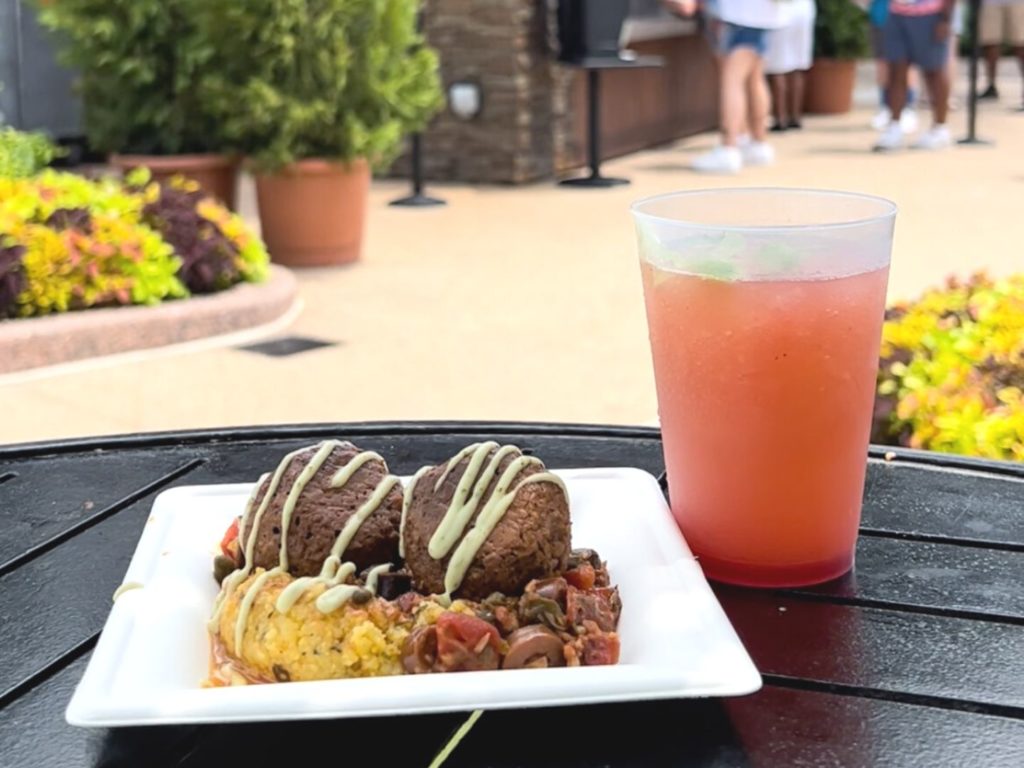 For food allergies and other dietary needs, be sure to check with the chef at each location when you place your order.
If you prefer to keep it simple, this list is a great place to start! Featuring plenty of cheesy goodness and classic, no-frills dishes, even the pickiest eaters can find something to enjoy here.
Belgium: Belgian Waffle with Berry Compote and Whipped Cream or Chocolate Ganache and Whipped Cream ($5)

Brazil: Pão de Queijo: Brazilian Cheese Bread ($4.75)

Canada: Canadian Cheddar and Bacon Soup served with a Pretzel Roll ($5.75)

Canada: 'Le Cellier' Wild Mushroom Beef Filet Mignon ($9.25)

China: ByeJoe Punch: Chinese BaiJiu Spirit, Piña Colada Mix and Lychee ($12.50)

China: Mongolian Beef Bao Bun ($7.25)

Earth Eats: Strawberry Freeze featuring Twinings® Lemon & Ginger Herbal Tea ($6 or try it with Ketel One Botanical Cucumber & Mint Vodka for $11)

France: Beignet aux Trois Fromages: Warm Beignet filled with a 3-Cheese Blend ($6)

France: Crème Brûlée Vanille à la Confiture de Framboises: Vanilla Crème Brûlée with House-Made Raspberry Jam ($5.95)

Germany: Apple Strudel with Vanilla Sauce ($4.25)

Hawaiʻi: Kālua Pork Slider with Sweet-and-Sour DOLE® Pineapple Chutney and Spicy Mayonnaise ($5.75)

Shimmering Sips: Tropical Mimosa ($6.50) or try the Mimosa Flight, with tasting sizes of the Tropical, Key Lime, and Blood Orange mimosas for $14

The Fry Basket: French Fry Flight ($7.50). Yep, this flight's so good, it made the list twice! Picky eaters might not like all three types of fries included in this flight, but odds are, you'll like at least one of the three! This is a great low-risk way to try something new, without compromising your wallet.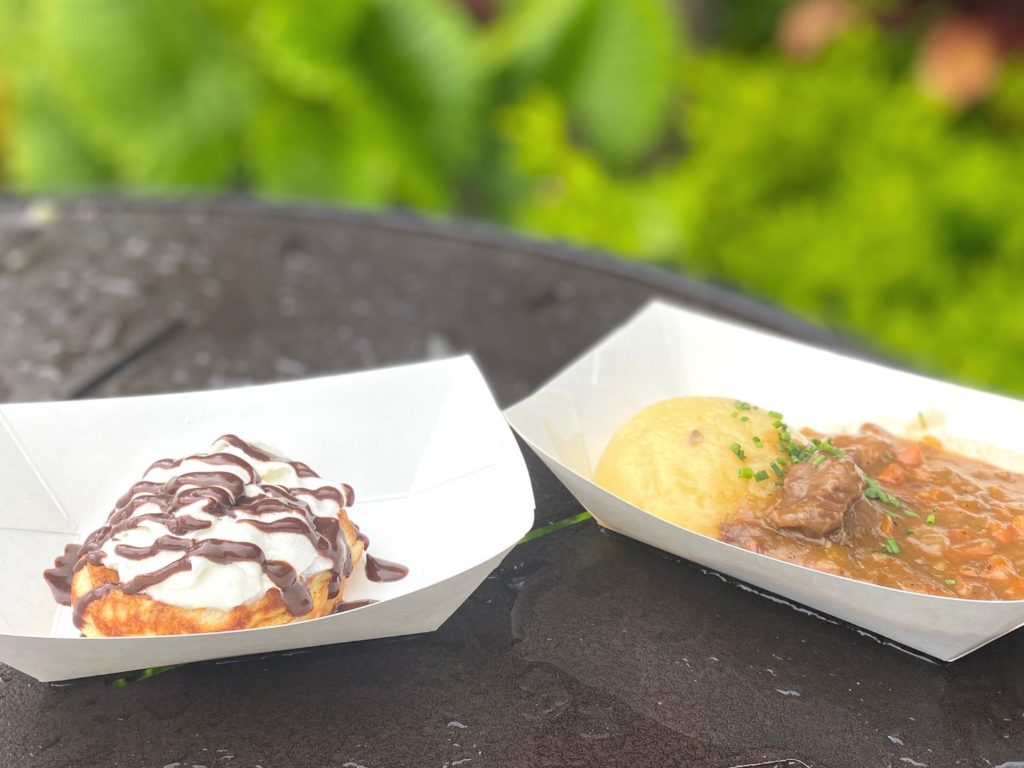 Incidentally, several of these dishes are included in Emile's Fromage Montage, a cheese-themed food crawl. You purchase specific menu items, collect stamps in your festival passport, and redeem your completed passport for a free treat!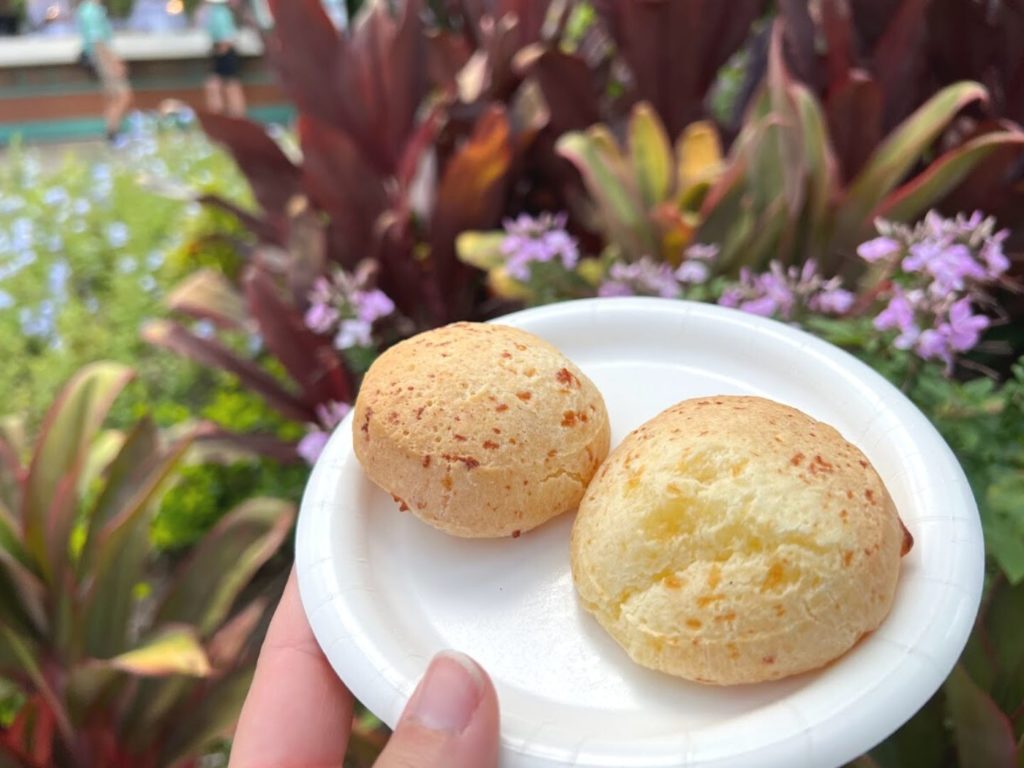 For more on Emile's Fromage Montage, check out our top eats and drinks for couples, which has the full food crawl lineup and even more great recommendations to help you plan your visit to the EPCOT Food & Wine Festival.
Traveling with kids? Head over to our sister site, Tampa Bay Parenting, for more menu recommendations and ways to maximize the fun for miniature world travelers.