Sometimes you just want a quiet night out with your date to inspire intimate conversation and high-quality one-on-one time. Orlando may have an abundance of bustling, high-energy restaurants to choose from, but there are also a variety of relaxing and cozy spots to dine. These quiet restaurants vary from upscale dining to casual lunch dishes and international cuisine.
No matter what you're in the mood for, you'll be able to enjoy a relaxed atmosphere and quiet evening with your date. These are the go-to quiet restaurants in Orlando off the beaten path for a super chill date night.
Best Quiet Restaurants for Date Night:
The Waterfront
Athena's Roasted Chicken
Jumbo Asian Cuisine & Sushi
The Grill at Grande Vista
Hourglass Social House
Orchid Thai Cuisine
Wine Bar George
Steak on Fire
Anthony's Coal Fired Pizza & Wings
Casual and Quiet Restaurants in Orlando
The Waterfront 
Location: 4201 S Orange Ave, Orlando, FL 32806
At The Waterfront, you will truly feel like you're grabbing a bite to eat in a cozy beach town. This laid-back bar & grill is nestled on Lake Jennie Jewel, minutes from the SoDo district. The water views and chill atmosphere make this spot feel so relaxed and coastal. For a more quiet and intimate dining experience, make sure to utilize the outdoor lakefront seating area. 
The Waterfront serves modern American cuisine with a seafood focus, and tropical cocktails that will make you forget that you're not at the beach.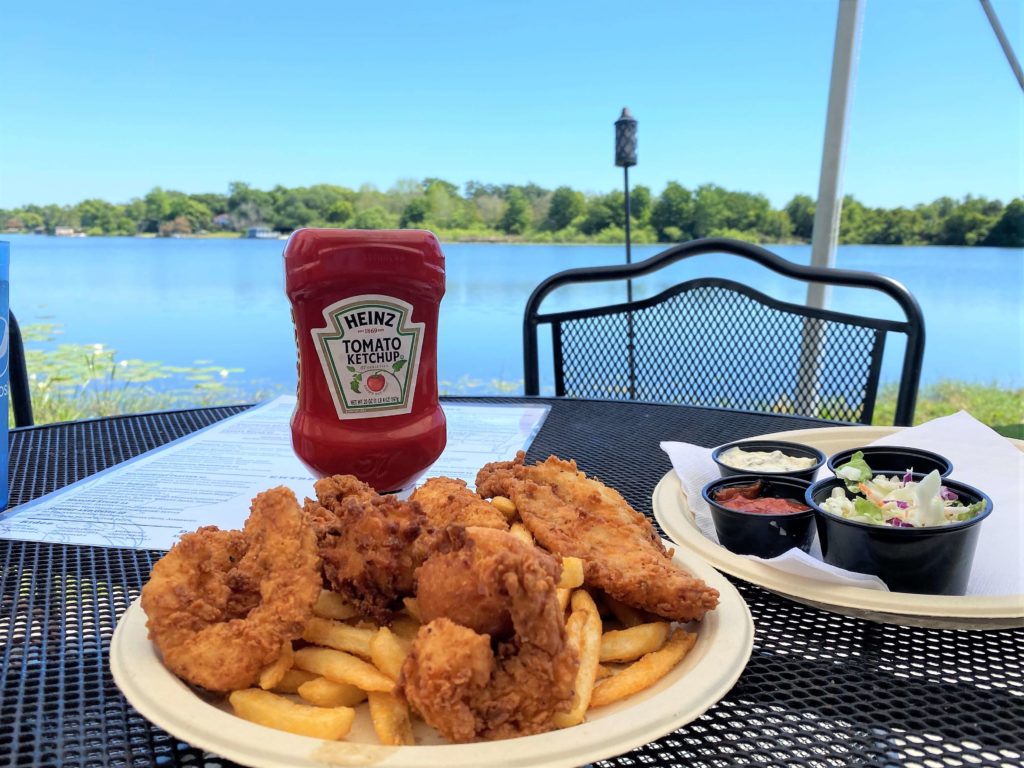 Athena's Roasted Chicken
Location:  487 S Orlando Ave, Maitland, FL 32751
Athena's Roasted Chicken is my favorite hidden gem in the Maitland area. This restaurant oozes nostalgia for me–my family used to always stop by here for a dinner that was easy, insanely quick, yet very hearty and filling. Athena's offers fresh (never frozen) roasted chicken platters cooked with traditional Greek flavors. The environment is always casual and quiet, perfect for a low-key date with delicious food. 
Pro-tip: you have to try the roasted potatoes side dish and grab baklava for dessert. They never disappoint. 
Jumbo Asian Cuisine & Sushi 
Location: 7798 Winter Garden Vineland Rd # 108, Windermere, FL 34786
Jumbo Asian Cuisine & Sushi is one of the best restaurants in Orlando if you're in the mood for sushi, but don't feel like going to an upscale, expensive place. Their dishes have the same fresh quality as high-end, luxurious sushi restaurants, but the atmosphere is super casual and subdued. One of the best quiet restaurants in Orlando. The service at this spot is always efficient and friendly, and the variety of Asian dishes on their menu is incredible. 
This restaurant is also a few miles from Disney World property, so it's the perfect spot to have a relaxed dinner after a tiring day at the theme parks. My go-to dish is the spicy chicken sushi roll with an appetizer of coconut shrimp dipped in apricot sauce.
The Grill at Grande Vista
Location: 12001 Ave Verde, Orlando, FL 32821
The Grill is located directly in front of Marriott's Grande Vista Resort, a luxurious golf retreat on the Southwest side of Orlando. You don't have to be a resort guest or golf club member to enjoy the high-quality cuisine, views, and welcoming atmosphere of this restaurant. I love hopping over to this spot for a relaxed, romantic date night because it is never crowded, never noisy, and always delicious. 
The American-style dishes feel upscale and high-end, but golf course views and outdoor seating create a casual and restful vibe. The menu is on the pricier end, but you are always guaranteed a quiet and intimate dining experience due to the resort's spacious and somewhat isolated location.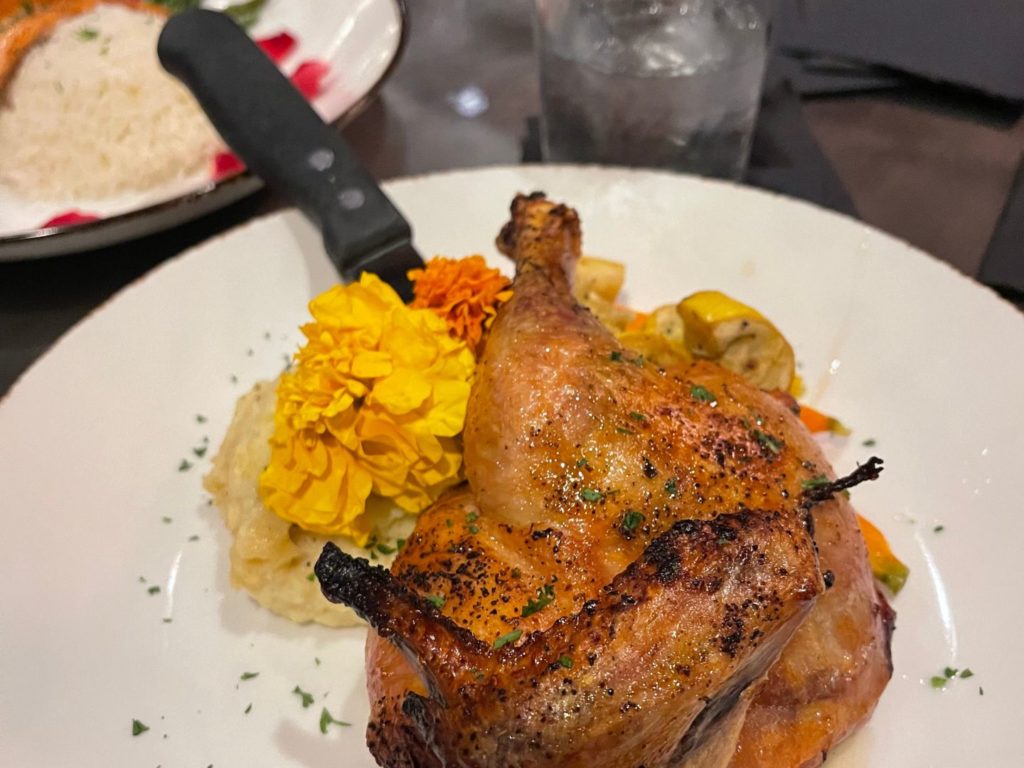 Hourglass Social House
Location: 2401 Curry Ford Rd, Orlando, FL 32806
This chill community hub makes for a unique and low-key date night. The Hourglass Social House is a shared market space that is home to Foxtail Coffee, Leguminati, and a variety of craft beers and wines to shop from. The atmosphere is inviting, airy, and relaxed. There's tons of comfy seating offered for a casual coffee date or quick bite. Leguminati is one of my favorite vegan restaurants in Orlando, serving entirely plant-based crunch wraps.
This spot is ideal for a fun first date that is lighthearted, relaxed, and serene enough for meaningful conversation. There is also outdoor seating for options for a more intimate, quiet setting. 
Anthony's Coal Fired Pizza & Wings
Location: 8031 Turkey Lake Rd Ste 300, Sand Lake, FL 32819
Anthony's is my go-to Orlando restaurant for coal-fired pizza and wings. This casual spot is also tucked away in Dr. Phillips, right down the street from Universal Orlando. The interior is chic, modern, and decked out in classic Hollywood-inspired wall posters. If you like your pizza well done, these pies always come out with a charred, crispy crust. They also cook their wings in the coal-fired oven and served with crunchy focaccia bread. 
This is the coziest restaurant for New York quality pizza and Italian dishes in a laid-back, intimate atmosphere. 
Sophisticated (yet approachable) Restaurants
Orchid Thai Cuisine 
Location: 305 N Park Ave, Winter Park, FL 32789
Orchid Thai Cuisine is the coziest restaurant to get your fix of pad thai and red curry. The dimly-lit ambiance is so warm and romantic, yet casual. This is one of the best restaurants in Orlando to indulge in comforting Thai cuisine and enjoy a pleasant evening with a date. 
It is situated on Park Avenue in Winter Park, which tends to be pretty lively and crowded on weekend evenings. However, this restaurant is a sneaky spot that is typically easy to get into and offers a quiet environment on all nights of the week, even amongst the bustling heart of Winter Park. 
Wine Bar George
Location: 1610 E Buena Vista Dr, Lake Buena Vista, FL 32830
If you're looking for a quiet restaurant in Orlando that is Disney-centric, Wine Bar George is an elegant and relaxed option. This Disney Springs location is a calm and peaceful spot for a lunch or dinner date. The brick walls make for such a cozy and inviting atmosphere. 
Their menu revolves around small shareable plates, market-fresh ingredients, and an extensive wine list to pair. When I'm looking for a light meal and a casual vibe, I love coming here to share a charcuterie board, house-made hummus, and glass of wine.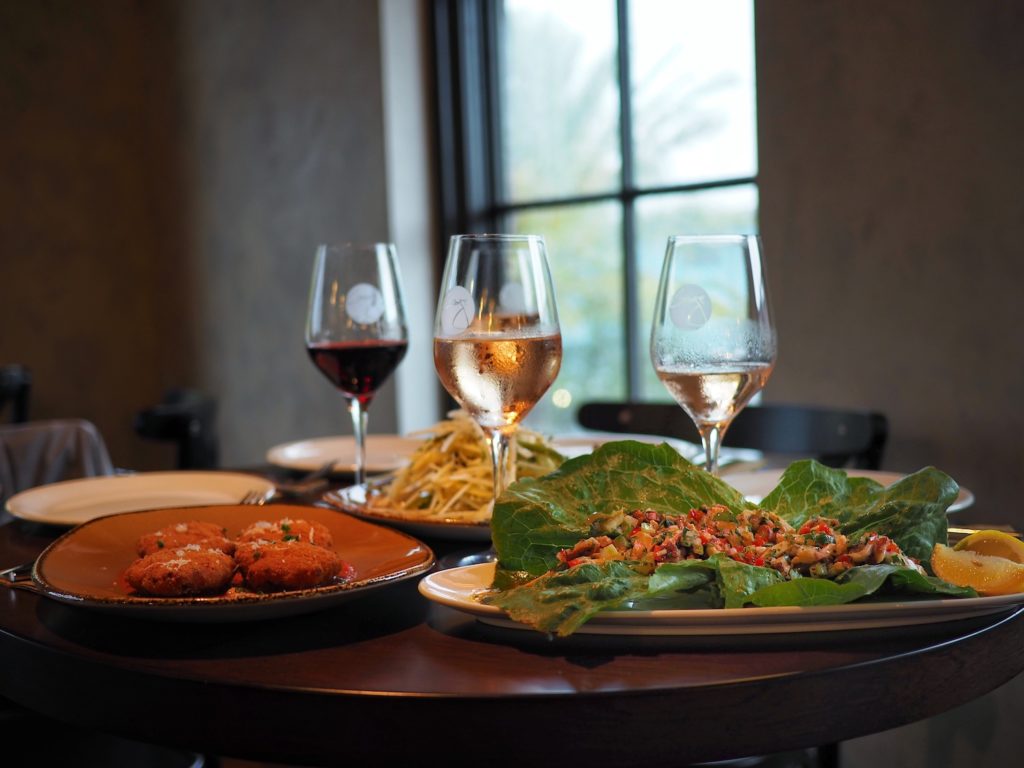 On the weekends this great date spot is popular and busy, but it is still one of the best quiet restaurants in Orlando because of its intimate design.
Steak on Fire 
Location: 7541 Sand Lake Rd, Orlando, FL 32819
Yes, you can enjoy a flavorful steak and potatoes dinner without going to an expensive, high-end steakhouse. Steak On Fire in Dr. Phillips fuses Brazilian steakhouse dishes with a casual, quick-service environment.
This restaurant is so unique and completely reinvents the steak dining experience. Their impressive menu ranges from cuts of sirloin, New York strip, ribeye, and filet mignon to chicken breast, salmon, and lamb chop. The food feels so fancy and upscale, yet you don't have to dress up in a suit and tie or break the bank for a meal.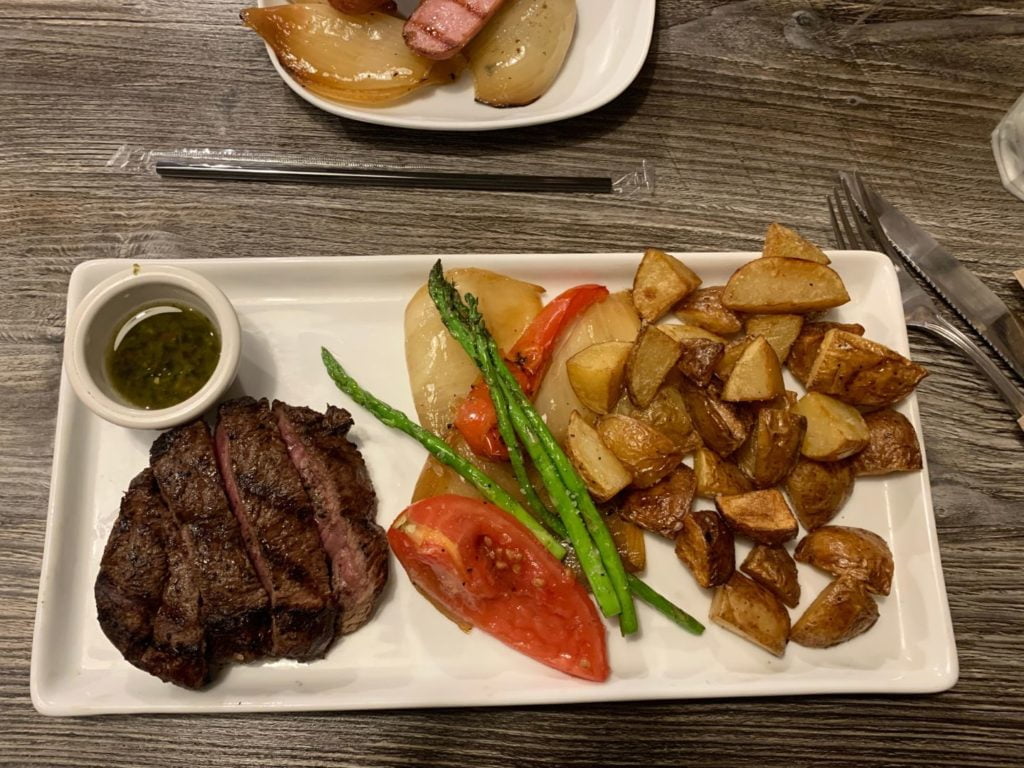 For another quiet date idea, check out these unique coffee shops in Orlando.
Featured image from Wine Bar George