Few things are as romantic as sipping on a glass of wine and gazing into each other's eyes. Over the years, Walt Disney World has done a splendid job of building its portfolio of places with exceptional wine. Whether you're an accomplished wine connoisseur or just getting your legs–that's a wine pun for you–there are plenty of options. From Disney Springs to the theme parks and resort hotels, this list of best spots for wine at Walt Disney World will ensure your Disney date is top-notch.
Updated November 2023 by Meghan Roth
Where to Drink Wine at Disney Springs
Location: Disney Springs
Best for: Exploring many types of wine in an approachable atmosphere
As the sole wine bar in Disney Springs, Wine Bar George has a more upscale feel while retaining an inviting atmosphere. In fact, it isn't uncommon to see owner and Master Sommelier George Miliotes making the rounds to chat with fellow wine lovers. Wine Bar George has the largest selection of wines in all of Walt Disney World, but any wine on the menu is available to purchase by the glass or even just a 1 oz pour. This offers you the opportunity to try that super expensive wine that appeals to you without blowing your budget on an entire bottle. The staff at Wine Bar George are always friendly and happy to impart their incredible wine knowledge. The food here is specifically crafted to pair well with wine. I love sitting on the upstairs terrace overlooking Disney Springs. Reservations are recommended.
Location: Disney Springs
Best for: Spanish wine and cuisine
Chef José Andrés's Jaleo is one of Disney Springs' most unique architectural features. Traditional Spanish cuisine and tapas with creative twists are the specialties here. Spanish wine is a treat because of its traditionally dry character. It may be hard to pass up the sangria –Jaleo offers a few varieties. You can even order a pitcher of Sangría de lujo tinto prepared tableside.
Location: Disney Springs
Best for: Sunset sips at an iconic Disney venue
If you happen to be a Disney history buff, you may know that Paddlefish resides in a venue that has been a part of Disney Springs since its early years known as Lake Buena Vista Shopping Village. Back then this boat-shaped building was the Empress Lilly, originally named for Walt Disney's widow Lillian Disney. Now, as Paddlefish, a modern spin has been given to this classic venue. There are multiple bars, including one all the way at the top with rooftop views. The wine list is extensive, a great balance of wines from the Old World as well as domestic selections. Pair your wine with a sumptuous seafood meal, or some delicious appetizers.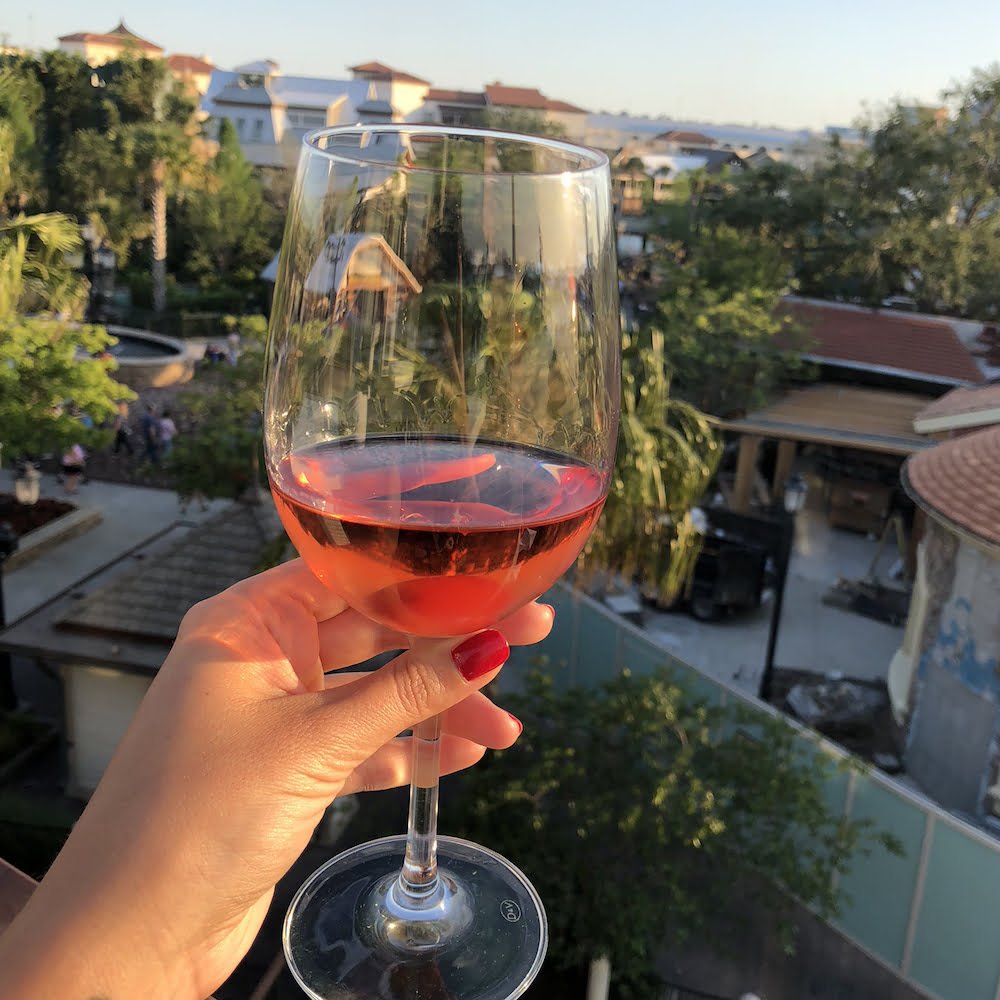 Best Places for Wine at the Theme Parks
Location: Italy Pavilion – Epcot
Best for: Athentic Italian wine in a cozy corner
EPCOT is lovingly known as the foodie's theme park thanks to its variety of international dining experiences. At the Italy Pavilion, Tutto Gusto is a cozy, dimly lit wine bar. Of course, I am partial to Italian wine, it's my favorite wine region. For the ultimate experience, pair your wine selection with an assortment of delicious Italian cheeses, meats, and bread.
Location: Germany Pavilion – Epcot
Best for: A taste of the Old World in a casual environment
Tucked in the left corner of the precious German town square, the Weinkeller is a wine shop with a walk-up counter. Order a glass of German wine or a wine flight. Weinkeller's walls are lined with wine bottles, so as you sip on your German wine you can browse the selection. The atmosphere is very casual and lively as guests come and go during their travels around World Showcase.
Location: Disney's Hollywood Studios
Best for: Glitz and glamour
For a casual, but lovely lounge experience visit Brown Derby Lounge. This outdoor terrace-style lounge is a treat when the weather is nice. For being an outdoor lounge in the middle of a theme park, the wine list is fairly impressive. The menu also includes a selection of light bites. If you're celebrating a special occasion, then book a reservation at The Hollywood Brown Derby. It has one of the best menus, and best wine lists, of any in-park restaurant.
Location: Disney's Hollywood Studios
Best for: A casual date amid the exciting energy of Hollywood Studios
Baseline Tap House is themed as a California corner pub that occupies a former printing house. The focus here is California craft beers, but there are a few Californian wines on the menu too. The wine selection is the most limited of any location featured in this list, but the accessibility and the atmosphere of Baseline is hard to beat. The bites here, like the giant Bavarian-style pretzel with beer cheese fondue, are just perfect for pairing with sips and conversation.
Related: Date Night Hideaways Inside the Disney Parks
Location: Disney's Hollywood Studios
Best for: Classic Italian romance
Anyone who has been going to Disney's Hollywood Studios since the days when it was named Disney-MGM Studios will appreciate Mama Melrose's Restaurante Italiano. It is one of the few corners of the park that still retains the exact feel of the original park. This family-friendly restaurant can be loud at times, but its dimly lit dining room covered with Hollywood and Los Angeles memorabilia is a feast for the eyes. Any of the flatbreads or pastas are a must, and the wine list pairs perfectly with the rich Italian food.
Location: Disney's Animal Kingdom
Best for: Exotic wine in an adventurous atmosphere
Nomad Lounge is lush, detailed, and inviting. The music is chill, and the bartenders are gracious. Then there's the outside seating area overlooking the river and bridge to Pandora. I think I have a crush on this place. The menu is one of the best drink menus ever to be put together for a theme park bar, so it's hard to pass up one of the handcrafted cocktails, but the wine list should not be overlooked. Nomad Lounge is all about the joys of travel, so take your taste buds on a trip to some of the world's best wine regions, and strike up some conversation about your favorite travel memories, or places you've dreamed of visiting.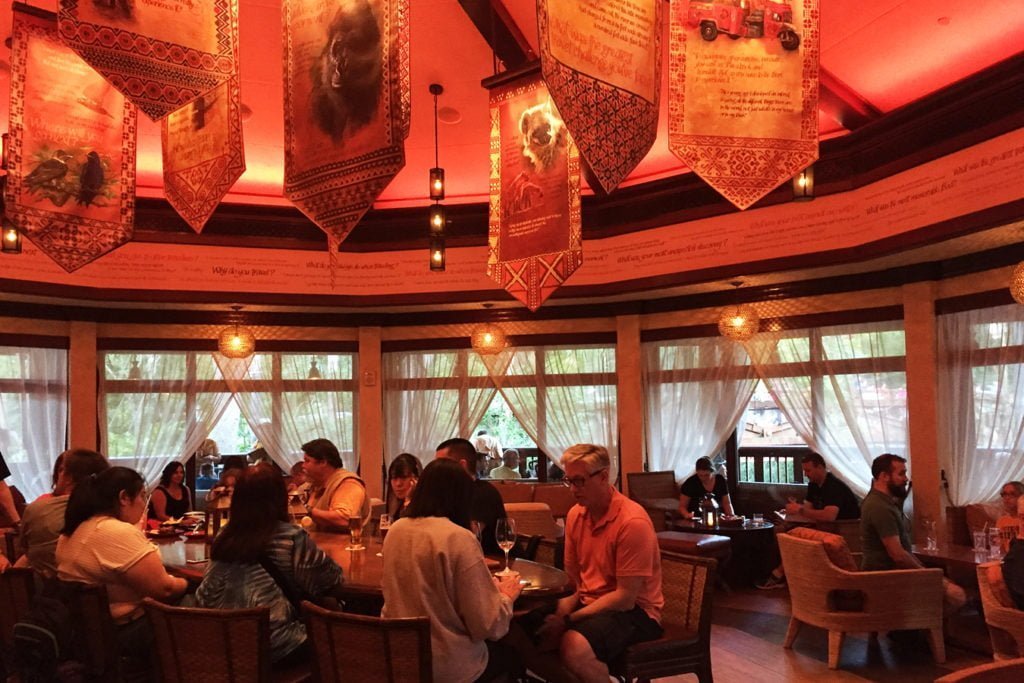 Disney Resort Hotels with Great Wine Menus
Location: Disney's Animal Kingdom Lodge – Jambo House
Best for: Vibrant atmosphere and tastes of Africa
In the heart of the lobby of Jambo House at Disney's Animal Kingdom Lodge sits Victoria Falls Lounge. This lounge is dimly lit, and a little narrow, but it is surrounded by the unique energy of Animal Kingdom Lodge. Each dining outlet at this resort has an impressive selection of South African wines.
Location: Disney's Animal Kingdom Lodge – Jambo House
Best for: Sophisticated and romantic atmosphere
Also at Jambo House of Disney's Animal Kingdom Lodge is the incomprable Jiko. This signature Disney restaurant is a favorite, and a must-do date idea if you love exploring exotic cuisine. You can sip from one of the largest selections of South African wines in North America, right here at Jiko.
Location: Disney's Animal Kingdom Lodge – Kidani House
Best for: Wine flight with a view of exotic animals
Over at Kidani Village, you can dine at the only restaurant that has a view of the beautiful animals on the savanna. Sanaa is a popular spot, and the lounge is a great option too. Try the wine flight if you want to full South African wine experience. Besides a variety of South African wines, other regions are also highlighted on the wine list. A visit to Sanaa is not complete without the famous bread service.
Location: Disney's Wilderness Lodge
Best for: Rustic meets sophistication with a fabulous lakeside atmosphere
Any wine lover knows the Pacific Northwest region of the United States is home to some unique wines. Geyser Point has a respectable selection of wines from this region, which is the area that inspired the theme of Disney's Wilderness Lodge. Sipping on a glass of wine with a view of Bay Lake is hard to beat. Sit back and enjoy the lakehouse vibes as you nibble on flavorful contemporary American fare.
Location: Disney's Yacht Club Resort
Best for: A cozy, sophisticated atmosphere
A few short years ago the Ale and Compass restaurant and lounge went through a refurbishment. The lounge is cozy with rich, dark wood and polished brass accents. Enjoy wines from nearly every major wine region in the world while relaxing in a posh lounge chair. The Ale and Compass Lounge has a smaller version of the restaurant's menu.
Location: Swan Reserve at Walt Disney World Swan and Dolphin
Best for: An intimate yet approachable atmosphere
The addition of The Swan Reserve tower to the legendary Walt Disney World Swan and Dolphin Resort is part of Marriott's Autograph Collection which means it is a luxury boutique experience. The Swan Reserve tower is small when compared to the Swan and Dolphin towers, yet there are four dining outlets here, all located on the second level of the Swan Reserve tower. Amare is the signature restaurant, offering fresh Mediterranean cuisine and an impressive wine list. Try a wine from Greece, Italy, or Spain, or stick with a familiar favorite.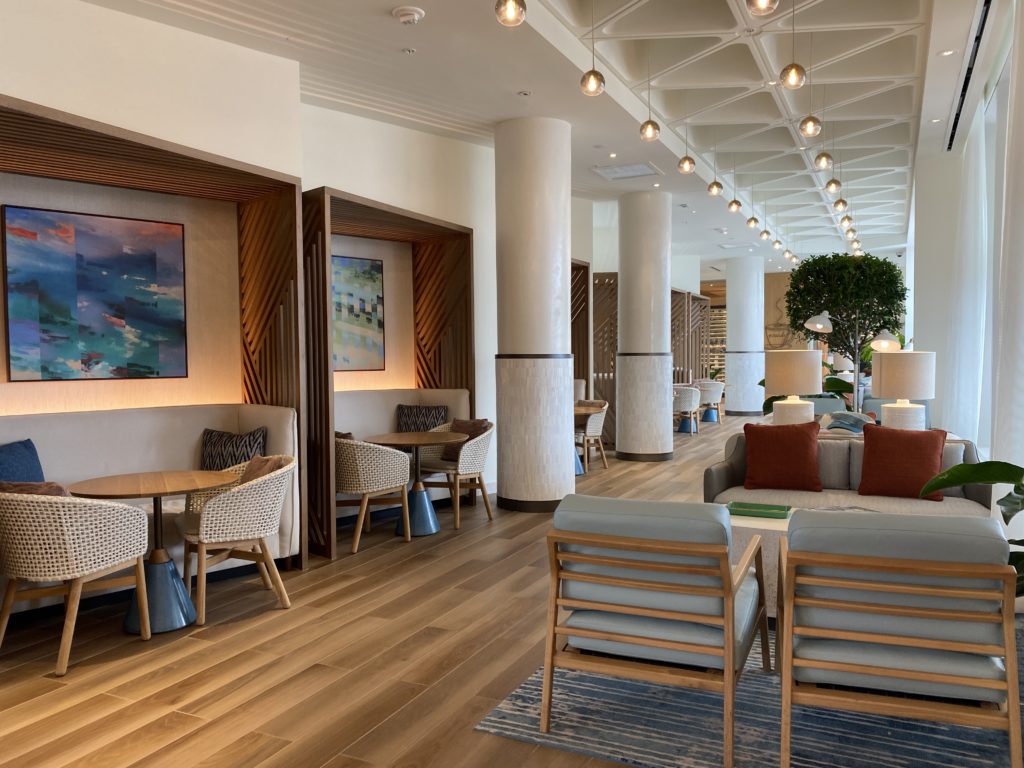 Location: Walt Disney World Swan
Best for: Impressive Italian cuisine
A staple of the Walt Disney World Swan's dining lineup, Il Mulino New York Trattoria is a must-do for any couple who loves rich Italian cuisine. A meal here is a wonderful experience. Start off with pre-dinner cocktails at the bar, or order a bottle of Italian wine to enjoy throughout your dining experience.
Related: An Italian Inspired Date Night in Orlando
Important Tips for Enjoying Wine at Walt Disney World
The State of Florida allows restaurants and bars to re-cork a bottle of wine you have purchased to take home with you. If you're looking to have two or more glasses it will most likely save you money to order a bottle, and you can enjoy a glass or two later.
Ask your servers for their recommendation, but be prepared to share with them your preferences (sweet, dry, fruity, even just white versus red).
Having some nibbles of food with your wine not only keeps you fueled, but also changes the way the wine tastes. Experiment with different flavors.
Be sure to hydrate. I usually go for one glass of water per glass of wine.
Don't get too caught up in worrying about the year, varietal, and all that other wine snob stuff; if it tastes good to you, drink it!
Feature image credit: Lisa Wilk, @tastecooksip