For the time of your life with your life partner, schedule a romantic weekend getaway on island time. You may be surprised to know that Florida has a total of 4,510 islands (ten acres or larger). This means the Sunshine State has the second-highest number of islands of any state in the U.S. (only behind Alaska). Just south of Sarasota and Venice on the western shore, Manasota Key is an 11-mile-long barrier island surrounded by the Gulf of Mexico and intercostal waterways of Englewood, Florida. While it's developing more and more, similarly to the rapid growth throughout the entire state, Englewood still has a small-town vibe… yet with big opportunities for beach-inspired recreation and relaxation.
How to Play at Manasota Key
Ignite Beach Bum Status at these Manasota Key Beaches
You can certainly get your fix of vitamin-sea while visiting Manasota Key! There are several beach spots to choose from, including Stump Pass Beach, Englewood Beach, Blind Pass Beach and Manatee Beach (yes, in that particular order of awesomeness). The soft sand and clear, turquoise water make fun in the sun a guarantee. Do plan to maintain beach bum status all day long to watch the sun melt away into the horizon during an unforgettable, selfie-worthy sunset.
If you're just day-tripping to Manasota Key during another getaway, such as nearby Sarasota or anywhere in the Tampa Bay area, Manasota Beach is located on the northernmost end of the key. This gorgeous spot has convenient parking, picnic shelters, boat ramps and trails. Exiting off the island via Manasota Beach Road will take you to the mainland cusp of the Englewood-Venice town border.
Located in the middle of the island, Blind Pass Beach has similar sand and surf amenities. Blind Pass is the best bet for those who prefer smaller crowds. That could mean extra room to build an epic sandcastle with your king or queen.
Further south on the island, Englewood Beach is by far the most popular beach destination. Once you cross the Tom Adams Bridge on Beach Road, you pretty much dead-end (after a round-about) into this beach. Park in the metered lot to access the beach, picnic shelters, playground, basketball court, restrooms and small boardwalk. [Pssst… get a sneak peak by checking out the live beach cam!] If you prefer to pack light, you can rent umbrellas and lounge chairs from the onsite "Beach Guy." Definitely take numerous hand-in-hand beach strolls to collect shark teeth and other treasures.
And, if you're lucky, the smoothie food truck may stop by Englewood Beach to offer refreshments. But don't stress if this delish truck doesn't roll over to the island. There are plenty of restaurant choices, a couple of cute shops (including Barefoot Trader) and a convenience store all within walking distance of Englewood Beach.
Stump Pass Beach Park
Stump Pass Beach Park is a state park that nestles along the southern end of Manasota Key (the tip of Charlotte County). The parking lot is limited so the early bird gets the worm here! If and when you do snag a spot, this mostly secluded beach is a shelling paradise. Be sure to stop at the information hut to quickly study up on the different types of conches and shells that await your discovery.
Stump Pass Beach can be heavily populated with sea turtle nests so be sure to reframe from walking on protected areas (typically marked by stakes and orange tape). Stump Pass Beach Park also boasts the most beautiful hiking trail in town. The sandy path weaves on and off of the intercostal shoreline, opposite the beachside.
Known as Ski Alley, here you'll catch a glimpse of speedy tubers, jet skiers and other water adventurists. Once you reach the tip of Stump Pass, expect to find boaters galore fishing, swimming and shelling about. Then, decide if you'll retrace your path steps back or circle around to the beachside for a different view.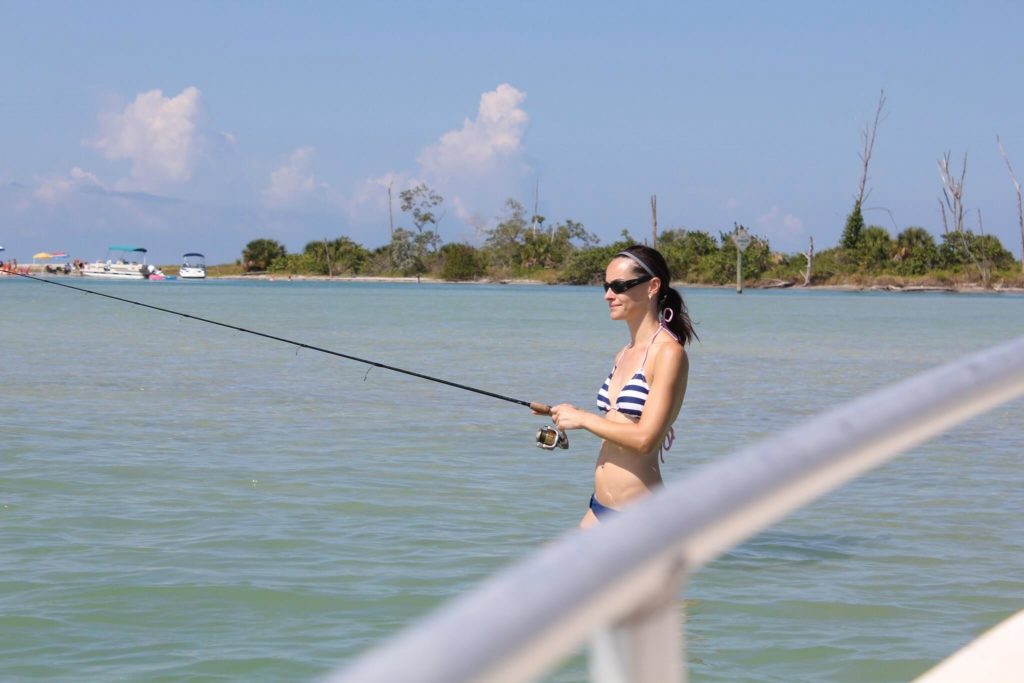 Stretch Beyond Your Limits
Sun salutations take on a different meaning when you participate in beach yoga. This donation-based session is led by Loving Light Yoga every day from 8:30 to 9:30 am right on Englewood Beach. Loving Light Yoga also hosts occasional sunset yoga sessions and crystal bowl meditation circles.
To stretch your legs even further, rent a beach cruiser. Because Manasota Key is small, biking is totally doable and, most importantly, enjoyable.
Float Your Boat – Boating and Fishing 
Let your worries sail away as you embark on a three to four-hour tour aboard the "Oar Knot" Tiki boat. Operated by Paradise Tiki Tours, a laidback captain can accommodate up to six guests per tiki cruise. You're welcome to bring your own food and beverages aboard to personalize this unforgettable boating experience. Or, for an afternoon delight like none other, opt for a Sunset and Dolphin Cruise through Beach Road Watersports. Bring your own food and cocktails to sightsee for Flipper and friends.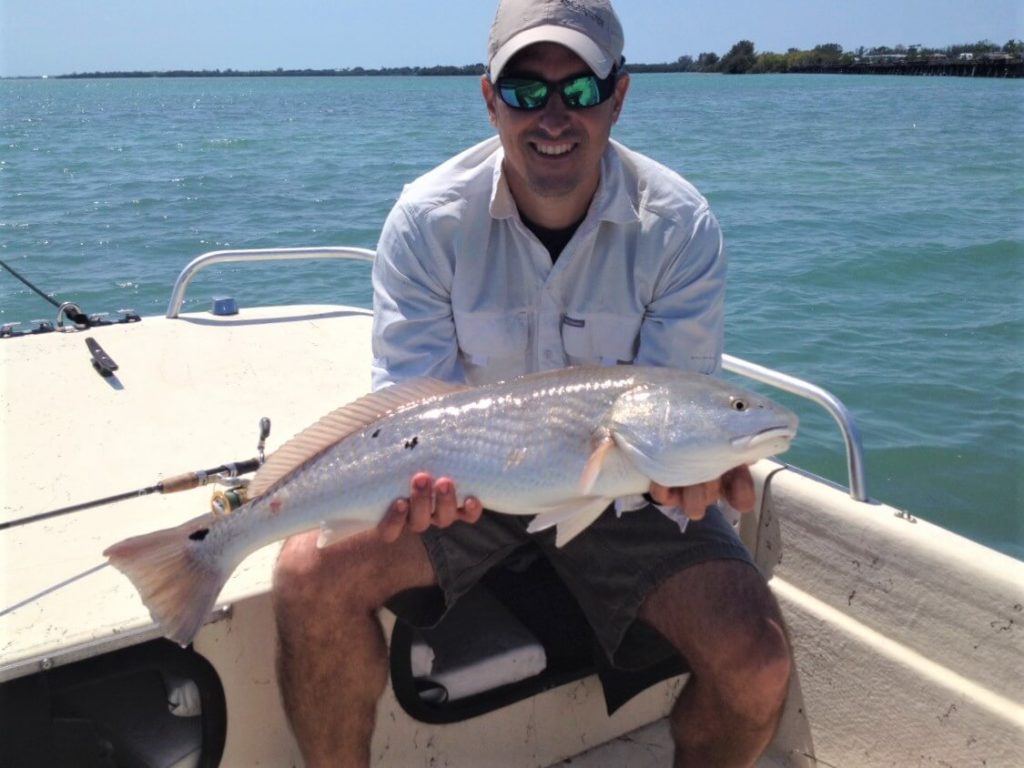 Make a Splash with Water Sports
Couples ready to take the fun factor to new heights should book a parasailing excursion through The Original Englewood Parasailing. With a birds-eye view of the Gulf of Mexico, you'll catch breathtaking views of jumping dolphins, gliding manatees, flying fish and more. If heights just aren't your thing, opt for either a guided eco-tour or self-guided adventure through SUP Englewood. Choose a kayak or stand-up paddleboard to coast along the water to find starfish, coastal birds and much more. Want ever more water sport fun? Well, adrenaline seekers can rent a sea-doo; and fishermen can rent a flats boat for "reel" good times.
Make it Eventful
Englewood Beach Waterfest attracts big-time boat fans to the small town of Englewood. These world championship races are held in the warm Gulf waters annually, with the upcoming event set for November 19-20, 2022. Save the date!
Explore More Off The Island
When you decide to venture off Manasota Key back into Englewood, go for:
Hikes: Aside from Stump Pass Beach Park, hikers will enjoy easy treks that bud up to Lemon Bay, off the intercostal. Cedar Point Environmental Park features lush flatlands full of chirping birds and a huge eagle's nest. You'll likely see gopher turtles, crabs by the water's edge and, just off the welcome center, a butterfly garden that'll make your heart flutter with delight. The newly renovated building is now stocked with shark teeth, shells, snake skins and more educational/environmental tidbits. Also nearby, Lemon Bay Environmental Park features a short boardwalk, native plants and opportunities for iguana sighting; plus a kayak launch.
Shopping: A quaint village in "Olde Englewood," Dearborn Street is lined with locally-owned beach boutiques, tasty eateries, a playhouse, wine bar and more. And celebrity YouTuber Danny Duncan also plans to open a mini-golf attraction on Dearborn Street soon!
Day Tripping: Also off the shores of Englewood, plan a day trip to beautiful Boca Grande. This island is beloved for its whimsical banyan trees and palm trees, a picturesque downtown, historic lighthouse, sugar sand beaches with dazzling blue water, world-class fishing and extravagant homes.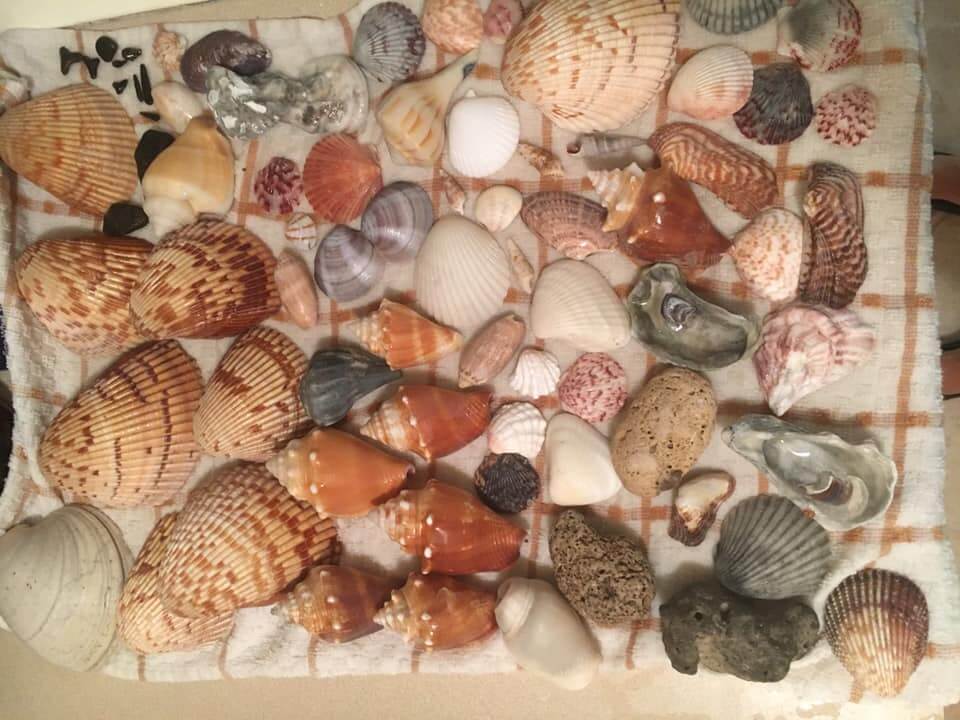 RELATED: 7 Secret Florida Islands
What to Eat
Newly renovated with indoor and outdoor dining spaces, Lock 'N Key Restaurant and Pub is a longstanding establishment, located just across the street from Englewood Beach. Its lunch and dinner menus feature seafood, steak, burgers and salads to satisfy any type of craving. For an out-of-this-world bite, try the Grouper Rocket. This dish features fried grouper with ooey-gooey melted Swiss cheese, thousand island dressing and coleslaw on grilled rye bread.
Fairly new to Manasota Key, your taste buds will be tickled pink when you dine at this pink-colored eatery. Snag an outdoor table at Magnolia's overlooking Lemon Bay for your choice of upscale breakfast, brunch, lunch or dinner. You'll be drawn to unique flavor combinations, such as the Roasted Butternut & Bacon Salad, Coconut Curry Vegetable Tofu, Clams Provencal and other goodies. Also, consider the charcuterie board and signature cocktails for happy hour.
Perhaps the most fun restaurant in town, Sand Bar Tiki Bar and Grille serves up fresh seafood plus smoked BBQ favorites. Because those who play together stay together… challenge your partner to some friendly competition. You see, there's never a dull moment waiting for grub here thanks to jumbo Jenga blocks, huge Connect Four boards, cornhole and ring-hook games. Oh, and the live music and dance floor will help you burn off any and all calories consumed at the bar.
Also boasting a vibrant atmosphere with live entertainment, White Elephant has cold drinks and warm food overlooking Lemon Bay (across from the beach). If you're a fan of frozen drinks, the signature beverage, White Elephant, whips together vodka, white chocolate liqueur, crème de cocoa and vanilla ice cream. With this drink in one hand, pair it with a handheld "trunk," aka a wrap filled with shrimp, fish, chicken or steak and all the fixings like beans, veggies and cheese.
When you need a snack break from water sporting fun, look for the Taco Box, Lemon Bay's first mobile marine food concession. Yup, it's a floating food truck dishing out fresh nachos, tacos and quesadillas. Holy awesome sauce! Be sure to follow Taco Box on social media to keep up with its ever-changing locale.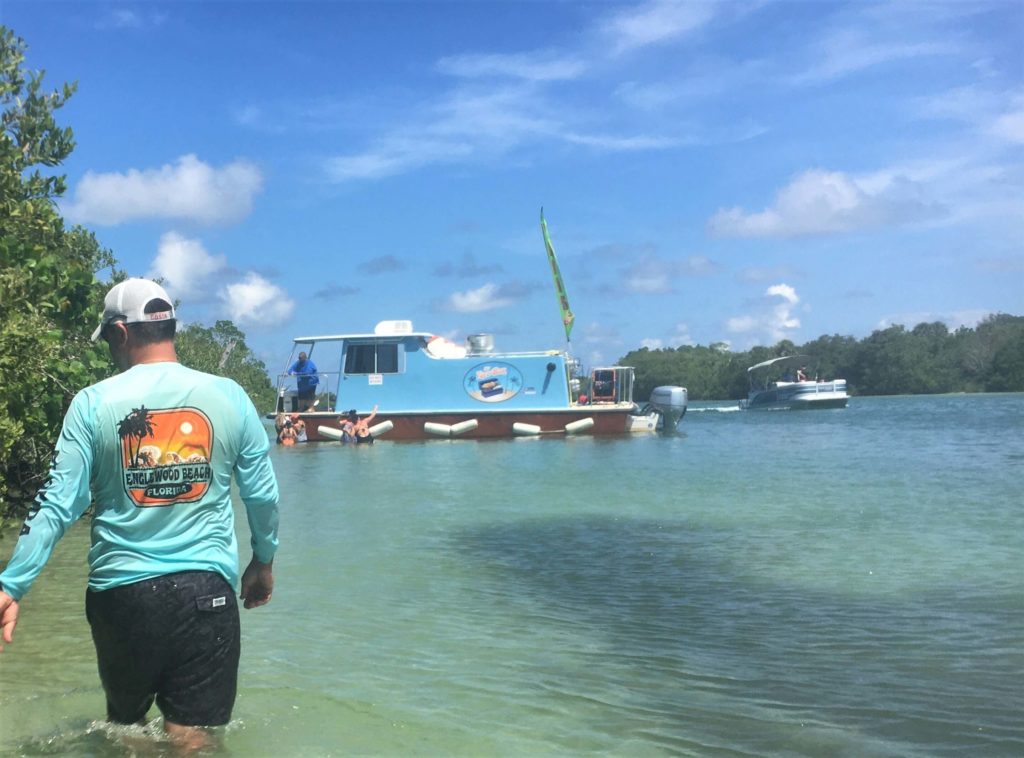 Hungry for more? Also, try The Waverly and Beach Road Wine Bar & Bistro.
Where to Stay
There aren't a ton of hotel options directly on Manasota Key so, when searching for accommodations, it's best to seek out options through Airbnb or VRBO. There are endless beach bungalows to cozy up in!
Steps away from the sand, Manasota Beach Club exudes a romantic setting. You and your honey can retreat to a one-bedroom cottage or, if traveling with other couples, two- or three-bedroom cottages will fit the bill. Because cottages include a full kitchen, plan to treat your love to a DIY breakfast-in-bed. Of course, onsite and off-site dining is also available. Other amenities include a heated pool, tennis courts, kayaks, paddle boards, basketball court, pickle ball, shuffleboard courts, nature trails, private boat dock and private beach access.
If you have a "beach hair, don't care" type of attitude, then the self-proclaimed "come as you are" accommodations at Pearl Beach Inn will work just fine. Much closer to Manasota Beach (than Englewood Beach), most of the studio-style rooms have a small cooktop, but you may prefer to use one of the three onsite grills (especially if you have fresh-catch to char up). Beach chairs are stacked up to take as you go!
Another modest accommodation, WannaB Inn is located at the south end of the island just before the entrance of Stump Pass Beach Park. If you make this your home base, you can practically roll out of bed and right onto a beach float. WannaB Inn is about a mile from the yummy beach restaurants noted above.
Adjacent to Manasota Key, Palm Island is a boat-only accessible island. Take a short 6-minute ferry ride or your own boat over to stay at Palm Island Resort. The villas and homes at this resort exude beach luxury, with unprecedented views of the ocean. The Palm Island Resort also features the Rum Bay Restaurant to feast on fresh, local seafood.
Isn't it time for much-needed island time? Go pack your weekend bag and enjoy Manasota Key!
Explore another hidden Florida island, with our guide to a romantic weekend in Cedar Key.