After an unusually chilly winter, we're so excited the weather's finally warming up so we can fully bask in the glory of the Sunshine State. Orlando has a wide variety of upcoming festivals, centered around whiskey, water lanterns, and everything in between. Check out a handful of our favorite upcoming festivals in the Central Florida area.
SeaWorld Seven Seas Food Festival
When: February 9-May 5, Friday through Sunday
Where: SeaWorld Orlando
Cost: Included with regular park admission; food and beverage samples extra (sampling upgrades available for $50-$65)
Tour the world through SeaWorld's Seven Seas Food Festival this February through May! Park-goers will be able to sample traditional street foods from around the world and sip on local craft beer. Each Saturday and Sunday, some of your favorite musical artists will take the stage at the Bayside Stadium—and its free with park admission! There is the option, though, to purchase premium reserved seats.
Upcoming artists include:
Frankie Valli and The Four Seasons: February 16
Little River Band: February 17
Flo Rida: February 23
98 Degrees: February 24
Lifehouse: March 2
Cole Swindell: March 3
Lee Brice with LOCASH: March 9
I Love the 90s featuring Coolio, En Vogue, Kid N Play, Rob Base, Tone Loc, and Young MC: March 10
Bret Michaels: March 16
Gente De Zona: March 17
Sanford Porchfest
When: February 23, 2019, 12pm-6pm
Where: Historic Sanford
Cost: FREE
Sanford's very own grassroots music festival is back for its second year! Sanford Porchfest is a free event that aims to bring together neighbors and strangers through the strong communal bonds of music. How does it work? Various porches in historic Sanford's residential district welcome local artists onto their steps to perform. Each makeshift stage is set up within walkable (or biking or golf cart) distance, and to make things even easier this year, Limo Cycle is offering FREE hop-on/hop-off service all day during the festival. After the music dies down at sunset, head on over to the downtown area to check out all the unique bars and restaurants.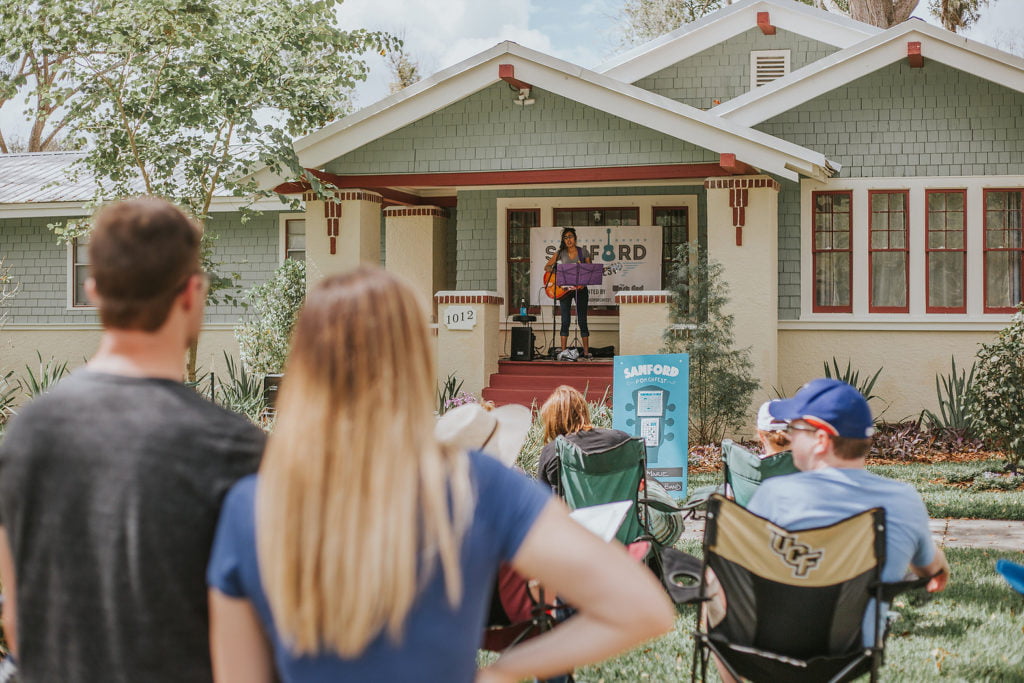 Indie Folkfest
When: February 16, 2019, 12-5pm
Where: The Mennello Museum of American Art
Cost: FREE
The Mennello Museum of American Art will feature some of the best local, national, and regional art at the 5th annual Indie Folkfest. There will of course be tons of great food and drink vendors, like Ten 10 Brewing, Sugarbuzz Dezert Company, Tapa Toro, and more. You're also welcome to bring your own picnic baskets to enjoy during live performances from Jordan Foley & The Wheelhouse, Lauren Carder Fox, Beemo, the 502s, Eugene Snowden, and Beth McKee's Swamp Sistas.
Rockin' Robinson
When: February 23, 2019, 4pm-2am
Where: The Milk District
Cost: $15 and up
The Milk District's second annual music festival Rockin' Robinson will feature 19 bands on 4 different stages, with headlining performances by Thomas Wynn and the Believers, & Spam Allstars. East Robinson Street will shut down to welcome artisan street vendors and food trucks for your enjoyment. Festival goers will also be able to enjoy all the shops and businesses nearby, and of course the bars will be open for service. Bands will be performing at The Iron Cow, the Bull and Bush, The Nook, and on a stage in the middle of Robinson Street itself.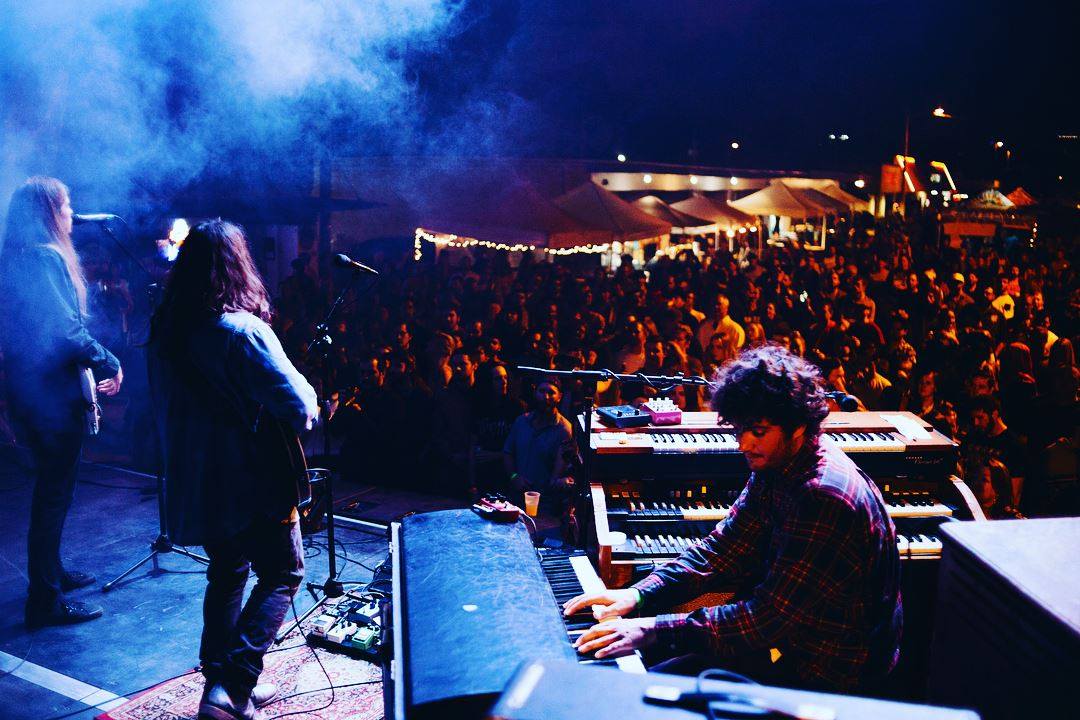 Orlando Brunch Festival
When: February 23, 2019, 12pm-6pm
Where: Cranes Roost Park
Cost: FREE – $79
Attention brunch lovers (AKA everyone): Cranes Roost Park is the place to be on Saturday, February 23 to make all of your mimosa and waffle dreams come true. At the Orlando Brunch Festival, more than a dozen vendors will be serving traditional brunch foods as well as innovative twists on the classics. You'll also be able to choose from more than 20 brunchy cocktails and over 20 craft beers. While general admission is free, food and drinks are for purchase unless you've purchased a sampler or VIP ticket.
Downtown Food and Wine Fest
When: February 23-24, 2019
Where: Lake Eola Park
Cost: $15 – $115
The 11th Annual Downtown Food and Wine Fest will feature delectable bites from over 30 of the city's best restaurants, and 50 domestic and international wines. There will be palate pleasers for everyone, with selections from Dandelion Community Café, Jinya Ramen Bar, and The Tipsy Cookie, just to name a few. It all goes down right in the heart of Downtown Orlando at Lake Eola. There will also be live musical performances throughout the festival, so we recommend bringing blankets or chairs if you want to sit and watch!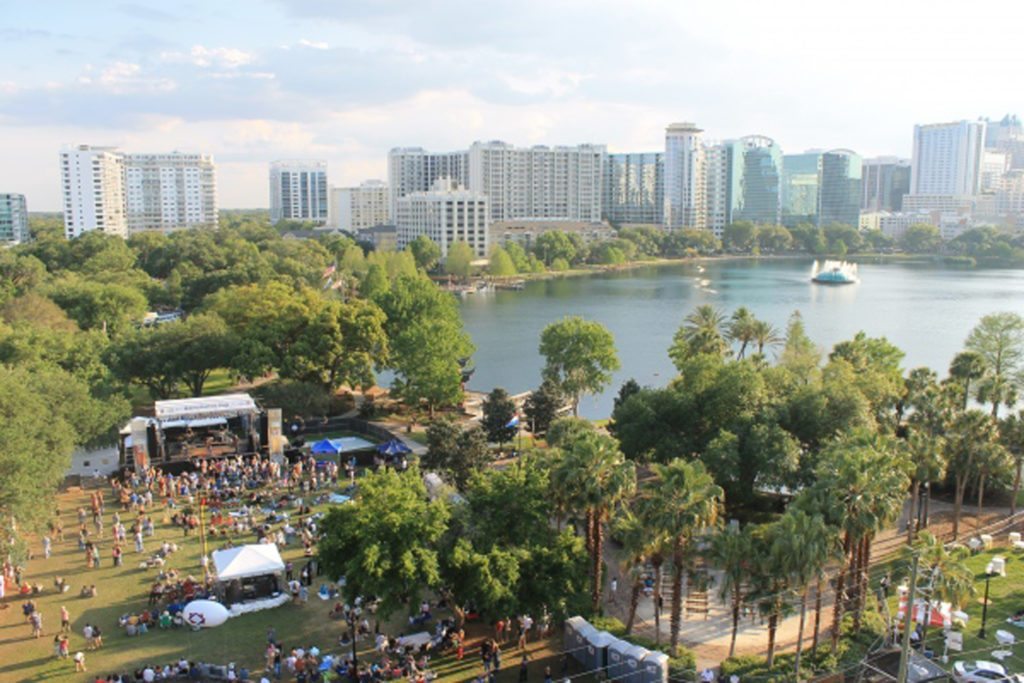 Florida Strawberry Festival
When: February 28-March 10, 2019
Where: Plant City
Cost: $8 and up
Join over 500,000 visitors in 11 days of celebration at the annual Florida Strawberry Festival in Plant City. There will be tons of entertainment that's free with the cost of entry, like a battle of the bands. There is also the option to purchase wristbands for rides. Plus, you can purchase tickets to see some of your favorite musical acts take the stage. Headlining performers this year include ALABAMA, Kool & the Gang, Martina McBride, STYX, and more! Tons of tasty strawberry-centric food items will be for sale, including strawberry shortcake (it's world famous!), strawberry milkshakes, chocolate-dipped strawberries, strawberry jam, strawberry kettle corn, and so much more! Pro tip: visit on a weekday if you can, weekends are busy and parking can be difficult. Avoid ticket lines by purchasing in advance at select Publix stores.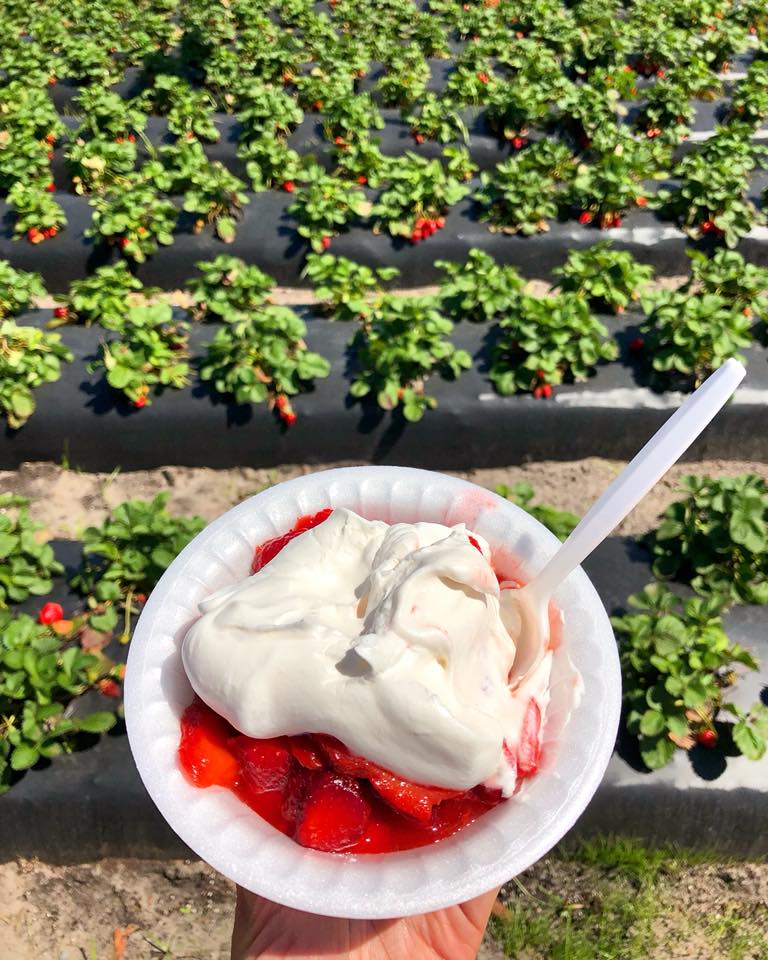 Orlando Whiskey Festival
When: March 9, 2019, 7-10pm
Where: Mercedes-Benz of Orlando (Maitland)
Cost: $50-$125
Whiskey lovers, this one's for you! Guests at the Orlando Whiskey Festival can choose from close to 100 whiskeys to sample, as well as mingle with whiskey industry connoisseurs. Some of the city's best restaurant groups will be providing gourmet menu samplings. There will also be live entertainment and an outdoor cigar lounge. All net proceeds from the event benefit The Lovely Project, which empowers young girls to live a purposeful and impactful life.
Winter Park Sidewalk Art Festival
When: March 15-17, 2019, 9am-6pm (Friday & Saturday) and 9am-5pm (Sunday)
Where: Central Park, Winter Park
Cost: FREE
The twice-yearly Winter Park Sidewalk Art Festival is one of the country's biggest and oldest outdoor art festivals. It all started in 1960 and has been bringing together local artists and lovers of art ever since. Several blocks of Winter Park's gorgeous Park Avenue are closed off for the festival. Some restaurants on Park Ave add extra outdoor seating so you can enjoy the spring sunshine and people watch during the festival. There are also tons of great food vendors set up near Central Park, as well as live entertainment.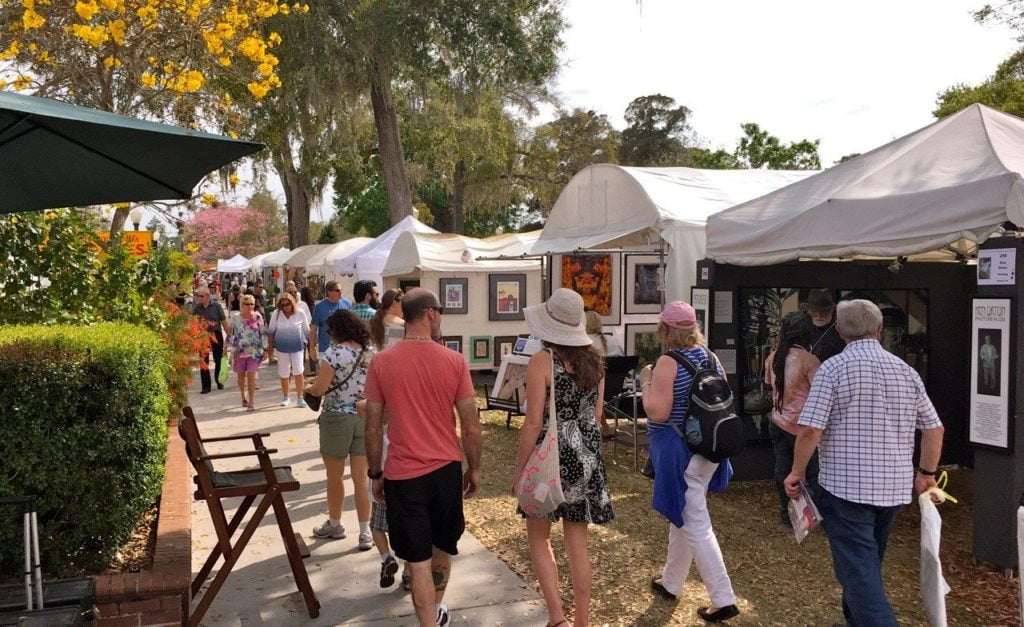 Crooked Can Celtic Festival
When: March 15-17, 2019
Where: Crooked Can Brewing Company at Plant Street Market
Cost: FREE
What better way to celebrate St. Patrick's Day than at the 4th Annual Crooked Can Celtic Festival? The largest Celtic festival in Central Florida is 3 days full of live Celtic music, Irish dancing, delicious food, local vendors with crafts for sale, and of course Crooked Can brews. It all goes down at Crooked Can Brewing Company in Winter Garden.
Orlando Water Lantern Festival
When: March 16, 2019, 5-10pm
Where: Orlando Watersports Complex
Cost: $30 and up
The Water Lantern Festival is a unique, uplifting, inspiring experience that celebrates the beauty of life. The festival culminates with the unforgettable sight of more than 1000 lanterns reflecting upon the water. Each ticket gets you entry into the festival, as well as a floating water lantern, keepsake drawstring bag, marker, and wristband. Attendees are welcome to bring their own food, but there will also be several local food trucks on site. The earlier your purchase your ticket, the less expensive it will be, so make sure to get them soon!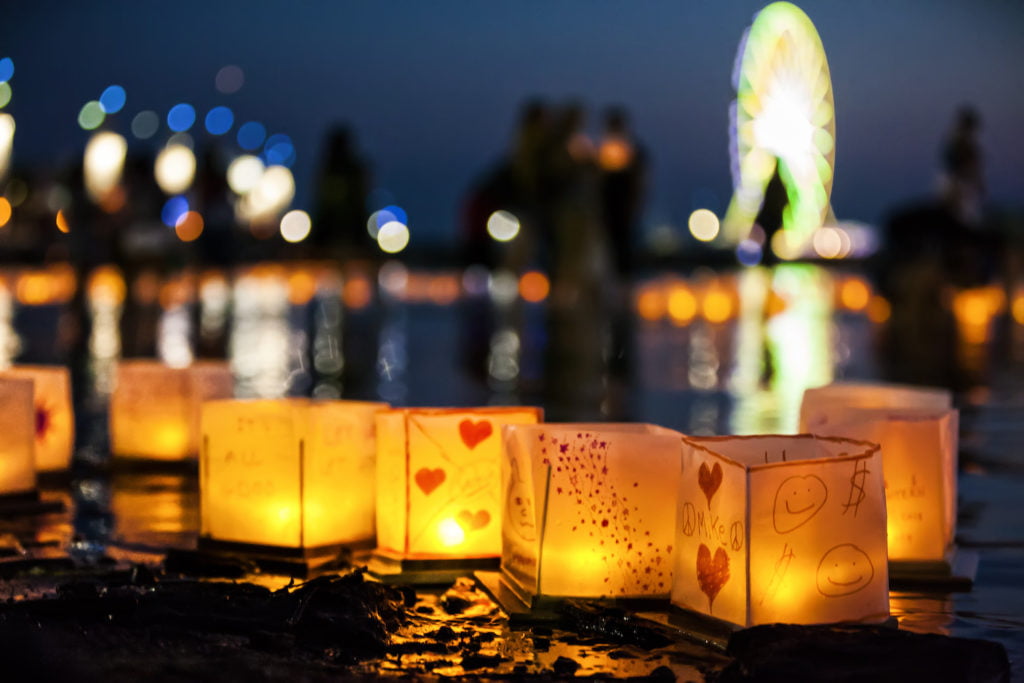 Mount Dora Spring Art Festival
When: March 16-17, 2019, 9am-5pm
Where: Downtown Mount Dora
Cost: FREE
Over 200 craft vendors and artists will fill the streets of historic downtown Mount Dora for the Spring Art Festival. The weekend will be complete with live music, tons of yummy festival food for purchase, beer, and wine samplings, and it's free to the public! We recommend parking and riding the train to the festival to avoid the hassle of traffic and parking.
Pints n' Paws Craft Beer Festival
When: March 23, 2019, 2-6pm (1pm entry for VIP)
Where: Historic Downtown Sanford (in between West End Trading Co. and Celery City Craft)
Cost: $40-$55 online in advance
Sanford's 8th annual Pints n' Paws Craft Beer Festival combines two of our favorite things: furry friends and craft beer. 100% of proceeds from the festival go to two paw-some charities: Dolly's Foundation and Pet Rescue by Judy. Over 100 craft beers will be available, plus treats from local food trucks. Attendees are encouraged to bring their four-legged friends to participate in a costume contest and a trick contest. Local radio hosts Tom and Dan will be emceeing the event.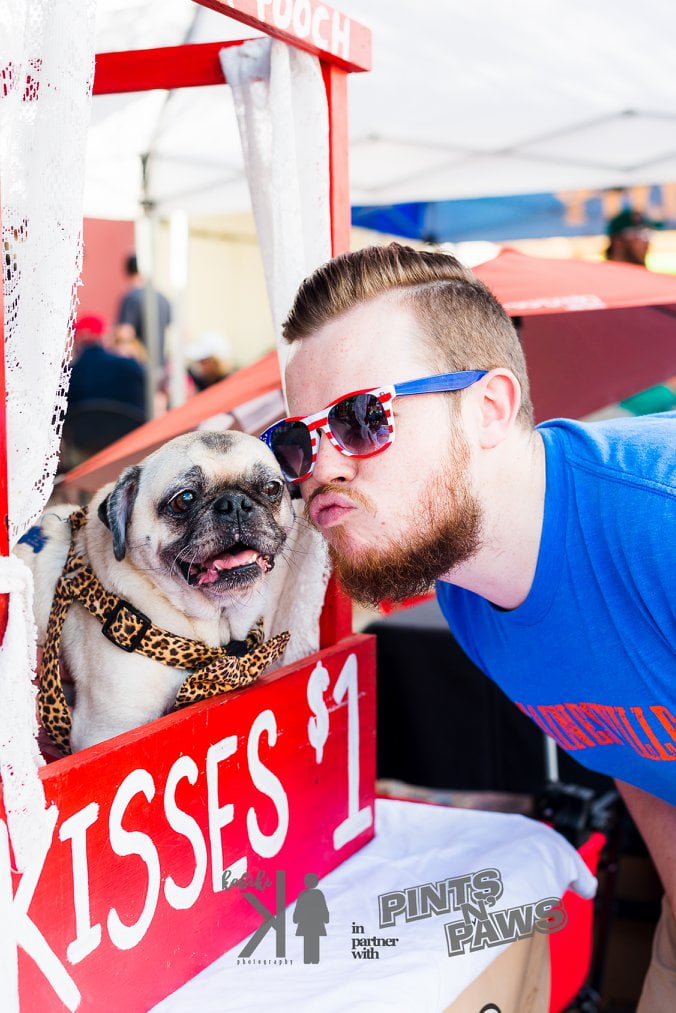 Florida Blueberry Festival
When: March 28-31, 2019
Where: Formosa Garden's Event Center, Kissimmee
Cost: $10 and up
The 2019 Florida Blueberry Festival will be bigger and better than ever before, with four days of fun and celebration in recognition of the Florida Blueberry Industry. You can look forward to free live music, a wine bar, beer garden, and a food court with 20 vendors. There will be tons of art on display and for sale. Of course, there will be no shortage of blueberries and blueberry-themed items for sale, like pies, plants, and more.
Beard in Baldwin
When: March 30, 2019, 7-10pm (6pm entry for VIP)
Where: Baldwin Park
Cost: $110-$175
Beard in Baldwin is a huge celebration of the Orlando culinary scene benefitting The James Beard Foundation National Scholars Program. Lake Baldwin and Harbor Park will host an intimate food and wine festival experience, featuring over 25 of Central Florida's top restaurants. Each dish will be paired with either a fine wine, craft cocktail, or local beer. Some restaurants featured will be The Ravenous Pig, Luma on Park, Bites & Bubbles, and Chroma. Upgrading to a VIP ticket grants you early access to the event, plus a special VIP event inside of The Osprey Tavern.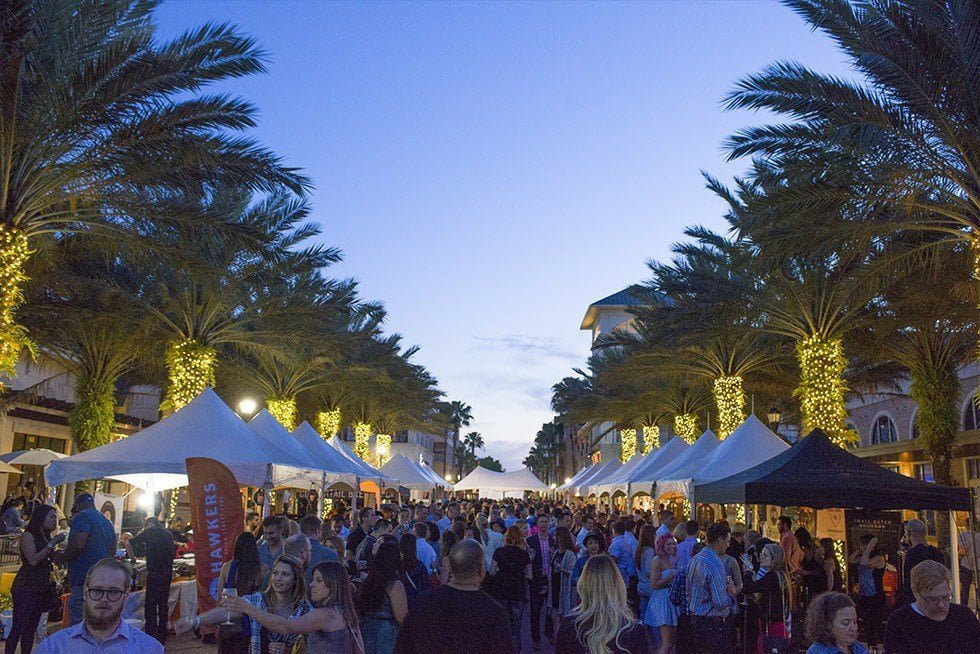 ALSO TRY:
Feature image credit: Orlando Water Lantern Festival