For an escape from the norm, Tampa is an ideal destination. A 90-minute drive will transport you to a city where old and new intersect in the best of ways. An array of cultural attractions fill the city, which boasts multiple art and history museums, theaters and performance venues. Creative eateries and bars continue to emerge, giving visitors the best of both worlds – tried and true establishments that have stood the test of time, and new and hip places with unique perspectives.
From Historic Ybor City to the bustling food halls in Tampa Heights and all of the new foodie destinations popping up in Seminole Heights and the Channel District, every section of Tampa is bound to provide you with a distinctive date experience.
STAY
Epicurean Hotel, Autograph Collection
Located less than a mile from Hyde Park Village and 3 miles from Amalie Arena, the Epicurean Hotel provides modern luxury and a fantastic location. The boutique hotel has its own restaurant, rooftop bar, spa, and even offers on-site cooking classes you can sign up for.
Floridian Palace Hotel
If downtown living is more your speed, check in to the Floridian Palace Hotel located in the heart of downtown Tampa. Built in 1926, the Floridian was Florida's first skyscraper at nineteen stories high. The hotel closed but was restored and opened its doors again in 2012. It was modernized while still maintaining its regal charm and detail, from crystal chandeliers to vintage furniture. Reserve the guided hotel tour for the Floridian's full history, followed by lunch in the Crystal Dining Room where you'll dine on Mediterranean cuisine.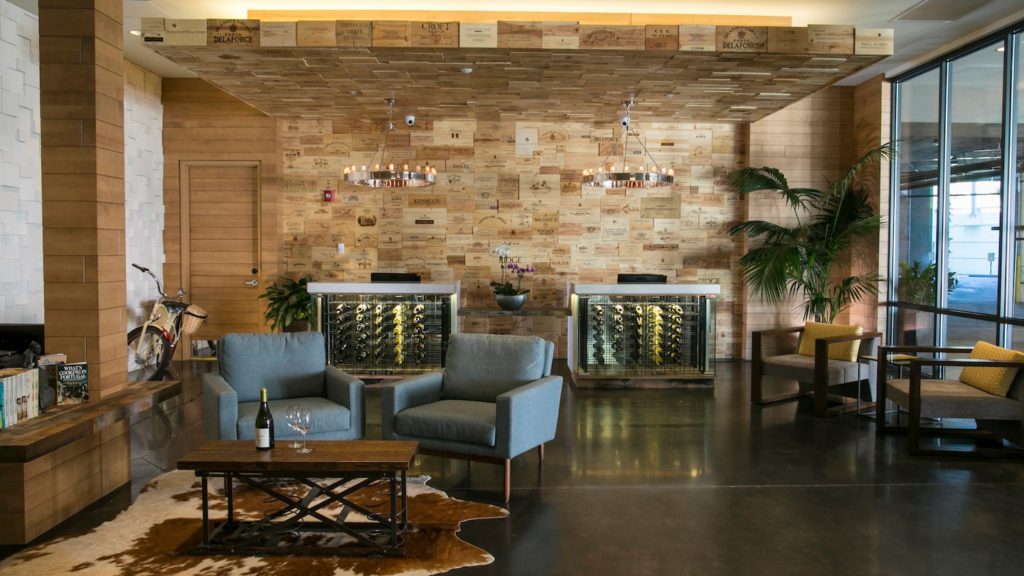 PLAY
MUSEUMS
The Tampa Museum of Art contains contemporary and ancient art, contemporary photography, and one of the largest Greek and Roman antiquities collections in the Southeastern U.S. You'll also find the spectacular 14,000 square foot LED Sky installation by Leo Villareal on the museum's south facade, illuminating the Hillsborough River with its changing colors.
The Tampa Theatre is within walking distance (about a 5 minute walk), or you can head to the Channel District (less than 2 miles away) for a visit to the Florida Aquarium.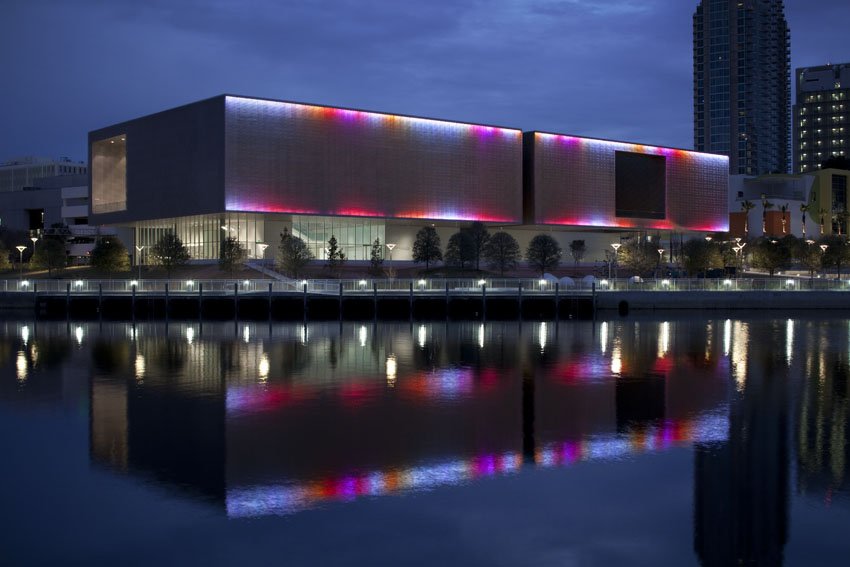 OUTDOOR FUN
Curtis Hixon Waterfront Park
This scenic 8-acre park boasts several fountains and plenty of grassy area ideal for enjoying a picnic by the river. At night, it's a prime location to fully enjoy the splendor of Leo Villareal's Sky installation, as the park is situated by the museum. The park also hosts a variety of events including Fourth Friday. During this event, you and your date can check out art exhibits at a number of venues around the city including the Tampa Museum of Art, the Tampa Theatre and the Florida Museum of Photographic Arts. Pick up a Fourth Friday wristband at one of the venues so you can take advantage of deals at participating bars and restaurants.
Tampa Riverwalk
If you and your honey like to explore in an active way, rent some Coast bikes (Tampa's bike share program) and pedal across the Tampa Riverwalk, a 2.4-mile paved path that takes riders (and walkers) through several city destinations such as the Tampa Aquarium, the Tampa Bay History Center and Curtis Hixon Waterfront Park.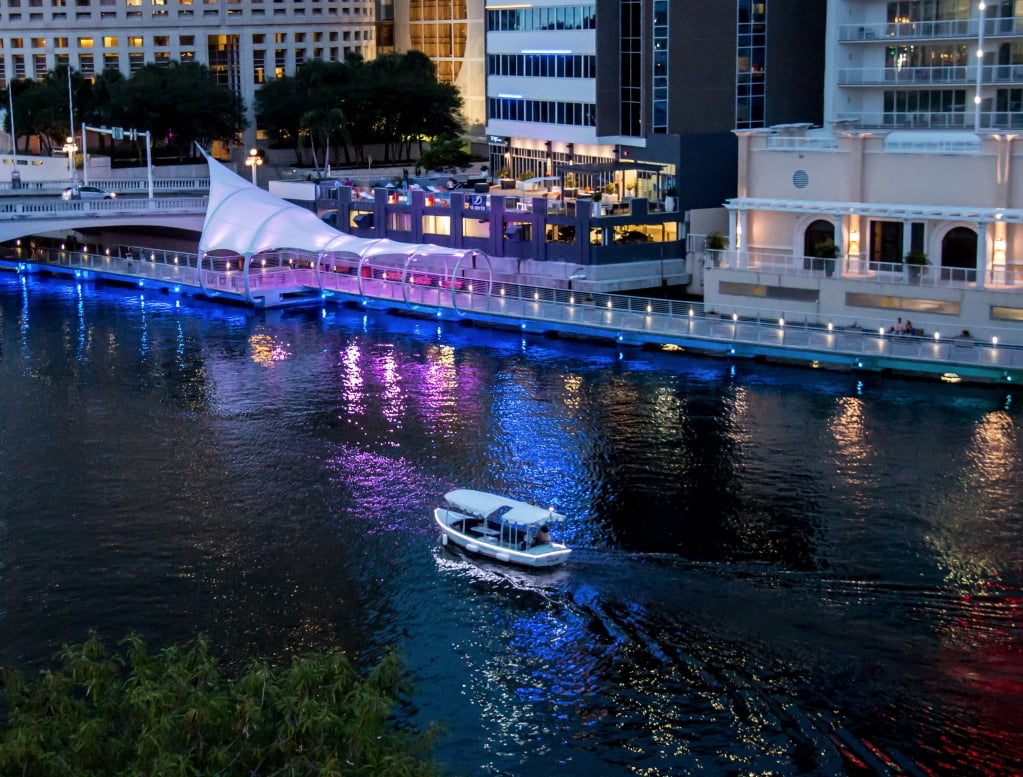 SHOPPING
Oxford Exchange
Merging vintage and modern, this stunning structure houses a shop containing items from both local and global makers. Opt to dine at the restaurant, where you can have breakfast and lunch (or brunch on weekends) in their beautiful dining room or the Conservatory. Continue exploring to find their bookstore, which houses everything from best-sellers to beloved classics. Tip: if you plan on dining, make a reservation online in advance.
Hyde Park Village
What's a vacation without a little shopping? Hyde Park Village offers an array of local shops and restaurants for you to enjoy during an afternoon stroll or an evening date night. This shopping area houses bartaco, an On Swann location, Sprinkles cupcakes, and more. Here's a handy dining guide for food options once you're done shopping.
Once the "Cigar Capital of the World", Ybor City still emanates the rich Cuban culture that helped establish the city back in the 1880's. The city was founded by Vicente Martinez-Ybor in 1886, when he decided to move his cigar factory to Tampa from Key West. Tall, brick buildings, wrought-iron balconies and vintage signs line the streets, taking you back to the city's heyday. Restaurants, coffee shops, breweries and other local businesses are housed in what used to be social clubs and cigar factories, providing character to each establishment.
While in Ybor, you can learn more about the city's history by stopping in the Ybor City Museum State Park. There are several history and walking tours of Ybor, including the Cigar History Industry Tour, Ybor City Historic Walking Tour, Food Walking Tour, and even a Ghost Tour. You'll also find Columbia Restaurant, Florida's oldest restaurant. The award-winning Cuban eatery opened in 1905 and is still owned by the same family to this day, having expanded to five additional locations around Florida.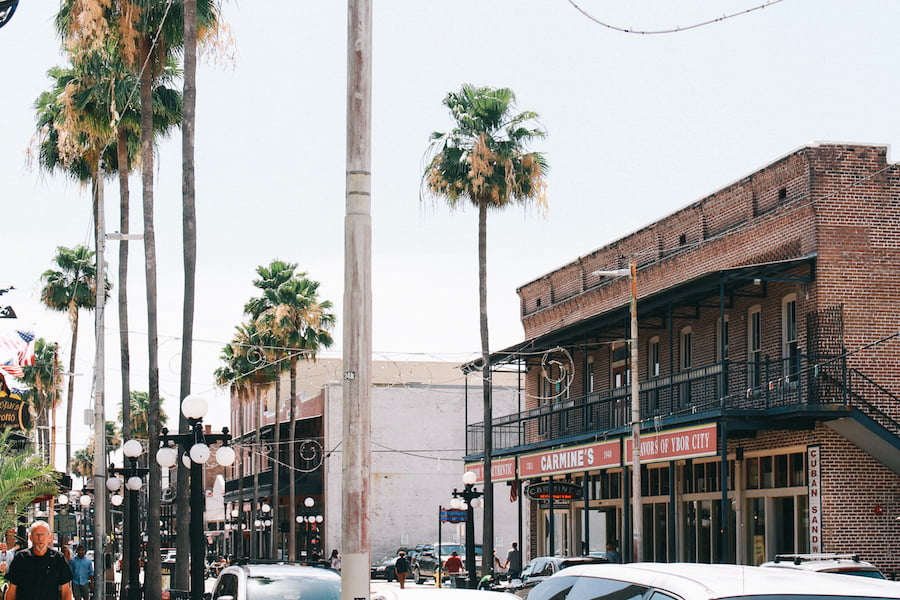 DINE
Bern's Steak House
For an upscale dinner date, a visit to Bern's during your trip is a must. Their famous steaks are aged for 5-8 weeks to ensure best flavor, cut to order and broiled to your preference. Wine lovers will enjoy the extensive wine collection, and your dinner experience won't be complete until you step into the beautiful dessert room. The Harry Waugh Dessert Room has over 50 dessert options to indulge in and numerous dessert wines and spirits. Take advantage of the wine cellar and kitchen tours to get a comprehensive feel as to how Bern's attention to detail sets them apart.
Datz/Datz Dough
At some point during your trip, you won't know exactly what you want to eat. Datz can solve that problem as their menu contains a little bit of everything. They offer burgers, breakfast for dinner, sandwiches, meatloaf, and even serve brunch on Sundays from 8:30am until 9pm.
Pizzeria Gregario
Being named one of the top 50 restaurants in Tampa Bay, chosen by Tampa Bay Times food critic Laura Reiley, is an honor in itself. Being the only pizzeria in the top 10 is an even bigger honor. If you like your pie cooked over an open flame and made like it is in Italy, you've come to the right place.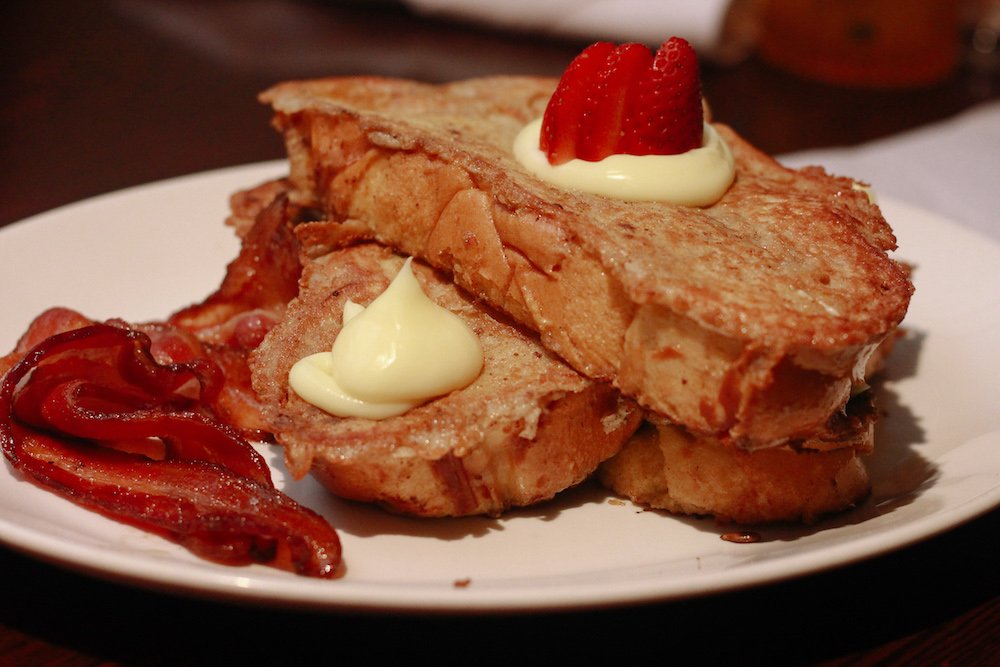 CHANNEL DISTRICT/DOWNTOWN
Edison: Food & Drink Bar
Ready to hit the town in your cocktail attire? Get dressed up and make it a date night at Edison. Chef Pierola leads the crew and has created an exquisite menu filled with scallops, fresh fish, and several fantastic hot and cold starters.
On Swann
It's only right for you to experience Tampa like a local during your getaway. On Swann has made it their mission to help the local community. They provide a seasonal menu of contemporary American cuisine that is thoughtfully sourced. Stop in for a bite during brunch, lunch or dinner.
Dough Nation
Once you've picked a fine dinner option, make sure you save room for dessert. Dough Nation is the spot you need to hit if you're a fan of ice cream, sundaes, cookies or brownies. They carry nine variations of cookie dough and nine different flavors of ice cream. Your taste buds will be doing back flips after you've finished.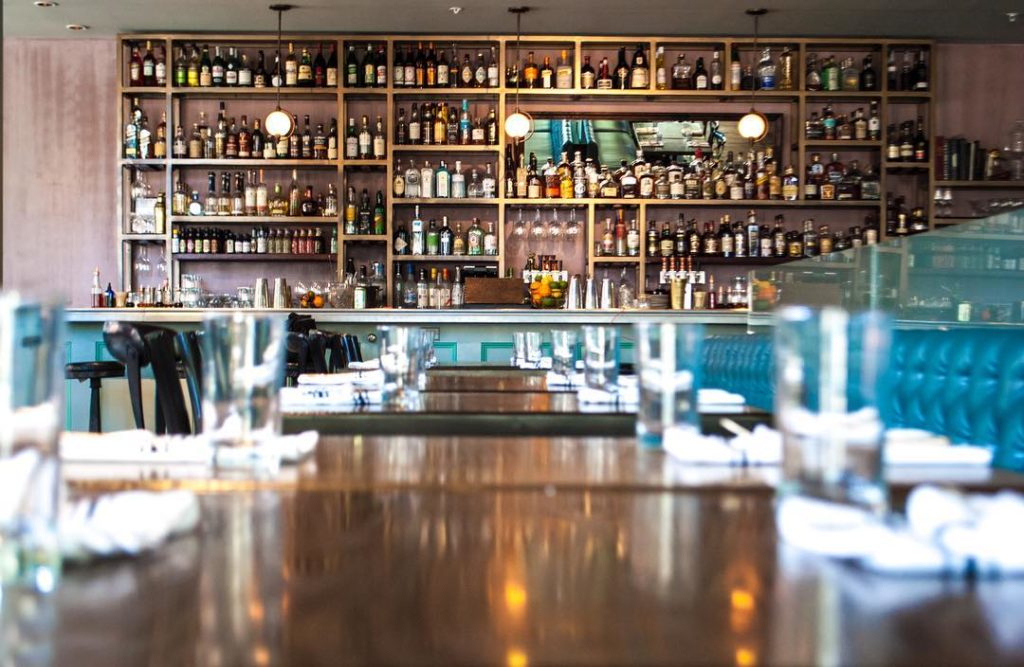 TAMPA HEIGHTS
The Hall on Franklin
Seven culinary purveyors found a home inside of this food hall, offering varied cuisine choices plus a coffee shop and craft cocktail bar. Soul on Franklin in held on the 2nd Friday of the month in the entertainment mezzanine and features DJ Blenda playing soul and R&B vinyls from 8:30pm-12:30am.
Armature Works
The Heights Public Market inside Armature Works is a 22,000 square foot market and food hub that features 11 restaurants, a coffee and tea bar, an ice cream shop, a craft cocktail bar and a wine bar. There are several areas to sit and play games outside, or you can take advantage of the communal seating indoors and make some new friends.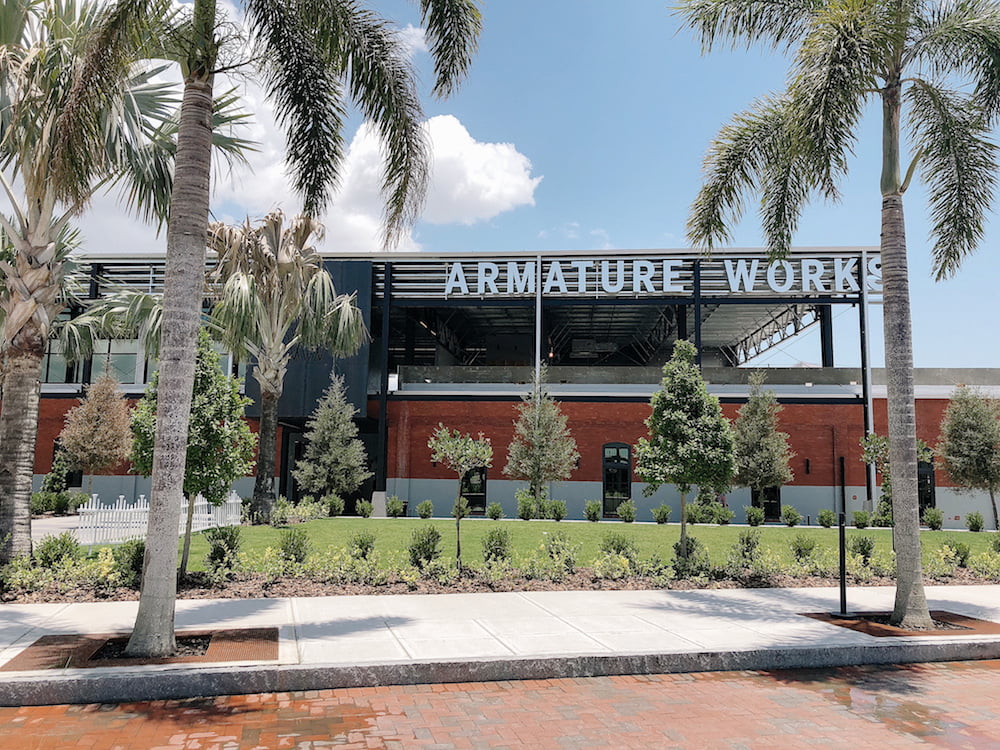 SEMINOLE HEIGHTS
Bodega
If you've visited St. Pete you're probably familiar with Bodega's fantastic cuban sandwiches and food. They've recently expanded to a second location, bringing their award winning fare and refreshing juices to Seminole Heights.
Revolution Ice Cream Co
Bill Workman went from making ice cream at home to now opening a second brick and mortar location. Classic flavors are available, but we love the custom flavors like Chocolate Habanero, Greetings from the 813 (Cafe con Leche ice cream with Sea Salt Caramel and Dark Chocolate hard shell swirl) and Crack the Window, There's a Reese in the Car. It'll be hard to choose one flavor. Lucky for you, Revolution offers a handy sampler featuring your choice of six scoops.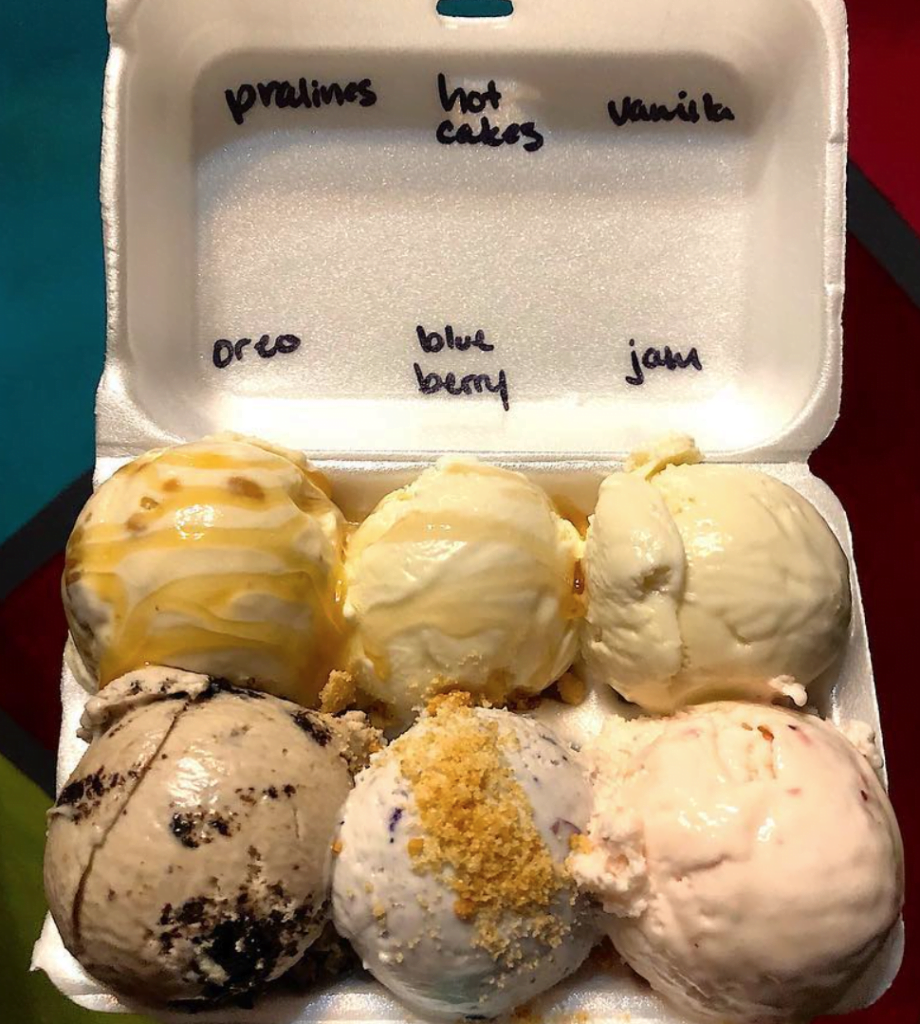 DRINK
COFFEE SHOPS
Buddy Brew Coffee
Tampa has a bevy of options for coffee lovers. Buddy Brew has three locations around the city–one in Hyde Park Village, a spacious location on Kennedy, and a third location inside Oxford Exchange to feed your caffeine habit. Caffeine Roasters also has a location on Kennedy in addition to one close to the Tampa Museum of Art.
Blind Tiger Cafe
When it's time to find something quiet and away from the world, Ybor City has one of our favorite little coffee shops in the Tampa area. Blind Tiger Cafe is quaint and the service is very friendly. They offer a mix of coffees (including a nitro tapped), plus teas and a few items to eat.
Foundation Coffee Company
Remember when I said Tampa had lots of coffee options? When in Tampa Heights you'll find coffee options inside Armature Works and The Hall on Franklin. In addition, Foundation Coffee has a location in the area for you to recharge that caffeine battery.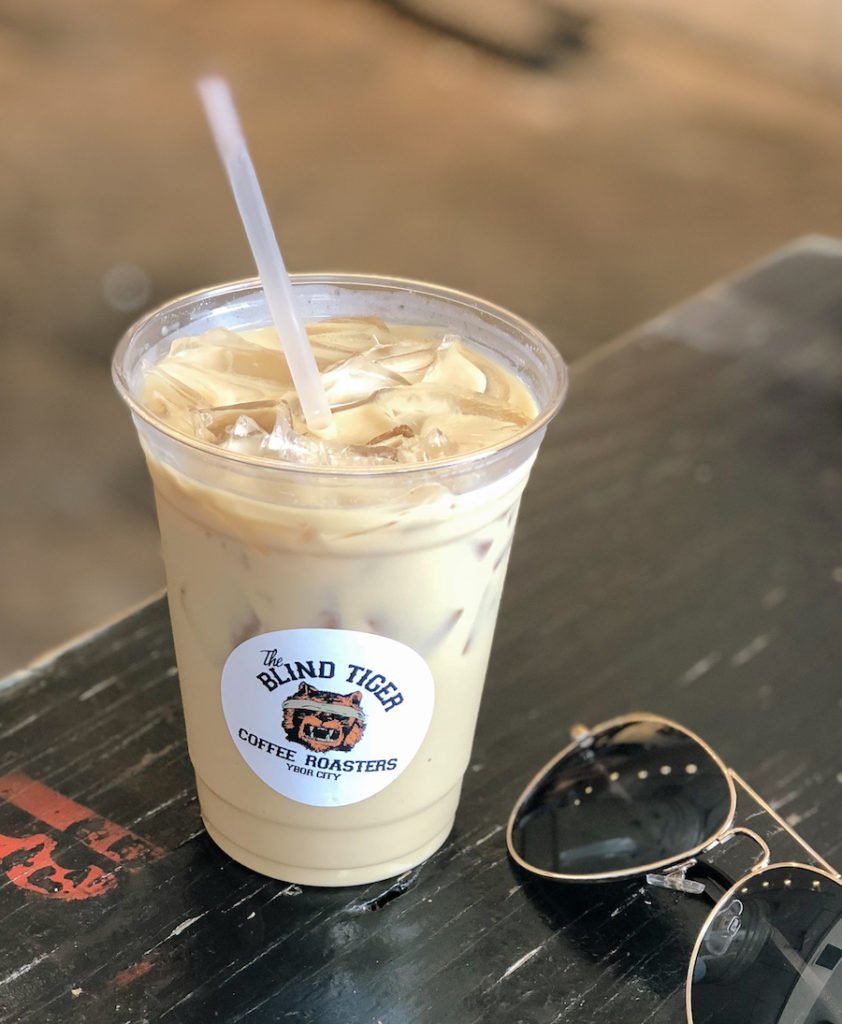 BREWERIES
Cigar City Brewing
Perhaps the most famous Tampa brewery, Cigar City is an award-winning brewery that's been around for more than 10 years. Pull up a seat in the Tasting Room for a taste of 12 beers on draft and don't miss the awesome $8 brewery tour which includes a Cigar City pint glass (filled with beer samples during the tour) and a history of the brewery. It's one of the best brewery tours in town!
Hidden Springs Ale Works
Hidden Springs currently offers 13 beers that are brewed on site as well as a selection of wine. The tap room is located very close to The Hall on Franklin, and they encourage guests to pick up their favorite grub and enjoy it in the tap room along with a brew.
Angry Chair Brewing
Looking for a casual spot to have some fun and drinks? Angry Chair Brewing is going to become your new favorite spot. The concept and name is inspired by everyone's personal "angry chair". This may be when you're in traffic yelling at someone who cut you off or fuming over something a co-worker did recently. There isn't a food menu, but they do provide menus for nearby places that deliver.
Tampa Brewing Company
Tampa Brewing Company intends on remaining local and having their IPAs available solely in the state of Florida. You'll find a mix of pale ales, sour ales, IPAs, and stouts at their two taprooms (one located in Westchase, and the one in Ybor City).
Zydeco Brew Werks
This new brewery draws inspiration from New Orleans, evidenced by their name which translates to the popular music of Southern Louisiana. The inspiration continues to their eatery, with an emphasis on cajun cuisine with dishes like Gumbo and their Beer Braised Brisket Po Boy. Beers including West Coast IPAs, German lagers, cocktails, and wine round out the beverage selections.
Coppertail Brewing Co.
Coppertail brews their beer in what they refer to as the "old-world" way, so you are receiving the best tasting beer every single time. They don't filter their beers, use natural carbonation and whole leaf hops. You'll find 20 beers on tap, plus a food menu containing appetizers, sandwiches, burgers and more if you get hungry. They also offer facility tours Thursday-Sunday for $7/person.
BARS
The Mandarin Heights
Mandarin Heights views themselves as "stewards" of the cocktail culture. You may only get to try your drink once as they create a new menu for guests each Tuesday. Take some time to relax and enjoy this newly-opened cocktail heaven.
CW's Gin Joint
CW's Gin Joint will transport you back to a time where alcohol was illegal and the proper dress attire was dapper. Throw back a few drinks before sampling something from the small menu featuring fresh lobster and fish, ribeye steaks, and even a grilled cheese sandwich. To drink, I recommend the Grocery Getter, a vodka drink filled with seasonal fruit.
Want more Tampa ideas? Read our post 40 Reasons to Plan a Tampa Date Night and check our our sister site, Tampa Bay Date Night Guide.
All photography by Arlene Laboy unless otherwise noted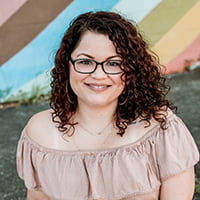 Arlene Laboy is a professional brand photographer based out of Orlando, Florida. A wife and a mother, Arlene shares her love for adventuring around Florida and her professional work through her Instagram account, @arlenemlaboy. Find out more about Arlene here.