Since becoming an official Major League Soccer team in 2013, Orlando City has found a special place in the hearts of many local Orlandoans. The opening of the team's very own soccer stadium last year brought an entirely new match day experience for Lions fans. With Orlando City's 4th MLS season on the horizon, we have a roundup of everything you need to know to make it a date night (or day) to remember.
ORLANDO CITY KICKOFF WEEK
The annual Orlando City Kickoff to Soccer is back! Celebrations start on Friday, February 23, 2018, and end with the season opener on March 3, 2018, vs. DC United at 7:30pm.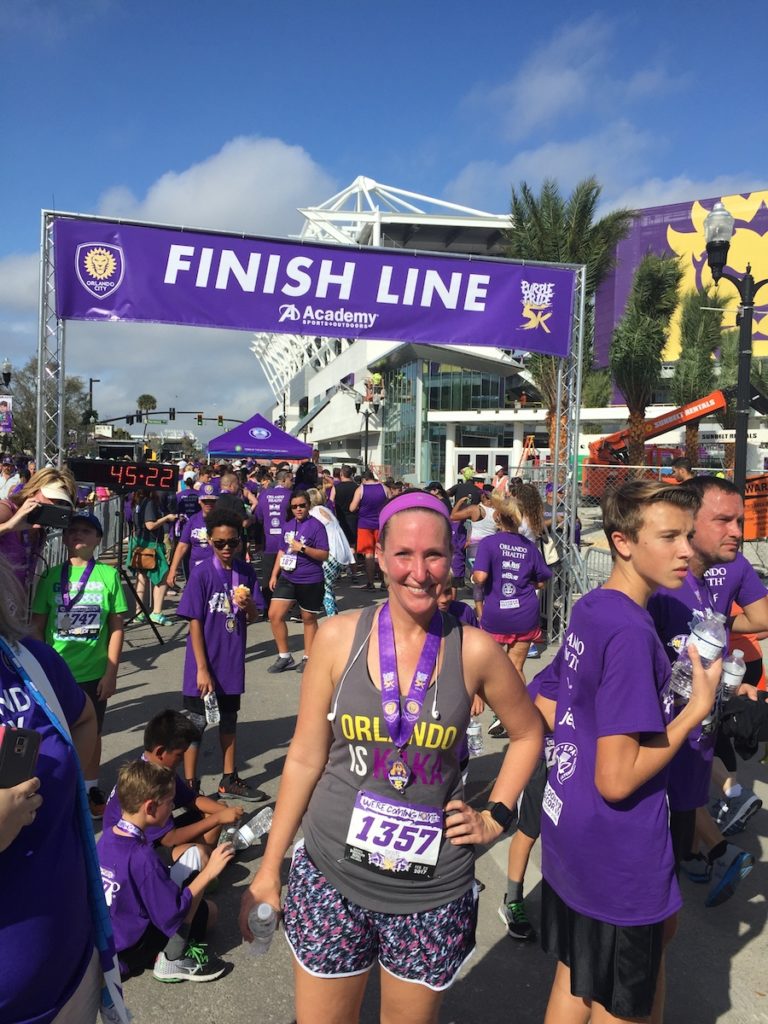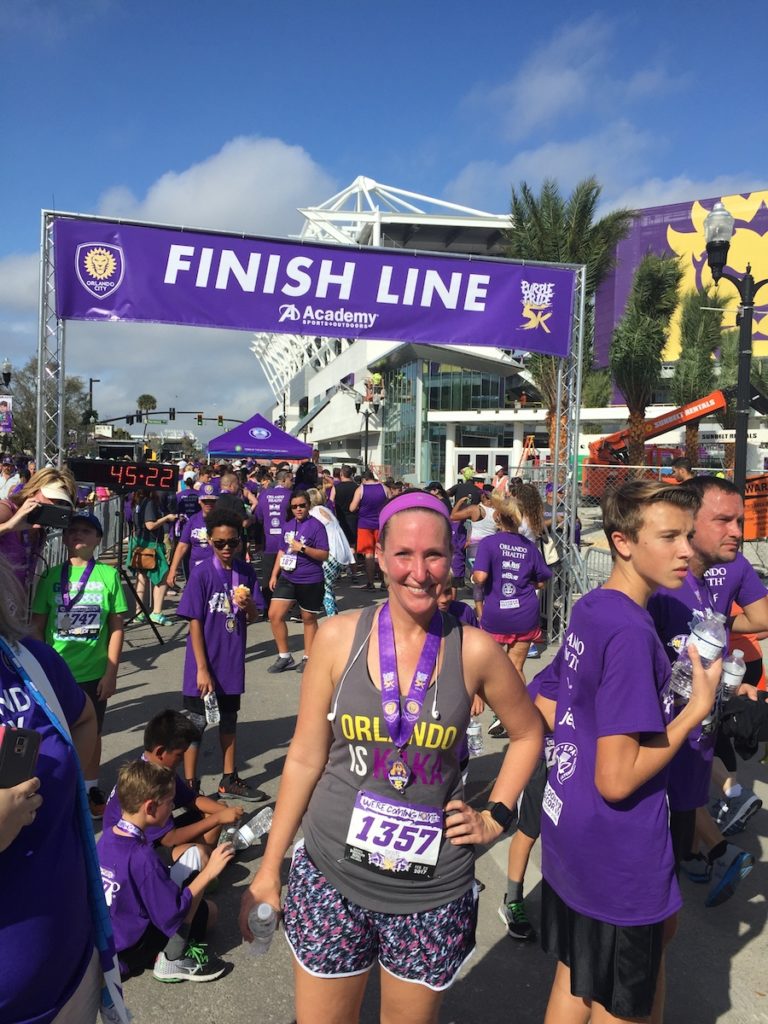 Purple Pride 5K
Saturday, February 24th, 8am
Orlando City Stadium
$35 from February 17-February 23
$40 at Packet Pick-up on Race Day
The 4th annual Purple Pride 5K will include a shirt and a ticket to one of three match dates (March 10, April 21, or July 26). This year the route will include one lap through the concourse of Orlando City Stadium! The race is capped at 2,500 participants, so register soon.
Scarf the City
Tuesday, February 27th
Scarves will be hidden around the city. Follow @OrlandoCitySC and @ORLPride for clues on where to find a scarf!
Orlando City Pub Crawl
Friday, March 2nd, 5:30pm
Elixir, Lion's Pride, Wall Street Plaza
$27 until February 23
$30 from February 24-March 2
$35 the day of the event
Wear your favorite purple outfit with pride and hop from bar to bar. Each participant will receive admission to all venues, three complimentary drinks and a match ticket (March 10, April 21, or July 26). One ultimate fan winner will be selected at each stop to win autographed merchandise and match day essentials.
TICKETS & MEMBERSHIPS
Ticket Prices
Option 1: Single match tickets start as low as $29
Option 2: The 5 Game Flex Pack includes a ticket to the home opener plus four other matches, chosen from a set of available game options. This will cost you about $300 for two ticket packs.
Option 3: Join the Lion Nation. Lion Nation membership is $59/year and gives you priority access to blocks of reserved tickets that will be released throughout the season. When you become a member you will also receive a scarf, lanyard, magnet and two Orlando Pride tickets. Additional benefits include discounts on merchandise and concessions, behind-the-scenes access and ways to earn rewards.
Option 4: For the ultimate fan, there is always the option to purchase group or season tickets.
Please note: entry is now paperless, so you will need to use the club's LionNation app or the Ticketmaster app for entry. Also, the stadium has a clear bag policy, so please make sure you read it before you go.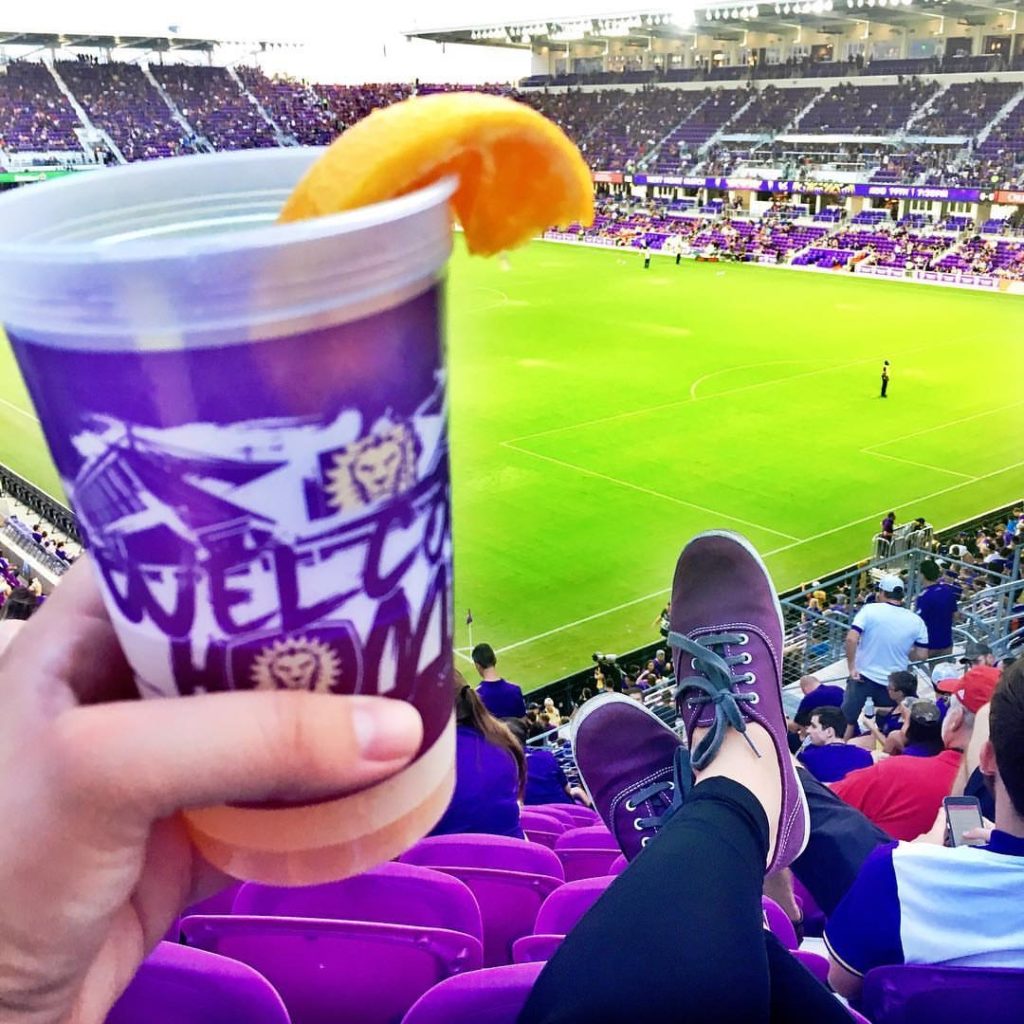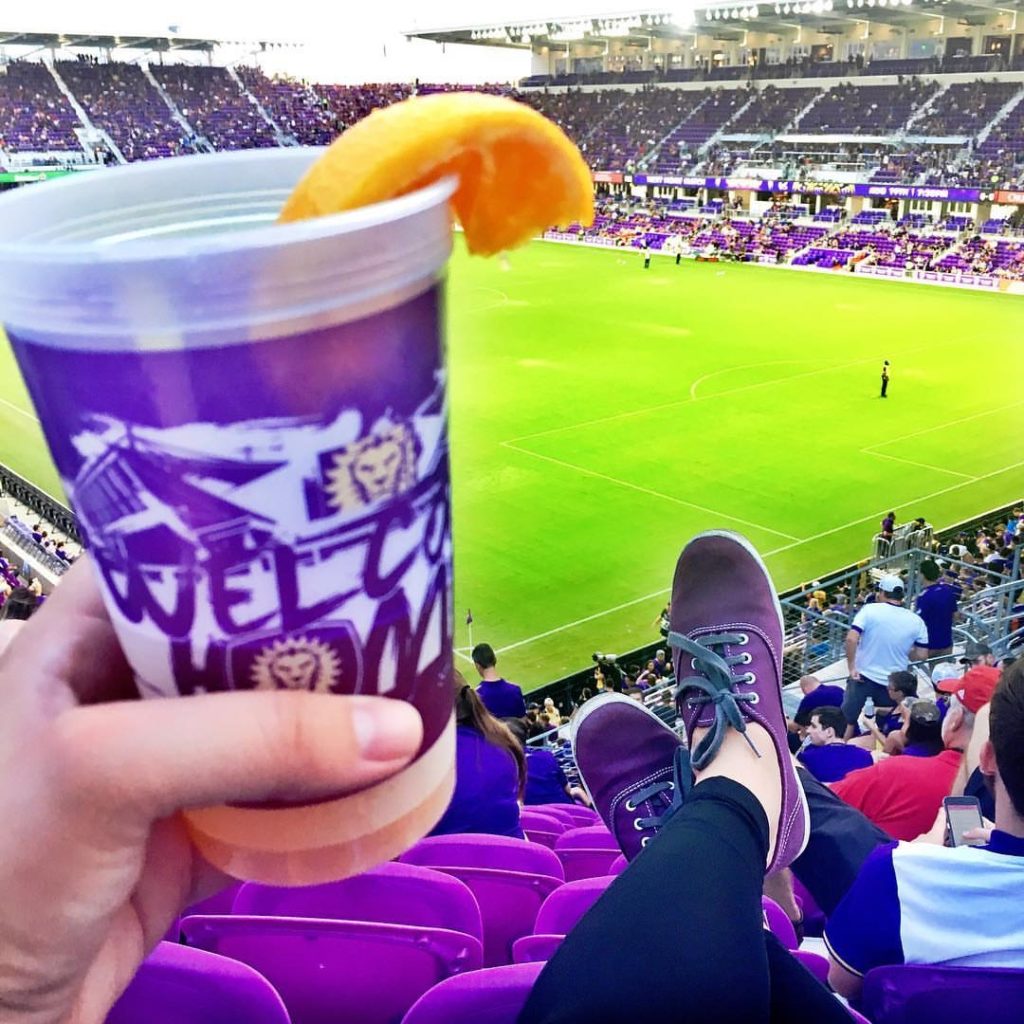 Join an Orlando City Supporter Club
Attending a match with a supporter club is rumored to be the best way to experience a match (it's on our Orlando bucket list!). There are two official supporter clubs in Orlando. While neither requires a membership to participate in match day events, membership is encouraged if you are going to become a regular.
The Iron Lion Firm
The Iron Lion Firm was launched in 2011 with the intent to bring a Latin American/European/Caribbean feel to the Orlando City matches. The club's pregame events begin at Elixir (9 W. Washington St), where there are specials for members, friends, and family. Approximately two hours before the game, they gather in the back parking lot to start their march to the stadium. The smoke, chants, and flags fill the streets as the truly diverse group marches toward the stadium, stopping underneath I-4 to light their pyro for the last stretch into the stadium.
Membership is $25 and includes an ILF backpack permitted inside the stadium, a t-shirt, access to the private Facebook page, and access to tickets below market value price.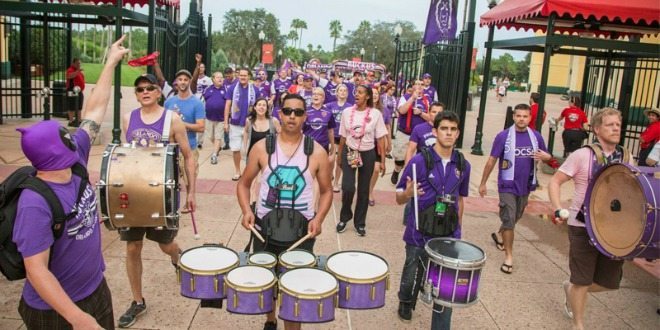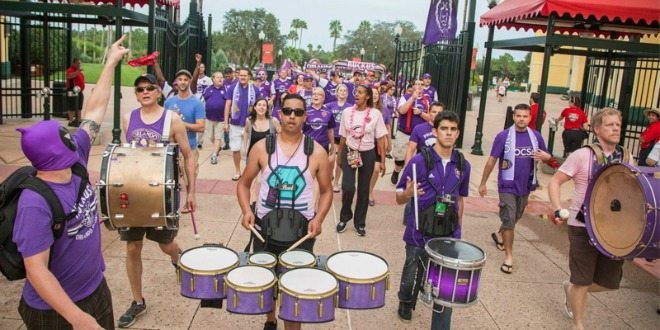 The Ruckus
If you are looking for an environment similar to a traditional tailgating experience, The Ruckus might be for you. Founded in 2010, it is Orlando's first official independent supporter club. Tailgating takes place in the parking lot behind The Broken Cauldron Brewery. Here you will find tailgating games like beer pong, flip cup, cornhole, and more. The group begins their march to the stadium two hours before game time and is especially known for over-the-top smoke bombs. You must be a member to purchase a tailgate parking spot.
Membership levels:
$20 – membership card only
$25 – membership + scarf
$35 – membership + scarf + shirt
$50 – membership + scarf + shirt + flag
$85 – membership + scarf + shirt + all 4 flags
Pro tip: learn the supporter chants in advance! All supporter chants are listed on each club's website so that you can learn them before you attend. Mike Gagne from @iluvorlando describes the supporter march to the stadium experience the best, "Loud smoke-filled clouds of purple, with chants that drown out the sounds of downtown, while they march closer and closer to the stadium. One army marching east down Church Street, and one marching west down Central, meeting together at the stadium to join as one. No longer The Ruckus and Iron Lion Firm, they are now together united, as The Wall."
EXPERIENCES
Hop On! Central Florida Brewery Tours
Orlando's only brewery tour company will be offering match day packages for your pregaming needs. The Orlando City Ticket & Pregame Package includes a guided tour with stops at 3-4 different breweries and a ticket to the game! Keep an eye out for the dates and brewery stops to be updated on their website. Packages are $99/person.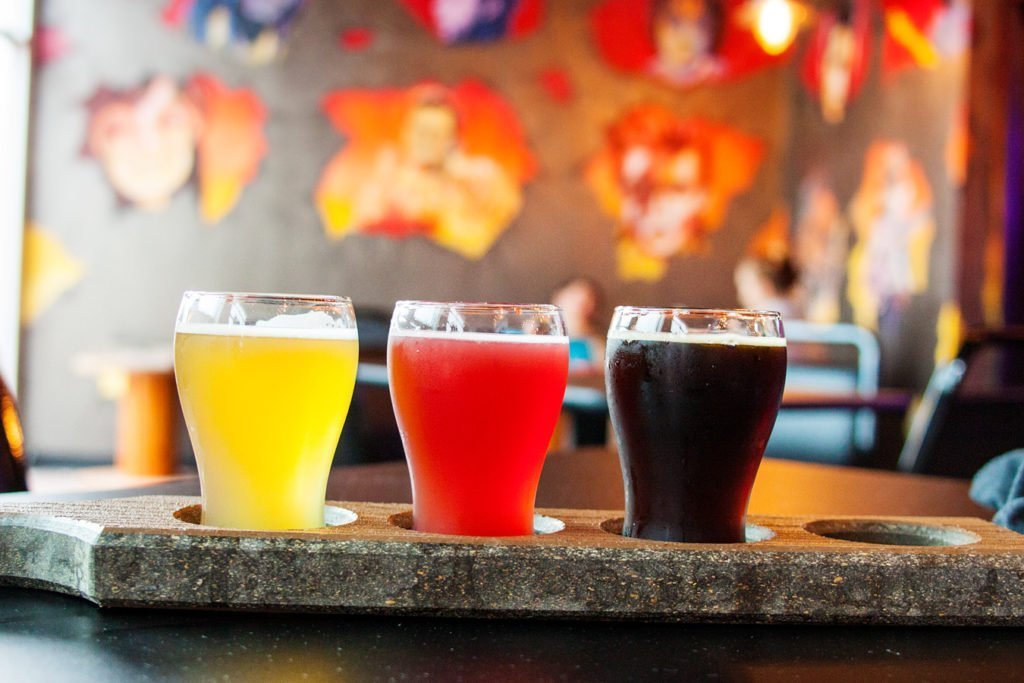 Best Pre-and Post-Match Bars
Church Street Bars
Ferg's Depot
78 W. Church St.
Hours: 11am-11pm (Sun – Th) and11am-2am (F and Sat)
The South Florida Railroad has been around since the late 1800s, but Ferg's has only occupied the Church Street Station since early 2016. The large space has four bars, several dining rooms, and an outdoor space all centered around the train station theme. Join the MVP club for monthly specials and prizes.
Graffiti Junktion
54 W. Church St.
Hours: 11am-2am
Burgers and beers, what more could you ask for?! Well, maybe a daily happy hour from 4pm-7pm and 10pm-close, making it an ideal stop before and after the match!
Harry Buffalo
129 W. Church St.
Hours: 11am-1am (Sun-Thurs) and 11am-2am (Fri and Sat)
A popular stop before any event at the Amway Center, Harry Buffalo gives you a chance to sit down and grab some unique grub (think bison burger) and a cold drink before making your way under I-4 to the game.
Irish Shannon's
41 W. Church St.
Hours: 11:30am-2am (Mon-Fri) and 4:30pm-2am (Sat and Sun)
With the Irish theme, this place gives off a great game day vibe. Drinks are priced at half off before and during any Orlando City soccer match. There is also a match day drawing for a pair of FREE tickets to the game. Finally, end your night with live music on Saturdays beginning at 10pm.
Lion's Pride
123 W Church St.
Hours: 11am-10pm (M-Th) and 11am-11pm (F and Sat)
Orlando's soccer-centric bar, Lion's Pride, just opened last year. It gives you the stadium experience in a comfortable environment.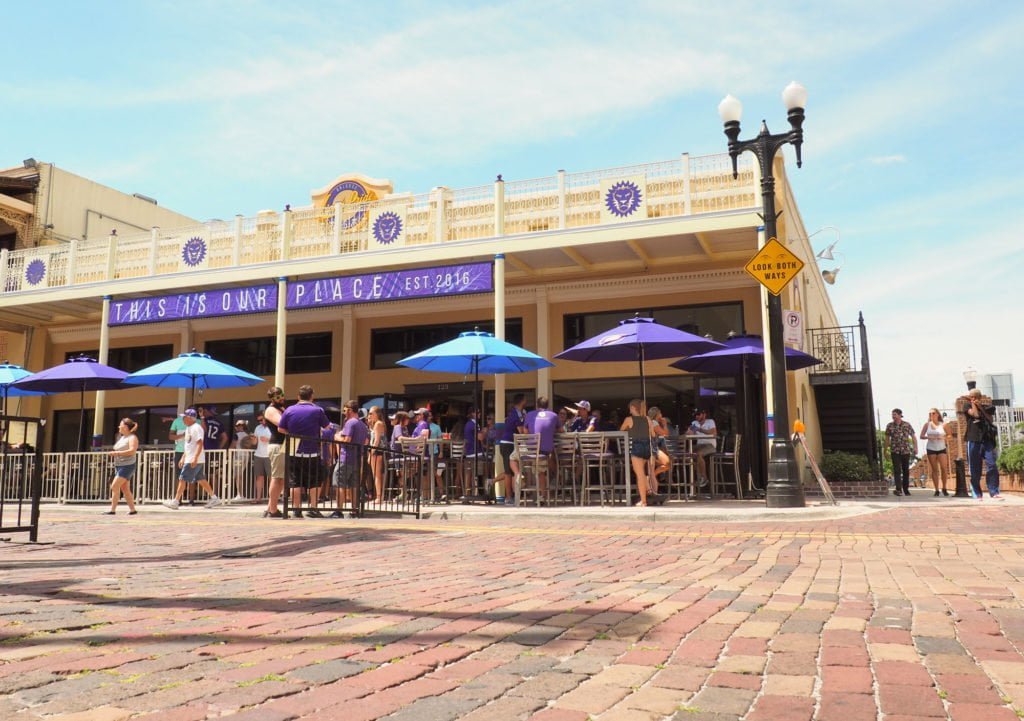 Around the Orlando City Stadium
Mane Street presented by Publix – FREE
During each home game, Mane Street will open at 4pm on Rio Grande Ave. in front of the stadium. They have live music by the Heineken Concert Series Band: Ancient Sun, along with $5 Heineken, the Purple Pride drink, food trucks, and various sponsored activities.
Stonewall
741 W. Church St.
On most days, this is one of Orlando's premier LGBTQA bars, and on match day it becomes a place for all to grab a drink before or after the game. The main draw is that the bar's second-floor balcony offers an unparalleled view of The Ruckus supporter group as they make their way into the stadium, smoke bombs and all.
The Yard Bar
617 W Central Blvd.
Operated by the owners of Wall St. Plaza, this unique family-friendly bar is only open before, during and after each home soccer match. It is located in a yard directly across from the stadium. They offer cheap drinks, music, games, food trucks (including Gringos Locos tacos), and picnic tables with palm trees. Follow them on Facebook – Yard Bar and Instagram – @yardbarorlando for match day hours.
TIPS & TRICKS FOR MATCH DAY
Where to Sit
There really isn't a bad seat in the house at the stadium. However, there are some advantages to sitting in one section over the other. The question you need to ask yourselves is, what kind of match day experience do we want?
If you are looking for a calmer, sit-down experience, then the regular seats are just for you. If you are looking for a crazy, loud, flag-waving experience with 3,800 fellow fans, then "The Wall" is where you need to be. "The Wall" is North America's only all-standing section. Filled mainly with members of the two supporter groups and located at the north end of the stadium, it is the loudest and most energetic section.
Don't Miss the Concessions!
Check out the concessions at the stadium where you will find unique sporting event food options, like a charcuterie plate and Cuban bowl, as well as more traditional options. Our favorite was one of the signature cocktails served in a take-home mason jar.
Parking & Transportation
Due to match day road closures and limited parking, we highly suggest you use a ride share app to get to your pregame location and then walk to the stadium. This also allows you to enjoy adult beverages safely during the match.
If you prefer to drive, you may park in any of the parking lots listed on the Orlando City Soccer Club website.
In the past, SunRail has offered select Saturday services if there are a lot of events going on downtown. Although there are currently no Saturday services planned, check the SunRail website for the latest updates.
Game Day Watch Locations for Away Games
Finally, there are even events for some of the away games. The Orlando City Soccer Club has what they call City Pub locations with watch parties for select matches. Check out the schedule and specific information here.
Feature image credit: Hannah Green @lovecentralfl