With so many restaurants to savor in downtown Orlando alone, we can hardly blame you for not wanting to leave the Orlando bubble for date night. Yet just a short drive away, date night gems await discovery throughout Seminole County. From soul food in Sanford to sushi in Oviedo, our editors and a few of our favorite local food experts are sharing their top picks for Seminole County restaurants worth traveling to again and again.
Korea House
1155 W State Rd 434, Longwood
407-767-5918; koreahouseorlando.com
Bigger isn't always better, but this more spacious sister of the Korea House restaurant on Colonial offers fewer crowds and quicker service than the Orlando outpost. Familiar favorites like bibimbap and bulgogi are available along with more adventurous (and expensive) fare such as hot-pot casseroles with black goat or beef intestine. Meals come with an impressive array of banchan–complimentary small dishes of kimchee, parboiled spinach with garlic and more–and the weekday lunch special offers a dozen dishes priced from $7.99 to $10.99.
Shantell's Just Until…
501 S Sanford Ave, Sanford
845-214-4589; ordershantells.com
Sanford's queen of soul food is back and feeling the love in a new location with a polished and cheerful vibe. Fried chicken to die for is still the star of the show here (except when Shantell picks up the mic on the "club" side of the restaurant"), along with Southern sides of mac-and-cheese, collards and fried green tomatoes. Jamaican-style beef patties and specials like oxtails and jerk chicken will take you to your happy place.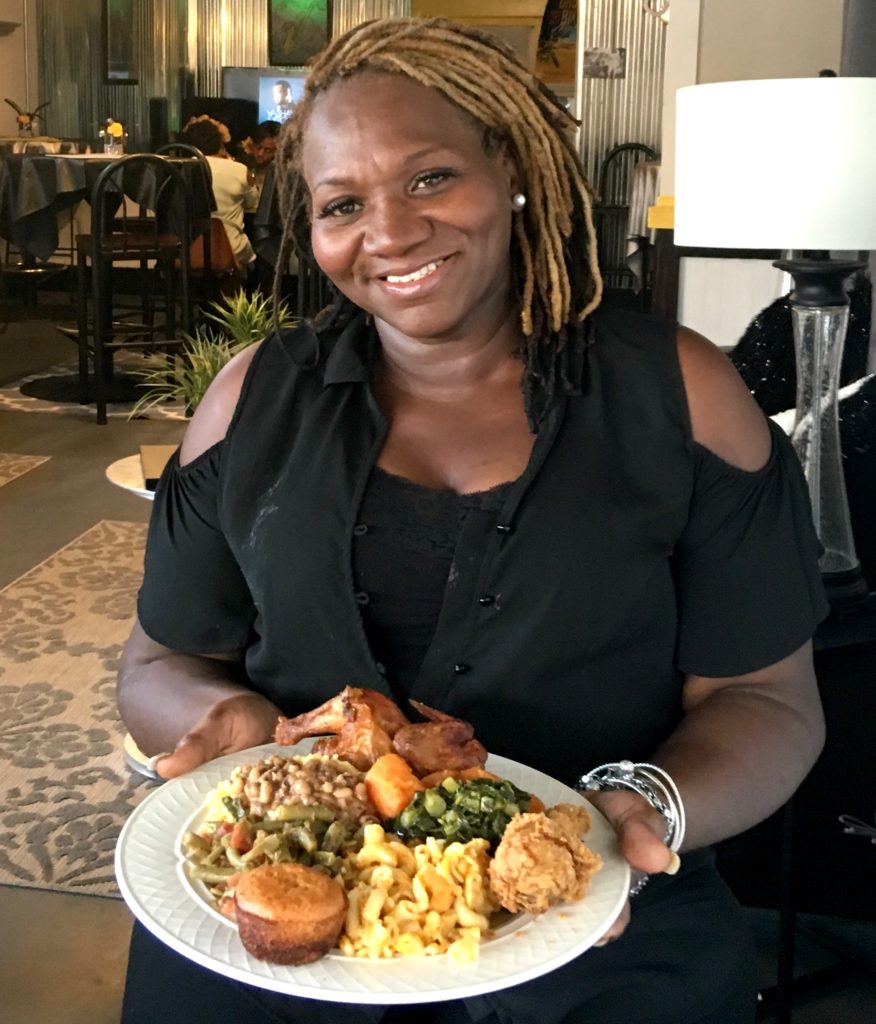 The District
112 W 2nd St, Sanford
407-330-2730; districtsanford.com
One of Downtown Sanford's newest kids on the block is The District, a contemporary farm to table restaurant offering a delicious interpretation of American fare in a trendy mixed rustic and industrial setting. The ingredients are always fresh and locally sourced and you will often find seasonal dishes on the menu. Their classics never disappoint either: our go-to dishes are the impossibly tender braised short ribs with wild mushroom risotto or the bone-in pork chop over creamy Boursin mashed potatoes and broccoli rabe, topped with a savory fig and onion jam. But it's not just their food that is mouthwatering; they also offer a great selection of craft beers, wines, and signature craft cocktails you don't want to miss. One of our favorites is the Sanford Smash, an invigorating mix of Tito's Handmade Vodka, Lillet Blanc, strawberry and basil puree.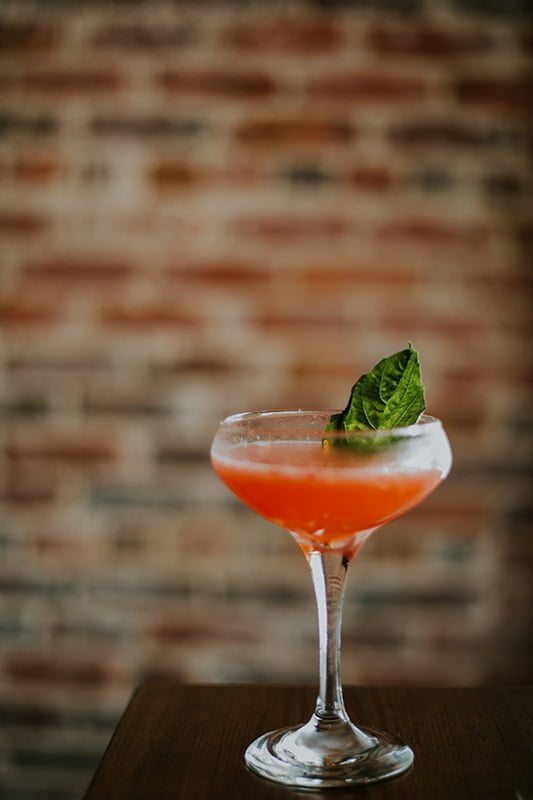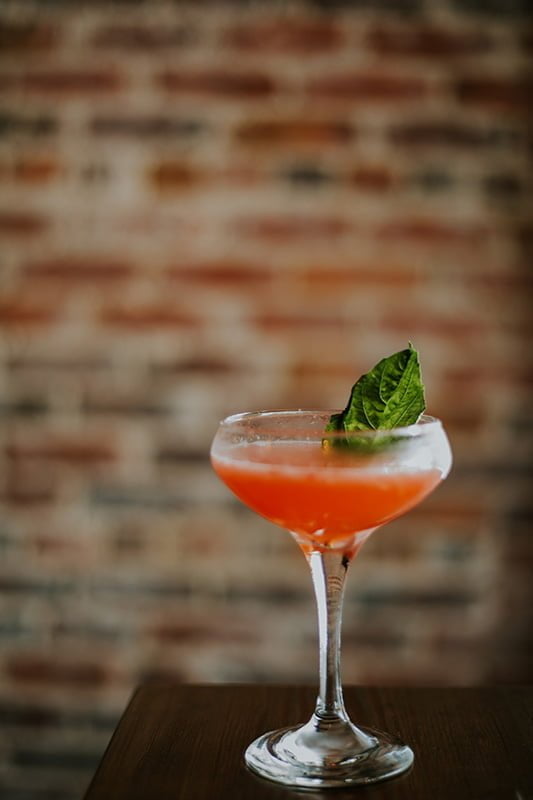 Kristen Manieri – Orlando Date Night Guide
AJ's Press
182 W State Road 434 Suite 1008, Longwood
407-790-7020; ajspresslongwood.com
A family-run pressed sandwich shop less than a mile from Longwood's SunRail station, AJ's has recreated the wildly popular concept from Tampa and added a few unique twists of its own. Launch your lunch or all-day breakfast with an order of Jalapeño Bacon Hush Puppies; they are delicious. Then, have your pick from 19 different lunch and breakfast pressed sammies made to order on local bread. If you're steering toward gluten-free, go for a bowl, which comes with all the sandwich fillings served atop greens and the house made black beans (so good!). AJ's is an unfussy quick serve but the food quality and flavor is definitely worth a lunch date. Open Monday to Friday from 8am-4pm; Saturday: 9am-3pm; closed Sunday.
Fig's Prime
1188 Commerce Park Dr. Suite 1002, Altamonte Springs
407-960-1300; figsprime.com
Situated on the border of Longwood and Altamonte Springs at the foot of a small, commercial high rise, Fig's Prime serves as a true, quintessential "hidden gem." We stumbled upon it by happenstance a few weeks ago and have raved about it ever since. Executive Chef and owner Victor Gonzalez has poured his heart (and gobs of money) into a menu and dining room that has date night written all over it. Settle into the cozy red couches lining the outer rim of the space and begin your feast of upscale comfort food (rack of lamb, pork tenderloin veal scallopine, short ribs ravioli) done right. To my estimation, Chef Gonzalez aims not to reinvent the dinner experience with gastronomic innovation but to do the traditional mainstays well…and he hits his mark.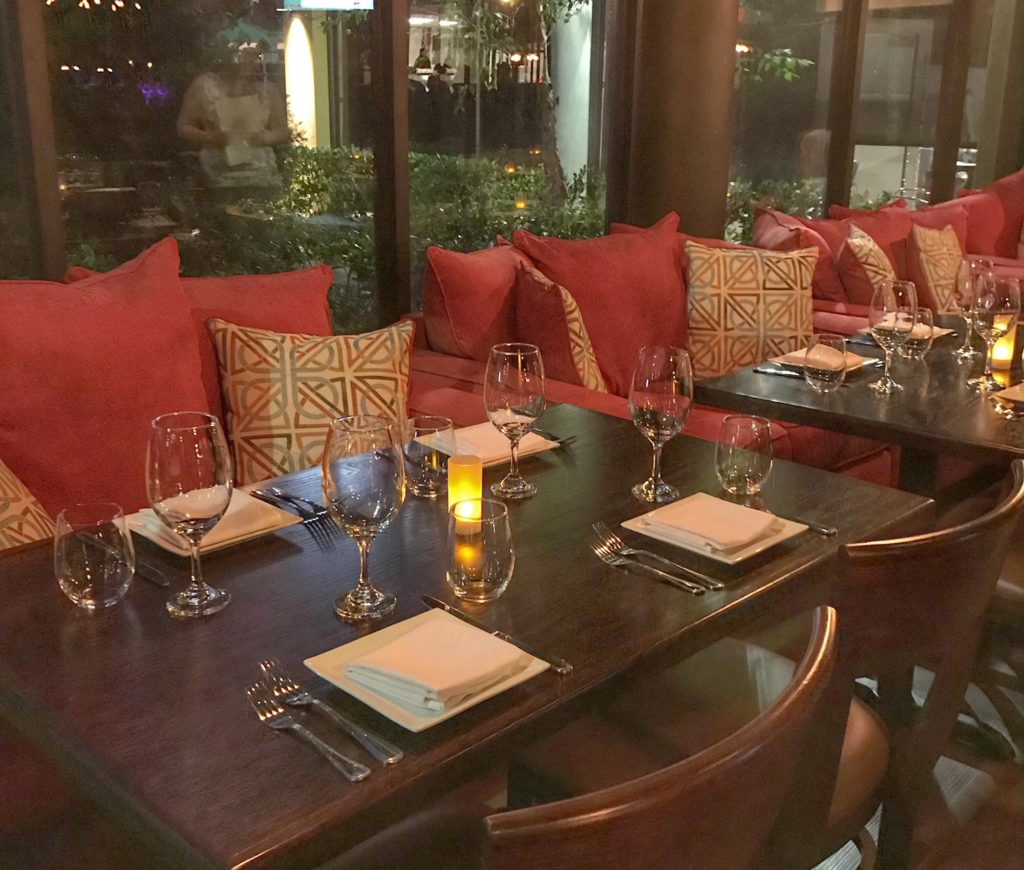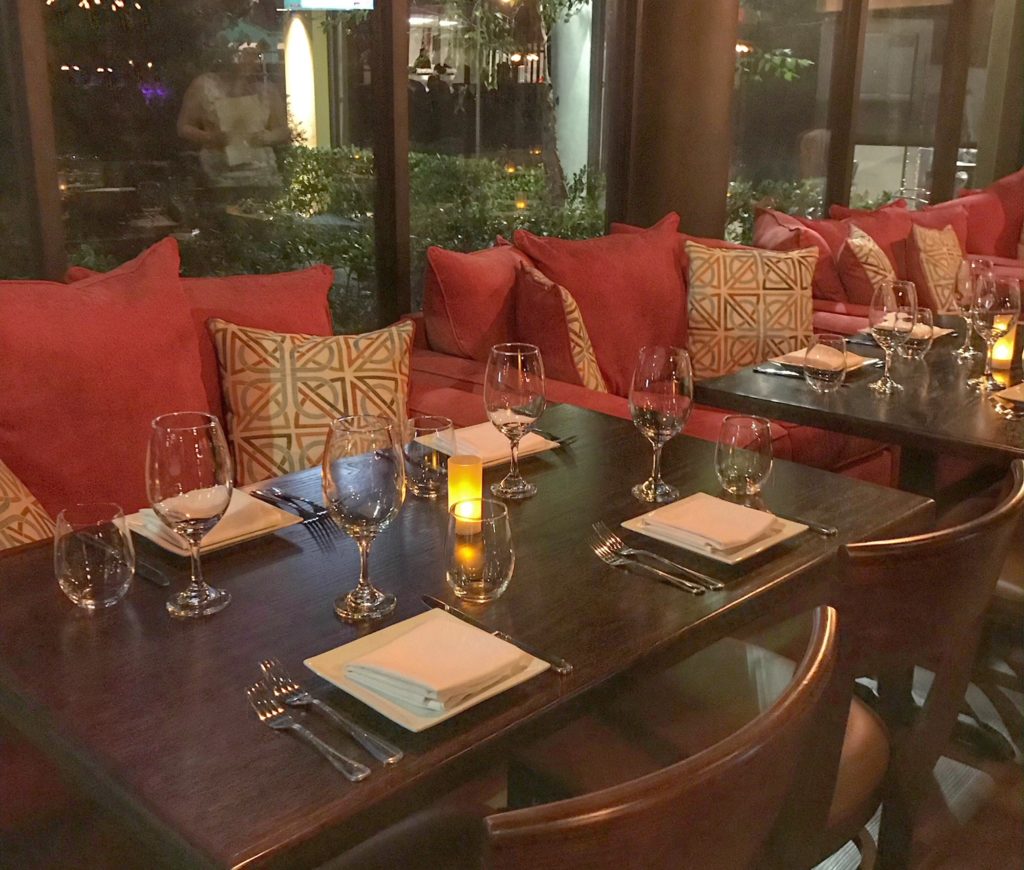 Enzo's on the Lake
1130 S US Hwy 17 92, Longwood
407-834-9872; enzos.com
I've met couples who return to Enzo's every year for their anniversary, and with good reason. The classic Italian food, incomparable service, and lakeside ambiance make a trip to this enchanting Italian villa in Longwood a must. Perched on the shores of Lake Fairy, Enzo's was once a huge, private residence, but now a series of small and intimate dining rooms sprinkled throughout the villa make this a coveted place for intimate occasions. If you have some time before you are seated, grab a glass of wine and enjoy it in the sculpture garden overlooking the lake. If you've timed it right, you might even be able to watch the sun go down. Inside, the food is simple, traditional and flavorful with everything made in-house and a dedication to traditional Italian dishes. Start your meal with the famous antipasti platter, which features a variety of house charcuteries, and then choose from pastas, seafood, meats, and poultry. Valet parking is mandatory on busy nights and reservations are strongly recommended.
Santiago's Bodega
1185 Spring Centre S. Blvd, #1080, Altamonte Springs
407-960-2605; santiagosbodega.com
Seminole County squealed with delight when downtown's Santiago's Bodega (also in Key West) made its way north to the 'burbs a few years ago. Inside the wooded and artful dining room and expansive bar room, the restaurant churns out identical fare to the Orlando location, including its much-loved, all-you-can-eat (and drink) weekend brunch served Saturdays and Sundays beginning at 10am. For date night, order a few glasses of wine with six to eight hot and cold tapas and you'll be set for a perfect night of shared food and conversation.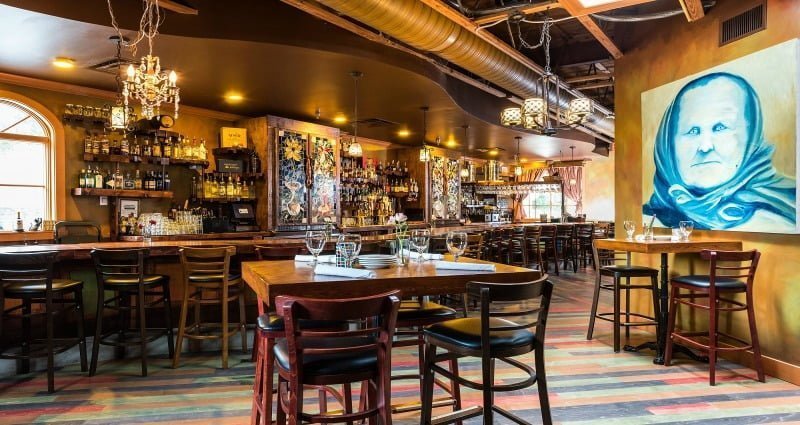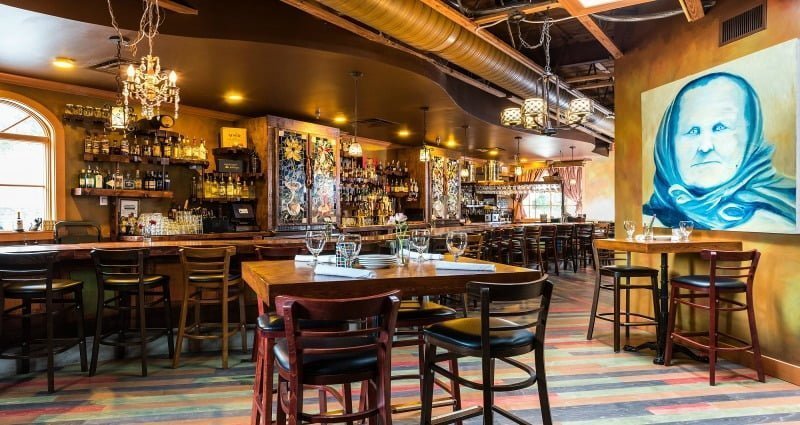 Sushi Pop
310 W Mitchell Hammock Rd, Oviedo
407-542-5975; sushipoprestaurant.com
Chef Chau, Sushi Pop's revered culinary star and owner, never ceases to delight at this Oviedo gem known for its beautiful plating and atypical flavor combinations. Entering the dining room is like stepping into a colorful comic book, and you'll find the menu no less creative or colorful. In particular, the kitchen takes license with the rolls with offerings like Hot Mess, Everything Bagel, So Fresh & So Clean and Mofo.
For a real treat, opt for the Omakase (chef's choice) and let Chef Chau create for you a multi-course tasting menu. Available on Thursday, Friday, and Saturday only by pre-order. Cost is $125/per person (2 person minimum) with the option to add the wine pairing for $55/person.
Stephanie Patterson – Orlando Date Night Guide
The Tennessee Truffle
125 W. 1st St, Sanford
407-942-3977; facebook.com/thetennesseetruffle
Housemade biscuits and gravy…need I say more? This popular restaurant in Downtown Sanford helmed by chef/owner Nat Russell initiated as a pop-up restaurant. But a quick and loyal following led to The Tennessee Truffle becoming a permanent fixture of Sanford's food scene. While previously only open for breakfast and lunch, there's now dinner service Wednesday-Saturday and special 3-course prix fixe dinners for $36 offered on Wednesdays and Thursdays. Locally sourced ingredients, seasonal dishes, and a cozy environment are all to be expected. You can even go all out by renting out the restaurant to enjoy a custom multi-course menu on a one of a kind date night. No matter when you visit, make sure you don't leave without trying a biscuit.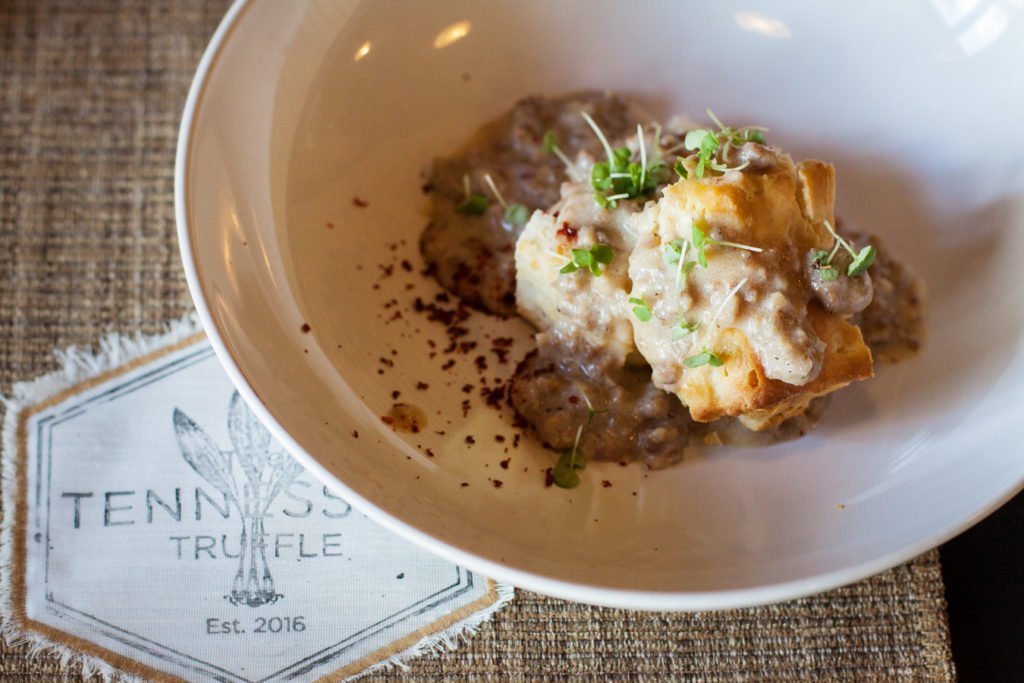 Fuel BBQ
120 S Park Ave, Sanford
407-328-4848; fuelbbq.com
It was love at first bite for me at this casual old school BBQ joint in Historic Downtown Sanford. After tasting the "meat candy" aka burnt ends (which are cooked in the smoker for 13 hours) on the Sanford Food Tour, I was totally hooked. The heavenly smoked mac and cheese (a must try) is a family recipe, and aside from the french fries, none of the food prepared here is frozen. The menu includes all your comforting favorites, from BBQ brisket and St. Louis ribs to corn bread and collard greens. For the ultimate date night experience, meander over to the adjoining bar, The Alley, for top-notch live Blues music after enjoying your meal. FYI – the restaurant is closed on Mondays.
The Smiling Bison
107 Magnolia Ave, Sanford
407-915-6086; smilingbison.com
Orlandoans are no strangers to The Smiling Bison; up until the end of last year, chef and owner Josh Oakley operated an Orlando location in addition to the restaurant's now sole location in Sanford. Whether you visited the Orlando location or never got a chance, it's worth making the trip up I-4 (or catching the SunRail if you have a free weekday) to snuggle up at a table in the stunning dining room while indulging your taste buds and your tummy. I've heard nothing but raves about the Smiling Bison Burger, but it's the shareable poutine smothered in mushroom gravy and fresh, seasonal pizzas I can't resist. As a cocktail lover, I always pair my meal with a drink, and I especially love the Dark & Blurry, a subtle twist on the classic Dark & Stormy made with ginger lime shrub. Factor in the vintage decor and friendly service and you've got a winner for any occasion. If you're on a budget, go during the lunch happy hour (Wednesday-Friday from 11am-2pm) when poutine, cocktails, and drafts are on special for $5.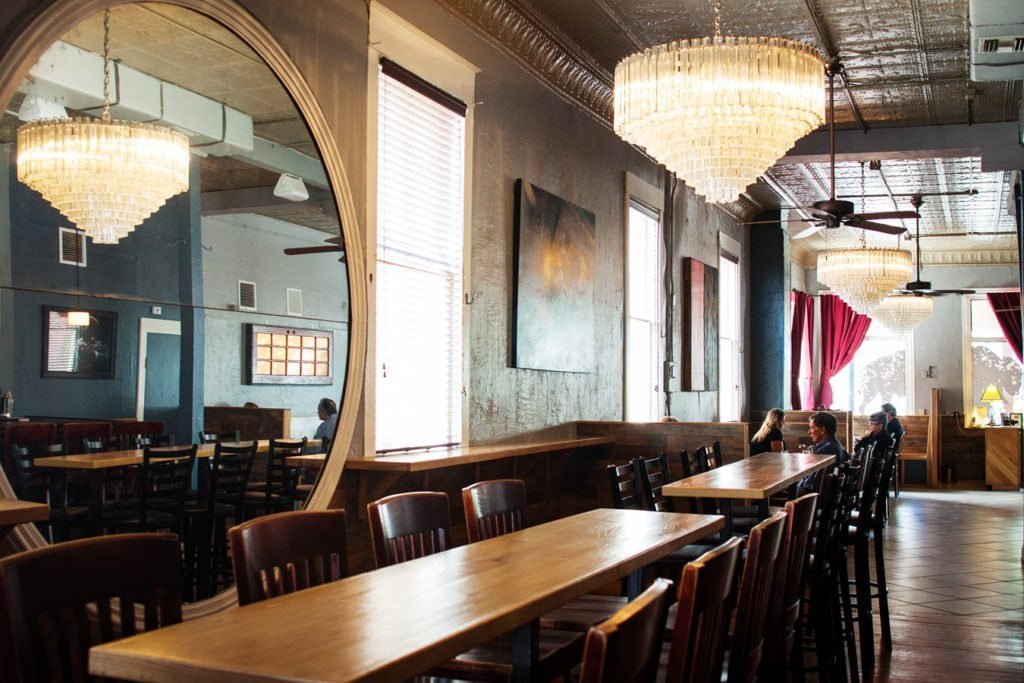 Also try:
Feature image credit: Benevolence Photography