By Hannah Green
Your favorite sport's season can easily be spent on the couch, watching games in your PJs while eating snacks and scrolling through social media. Rising ticket prices may deter you from leaving the couch to attend a game in person, but this list of Orlando sports dates offers deals that will get you off the couch without breaking the bank. Below, we've organized loads of sporty date night ideas under $50 happening all throughout the year in Orlando and beyond.
FALL
Football
AutoNation Cure Bowl
American Athletic Conference vs. Sunbelt Conference
Saturday, December 16, 2017, 2:30pm
Camping World Stadium
$25 and up
Held every year in Orlando, this bowl game is truly unique. All of the funds raised from the bowl game will directly benefit the Breast Cancer Research Foundation. This year's game will feature a pregame concert with Andy Grammar.
Florida Blue Florida Classic
Florida A & M University vs. Bethune Cookman University
Saturday, November 18, 2017, 2pm
Camping World Stadium
$20 and up
The Florida Classic has happened each year since 1978, and is the largest football game between two historically black colleges in America. This is the 20th year this game will be played in Orlando.
University of Central Florida Football
UCF vs. University of Connecticut
Saturday, November 11, 2017
Spectrum Stadium, Orlando
$12 and up
UCF has yet to lose a game, which is just one more reason you need to attend one of the last two home games of the season. Tailgating starts six hours prior to kickoff, but no earlier than 8am for noon games. Despite being in the AAC, you are guaranteed to have quality college football Saturday.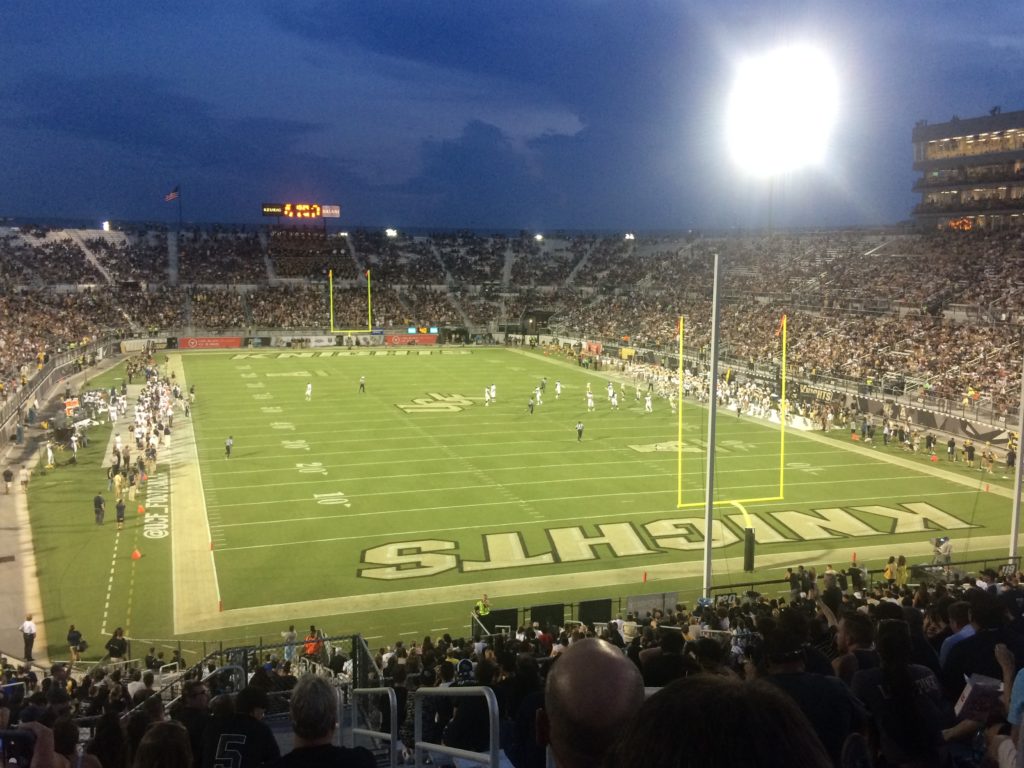 University of Florida Football
UF vs. University of Alabama at Birmingham
Saturday, November 18, 2017
Ben Hill Griffin Stadium, Gainesville
$17 and up
The University of Florida has a longstanding history of being one of the best programs in the nation. A short two hour drive to Gainesville reward you with a Saturday filled with traditions and spirit.
Jacksonville Jaguars
EverBank Field, Jacksonville
Select games $25 and up
It may be a 50/50 bet whether the Jags will win or lose, but the stadium location will make up for it. Situated right on the bank of the St. Johns River, across from Metropolitan Park, gives you the opportunity to take a romantic walk before or after the game. Intuition Ale Works is a few streets away close to the baseball stadium and is definitely worth checking out.
SPLURGE: 2018 NFL Pro Bowl
AFC vs. NFC
Sunday, January 28, 2018, 3pm
Camping World Stadium
$45 and up
After a successful game last year, the Pro Bowl returns to Orlando. It will include activities throughout the week all around the city. Check their website closer to the date for a list of events. Fun fact: The Pro Bowl was the first professional organization to offer sensory rooms and items (headphones, fidget spinners, etc.) for their autistic fans.
SOCCER
NCAA Women's College Cup
Friday, December 1, 5pm (semifinal)
Sunday, December 3, 12pm (championship)
Orlando City Stadium
$23 and up
Fuerza Puerto Rico Friendly
Orlando City vs. Fuerza Puerto Rico
Saturday, November 4, 2017, 7:30pm
Orlando City Stadium
$20 and up
All proceeds from this friendly match will benefit the United for Puerto Rico Fund. This will be the last game of the season for the Orlando City team and the last game for star player and captain Kaka.
Orlando Pride
March – October 2018
Orlando City Stadium
$16 and up
Orlando Pride is starting its 3rd official season in 2018. It's worth checking out a game, especially since they finished 3rd in the league this year!
WINTER
Basketball
Harlem Globetrotters
Saturday, December 9, 2017, 12pm
Amway Center
$25.50 (going fast!)
Enjoy unique wizardry on the basketball court. Even though this event may be geared toward the younger people (a.k.a. kids), adults will enjoy the tricks too!
Orlando Magic
October – April
Amway Center
$15 and up
While the Magic may not be the most popular sports team in Orlando, they still offer a fun gameday experience for a very cheap price. Also, the walking distance to Church Street bars and restaurants gives you a lot of before or after game options. While sold out for this year, the Fast Break Pass is offered every year and includes 5 games for $49.
Hockey
Orlando Solar Bears
October – April
Amway Center, Orlando
$12 and up
Check out our previous article about why an Orlando Solar Bears game is a date night must.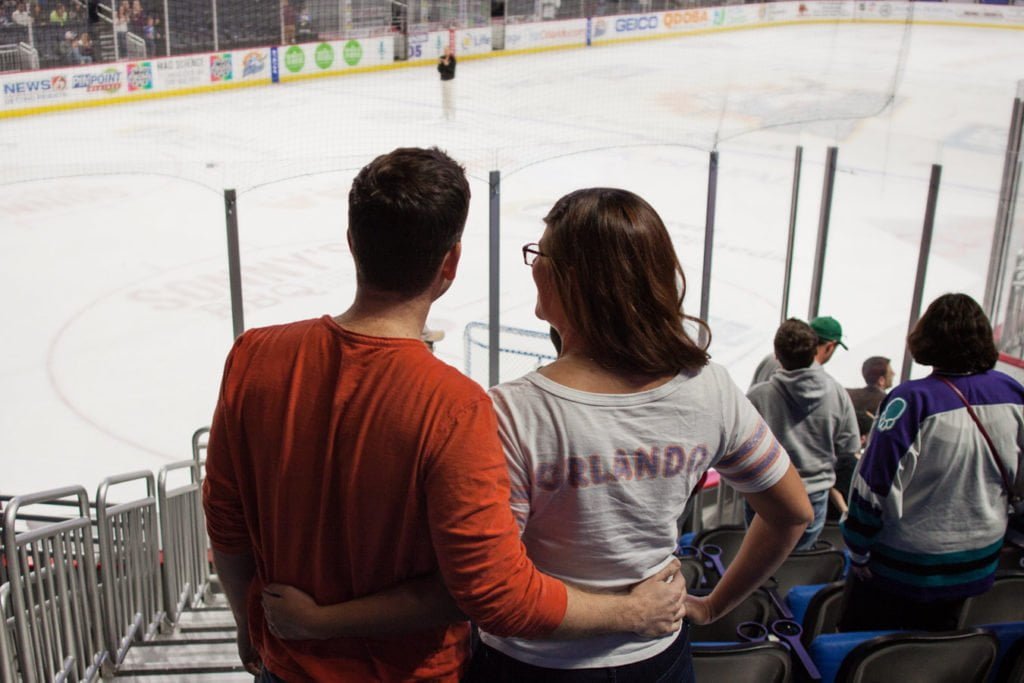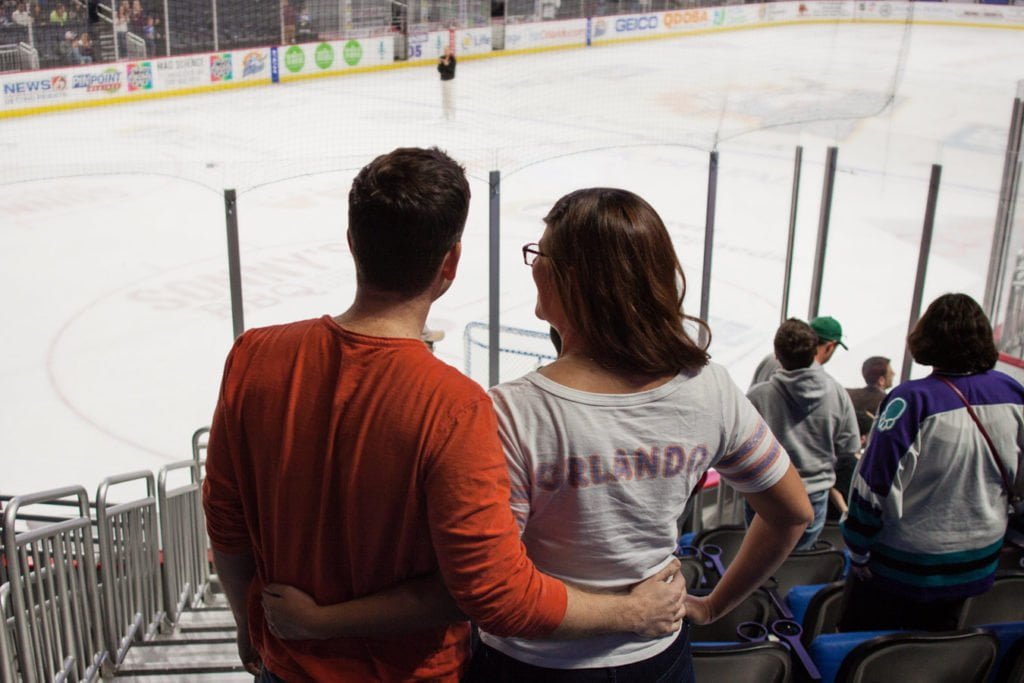 SPRING
Roller Derby
Orlando Roller Derby
2018 Season February – November
Semoran Skateway/Barnett Park
$10
If this isn't a bucket list item, then we don't know what is. We attended a match back in 2012, but would love to go again!
Baseball
Spring Training Games
The Grapefruit League Spring Training games happen throughout February and March. The teams have home fields up and down the coasts of Florida. We have highlighted the closest ballparks, but feel free to check out the rest of the teams on this website.
Atlanta Braves
Champion Stadium at ESPN's Wide World of Sports
$15 and up
This is a MUST do! After 20 years, this will be the last spring training season for the Atlanta Braves at ESPN's WWoS Complex. They will be moving to North Port, Florida for the 2019 season. While you are there, make sure to grab a WWoS souvenir cup. A different color is given out at each game and they are the best!
Detroit Tigers
Publix Field at Joker Merchant Stadium, Lakeland
$10 and up
New York Yankees
George M. Steinbrenner Field, Tampa
$20 and up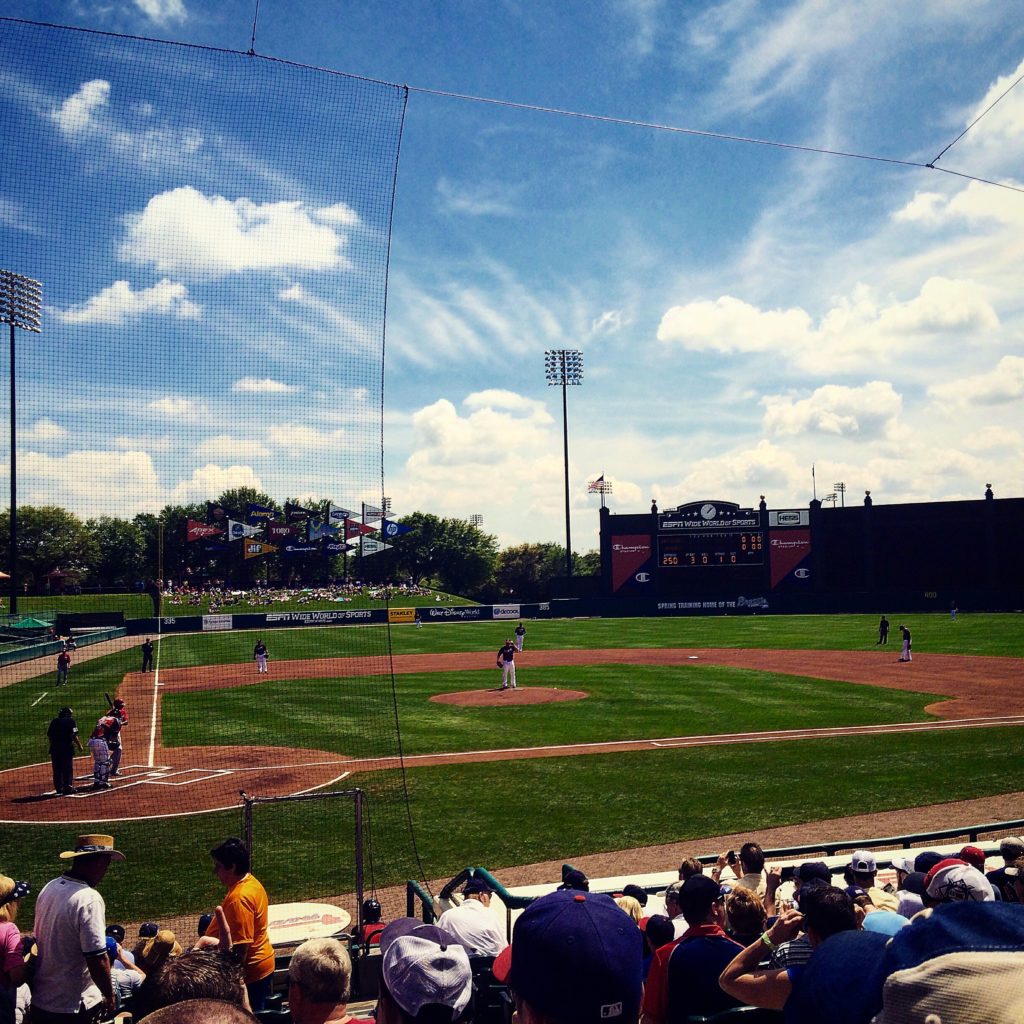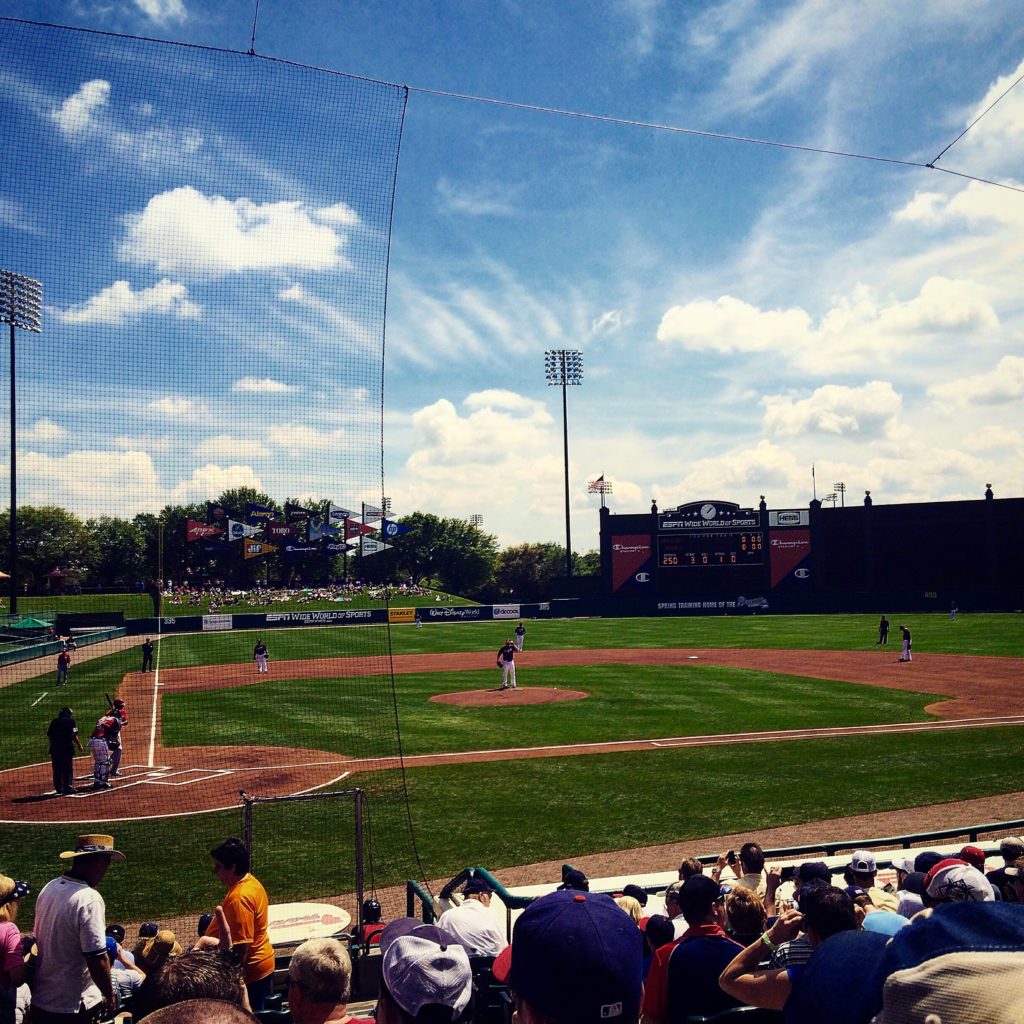 YEAR ROUND: YOU BE THE COMPETITOR
But really, what makes a better date than one with a little friendly competition? Here's a list of places that will bring out your competitive side.
Bowling
Aloma Bowl
2530 Aloma Ave.
Winter Park, FL 32792
$3-$5 per person on weekdays, $26 per hour per lane Fri-Sat from 5pm-close
Late night pricing and daily specials available.
Kings Orlando
8255 International Dr., Suite 120
Orlando, FL 32819
$7-$10 per game, plus $5 for shoes; Enjoy all you can play Monday-Wednesday after 9pm for $10.99/person
Also try: Main Event Entertainment Center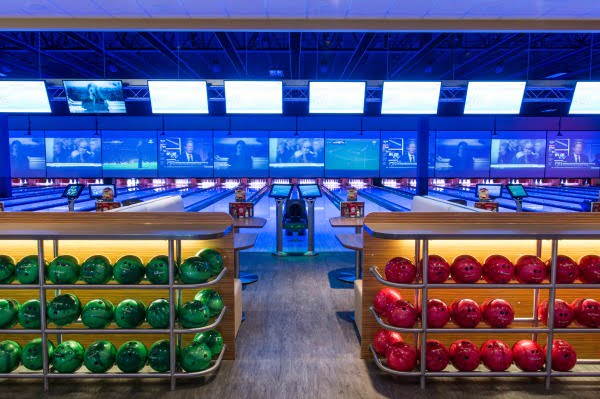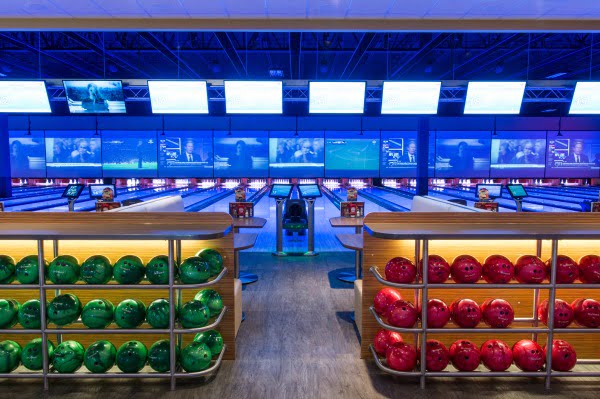 Go-Karts
Andretti Indoor Karting and Games
9299 Universal Blvd.
Orlando, FL 32819
$19.95 per race per person
This location also offers a ropes course ($9.95), laser tag ($8.95), simulator ($8.95-$10.95), bowling ($24.95 per hour weekdays and $34.95 weekends, not including rentals), and an arcade.
I-Drive NASCAR Indoor Go-Kart Racing
5228 Vanguard St.
Orlando, FL 32819
$18.99 per single race
K1 Speed Orlando
9550 Park South Ct., Ste. 400
Orlando, FL 32837
$19.99 per race per person
Golf
Orlando is home to numerous top-notch golf courses due to the number of professional golfers who frequent the city. A great way to get cheaper tee times is to use the popular website GolfNow. What better way to bond than on the golf course?
Dewey's Indoor Golf and Sports Grill
7720 Turkey Lake Rd.
Orlando, FL
$29-$49/hour depending on date and time of visit
Dewey's offers golf, soccer, football, baseball, hockey, and basketball simulators.
Topgolf Orlando
9295 Universal Blvd.
Orlando, FL 32819
$30-$50 per bay (up to six players allowed per bay)
Also try: Epic Golf hosts fun monthly events for newbies and avid golfers alike, including special date night events. Or, play a round of mini golf at one of Orlando's best courses.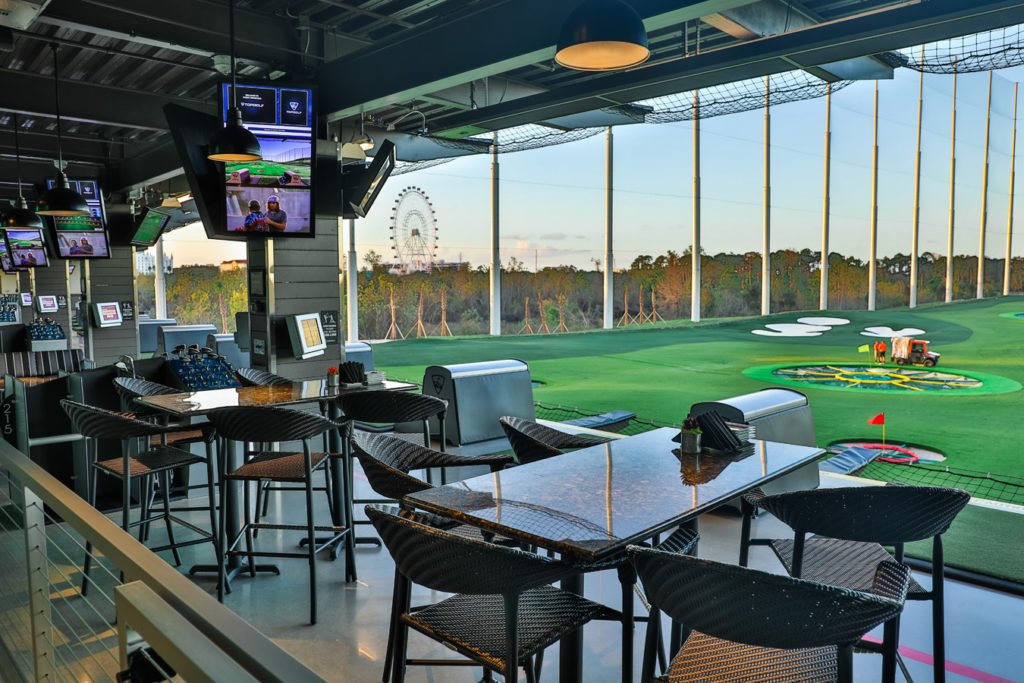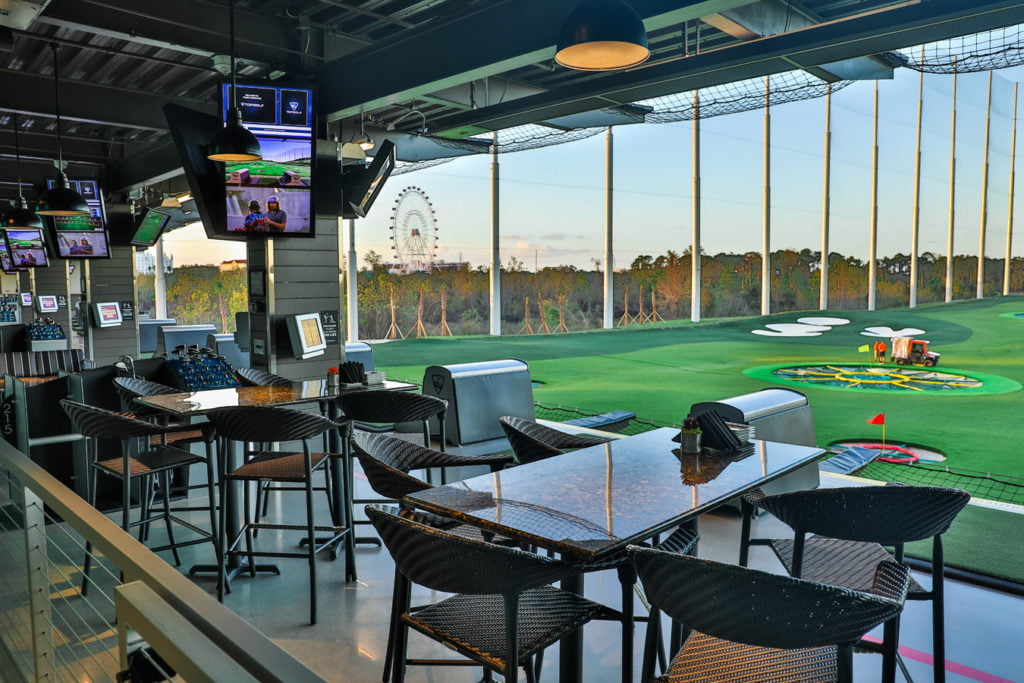 More Ideas
RDV Ice Den
8701 Maitland Summit Blvd.
Orlando, FL 32810
Pricing: $7-$10, plus $3.75 skate rental
WhirlyDome
6464 International Dr.
Orlando, FL 32819
$8 per person, per game
All You Can Play special for $25 per person (including laser tag) on Thursdays from 6-10pm and Sundays from 4-8pm.
Astro Skate Family Fun Center
866 S. Goldenrod Rd.
Orlando, FL 32822
Wednesday Adult Night 8:30-11pm
$7 plus skate rental
Semoran Skateway
2670 Cassel Creek Blvd.
Casselberry, FL 32707
Sunday Adult Night 8-11pm
$10 (includes skate rental)
Orlando Watersports Complex
8615 Florida Rock Rd.
Orlando, FL 32824
$25 for a 2.0 Cable Lesson (20-minute lesson, all gear included); weekly happy hour and Thursday Ladies Day deals available