Summer temperatures have us flocking to the nearest pools and beaches, but there are plenty of stay-cool options for exploring the great outdoors, too. Before summer's end, embark on an adventure through bioluminescent waters in a clear kayak, find your way by the light of the moon, or paddle your way through an animal safari. These kayaking trips are anything but ordinary.
Bioluminescent Kayaking
One of Central Florida's most unique kayaking experiences is just a 1-hour drive from Orlando. During the months of June-October, the waters within Merritt Island National Wildlife Refuge transform into an otherworldly display of glowing bioluminescence. As you paddle through the water, the waves of your kayak, paddle, and your hands cause the tiny bioluminescent plankton to emit their signature blue-green glow. If the night is dark enough (it's best to go on an evening where there is no moon), dip your hand in the water and watch it sparkle with bioluminescence.
A Day Away Kayak Tours offers nightly bioluminescent tours. It's worth doing both as each company provides a completely unique experience. A Day Away Kayak Tours is perfect for nature lovers and the guides are incredibly knowledgeable about the local area. Tours range from $39.95-$44.95 depending on the date.
As amazing as it is to look down, you'll find it difficult to peel your eyes away from the vast night sky overhead. There is virtually no light pollution nearby, and on a clear night, you'll be in awe of millions of stars. If you're lucky, you may spot the Milky Way and the occasional shooting star. Keep your eyes open for manatees and dolphins; I saw both on my recent tour!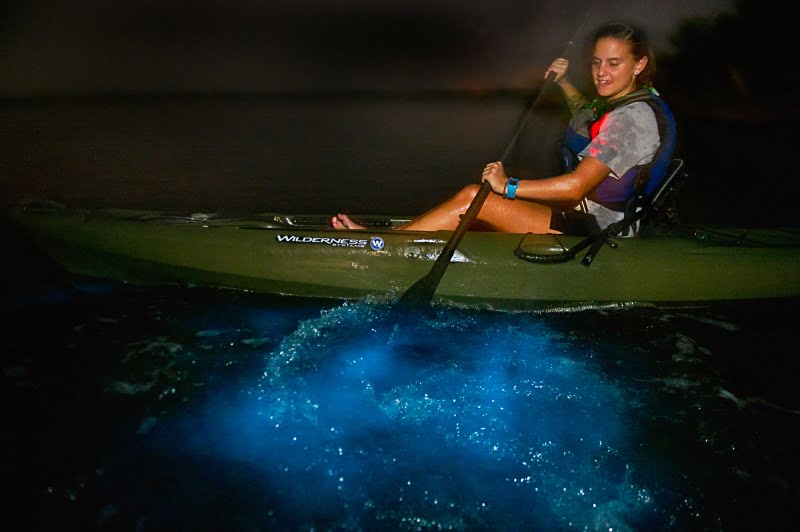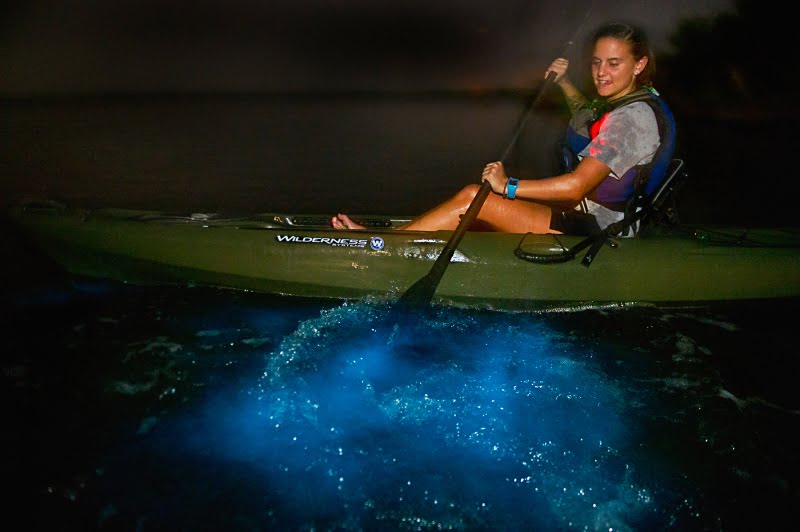 Full Moon Paddle
When the moon is bright and there's no chance of spotting bioluminescence, there's still an option for a late night adventure. Adventures in Florida leads a monthly Full Moon Paddle, leading you on a guided expedition through the Winter Park Chain of Lakes with only moonlight to guide you. The tour is $60/person, or $100/couple. You'll begin the tour just in time to catch a gorgeous Central Florida sunset from the water. Then, the adventure begins with an after-dark paddle. The tour also includes a stop on Dog Island where you'll have a moment to refuel with snacks.
If you've only kayaked during the day, you're in for a real treat kayaking after the sun goes down. Your senses are heightened and you're free to take in the night sky. While it may seem intimidating, you'll forget your fears once you're navigating the waters with your guide.
For the full Winter Park Chain of Lakes experience, try the Scenic Boat Tour during the day and the full moon paddle at night. Remaining 2017 dates are as follows: August 6, September 6, October 6, November 4, and December 2.
Paddle and a Pint
Adding to the growing list of unique beer experiences in and around Orlando, Playalinda Brewing Company and A Day Away Kayak Tours have joined forces to offer monthly Paddle and a Pint beer and kayaking tours throughout the summer.
The tours, which are generally offered once a month in the Merritt Island National Wildlife Refuge, rotate to feature different kayaking experiences. With summer temperatures soaring, recent paddles have included morning manatee encounters and evening bioluminescence. After a leisurely guided 90-minute tour, you're invited back to Playalinda Brewing Company in Titusville for a free pint of beer (your choice) and mingling with the rest of your group.
During the manatee encounter tour in May, I was able to get up close and personal with manatees congregating right outside of our launch point. We meandered through mangroves, witnessed dolphins fishing, and relished in the early morning sun. After working up a sweat, a refreshing craft beer was a real treat. The brewery also has a wonderful charcuterie board on the menu for refueling after your trip.
The next Paddle & a Pint event is currently in planning, so watch A Day Away Kayak Tours' Facebook page for details. If you love beer and kayaking, you'll love this tour pairing. Tour prices vary depending on the experience but expect to pay around $45-$50/person.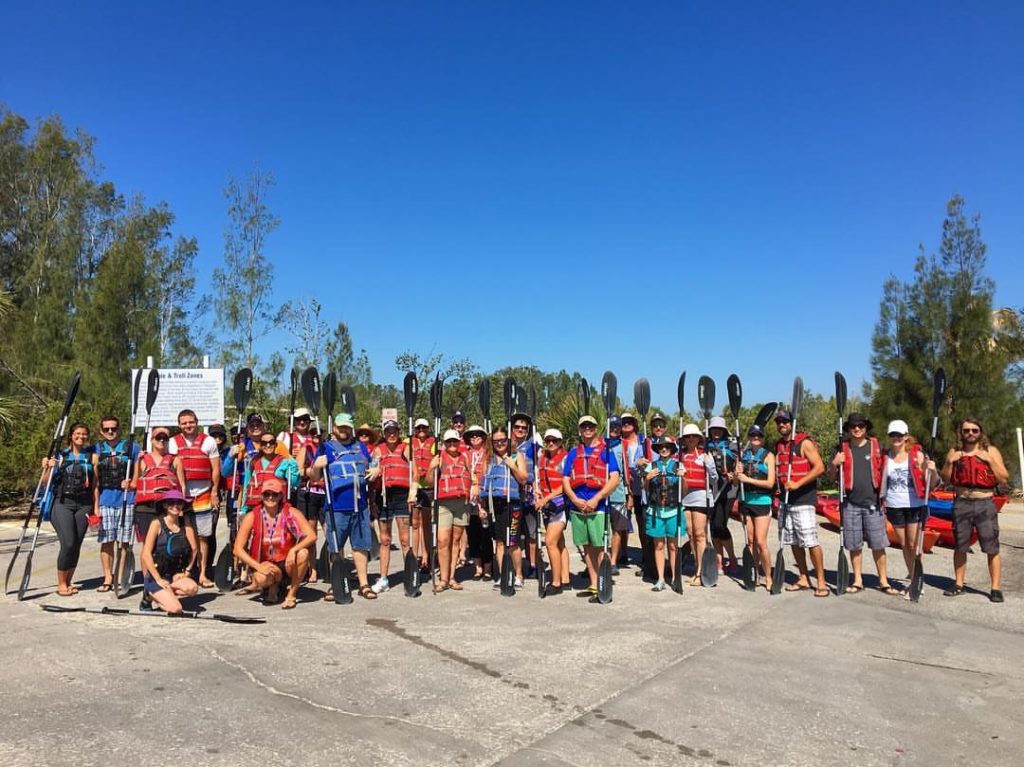 Kayak Safaris
Animal Kingdom is the closest we'll get to an African safari in Orlando. If you want to beat the crowds, head just outside the city for an up close and personal kayaking safari. Both the Brevard Zoo in Melbourne and Safari Wilderness in Lakeland offer these unique kayaking excursions within an hour of Orlando.
The Brevard Zoo's kayak tour is truly one of a kind–it's the only zoo in the United States that offers a kayaking tour through an animal exhibit. The guided kayak tour sends you through Expedition Africa via the Nyami Nyami River. During the tour, you'll have the chance to see giraffe, ostriches, zebras, rhinos, ring-tailed lemurs and more. Book the Adventure Package for $29.95, which includes admission, kayaking, and two animal feedings.
Safari Wilderness in Lakeland offers a slightly different encounter inside of its animal park. The kayak safari takes you through wetlands until you reach a lemur island. Here, you'll get to disembark and hand-feed the resident lemurs. The kayak safari is $180/person.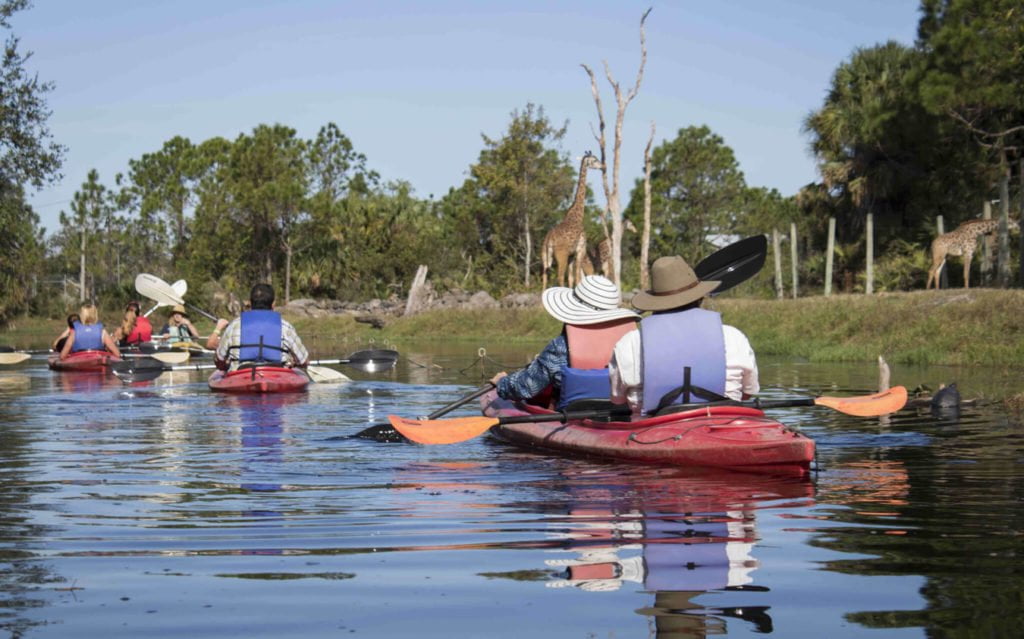 Rock Springs Run
We've got a wealth of natural springs ripe for exploring right in our backyard. Rock Springs Run is a nature lover's paradise where crystal clear spring water guides you along palm-tree dotted shorelines past various wildlife, including playful otters.
Kayaks are available for rent at King's Landing, but your best bet is to book a tour with a local company.
Due to the water clarity, you'll be able to see fish swim beneath you or blades of grass swishing back and forth in the current. Overhead, trees arch over the winding waterway. It's an incredibly scenic paddle that's unlike anything you'd expect to find so close to Orlando.
If you're a first-time kayaker, the first half of the paddle may be challenging. You begin by paddling against the current, and the clear kayaks maneuver easier than traditional kayaks. Regardless, Justin is an excellent and patient guide.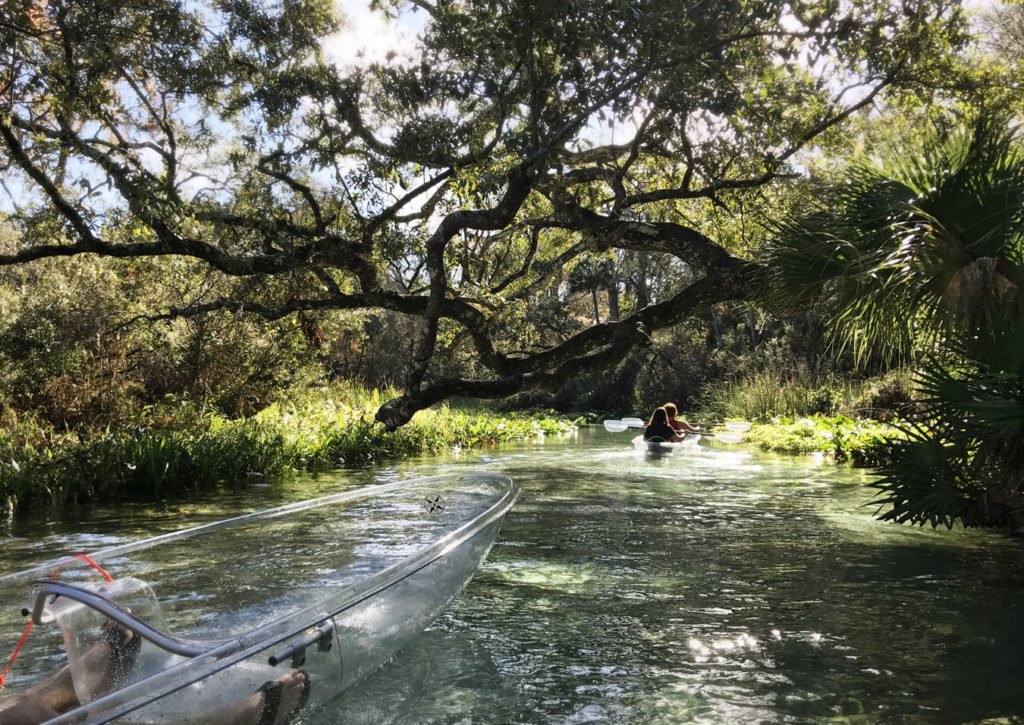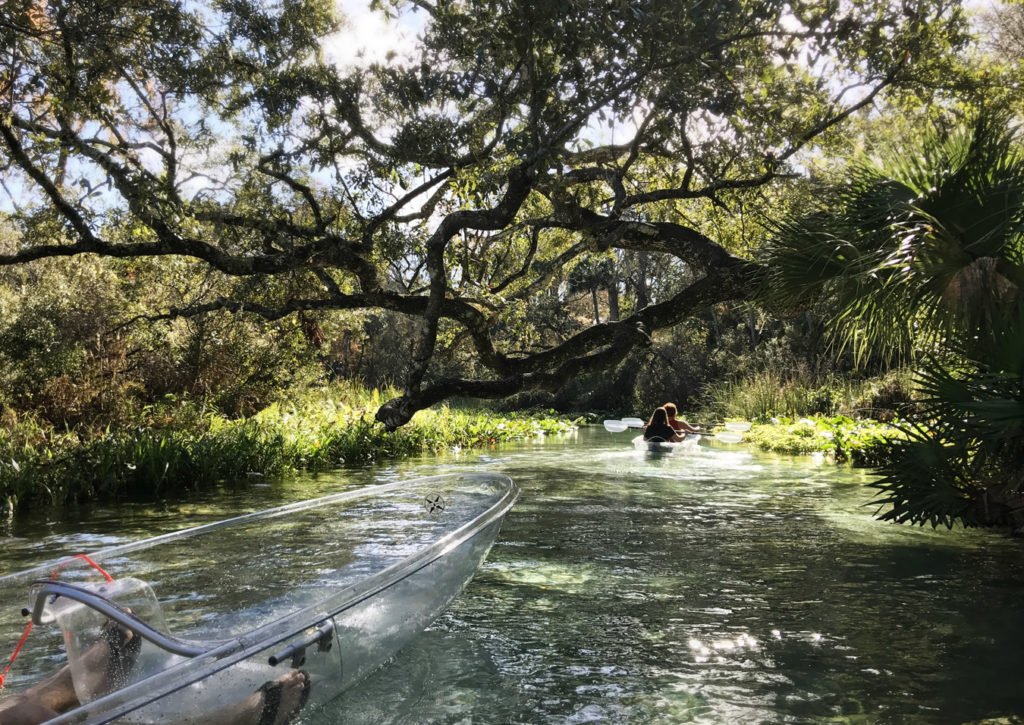 Know before you go
You'll probably get wet, so wear fast-drying clothes and bring an extra change of clothes.
Bug spray is a must, especially in the summer and for night tours.
You'll want to bring along water and a dry bag (a Ziploc bag works in a pinch for your cell phone).
For tours launching from the Merritt Island Wildlife Refuge, always follow the directions in your confirmation email over your GPS. The refuge can be tricky to navigate, especially at night and if it's your first visit. The provided directions have never led me astray!
It's very difficult to take photos of the bioluminescence, so after the sun has set put your phone away and immerse yourself in the experience.
Check out our list of kayaking experiences every Orlandoan needs to have for more ideas.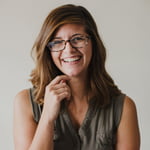 About the Author:
Stephanie Patterson is the managing editor of Orlando Date Night Guide. She's a talented professional food and travel photographer and writer with a passion for creativity, the beach and great eats. When she's not taking photos or writing, you can find her exploring the state for her Florida travel blog, Travel Taste Click. Find her online at www.spattersonphotography.com and www.traveltasteclick.com.