On a hot date, cool off with ice cream! We've got the scoop on the coolest local spots for beat-the-heat treats.
Make a trip to the Winter Park Farmer's Market even more amazing with a frozen goodie from Amazeballs Classic New Orleans Sno-Balls, owned by husband-and-wife team Bryan and Dawn Ofodile. "Ice comes out light and fluffy, similar to real snow, as opposed to snow cone machines that produce hard, crunchy ice crystals. The result is that the sno-ball ice absorbs the syrup flavors, instead of most of it going to the bottom," Dawn explains of the New Orleans style. Order up an array of fruit flavors or extra flavorful picks like Bahama mama (fruit punch with rum background), cherimoya (custardy-blend of strawberry, pineapple, and banana), tiger's blood (bursts of berries with coconut) and wedding cake (a perfect date choice).
Kelly used to treat people with medicine as a nurse and now she serves up sweet treats! This small-batch shop in Audubon Park makes craft homemade ice cream and sorbets to achieve unique, seasonal flavors. Lick up creamy goodness like Sweet Potato Casserole, Maple Bourbon Bacon, Blackberry Rose Jam and many other exclusive and classic flavors. Savor sorbets like Pomegranate-Ginger or Strawberry-Basil; or, better yet, try a wine sorbet. Yes, you read that right… White Chocolate Pinot Grigio, Blueberry Wine Sorbet, Raspberry Bordeaux or Champagne! Grab a board game off the shelf for added fun and a Dog Pop, made with peanut butter and rice milk, for your furry date. Craving even more? Try a waf-a-taco or grab a scoop at their Lake Nona Farmer's Market stand on Monday nights. You can even book their ice cream truck for private events, such as birthday parties, weddings, fundraisers and corporate events.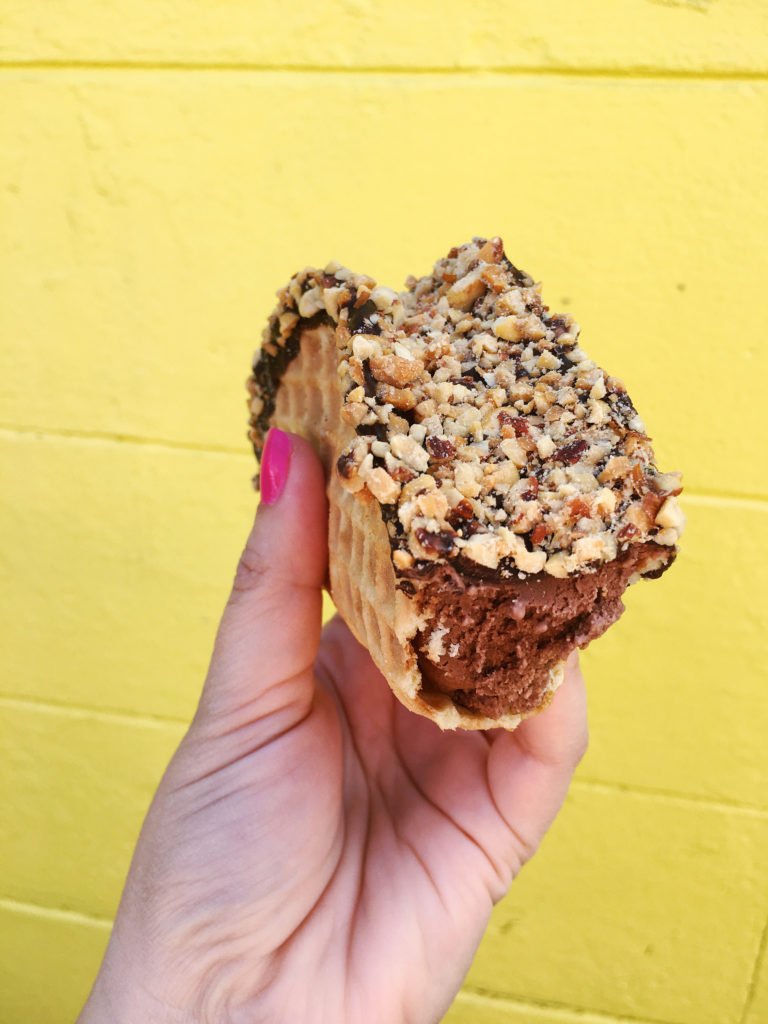 What could possibly make ice cream even more magical? Liquid nitrogen, according to ice cream wizards concocting customized scoops. The process starts with a vanilla liquid which can be transformed with syrups and fruit bases to create any flavor. Then, an array of toppings ─ candy, coconut, nuts, chopped fruit, etc. ─ mix in and the words are spoken: "Abracadabra, alakazam, make that ice cream as best as you can!" With temperatures reaching 328 degrees below 0, "magic clouds" of liquid nitrogen flash-freeze the ice cream. Hokey? Maybe. Delicious? Definitely! Create your own recipe or choose a flavor from the lengthy menu, such as Blueberry Pancake (blueberries, butter pecans & cake batter), Coquito (almonds, cinnamon, coconut milk and Nutella) or Godfather (cheesecake, chocolate chips and graham cracker).
This new old-fashioned shop is "utterly" delicious! They use grade "A" cream, pure cane sugar and premium mix-ins in batch freezers without any growth hormones or high-fructose corn syrup. Somehow this ice cream is actually good for you! The menu is loaded with chunky combinations, like Butter Pecan ice cream with Georgia pecans that have been carefully roasted, buttered and salted. But you may be more intrigued by the "21 Club" menu featuring adult flavors, such as Captain's Rum Raisin, rum ice cream with sweet raisins soaked in Captain Morgan's Spiced Rum, or Cappuccino Kahlua, cappuccino ice cream with chocolate chips and Kahlua swirl. Other cool options include Frozen Chocolate-Dipped Bananas, an array of wafflewich sundaes or cookiewiches.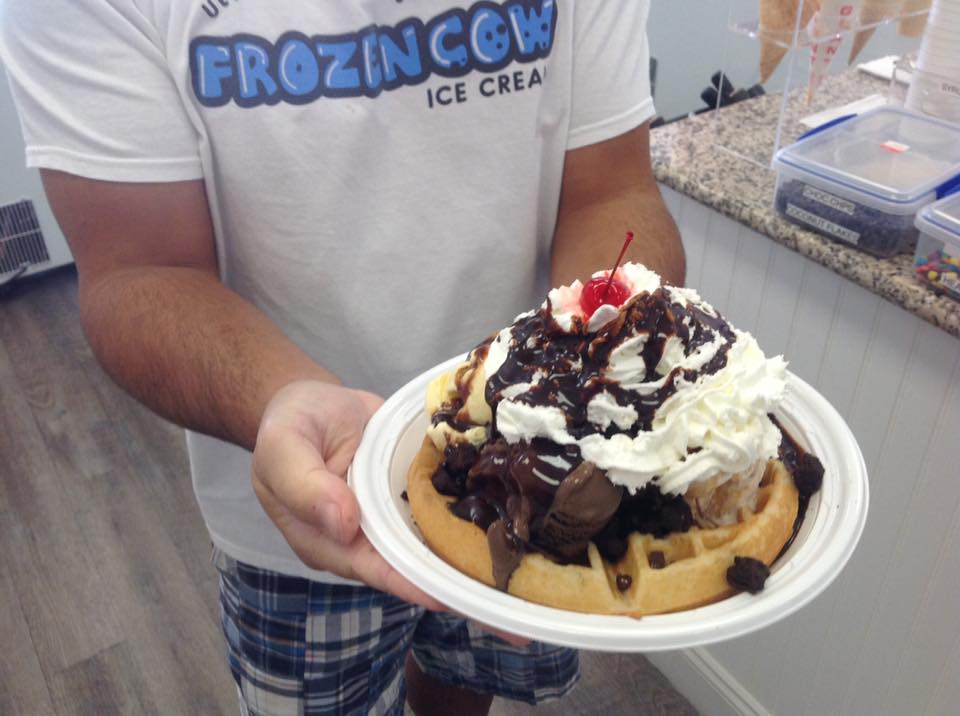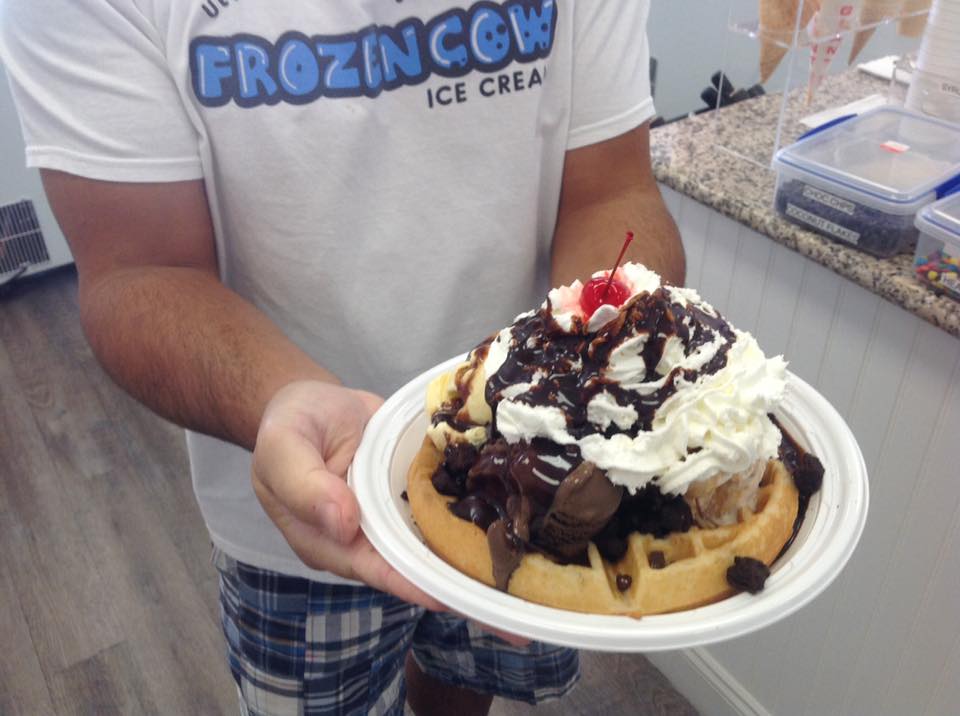 At the next Food Truck Bazaar, look for the lemon-yellow 1973 Chevy truck where you'll meet Levi Stewart, a trained chef from Alaska (yup, that state is literally colder than ice cream), and his Floridian wife, Jocelyn. Their small-batch artisan ice cream is handmade and paired using a gelato-style Italian ice cream machine with organic flour, local eggs and quality ingredients (i.e. super specialty cookies). Warning… their menu is so interesting that you will have a hard decision to make. Among many other creations, flavors include: Malted Black & Tan Caramel Swirl Ice Cream with chocolate chip & potato chip cookies; Coffee Mascarpone Ice Cream with hazelnut shortbread cookies; Tarragon Chocolate Chip Ice Cream with double chocolate cookies; and Riesling-poached D'Anjou Pear Ice Cream with toasted almond macaroons!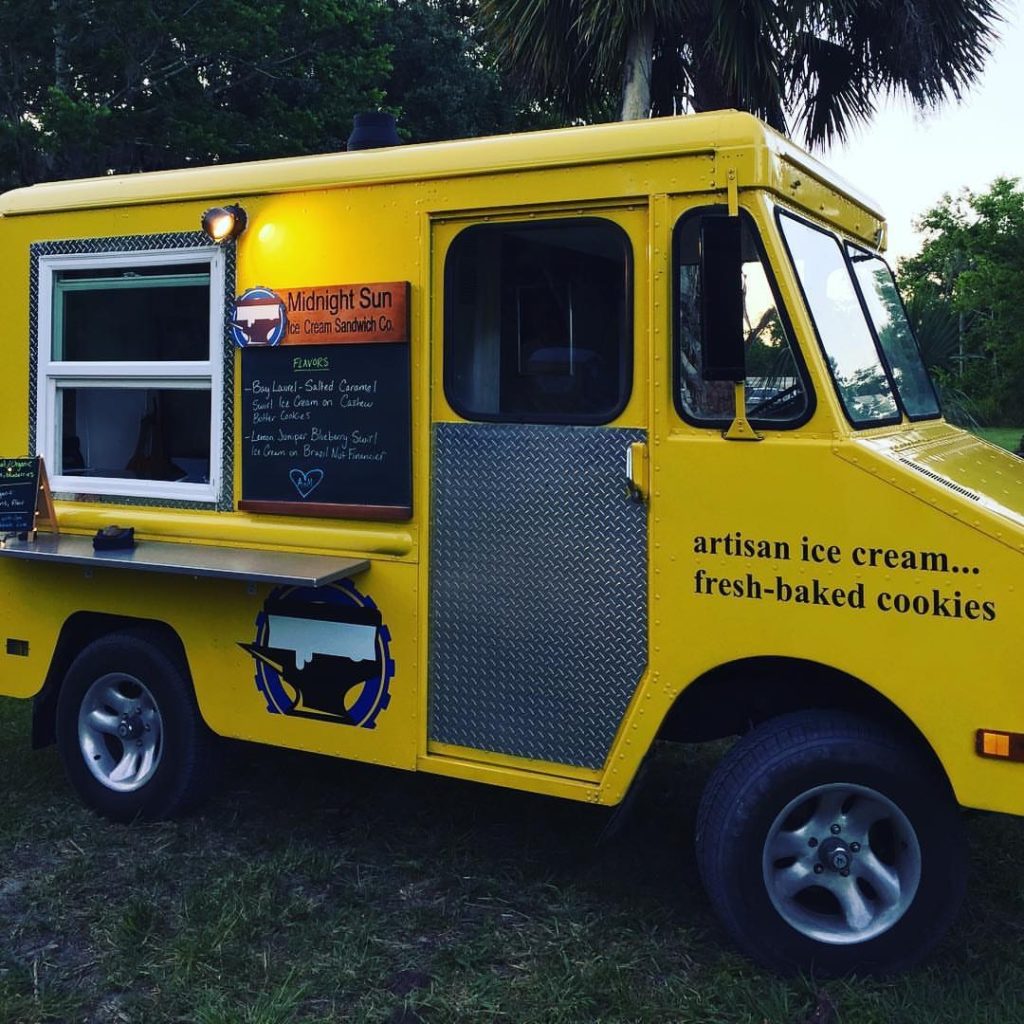 Originally opened as 3 F(x) Ice Cream & Waffles in Jacksonville with a nod from famed foodie Alton Brown, the renamed Orlando-area location serves up Asian-inspired ice cream. A milk or non-milk base (almond or soy) is stirred in a steel bowl over a block of dry ice for a quick freeze, then desired mix-ins are added. Skip a standard waffle cone for a taiyaki, a hot and fluffy, fish-shaped waffle filled with fruit, chocolate or savory fillings. If you want to give your date flowers, order an ice cream bouquet which is basically rolled up ice cream strips in floral form. Aside from standard flavors, the menu includes green or Thai tea, taro, red bean, spice chai, lavender, cream cheese, avocado and lychee.