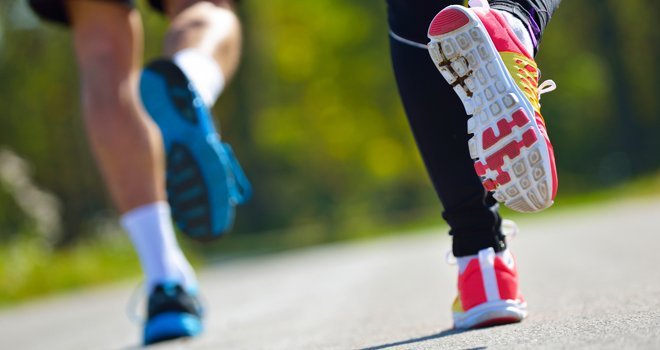 Have you and your honey kept your commitment to spending quality time together this year? Running together, especially in fun events like the ones included in this guide, is a great way to bond and have fun as a couple. If maintaining a regular running regime is one of your goals, now's the time to map out the rest of the year's running events in Orlando.
We've sorted through hundreds of running events in the Orlando area and collected the most unique running events in the following categories to suit every kind of couple:
Charity-Loving
Adventurous
Foodies
Extreme
Charity-Loving Runs and Races
Have a great time together while doing some good for charities and philanthropic organizations.
Jenny Albert Hatchling Dash 5K
Saturday, March 25, 2017
Bill Frederick Park
3401 S. Hiawassee Rd
Orlando, FL 32835
If you enjoy supporting the natural world this inaugural 5K race is a great choice. During her 12-year career with SeaWorld, Jenny Albert helped to rescue and rehabilitate over 900 sea turtles. This 5K takes place in Bill Frederick Park, a very popular venue for many running events in Orlando. Enjoy the natural scenery along Turkey Lake as you help fund support for sea turtle rescue and research.
Melissa's Race 5K to Battle Brain Cancer
Saturday April 29, 2017
7:30 AM
Fort Mellon Park – Sanford, FL
600 E 1st St, Sanford, FL 32771
When was the last time you visited beautiful historic downtown Sanford? You and your honey can have a wonderful Saturday morning while participating in this 5K race that is suitable for both runners and walkers. Serious runners will be glad to know that this is a chip-timed race, while casual runners and walkers will enjoy the beautiful scenery of the St. Johns River and charming storefronts in this bustling, historic city. After the race, treat yourselves to breakfast at one of the many cafes and restaurants along 1st Street and enjoy the RiverWalk.
If you can't make it to Sanford you can participate virtually! Either way you'll earn a t-shirt, a unique medal, and support a great cause. Melissa's Race is created by Melissa Vosburg Inc, a non-profit organization created in memory of Melissa Vosburg, a Sanford-area teacher who passed away in 2013 from Gioblastoma Multiforme, the most common form of brain cancer. All funds raised for Melissa's Race benefit the Florida Hospital Cancer Institute.
Bra Run 5K
Saturday, May 13, 2017
8:00 AM
Clermont's Waterfront Park
330 3rd Street Clermont, FL 34711
In this creative, slightly off-the-wall 5K, everyone is encouraged to wear a bra, preferably decorated, while running/walking. A portion of each entry fee benefits the Greater Clermont Cancer Foundation.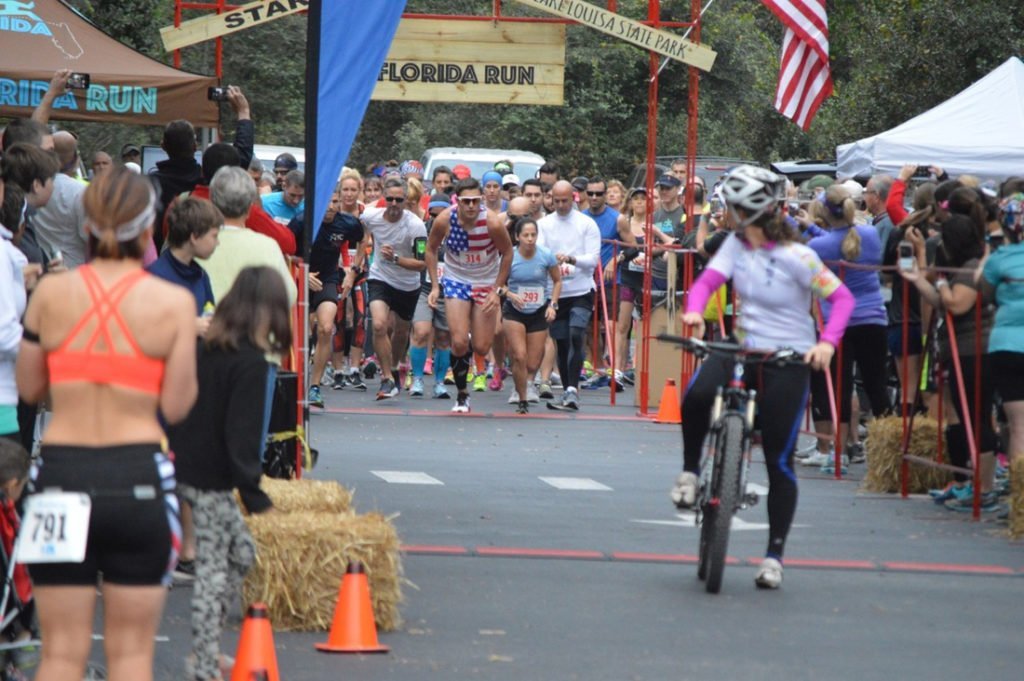 The Florida Run
Saturday, November 11, 2017
7:45 AM
Lake Louisa State Park
7305 U.S. Highway 27
Clermont, FL 34711
Do you love the Sunshine State? There's no better way to enjoy the natural beauty of the southernmost state than with a run, or even a walk, through one of Florida's best state parks. Lake Lousia is a treasure, with six lakes, rolling hills, and breathtaking natural beauty. This race benefits the Florida State Parks – what a great way to preserve the state that we all know and love!
Adventurous and Themed Runs
These themed runs are so fun, you'll almost forget you're exercising!
Chase The Leprechaun 5K – Victoria Park 5K Run/Walk
Friday, March 17th, 2017
6:30 PM
1431 Orange Camp Rd
DeLand, FL 32724
Everyone is Irish this time of year. Enjoy this rare evening run in the beautiful, historic town of DeLand. This spirited race is all about the green. It is family friendly, but those 21 and older can celebrate with green beer. Two complimentary green beverages are included for all registered racers (21 and older).
5KRunDead Zombie Run – 5K, 10K, Half marathon
Saturday, March 18, 2017
1:00 PM
Bill Frederick Park
3401 S Hiawassee Rd.
Orlando, FL 32835
What can improve your race time faster than running from the undead? You're sure to make some unforgettable memories as you face zombies throughout the course.
The Great Inflatable Race 5K
Saturday, April 15, 2017
9:00 AM
Bill Frederick Park
3401 S Hiawassee Rd.
Orlando, FL 32835
Not for the faint of heart, this race is sure to challenge anyone–but in a fun way. Inflatable obstacles await throughout the course. You're sure to be sore after this one, but certainly full of fun memories too.
Gateway to Space 5K
Sunday, April 23, 2017
8:00 AM
Shuttle Landing Facility Runway
Kennedy Space Center SR 405
Titusville, FL 32899
Can you imagine running along the same runway that vessels which traveled to the outer reaches of space have landed and returned home upon? Then don't miss this memorable event. This is the inaugural year of this event so there are some unknown factors, but the historic factor of this place is undeniable.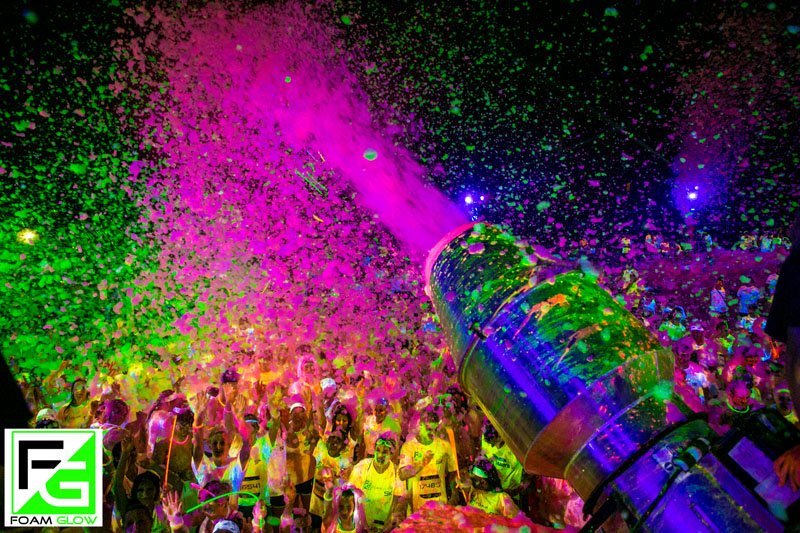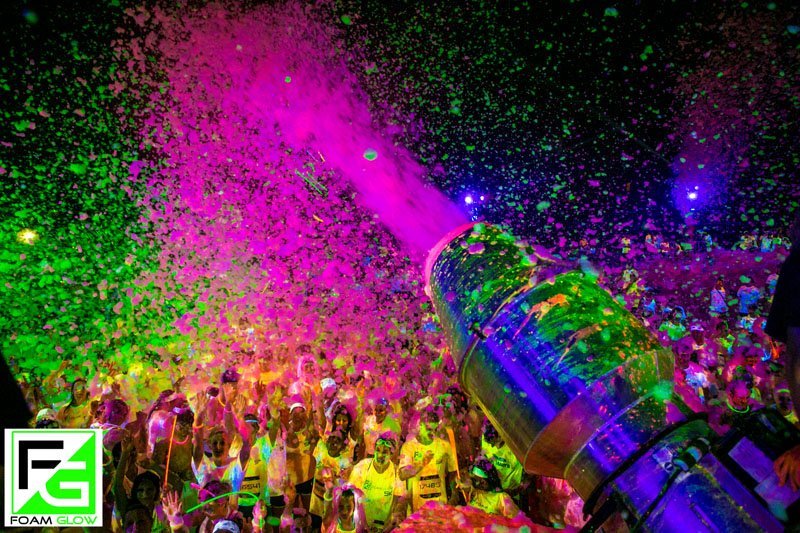 Foam Glow – Orlando, FL 5K
Saturday, September 9, 2017
5:00 PM
Central Florida Fair and Expositions Park
4603 W. Colonial Dr
Orlando, FL 32808
See yourselves in a whole new light. You'll be sprayed with foam (non-toxic) throughout the course and glow under the blanket of black lights. The photo opportunities of this race are incomparable.
Halloween Hustle 5K – Orlando, FL 2017
Saturday, October 21, 2017
Bill Frederick Park at Turkey Lake
3401 S. Hiawassee Rd Orlando, FL 32835
This is a super-hero themed fun run to support a company that produces super-hero capes for kids. Get in the spirit of Halloween and show your partner that they are your superhero.
Bubble RUN – Orlando, FL 5K
Saturday, November 18, 2017
Central Florida Fair and Expositions Park
4603 W Colonial Dr
Orlando, FL 32808
Get read to get soapy and squeaky clean. You'll never have better run-day photos than this event!
Foodie Friendly Runs
These food and drink themed runs are sure to get you into shape while satisfying your appetite!
Just in Queso Taco Race 4K – by Tijuana Flats
Saturday March 18, 2017
9:00 AM
Lake Baldwin Park
1658 Lake Baldwin Ln
Winter Park, FL 32789
This family friendly 4K is sure to interest your tastebuds. All registered participants will receive an event t-shirt and a post-race taco! A portion of the proceeds from this event will help benefit both the Seminole County Schools Foundation and Orange County Schools Foundation.
Lucky 7th Annual PIG RUN of Lake Nona
Saturday, April 15, 2017
9:00 AM
YMCA @ Northlake Park
9055 Northlake Parkway
Orlando, FL 32827
This run is hilariously based on how many donuts you can consume at the halfway point of the race. Don't worry about the extra calories, you're sure to burn them off. And don't worry about trying to finish at a certain time, this is all about fun and consuming as many donuts as possible.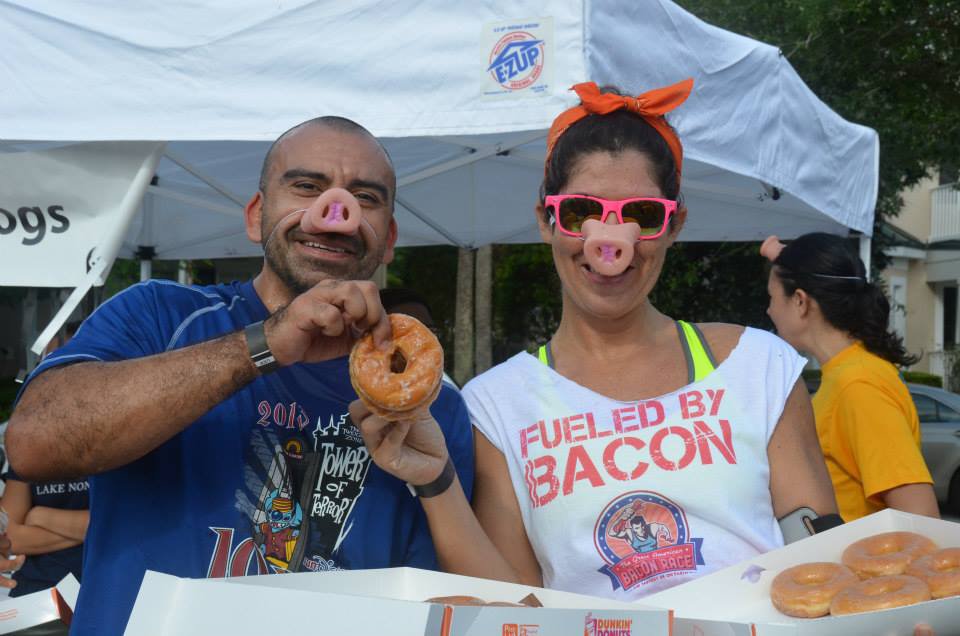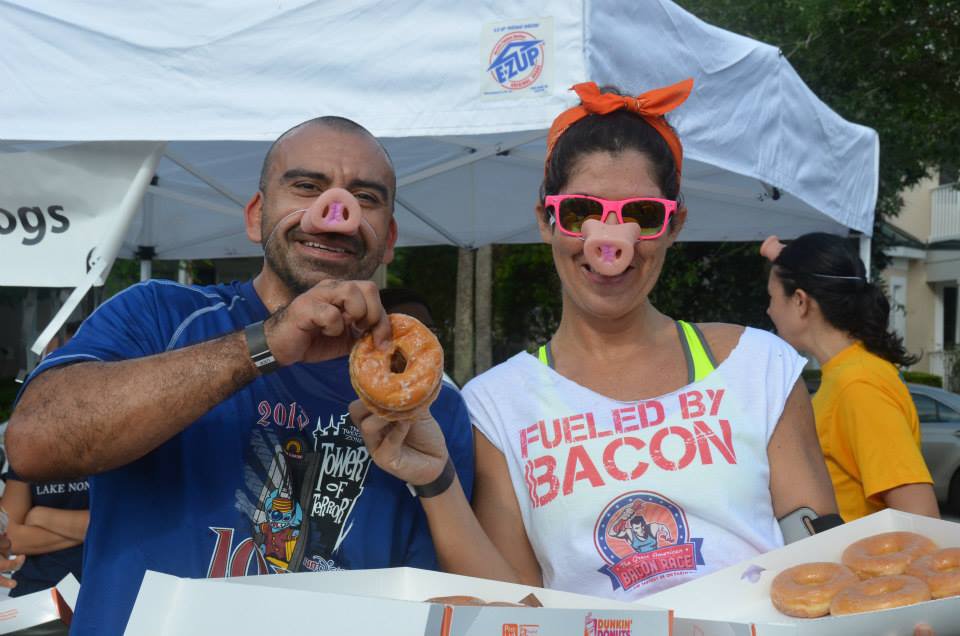 Clermont Clay U Run U Pick Blueberry 5K
Southern Hill Farms
16651 Schofield Road
Clermont, FL US 34714
Saturday, April 29, 2017
7:30 AM
Southern Hill Farms Florida fresh blueberries at the Clermont Clay U Run U Pick Blueberry 5K welcome you with clay roads and countryside rolling hills! After the race enjoy a hearty pancake breakfast and then pick a pound of blueberries.
Bottoms Up Beer Run
Saturday, June 11, 2016
6:00 PM
Wickham Park
2500 Parkway Drive, Melbourne, FL
This evening run/walk is all about beer! Enjoy a small tasting of beer before embarking on your race. Then enjoy home-brews along the way. Brewers from SAAZ will be providing five different home-brews along the race course. Participants (21 years and older) can consume four beer shots during the race and a full beer at the finish.
Great Chocolate Race
Saturday, Sept 2, 2017
7:30 AM
Festival Park
2911 E Robinson St, Orlando FL
The most decadent, sinful, sweet of them all, chocolate, is your reward. Indulge in Godiva chocolate and a cup of hot chocolate at the end of your run.
Extreme Runs and Races
There's nothing more extreme than these races! Be prepared, these will put you and your partner to the test.
Savage Race
Saturday, November 11 & 12, 2017
17951 Hamilton Road
Dade City, FL
Just how savage are you? You'll surely be put to the test and prove your strength at this incredible event.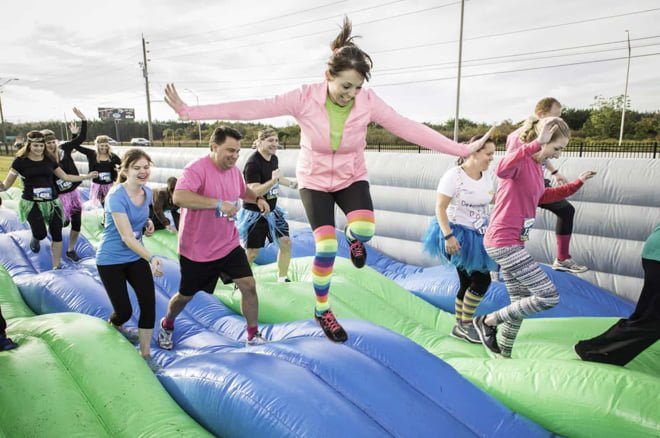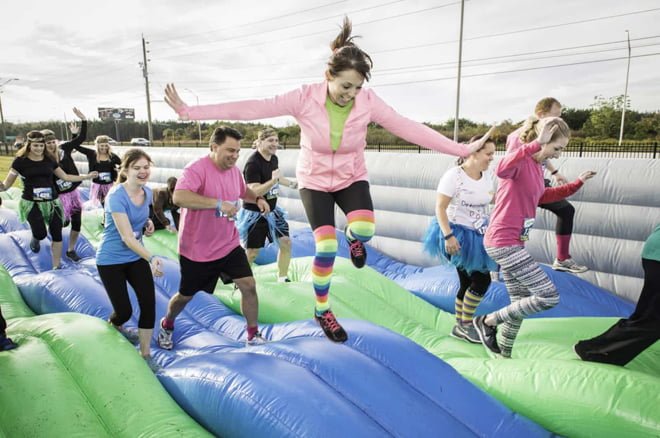 Insane Inflatable Race 5K
Saturday, November 18, 2017
5111 Orient Rd.
Tampa, Florida 33610
Inflatable obstacles are pretty fun. But insane inflatable races reach a whole new level. While this race is a little outside the Orlando area, Tampa is considered Orlando's sister sitter, so go for it! You'll conquer some of the most insane inflated obstacles known to man, or woman.
Central Florida Spartan Race
Saturday, December 09, 2017
Mims Corp Ranch, Mulberry, FL
Start time varies based on your chosen level of activity
Chances are we are not the first to tell you about Spartan Races. They are incredible, and only for those willing to put their bodies to the ultimate test. Tread carefully and triumph spectacularly.
There you have it, a full collection of running events from which to choose. The couple that runs together has fun together, so lace up those running shoes and start planning your running events for the rest of 2017!