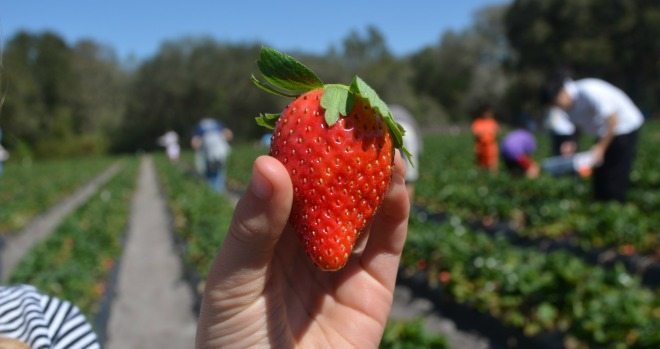 Updated February 2019
Strawberry season is in full swing, and you don't have to travel far from Orlando (or travel at all) in order to celebrate the sweet red berry.
Taste your way through our ultimate guide to strawberries in Orlando, which spans from the beloved annual Strawberry Festival to where to pick your own, and where to find the City Beautiful's best strawberry dessert concoctions. Next stop: berry bliss.
The Florida Strawberry Festival – February 28-March 10, 2019
For a true celebration of strawberries, there's no better event than the annual Florida Strawberry Festival. Held in Plant City, the "Winter Strawberry Capital of the World", this annual fair combines every strawberry treat imaginable with everything you love about county fairs. The next festival kicks off February 28, 2019 and continues through March 10, 2019.
After an hour drive down I-4, you'll arrive at the festival, which takes over the quaint Central Florida town each year. Stroll the festival grounds as you savor the flavors of the season – strawberry shortcake, milkshakes, donuts, strawberry pizza, jam, crepes, lemonade, popcorn and more. Because of the high volume of strawberry treats, the festival has dedicated an entire section of its website to all of the foods made with strawberries.
A note about the strawberry shortcake; there are several booths for shortcake (and biscuits) throughout the festival, but they aren't all the same. I recommend trying all three shortcake booths and deciding on your favorite. The St. Clements Catholic Church shortcake is my personal favorite.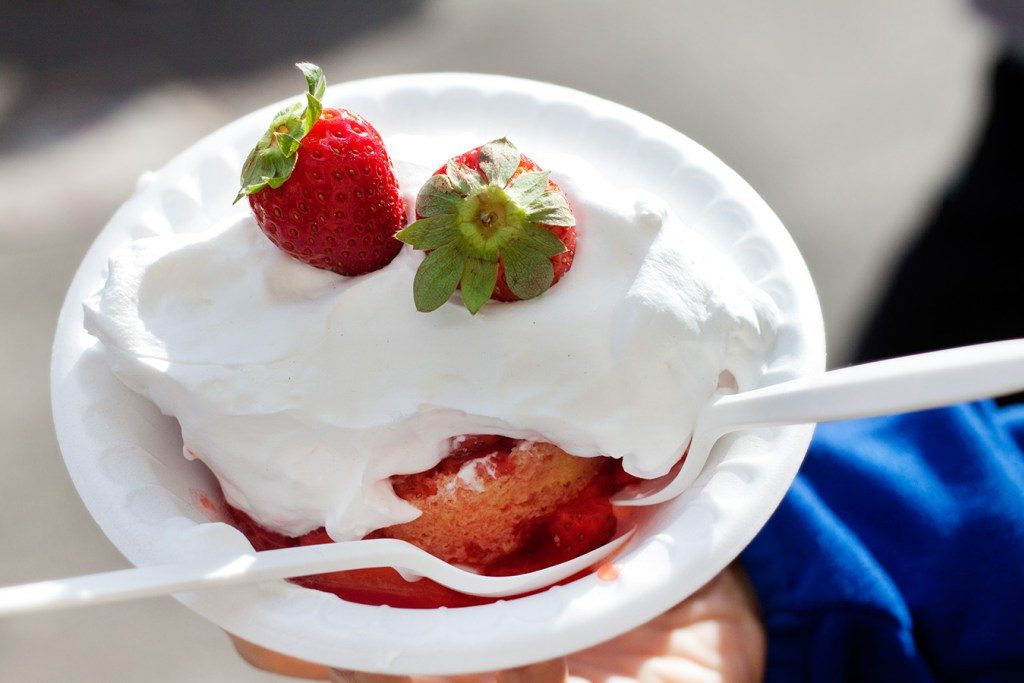 Some tips if you plan to attend:
It can be a pain to find a decent and affordable parking spot on the weekends. If possible, attend on a weekday, or arrive early. You can get off at any of the Plant City exits in order to navigate to the festival.
Use the info booths! The volunteers are helpful, their knowledge base spanning everything from who has the best corndog (I wasn't disappointed) to locating a specific booth.
Tickets to the festival are $10 at the gate, or $8 when purchased in advance online or at participating Publix supermarkets. More information can be found online at flstrawberryfestival.com.
Where to pick strawberries near Orlando
40 minutes outside of Orlando lies a strawberry lover's dream. Oak Haven Farms & Winery in Sorrento invites berry fanatics out to their farm for u-pick fun during strawberry season. There's also a general store and restaurant, the latter of which serves lunch and strawberry desserts. Wine made from local fruit and grapes is also available for purchase.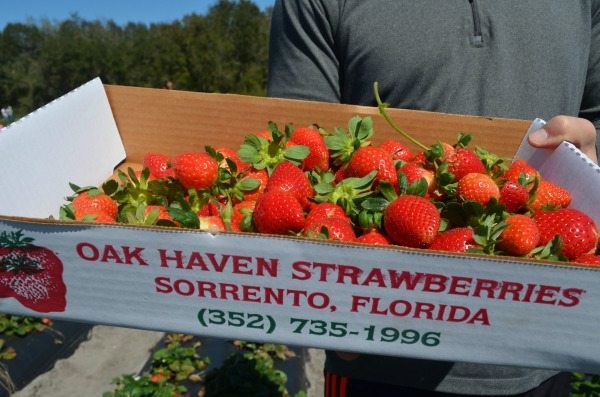 If you'd like to try u-pick in the Winter Strawberry Capital, then trek to Plant City to Spivey Farms. While quart cups are supplied for picking, you'll need to bring along your own containers for taking home your berries. Make a strawberry day of it with a visit to Parkesdale Market for strawberry desserts, and Two Henry's Brewing Company/Keel & Curley Winery for a glass of strawberry hard cider.
Other farms offering u-pick in Central Florida include:
Local strawberry desserts
Sleeping Beauty Brick Toast – KrungThep Tea Time
Besides being instagrammable, this indulgent dessert available at KrungThep Tea Time is also delicious. Crispy squares of toast are stacked pyramid style, topped with a scoop of ice cream, drizzled with Nutella and organic honey, then dressed with fresh strawberries and whipped cream. Pro tip: ask for chocolate ice cream instead of vanilla.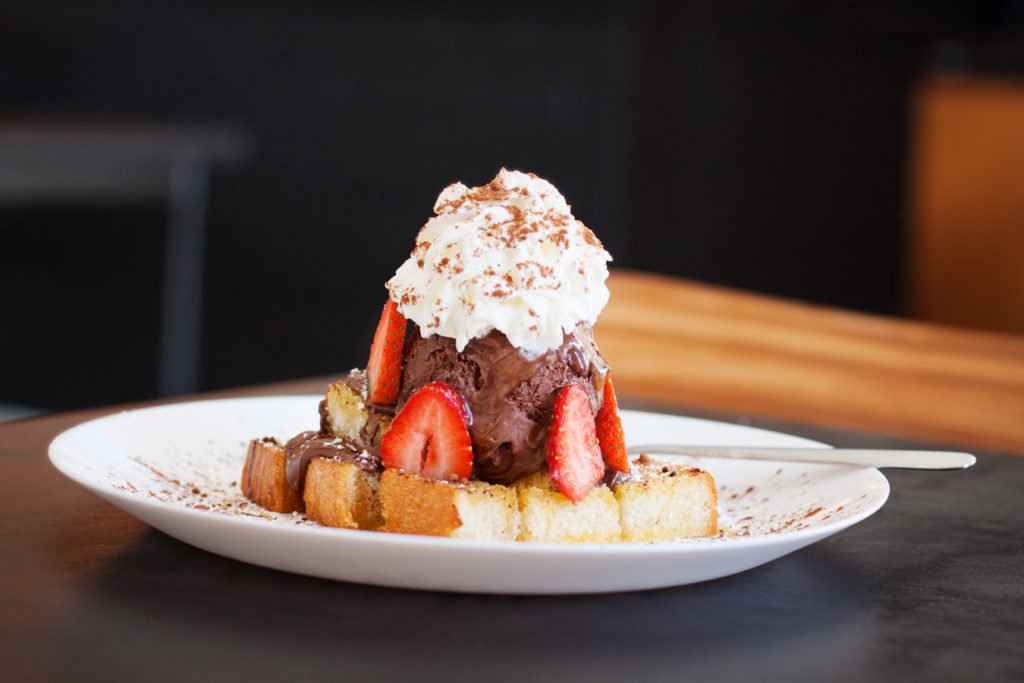 Strawberry Pops – The Pop Parlour
Consistently warm weather makes popsicles a light choice all year. But don't settle for the boxed variety in the frozen aisle of the grocery store. Instead, make your way to The Pop Parlour in Thornton Park for a gourmet treat. Seven rotating strawberry pop flavors (always made with fresh Florida strawberries) are available between February and March. My favorite is the strawberry basil popsicle, a refreshing blend of sweet and herby that combats the Florida heat.

Strawberry & Dash Biscuit – Holler & Dash
Flaky biscuits, fresh strawberries, whipped cream – what could be better? You may have tasted this combo before, but Holler & Dash puts their own creative spin on a classic combination with the addition of their whipped Creole cream cheese and a dusting of powdered sugar. Once you taste your first forkful of this midday treat, there's no going back. And why would you want to?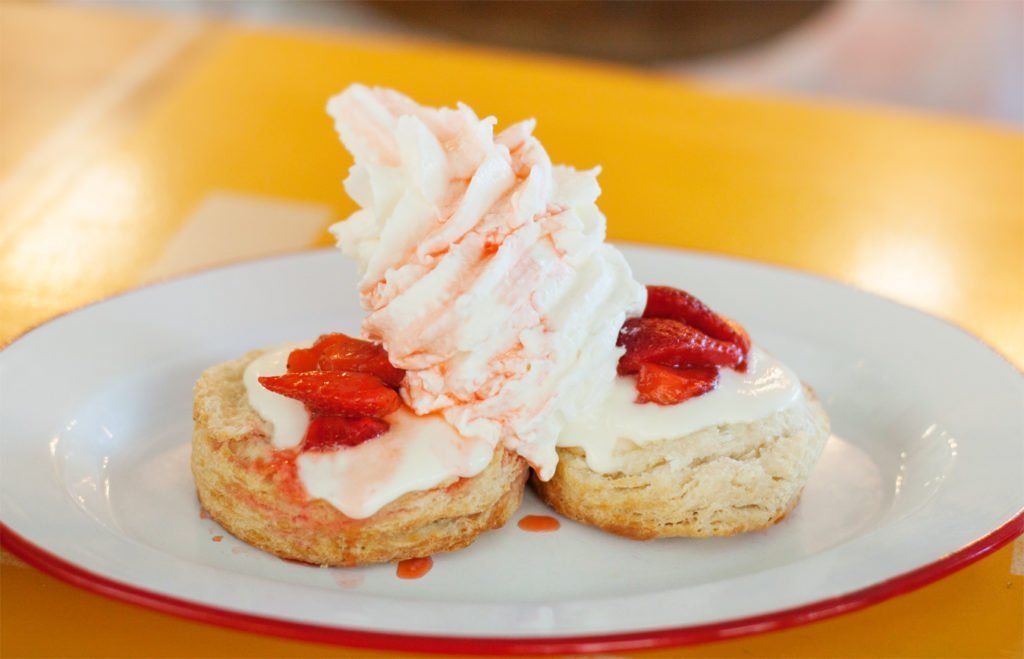 Strawberry and Nutella Flatbread – Spoleto
Spoleto, a fast-casual local Italian chain is known for their "build your own pasta" approach to dining, but they're also harboring a fantastic dessert. Enter the Strawberry and Nutella flatbread. Part dessert part pizza, the flatbread (which comes served on a wooden flatbread board) is topped with nutella and a generous portion of fresh strawberries. Delicious is an understatement.

Strawberry milkshake – Parkesdale Market
I'm going to let you in on a little secret – you don't have to wait until March of every year in order to feast on your favorite Strawberry Festival treats. Parkesdale Market, located off of I-4 in Plant City, serves strawberry milkshakes year round. Sip a strawberry milkshake, sweet and loaded with fresh strawberry bits, while you lounge in the cheery greenhouse seating area adorned with over the top strawberry décor. This milkshake is so good it was named the "best drinkable dessert" by Food Network.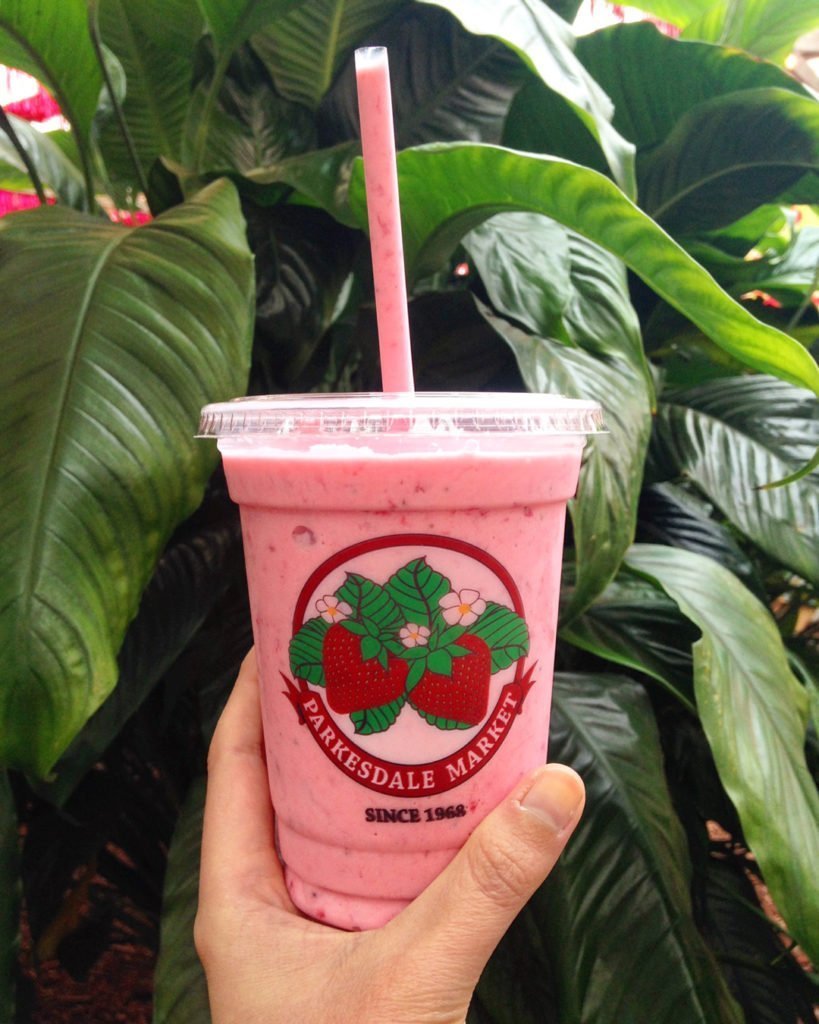 Strawberry Fields Forever – Soco Thornton Park
Fancy a cocktail? Soco Thornton Park has crafted a special drink called "Strawberry Fields Forever" that's perfect to sip in season. The cocktail is crafted with house-infused strawberry vodka, vanilla simple syrup, and fresh lemon.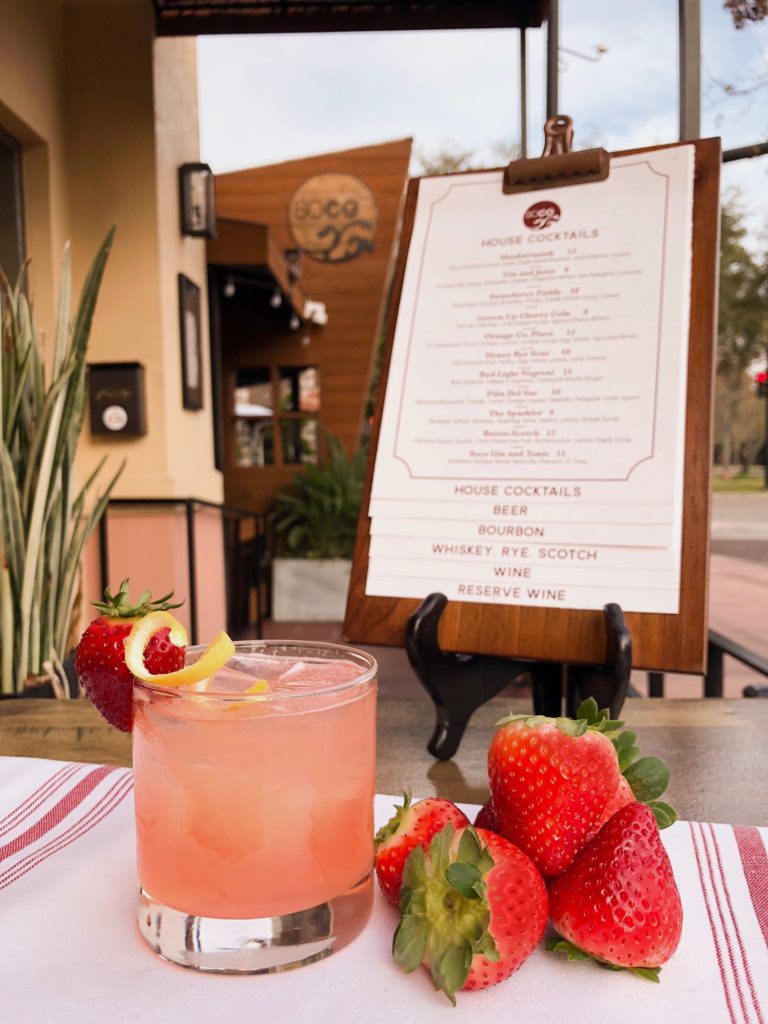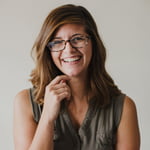 About the Author/Photographer:
Stephanie Patterson is the managing editor of Orlando Date Night Guide. She's a talented professional food and travel photographer and writer with a passion for creativity, the beach and great eats. When she's not taking photos or writing, you can find her exploring the state for her Florida travel blog, Travel Taste Click. Find her online at www.spattersonphotography.com and www.traveltasteclick.com.
All images by Stephanie Patterson unless otherwise noted