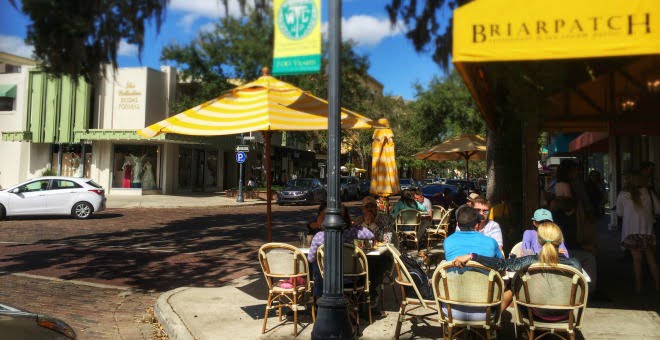 Cooler temperatures make maximizing your time outside a must. It's time to check out Orlando's best patios on your next date night or day. Here are some local spots that have great patios for you to relax on, enjoy great food, soak up some sun and take in the stellar views.
GOOD EATS
903 Mills Market Cafe (CLOSED)
903 S. Mills Ave.
Orlando, FL 32806
Located near the south end of Mills Avenue, 903 Mills Market is a local spot that's popular on Sunday morning with the beer and brunch crowd. Specializing in home-cooked comfort food, it has a patio with plenty of outdoor seating and every table has an umbrella to give you shade.
Also try…
Santiago's Bodega
802 Virginia Drive
Orlando, FL 32803
Hollerbach's Willow Tree Cafe
205 E 1st St.
Sanford, FL 32771
Chroma Modern Bar + Kitchen
6967 Lake Nona Blvd
Orlando, FL 32827
Reyes Mezcaleria
821 N Orange Ave
Orlando, FL 32801
Cocina 214
151 E Welbourne Ave
Winter Park, FL 32789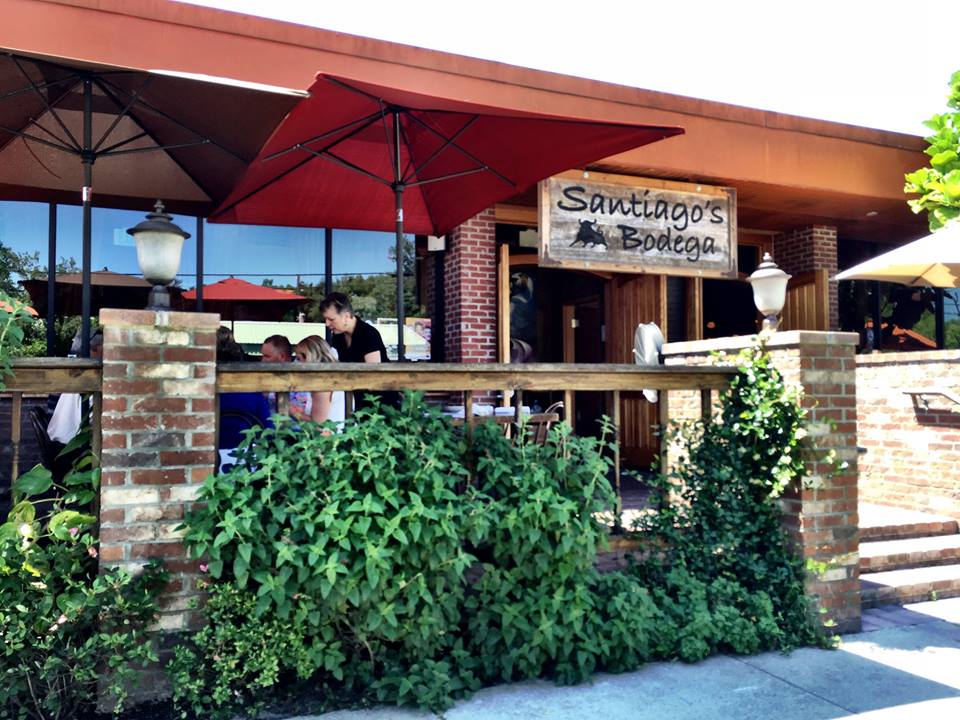 HANGOUT SPOTS
Teak Neighborhood Grill
6400 Times Square Ave.
Orlando, FL 32835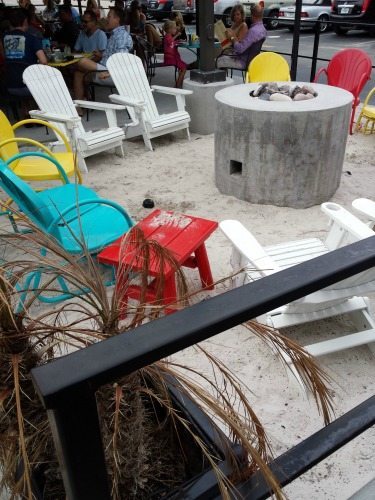 This MetroWest hangout has all of the elements of a solid neighborhood hangout: a rotating craft beer list, a famous burgers list (OMG! the "glazed donut burger") and a great outdoor seating area. On cold evenings, the outdoor area has heaters scattered to keep customers warm and there are plenty of televisions to enterain sports lovers.
Also try…
Vanbarry's Public House
4120 S Orange Ave
Orlando, FL 32806
Tap Room at Dubsdread
549 W Par St
Orlando, FL 32804
Ember
42 W Central Blvd
Orlando, FL 32801
COZY GARDENS AND COURTYARDS
K Restaurant
1710 Edgewater Drive
Orlando, FL 32804
This restaurant and wine bar, the brainchild of local celebrity Chef Kevin Fonzo, uses farm fresh ingredients, including some from the onsite garden. The garden surrounds the backyard patio, which serves as a serenely perfect place to sip a glass of wine or devour an entire meal. K Restaurant hosts wine tasting events called Friday Night Flights on its back patio on various nights throughout our cooler months. Check out their Facebook page to stay in the loop.
Also try…
East End Market
3201 Corrine Dr
Orlando, FL 32803
Yellow Dog Eats
1236 Hempel Avenue
Gotha, FL 34786
Barnie's CoffeeKitchen
118 S Park Ave
Winter Park, FL 32789
Rocco's Italian Grille & Bar
400 S Orlando Ave
Winter Park, FL 32789
Imperial Wine Bar & Beer Garden
1800 N Orange Ave
Orlando, FL 32801
Eden Bar at Enzian Theater
1300 S Orlando Ave
Maitland, FL 32751
Hamilton's Kitchen
300 E New England Ave
Winter Park, FL 32789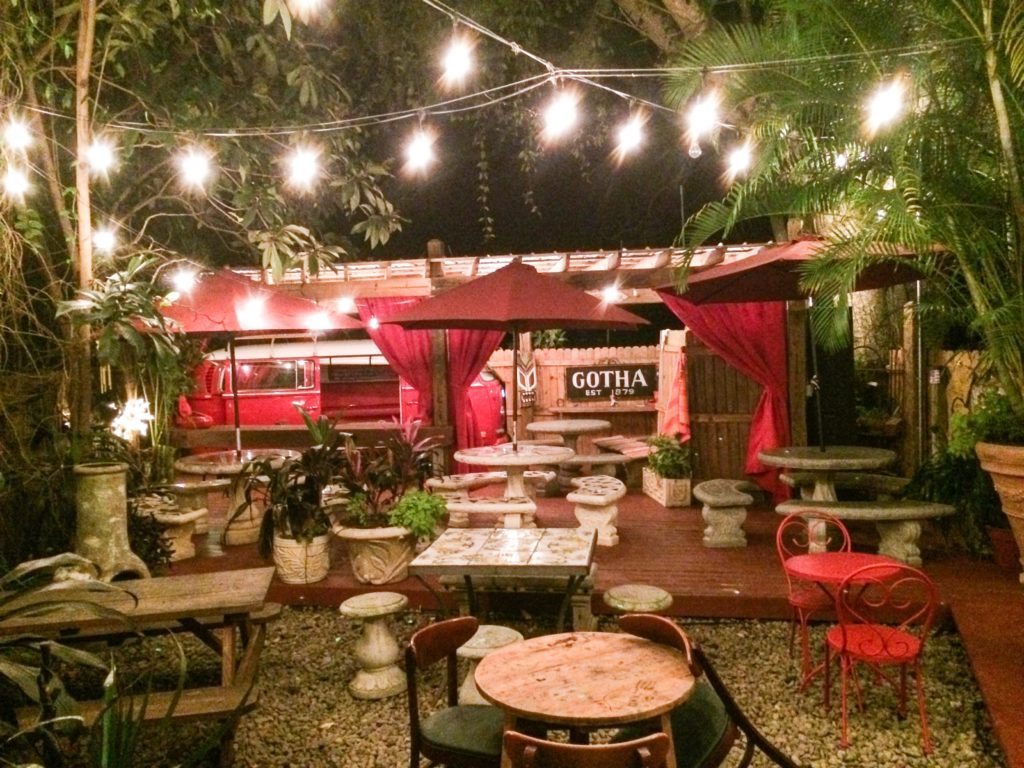 GREAT FOR PEOPLE WATCHING
Dandelion Communitea Café
618 N. Thornton Ave.
Orlando FL 32803
Tranquility, good vibes and community—these are the things that come to mind when thinking of Dandelion Communitea Café, a local café and tea shop. The café is a "local, organic and eco-friendly eatery," as described on its website, and the menu reflects it. Not only do they have plenty of healthy food options and teas galore, but they have a nice little patio area to drink your ice tea and eat your bowl of chili. You'll find outdoor seating on the patio as well as the medicinal community herb garden. Keep an eye out for open mic nights on the patio every Tuesday. The eclectic, big green house is a staple of charm and community in the Mills 50 area.
Soco
629 E Central Blvd
Orlando, FL 32801
Briarpatch Restaurant
252 N Park Ave
Winter Park, FL 32789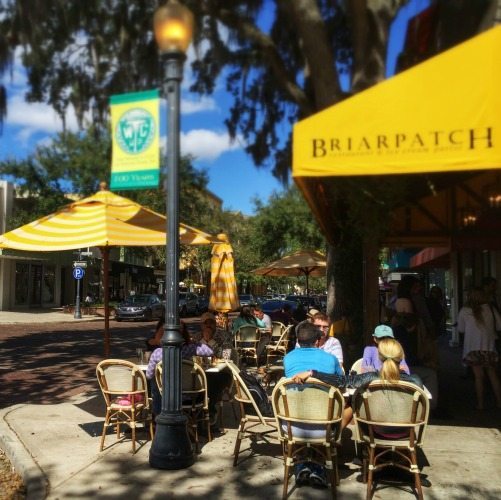 CURBSIDE SPOTS
Maxine's on Shine
337 N. Shine Ave.
Orlando, FL 32803
There's a reason Maxine's on Shine has won numerous awards, including Orlando Magazine's Readers' Choice Award in 2015 and 2016: it's one of the best urban places to hang out with friends for a good time, food and live music. Open in the evenings Tuesday through Friday and open for brunch and dinner Saturdays and Sundays, Maxine's is known for showcasing local live music and wonderful, whimsical fare. The streetside patio is such a sweet little spot to reconnect.
Also try…
Armando's
463 W New England Ave
Winter Park, FL
The Stubborn Mule
100 S Eola Dr #103
Orlando, FL 32801
Shari Sushi Lounge
621 E Central Blvd
Orlando, FL 32801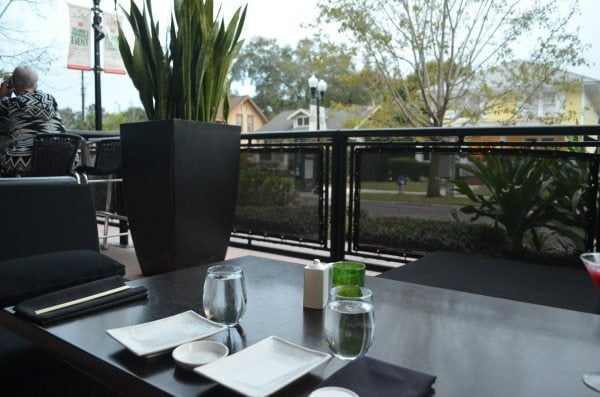 WATERSIDE DINING
The Waterfront
4201 S. Orange Ave.
Orlando, FL 32806
The Waterfront (formerly Julie's Waterfront) is a lakeside paradise escape in the middle of our busy city. Many people come to The Waterfront for the outdoor view and great food. The entire patio offers amazing views of Lake Jennie Jewel, with the option of sitting on the patio deck or on the patio area literally on the lakeshore. This is a great local restaurant to grab a glass of beer (or a cocktail) and top-notch food from the completely new menu on a sunny fall day.
Also try…
Mesa21
1414 N Orange Ave
Orlando, FL 32804
Hillstone
215 S Orlando Ave
Winter Park, FL 32789
Shake Shack
119 N Orlando Ave
Winter Park, FL 32789
World of Beer – Downtown
431 E Central Blvd
Orlando, FL 32801
The Boathouse
Disney Springs Marketplace
1620 E Buena Vista Dr
Lake Buena Vista, FL 32830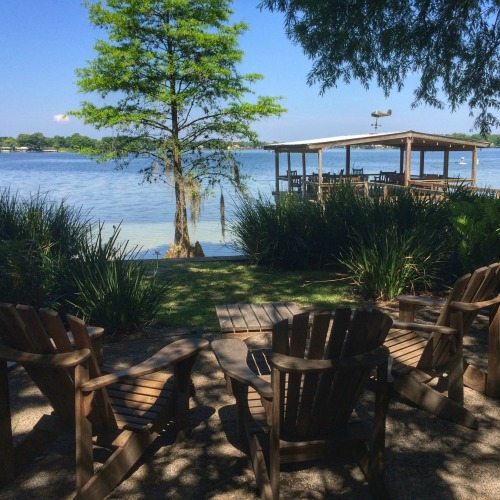 SUNSET VIEWS
Norman's
The Ritz-Carlton Orlando, Grande Lakes
4012 Central Florida Pkwy
Orlando, FL 32837
Canvas
13615 Sachs Avenue
Orlando, FL 32827
Eleven
7593 Gathering Dr
Kissimmee, FL 34747
Check out our list of restaurants with sunset views for more ideas.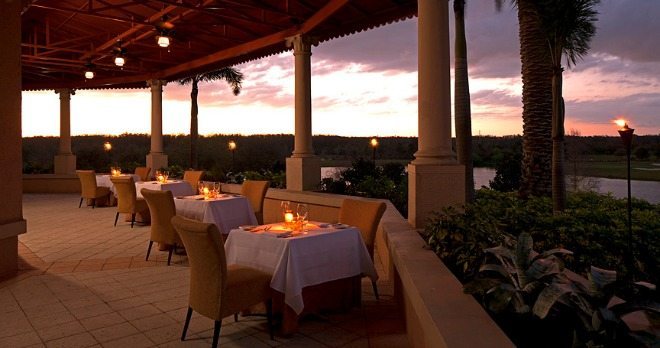 SaveSave