By Dana Robb
Dana Robb and her hubby, Sean, won our August giveaway for a spa getaway to Wyndham Grand Orlando Bonnet Creek. They become the Couple at Large and were tasked with writing a first-person blog about their experience. 
I do not even know where to begin with how magical this mini-staycation was for the hubby and I. A little backstory: about three months ago Sean and I suffered a miscarriage. Anyone that has gone through loss would know, as strong as I thought I was, it was devastating. I heard so many stories of how after a miscarriage it can take months to get pregnant again or as little as a couple of weeks. We were ever so lucky (and by no means took it for granted) that we were pregnant again about two months later.
The worst thing that happens when you get pregnant again after a miscarriage is not being able to celebrate it. You are overwhelmed with anxiety and fear that it will happen again and waiting for that first ultrasound appointment is riddled with anxiety. On Friday September 2nd Sean and I anxiously waited for our appointment gripping one another's hands and praying for a good outcome. The best four words I have ever heard in my life were "we have a heartbeat!" Apparently I was so excited that I breathed out an expletive and then apologized for it immediately after. I can't remember this at all.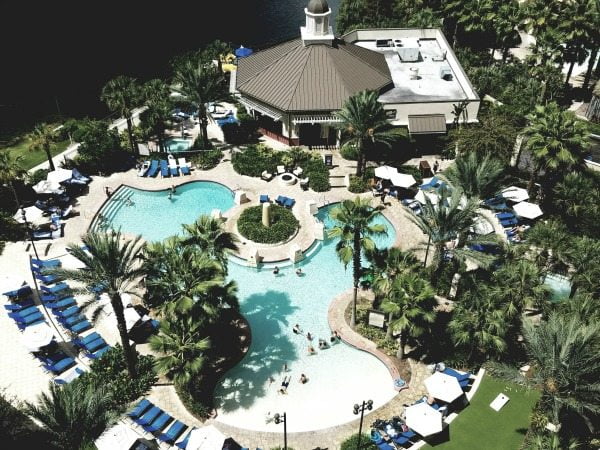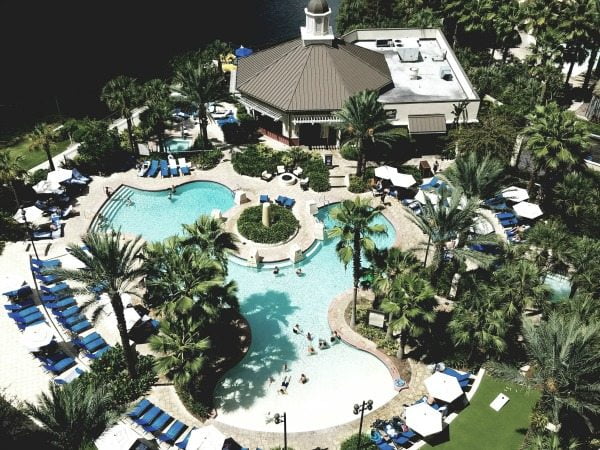 I have followed Kristen from Orlando Date Guide for a while, both on Instagram and her blog. Living in Fort Lauderdale we are always in Orlando and looking for fun off-the-beaten-path activities and foodie spots and she is the girl to point them out. So, after I get back to work from our appointment and completely on cloud nine, I couldn't believe my eyes when I saw an email from Kristen saying that we had won an overnight staycation at the Wyndham Grande Orlando Bonnet Creek Resort. After just staring at my email for about two minutes and shrieking a lot, I called the husband to see about his scheduling.
Let me tell you all that if you want to stay in the Disney area, but still off the "Disney" path, this is the place. I have never felt so doted on or experienced such great customer service. We frequent Orlando/Disney a lot and have pretty much stayed everywhere, so this is saying a lot!
What I loved is that you have the feeling of still being in Disney since you can see a majority of the theme parks from EVERYWHERE, but it's more of a vacation club. There is a huge lake in the middle of the resort with relaxing swings, two lazy river pools, just regular relaxation pools, fire pits for nighttime s'more making, a small mini-golf area and several large BBQs. So for those that come with family and want to save money, this is a great way to do it.
POOL TIME
Our room wasn't quite ready when we checked in, so we grabbed our swimmies, gave our bags to the front desk and headed out to the pool area for some lunch and lazy rivering! The service at the Back Bay Pool Bar and Grill was stellar and the food was out of sight (way better than any pool bar food I have had and the choices were aplenty), plus their bar served craft beer and flights so the hubs was in heaven. FYI eating an entire philly cheesesteak sandwich with french fries and hot sauce may not have been the best idea before getting in the pool, however one must feed the cravings, or so I keep telling myself. The hubs, of course, made me look bad by ordering healthy fish tacos with fruit.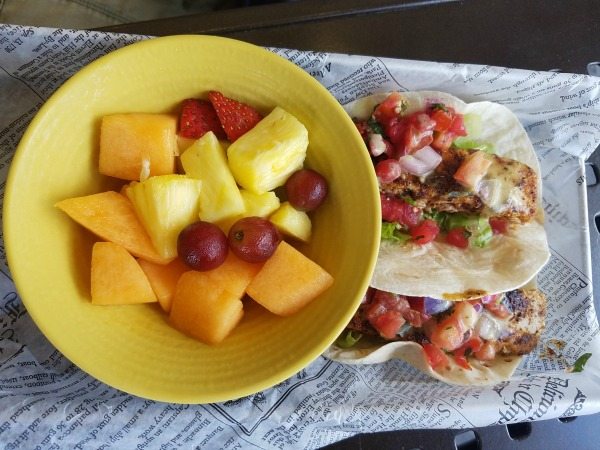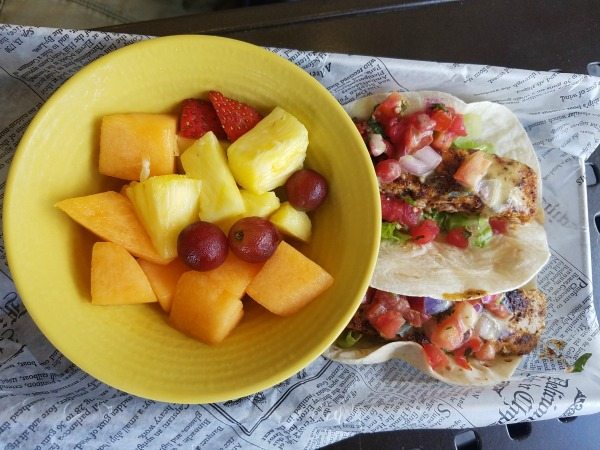 After lunch, we grabbed our towels and headed to the lazy river. This is my one gripe: there were not a lot of inner tubes so you kind of had to wait at the end and hope someone passes one off to you. My patience is that of a gnat, so instead I just flipped over and floated along sans tube. The weather was warm, the pool wasn't too cold and it was just as heavenly.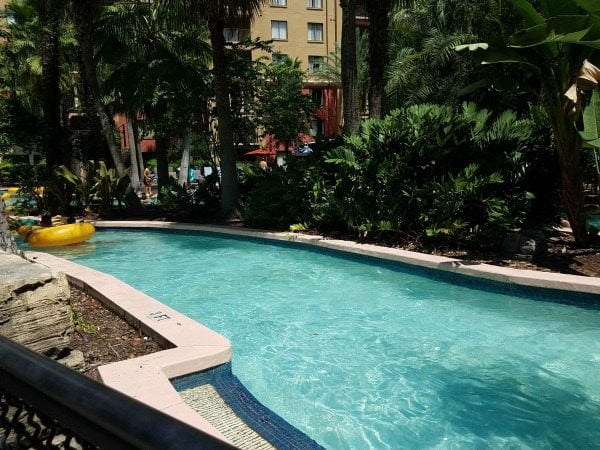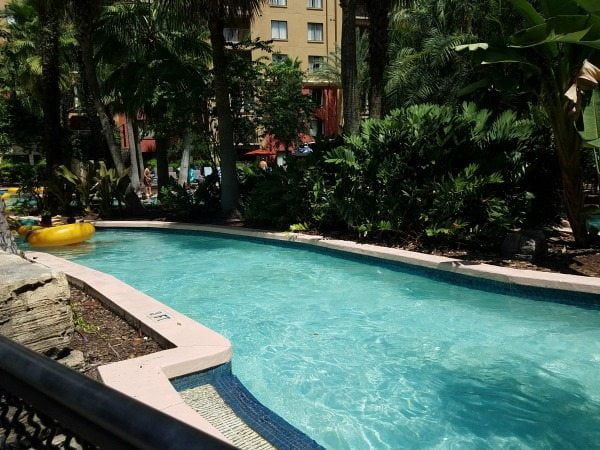 POKEMON
Afterward, we walked along the hotel lake and just took in the hotel amenities and people watched. I will be the first to admit that my husband and I are extremely competitive when it comes to video games, so yes we play PokemonGo and no I am not apologetic about it. This was an AWESOME hotel for it. Lots of Pokestops and cool Pokemon aplenty. There, I said it….we can commence talking about other stuff now.
The pictures do not do the room nor the view justice. Kim (our contact at the Wyndham) delivered us the sweetest note and the cutest goodies for us to enjoy on the balcony. Sean does not do heights so he brought a chair from the inside close to me, so that he could enjoy the scenery without getting woozy. I was content just to have my book out there. He then noticed that our room was basically a Pokestop and that's pretty much when we stopped conversing with one another (#priorities).
Quick note: the showerhead in our bathroom was a standout of the room. Best. Shower. Ever.
THE SPA
I've heard so many mixed reviews about being pregnant and getting a massage that I decided to let Sean enjoy his massage and Kim was nice enough to offer me a mani/pedi instead. The spa was absolutely amazing. I didn't take too many pictures, since I wasn't sure how comfortable that would make people, but the relaxing room had great tranquil music, a blueberry infused water and chex mix (basically a preggo girls dream).
My mani/pedi was given by Olia who was awesome, super attentive and we talked about EVERYTHING. The masseuse was kind enough to bring Sean in after his massage and he basically looked drugged on euphoria he was so relaxed and it took about twenty minutes before he was able to form any words to me.
DINNER AT DEEP BLU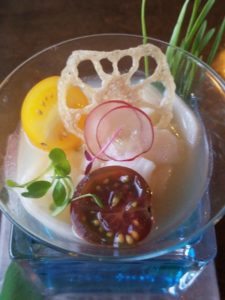 Our dinner reservations were at 7:30 so by the time everything was completed, we had half an hour to get ready. Our menus had our name on it… that was pretty much the best thing ever (yes, I took the menu home!). We were simply blown away by the smallest touches that meant so very much to us this weekend.
We had a beautiful table that faced the sunset and was going to be perfect when the fireworks started. Is it wrong that I looked at the menu two days before? I do this all the time, but I also needed to check to see which fish was safe for me to eat and so on (a complete and utter shame as I love me some fish, especially when it is raw).
The staff was positively amazing and not only completely knowledgeable on the menu, but on the drinks as well. Sean ordered the Bitter Inoculation and before the meal started, the chef came out and delivered these beautifully crafted glasses of ceviche with Chilean sea bass (yes, I ate it, but I kept telling myself it was such a small portion and what did he expect putting ceviche in front of me #dontjudge).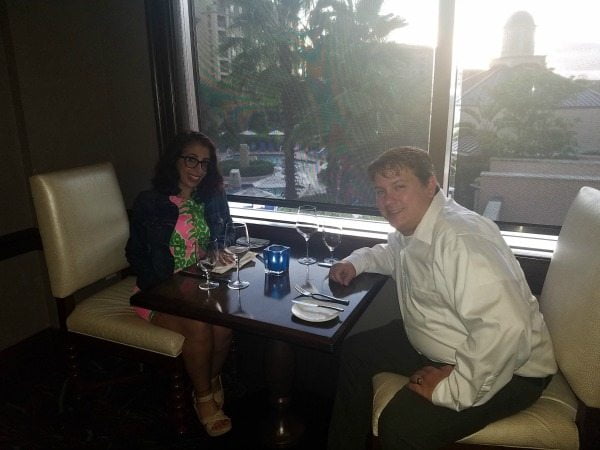 Sean ordered the Parmesan Herb Crusted Chilean Sea Bass (I am so jealous, but this fish is really high in mercury, so I opted out). I had the Seafood Cioppino which is their signature dish and best seller and didn't disappoint. Sean said "this was the top meal of his life."  Being the huge foodies that we are, this, my friends, is saying a lot!
FIREWORKS
The fireworks started at the end of the meal, so we quickly went upstairs to our room to watch them from our balcony. A lot can be said for being able to see both Hollywood Studios and Epcot fireworks practically simultaneously. It was the perfect end to an absolutely perfect day.
The next day we were able to wake up leisurely, Sean had breakfast at the Tesoro Cove (I decided that drinking in the last few minutes of the balcony and the shower were more important) and then we headed off to Animal Kingdom.
There are not enough thank you's I have to both Kristen and Kim for taking an absolutely perfect weekend and putting the cherry on top!