You've seen the billboards on I-4 and the commercials on TV. Clearly, Westgate River Ranch is aiming to tempt Orlando locals to visit this Central Florida dude ranch. And for good reason! As it turns out, this rambling resort is pretty awesome for couples and families, something we confirmed during a recent media visit.
Situated on 1,700 lush acres and surrounded by approximately 400,000 acres of state and federally protected wetlands, the River Ranch was originally built in the 1960s and became part of the Westgate Resorts portfolio in 2001. In 2013, it underwent a multi-million dollar renovation, modernizing and expanding the accommodations, and adding new activities, such as a zip line, ropes course and rock-climbing wall. And adding glamping as well, but more on that in a bit.
Westgate River Ranch is a quiet escape away from all the hustle and bustle of city life. The property, which is located about 90 minutes from Orlando, gives access to the 1,300-mile trail known as the Florida Trail (one of 11 National Scenic Trails in the U.S.) where modern-day cowboys (and cowgirls) can meander on horseback through the pine-palmetto flat woods, oak hammock, scrub and cypress-strand.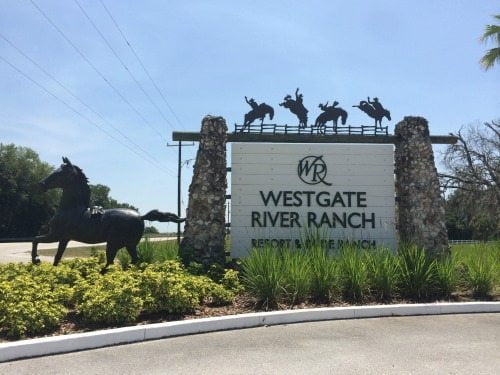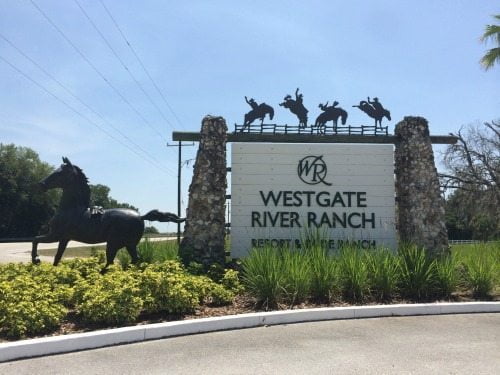 As you make your way westbound from Yeehaw Junction from the Florida Turnpike, keep an eye out for grazing cattle and wild deer. There's nothing for miles until the Westgate River Ranch sign pops into view. Within minutes you'll be driving through the gate and past a herd of buffalo and longhorn cattle.
As you might guess, horses are a huge part of the ranch. Besides dishing out the internet-famous lessons in horseback riding Orlando locals rave about and out-of-staters crave, the resort hosts a Saturday night championship Florida rodeo each week, featuring trick riding, bull riding and barrel racing inside its 1,200-seat rodeo arena. Tickets are $17/adult and $9/children 5-12.
Glamping
Yes, the resort has lodge rooms, cabins, cottages and campgrounds, but the best way to experience this matchless destination is by glamping (glamorous camping), which delivers all the fun of the outdoors minus all the work of the tent set up, the uncomfortable night's sleep and the endless buzz of mosquitoes in your tiny, hot tent.
Conversely, the River Ranch's glamping option is far from a 'roughing it' experience. Huge glamping tents are pre-set on raised platforms and include deluxe interiors, a screened-in porch with two rocking chairs and access to private bathroom facilities.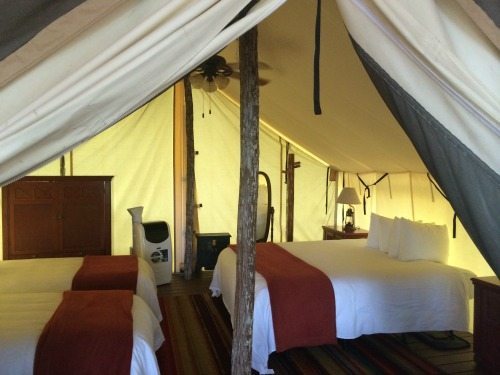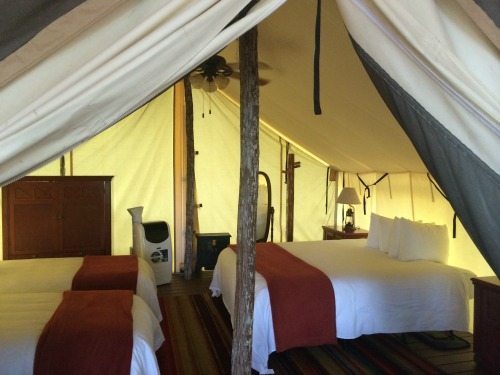 They're air-conditioned and have one comfy king and two twin beds with cozy sheets, pillows and blankets. We had such a wonderful sleep inside our snug accommodations.
Additional amenities include: a mini refrigerator, microwave, electrical outlets (so you can charge your smartphone), a ceiling fan, interior lighting, private gas propane grill, private picnic table and various board games.
And there's more! A personal glamping concierge service is included with glamping reservations. These friendly folks take care of all the camping chores including scheduling daytime activities, starting campfires at night and delivering hot cinnamon rolls, fresh fruit and coffee every morning. Yes, this is my kind of camping. (By the way, plans are underway for glamped out teepees, which will come with a personal camping butler!).
Glamping rates start at $169 per night on weekdays and $249 on weekends. Lodge rooms start at $169 for a weekday and $189 for a weekend. Cabins start at $259 for weekday and $289 for a weekend. (cabins range from studio to two-bedrooms).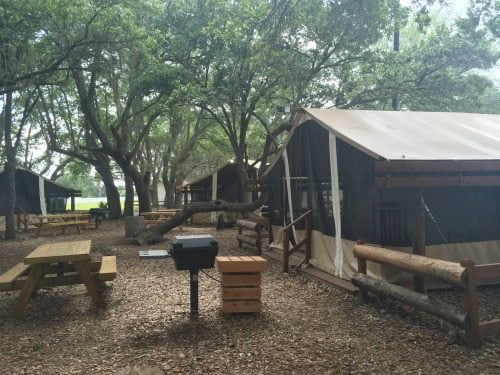 Thing to Do
Westgate River Ranch boasts a bevy of recreational activities, including horseback riding, swimming, mini golf, a petting farm, fishing, nature hikes, trap and skeet shooting, archery, hayrides, cookouts and a full-service marina complete with boating and fishing, airboat rides and swamp buggy rides. Some activities are free and some are an extra fee.
There is also the Westgate Smokehouse Grill (featuring water views and spectacular ribs), River Ranch Saloon, general store and deli. Those glamping will have ample room to store a cooler filled with food for the weekend but having the restaurants on site serve as a nice reprieve when you just want to grab a quick and effortless bite.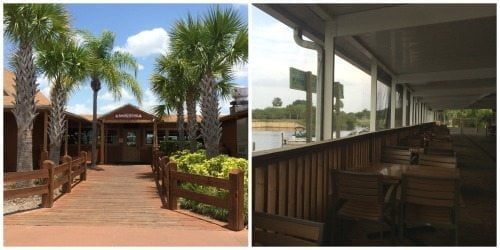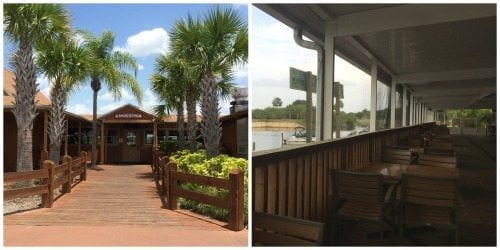 For those who love the outdoors but balk at all the work of planning a camping trip, I cannot recommend this lovely piece of Florida wilderness enough.
During the spring and fall high season the resort turns into Florida's top glamping hub. It gets pretty packed on the weekends and you can expect all 20 of the glamping sites to book up. But if you can swing an off-season trip or can head out mid-week, you'll find occupancy is way down and the resort becomes even more peaceful.