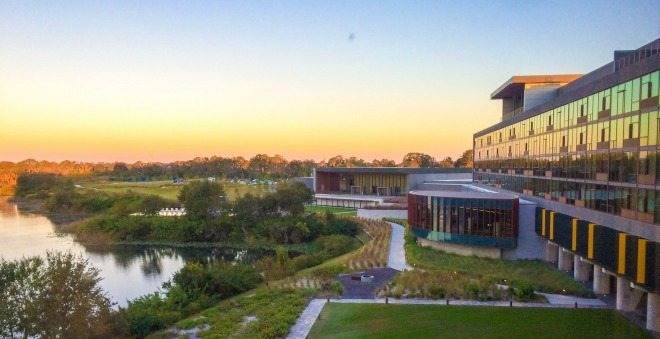 From the moment I saw photographs of Streamsong Resort, I knew I had to go there. Flip through the snazzy website and the images of sprawling, sun drenched vistas and earth-inspired design are bound to tempt anyone to set out on the two-hour, southeast journey past Lakeland to see for yourself if this place is really as special as the website depicts. Spoiler alert… it is.
Looking at the map, we could only surmise that the 216-room luxury lodge must be in the middle of nowhere. And we were right. Streamsong is literally in the middle of nowhere, tucked into a tiny slice of 16,000 private acres with nothing but natural Florida landscape to dot the view.
And that's the initial draw—this feeling of being totally swept away—but a faraway vibe isn't the only thing that makes Streamsong such a wonderful place.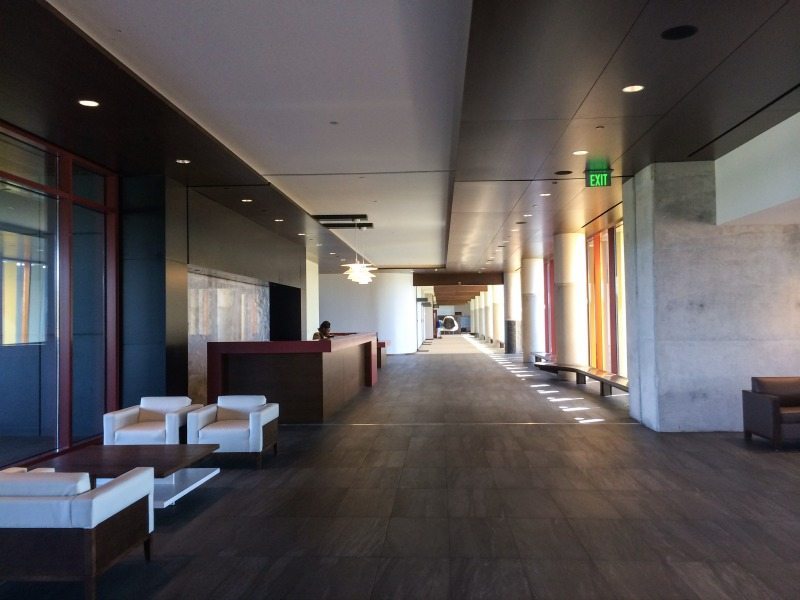 The resort boasts critically acclaimed golf, an unequaled grotto-style spa, bass fishing, sporting clays, five restaurants and lounges, plus a 1.7-mile nature trail perfect for exploring the outdoors. Chances are you'll see tons of birds and maybe even a deer far off in the distance.
If you're a golfer, you'd be interested to know that the 36 holes are now considered some of the best in Florida, some say in the country. A golf expert I spoke to when we visited told me there's nothing like it in the state. Rolling dunes, greens with astonishing undulation and a total absence of palm trees make the two par-72 courses a challenging yet pleasurable feat.
If golfing isn't your thing, you can start by whiling away a few hours swimming in the lakeside, cabana-lined infinity pool.
Definitely book a treatment at AcquaPietra, a 7,000-square-foot grotto-style spa with six unique pool experiences (including a cold plunge) and nine treatment rooms, including a couple's suite with its own private pool. This quiet, cavernous space also features a steam room and sauna. Best of all, this is a totally co-ed spa, which means you can enjoy it together for hours.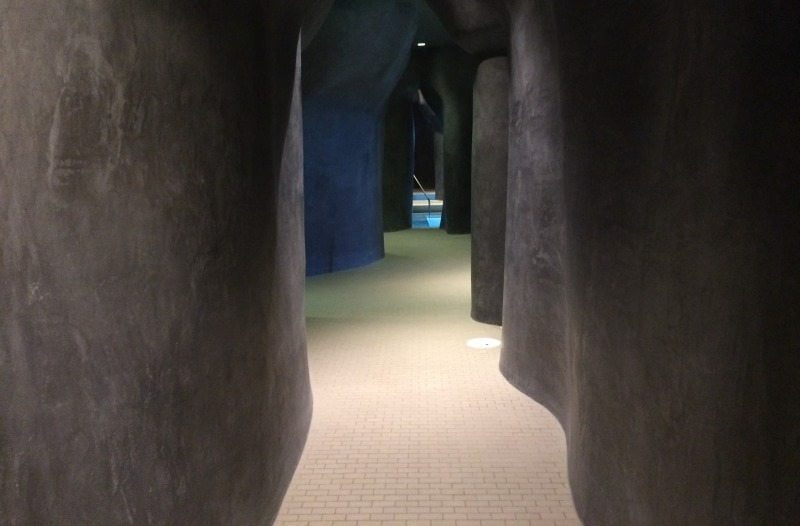 At day's end, you'll want to travel up to the rooftop lounge, Fragmentary Blue, where views of the sun setting over the resort's sparkling lake will be the perfect accessory to a glass of wine or signature cocktail and the bar's spectacular truffle and parmesan popcorn.
As the sunlight fades, another unexpected perk unfurls: stars! With zero light pollution to distort the view, Streamsong offers some of the best stargazing in Florida.
Dinner is served in four different spots, all of which deliver a scrumptious, gourmet experience. We ate at Sotto Terra and my selections— beef carpaccio, pan seared sea scallops and a trio of sorbets—were all fabulous.
Guestrooms and suites at the lodge range from 530 to 1,167 square feet, and feature a lovely blend of wood, leather and stone plus floor-to-ceiling glass windows that give guests fabulous views of the sweeping landscape.
In addition, the Clubhouse houses 12 guestrooms, Restaurant Fifty-Nine— a steak and seafood-themed restaurant— a bar, lounge, and golf shop.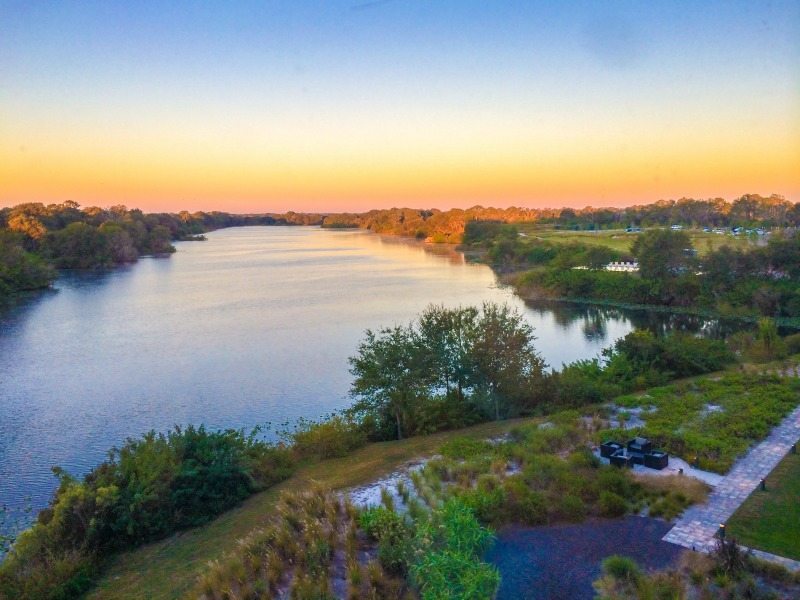 I should mention there is a $20 resort fee added to each room, however, the nominal charge includes valet parking, access to the spa pools after 5pm, free use of the pool cabanas (based on availability), in-room water and internet access. All in all, a pretty good deal if you ask me.
So, what's the story behind this enigma of a destination resort? Streamsong is the brainchild of The Mosaic Company, which for decades has mined the area for phosphate. The land that Streamsong sits on is a former mining area now reclaimed for recreational or environmental uses. The lakes you see are where the company formally dredged but over the last few decades have filled with rainwater and now are teaming with wildlife and dotted with pretty water lilies.
It's the sort of place you just have to see for yourself. And like me, you'll leave with a long list of friends you can't wait to share this undiscovered gem with.
Peak season rates for the Lodge start from $299. Off-peak rates start at $179.