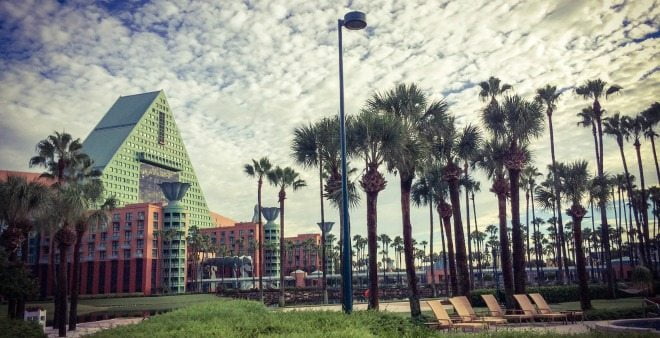 Located just a stone's throw from Epcot and Disney's BoardWalk, Walt Disney World Swan & Dolphin Resort sprawls across 87 acres dotted with sparkling lakes and five shimmering swimming pools.
With easy access to all of Walt Disney World's parks and entertainment districts via Disney shuttle and water taxi, the resort is a great starting point for those looking for an action-packed getaway. But for those who would prefer to simply stay put and relax, Swan and Dolphin gets top marks too.
Especially for parents who love squeezing in some 'us time' amidst the hustle and bustle of traveling with kids. That's exactly what we were after during a recent visit to the resort.
We checked in on a rainy Sunday and kept our daughters busy while we wandered around the palatial resort, which is split into a Swan and a Dolphin side. All five pools, the outdoor playground and beach, as well as the resort's 13 bars, restaurants and cafes are all an easy stroll regardless of which side you choose.
We stayed in the Dolphin side in a 9th floor room with two double beds and a patio that gave us views of the Epcot fireworks that lit up the sky beginning at 9pm.
Besides all the family-friendly amenities and dining options, what drew me to this resort were the perks for parents, which include the Mandara Spa and three top-notch restaurants ideal for date night.
The best part, though, is that Swan and Dolphin gives two complimentary hours of Camp Dolphin with the same-day purchase of an entrée at Shula's Steak House, Todd English's bluezoo, or Il Mulino New York Trattoria. Two dining adults equals two spots at Camp Dolphin equals date night! I like that math. It's genius, really.
At 6pm we dropped off our kids at Camp Dolphin, which was manned by two very friendly staffers and filled with all sorts of kid-friendly diversions including crafts, DVDs, coloring books, toys, and Nintendo Wii games. Their dinner is provided onsite or at the restaurant down the hall. Camp Dolphin, which is open nightly from 5:30pm to midnight, is for kids ages 4 through 12. Reservations required. One child admitted for each adult entrée purchased.
This is the first time we have ever dropped off our kids (4 and 6) at such a childcare facility. I was little nervous, especially since the kids were not overly thrilled about the idea. But as soon as they arrived, they dove into some activities and never batted an eye when we said goodbye.
What followed was a two-hour date night at Todd English's bluezoo where we tested its reputation for stellar food and sumptuous cocktails without fail. We loved the chic and multihued decor, the huge selection of fresh seafood, and the artful finesse that gave each dish its own unique sense of individuality.
The standouts for us were the Beet Salad, the Miso Glazed Mero (hawaiian sea bass) and the Warm Chocolate Banana Molten, which came with chocolate cream pudding, caramelized banana, banana ice cream. Amazing!
For drinks, I can't wait to go back for another Serenity, a sublimely delightful cocktail made with Cucumber Vodka, St. Germain Elderflower Liqueur, muddled fresh strawberries, basil, rosemary, lime juice and pineapple juice.
Before long it was time to pick up two sleepy girls at Camp Dolphin and head upstairs to bed. In the morning we were up with the sunshine, enjoyed room service and then headed outside to snag a few hours of pool hopping and giggling down the resort's waterslide.
NOTE: The Swan & Dolphin is currently participating in Magical Dining Month's Magical Nights program, which means for an overnight rate starting at $220 plus tax you'll get one night in a standard room plus a Magical Dining Month dinner for two at either Todd English's bluezoo or Il Mulino New York Trattoria. That's a stellar deal. Magical Dining Month runs until September 30, 2014.