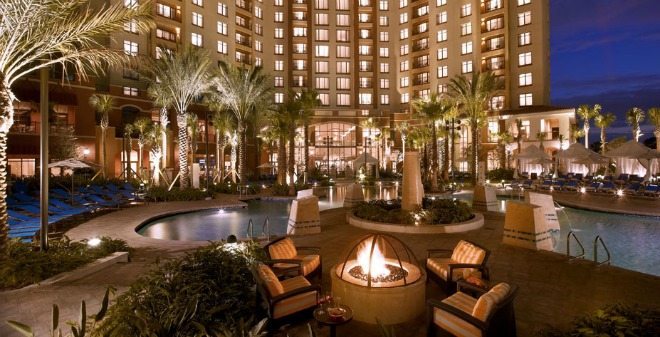 It's amazing how easy it is for Orlando locals to simply jump in their car, drive 20 minutes, and be checking into a fab hotel for a romantic overnight. Honestly, Orlando has got to be one of the best cities in the country for staycations.
There are more than 100,000 rooms to check into inside Orlando's 448 hotels. That's a staggering number when you're trying to decide on just one for a date night overnight. So, let me help you narrow down your list by suggesting one of my favorites…
Tucked into a 70-acre enclave in the southeast corner of Walt Disney World, the Wyndham Grand Orlando Resort Bonnet Creek offers the ideal balance between being close to it all but away from it all at the same time. If you're interested in checking out Disney's theme parks, restaurants or entertainment hubs, they're all just minutes away. But for those who just want a relaxing 24 or 48 hours with no kids or cares, there's no need to leave the Wyndham Grand property at all.
You can easily spend the entire day relaxing by the tranquil lagoon-style pool overlooking the 10-acre lake. Thanks to the pirate ship themed kids pool just a stone's throw away, the lagoon pool is mostly filled with adults. For lunch, snacks, or tasty frozen cocktails, the Back Bay Pool Bar offers table and poolside service. I didn't have the nerve to try the Krispy Kreme Doughnut Burger (made with bacon, caramelized onions and Swiss cheese) during a recent visit but the Funnel Fries were crazy good.
Spa lovers will want to consider booking a treatment at Blue Harmony Spa, which features an ocean-influenced treatment menu and six indoor treatment rooms, including an unbelievable couple's suite with side-by-side soaking tubs. There is also an outdoor spa garden with treatment cabanas and a secluded hot tub. Yep… it's pretty darn heavenly.
As the sun sets, you'll want to sip a cocktail at Bar 1521, not just because the menu has so many fun drink options (the Pineapple-Sage Margarita and Raspberry Ginger Ricky, for example) but it'll give you an excuse to hang out in what's arguably the most stylish and chicly designed lobby in Orlando.
While it may be tempting to wander off property for dinner, I strongly suggest you stay onsite and book a table at deep blu seafood grille, one of Orlando's absolute best seafood restaurants. In 2013, Orlando Magazine's Dining Awards bestowed the titles of Best Hotel Restaurant and Best Seafood Restaurant on deep blu… awards that were well deserved. Read my full review here.
After dinner, head outdoors to the poolside fire pit where you can snuggle up under the stars before heading back to your cozy but elegant guest room.
Rates at the Wyndham Grand Orlando Resort Bonnet Creek start at $105/night (a little higher on weekends) when you apply this summer's 25% off promotion exclusively for Florida and Georgia residents. An $18/day resort fee will be applied to the reservation.