Is your date night in need of a reboot?  Have you tired of wine tastings and dinners and a movie?  Those dates are all fine, and can offer a way for you and your sweetheart to connect or, if you're like me, just have a few childfree hours.  But sometimes, it's worth going outside of your comfort zone and getting to know your partner in a whole new context.  And that's how we ended up at Dewey's Indoor Golf & Sports Grill.
I am not a golfer. Neither is my husband. This quickly became apparent to our "caddy" Jeff (more on him later), but it didn't deter us from having a great time. Armed with a healthy dose of reality and humility, we were excited to try the Dewey's experience.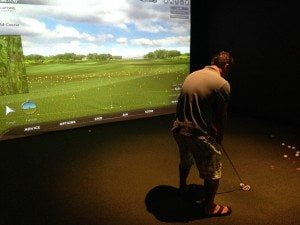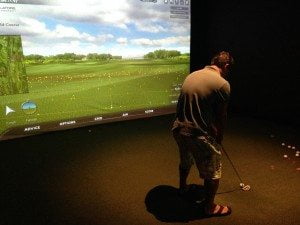 While it's not an official recognition, many consider Orlando to be one of the major golf capitals of the world.  Several professional golfers call Orlando home, and golf enthusiasts can (and do) play the game year round at hundreds of courses in the Central Florida area.  But what interested me was a golf experience indoors.  Let's face it, if you're not a strong golfer, you probably wouldn't enjoy hours on a course in the Florida heat.  But when I was told I could work on my skills, spend time with my husband, eat, drink…all in the AC?  Sign me up!
Named after Orlando-resident, businessman and world-famous poker player Dewey Tomko, Dewey's markets itself as a sports bar first. Open since the Super Bowl, the 12,000 square foot, state-of-the-art indoor golf facility caters to crowds that want to grab some drinks and pub food at its high-end bar and lounge while watching events like World Cup, the Olympics and, of course, golf tournaments, in all their glory. You could just go for the food and drinks, but the draw for us were the simulators.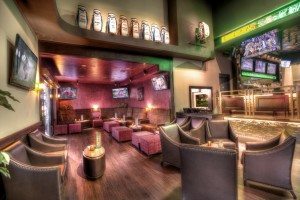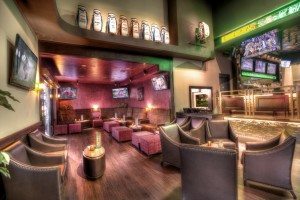 After checking in at the "Pro Shop," Jeff, a current student at the Golf Academy of America, accompanied us to our simulator. The simulator section is adjacent to the bar area, and you can choose to eat your food in either section.  We chose to eat in our simulator section, for the additional privacy. We opted for the "Widescreen" simulator, which is probably adequate for most ages and skill levels. For an additional cost of $16, you can opt for the "Surround," which boasts three full-size projection screens and a 150-degree display. The surround area is separated from the widescreens and, from what I could tell, this area was for the more serious golfers.
Visitors can choose from 48 courses from all over the world. We chose the St. Andrews old course, which we learned was a popular choice. Jeff gave us a quick rundown of how the simulators work; they can be adjusted for each players' skill level and he showed us how to do fly-overs to see where our ball landed. He then "bumped up" our power and accuracy for our session; since we weren't golfers, he programmed the simulator to make our shots more powerful and more accurate. Some purists may scoff at this feature, but we welcomed it!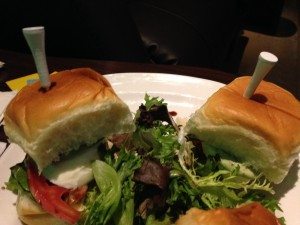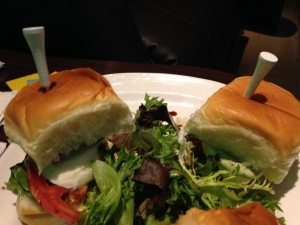 If you need or want additional help, you can hire a "caddy" for $25 an hour, but since this was a date night, we decided to just have fun with it. I definitely see the appeal of having a professional assist with your form, your swing, or just give general tips if you are out of practice. But for us, it was a fun for us to give each other high-fives when we birdied (one stroke less than par) and shrugging off bogeys (one stroke over par) with a smile.
Dewey's is always running specials, and costs vary from day-to-day, so it's worth checking their website and social media channels to get the latest offers.  For example, right now through September 5 Dewey's is running a "Spend More, Save More" special. Read more about their specials here.
The menu is pretty extensive for a bar menu…lots of options for burgers, wings, sandwiches and pizza.  I enjoyed a cold 312 along with my Caprese Sliders (fresh mozzarella, basil and tomato).  We had a good laugh with Jeff, who acknowledged that patrons consume bar food and then pick up their golf clubs, making for an interesting clean up session for the employees at the end of the night.
When we were there on a Saturday night, we shared the place with couples of all ages, families, and several male foursomes. I also noticed little kids having a putting contest, so I liked the mix of serious golfers and people just out to have a good time.  In addition to being able to play all of the world famous courses, golfers can also use the simulators to play 10 driving ranges and 4 miniature golf courses.
If you or your date are golfers, this is a great place to try. But regardless of your skill level, I don't see a downside.  Strong golfers will impress their dates, and hopefully convert, their dates into golfers. Less-than-strong golfers can have fun cheering their dates on, or just enjoying the food and atmosphere. We heard that many pro-golfers, as well as celebrities, frequent Dewey's, so that's also a possibility!
Dewey's Indoor Golf & Sports Grill
7720 Turkey Lake Road
Orlando, FL 32819
407-915-0492
www.deweysgolf.com