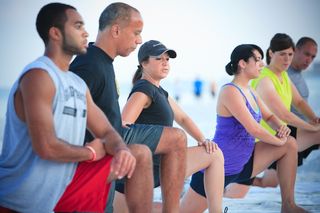 In the January issue of Orlando Magazine, I had the opportunity to share my experience attending a destination fitness camp.
For two grueling but surprisingly fun days, I ran, lunged, kayaked, biked and swam my way around one of the most gorgeous vacation spots on the Gulf Coast.
Thinking about kicking off a renewed commitment to getting fit? This easy getaway might be the perfect trip for you and your honey.
Healthy Haven
Destination fitness camps can reboot a healthy lifestyle.
By KRISTEN MANIERI
As the sun slowly peeks over the high-rises and onto the white sands of St. Pete Beach, a throng of spandex and tank top-clad crazies drop to the ground for their fourth set of push-ups since 7:30 a.m. After 90 minutes of burpees, lunges, squats and other forms of boot camp-like torture, the pack will jog two to three miles up the beach, stretch, then fuel up for four more hours of activity before they call it quits for the day.  
This sweaty pack of exercisers doesn't just enjoy this sort of activity—they've made a vacation out of it.
Learn more about Getaway Fitness.
By the way, you should follow GDO on ODNG.