Traditionally held on Thanksgiving morning, the Turkey Trot is the oldest continuously run footrace in the United States. The inaugural Turkey Trot was held in Buffalo, New York back in 1896. Soon thereafter, the event gained traction and, today, Turkey Trots are synonymous with Thanksgiving Day traditions. While we do not necessarily encourage the concept of "earning your Thanksgiving meal," or "running off that pumpkin pie," balance is typically a good thing. And no doubt… Turkey Trots are the calorie-burning yin to the Thanksgiving feast's caloric yang. But, more importantly, Turkey Trots are high-energy opportunities to connect with one's partner, family and community.
So, lace up for Turkey Trot Races in St. Augustine, and nearby. And if you're close to O-Town, check out Turkey Trots in Orlando.
Turkey Trots in St. Augustine, Jacksonville and Beyond
When: Sunday, November 19, 2023 | 7am 
Where: Nocatee Event Field, 245 Nocatee Center Way, Ponte Vedra
If your plate is too full for a day-of Turkey Trot, you'll be grateful to have this weekend before race option. On the Sunday prior to Turkey Day, participants can strut their stuff in either a Half Marathon (13.1 miles) or 5K (3.1 miles).
Each distance explores the picturesque Nocatee community of St. Augustine with the start/finish line marked on the field beside the Nocatee Splash Water Park. According to the course description, the route will include the scenic Nocatee Greenway Trails and circle through several local neighborhood developments.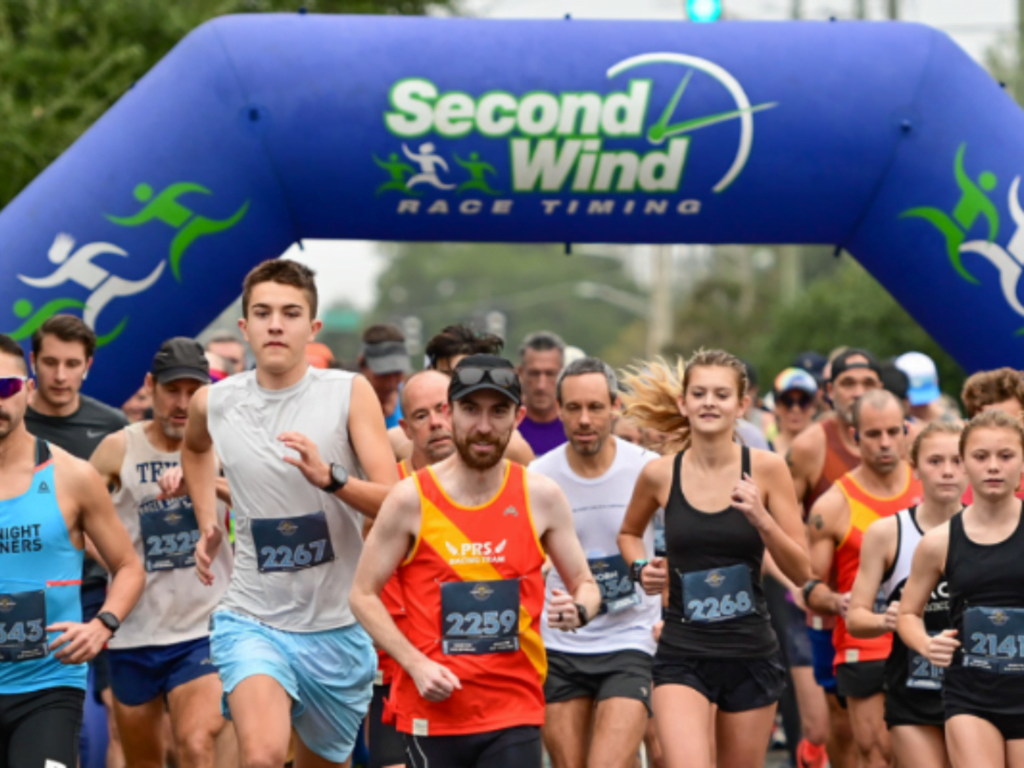 When: Thursday, November 23, 2023 | 7am
Where: Pickwick Plaza, 9850 San Jose Blvd., Jacksonville
Celebrating its 40th anniversary, the Community First Distance Classic includes a Half Marathon, 5K and one-mile Turkey Trot. It's among the largest fall running events in the area with roughly 3,000 participants coming out to waddle before they gobble.
The race swag includes a moisture-wicking long-sleeve shirt and finisher medal. At the post-race celebration, Jax Craft Beer, located across from the finish-line, will pour a freebie beer for each racer (bib required). 
FYI, $1 from each entry fee is donated to the Mandarin Food Bank which, last year, served nearly 30,000 people thanks to local support. Race participants and spectators are also encouraged to contribute canned goods to the cause. Additionally, a portion of proceeds is earmarked to help build and maintain a new three-mile running/walking path in the Aterro Recreation Park on Sunbeam Road.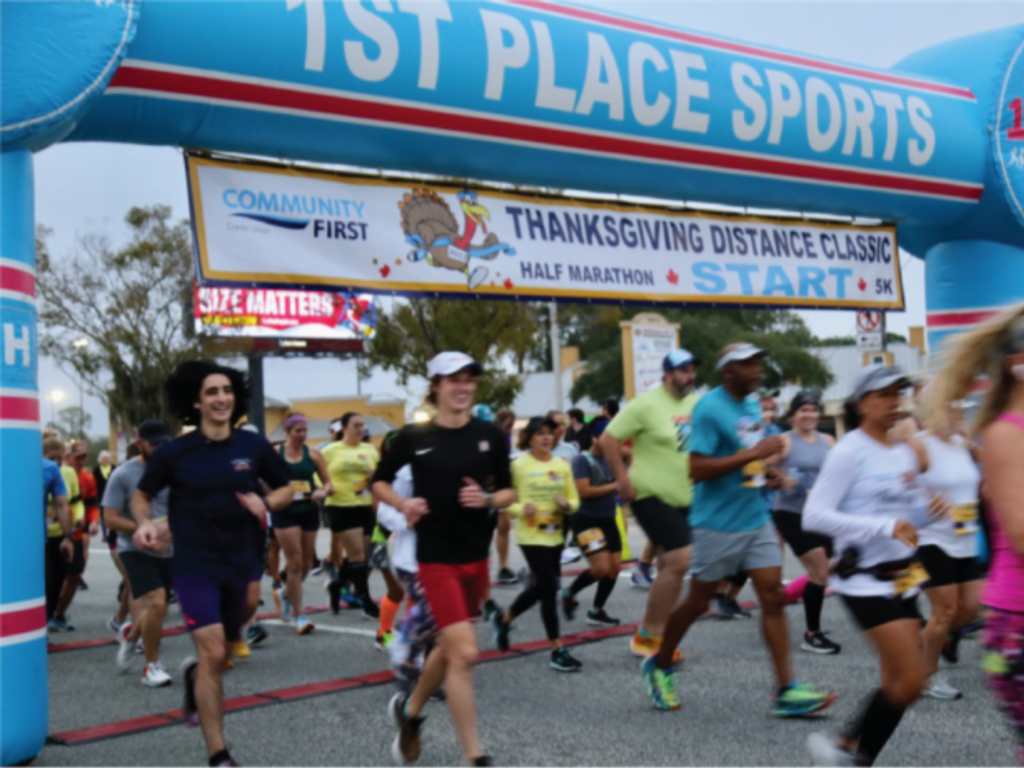 When: Thursday, November 23, 2023 | 8:30am
Where: Mickler's Landing Beachfront Park, 1106-1110 A1A N., Ponte Vedra Beach
Choose to partake in the chipped 5K or one-mile fun run. The first 50 kiddos to register for each race are free – so hurry! The family-friendly 3.1-mile course is a 'there-and-back' route along Ponte Vedra Blvd. (with proper safety precautions in place).
Aside from individual categories, the First Coast Turkey Trot also has a team category — ideal for groups or families of four. Do snap a post-race selfie on the shoreline before heading home to cook (or pick-up) your Thanksgiving Day meal.
When: Thursday, November 23, 2023 | 7:45am
Where: Nocatee Event Field, 245 Nocatee Center Way, Ponte Vedra 
Once again exploring the Nocatee community, the 8th Annual Psych Ed Connections 5K Turkey Trot is a fun way to kickstart the holiday morning. And your body may just get to feel all the feels. You see, according to scientists at Johns Hopkins Medicine, "as you hit your stride, your body releases hormones called endorphins." This short-lasting "runner's high" is a deeply euphoric state following intense exercise.
But even the slowest Turkey Trotters can feel this awesomeness too thanks to philanthropic efforts. That's because proceeds from this race benefit St. John's CARES, a nonprofit committed to helping local charities in St. Johns County, specifically serving local elderly, veterans, homeless, children, animals and beyond. So, no matter your race pace, you can embrace a "do good, feel phenomenon."
Research suggests that when someone does something good (like supporting a charity in this instance), a happiness high ensues – like a runner's high.
Each finisher will receive a t-shirt and medal, and age group winners will receive additional prize recognition.
When: Thursday, November 23, 2023 | 8am
Where: Treaty Park, 1595 Wildwood Dr., St. Augustine
If you think the name of this Thanksgiving Day race is sort of smack talk, well you are right. That's because the 21st Annual Shut Up and Run X-C 5K includes the annual "Pie Guy Challenge." Each year, political consultant Kevin Sweeny has a straightforward dare: beat him in this cross-country 5K and win a pie. Because isn't there always room for another pie option on Thanksgiving?! Fair warning – he is pretty speedy but it's worth a shot at winning a pumpkin delight (or another flavor).
Proceeds for the Shut Up and Race event benefit St. Francis House, St. Johns County's only privately-funded homeless shelter.
When: Thursday, November 23, 2023 | 9am
Where: Fishweir Brewing Company, 1183 Edgewood Ave. S., Jacksonville
Beer is, surprisingly, a decent post-exercise recovery drink, according to research published in the International Journal of Sports Nutrition and Exercise Metabolism. In no way are scientists suggesting athletes rehydrate with brewskis instead of water or sports drinks. Still, beer does contain a small amount of carbohydrates and electrolytes which may be helpful. Perhaps that's why some breweries, like Fishweir Brewing Company, are tapping into the racing community.
The two designated race distances (5K and 10K) will take participants around historic Murray Hill. Afterwards, participants earn a free post-race beer and light bites. To tap into fall flavors, try the 'Granate, Fishweir's cinnamon and pomegranate sour beer, or a pint of Fishweir's seasonal Spicy Pumpkin.
When: Friday, November 24, 2023 | 9am 
Where: John's Creek Amenity Center, 224 John's Creek Parkway, St. Augustine
Before you race off to score the best Black Friday deals, get your adrenaline pumping with an after-Thanksgiving workout. If you took a post-turkey nap (thanks to tryptophan, an essential amino acid found in turkey believed to cause drowsiness) on Turkey Day, you're probably well-rested to hit the pavement before Black Friday shopping.
Aside from finisher medals and age group prizes, all participants will get a Florida Race Day insulated cooler bag. Cool!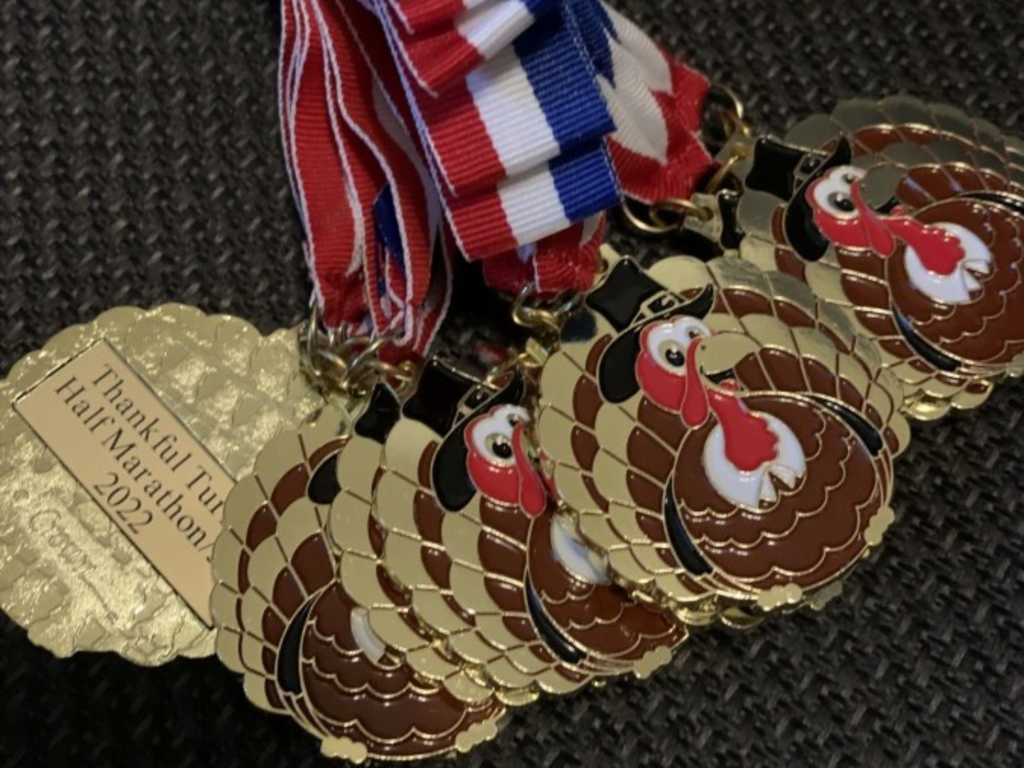 Also Try: