The finale to 2023 will be here soon! The holidays at Disney World usually mean a trip to Disney Springs for many locals and visitors alike. Our quick guide to New Year's Eve at Disney Springs includes where to book your New Year's Eve dinner reservation, where to grab a special treat, and some tips on parking and when to visit.
If you want Disney magic without the fuss of the theme parks, Disney Springs is a good option. Between the restaurants and all the shops, you can easily have the best New Year's Eve in Orlando.
A reservation is not needed to visit Disney Springs, and it's free to park and walk around. Just be prepared that the parking garages may fill up early in the day.
STK Orlando
The Edison
House of Blues
Chef Art Smith's Homecomin'
Raglan Road Irish Restaurant and Pub
The BOATHOUSE
Wine Bar George
Mario & Enzo's
Enzo's Hideaway
Morimoto Asia
City Works Eatery & Pour
Join The Edison at Disney Springs for an incredible New Year's Eve party. Stilt walkers and aerialists and cabaret, oh my! Ring in the new year at The Edison with lavish food & drink, a spectacular show, and a midnight toast
Cost: $145 – $175 per person (2023 TBA)
Featured image above from The Edison
An official menu for New Year's Eve at Maria & Enzo's and Enzo's Hideaway at Disney Springs has not been announced just yet. During the fall and holiday season a specialty menu featured some delicious creations.
Frittelle di Zucca ($19): Pumpkin ricotta fritters, cacio e pepe zabaglione
Porchetta di Tacchino ($39): Heritage turkey, crispy pancetta, brussels sprouts, polenta "dressing" and butternut squash cranberry agrodolce
Crostata di mele ($16): Rustic warm apple pie, olive oil caramel, vanilla gelato.
RAGLAN ROAD IRISH PUB AND RESTAURANT AT DISNEY SPRINGS
Ring in 2024 twice!! Cheers to the new year at 7 p.m. which is midnight Irish time and again at midnight our time. The bubbly is FREE for each toast (I.D. required).
Plus specialty food and drink in addition to their delicious regular menu.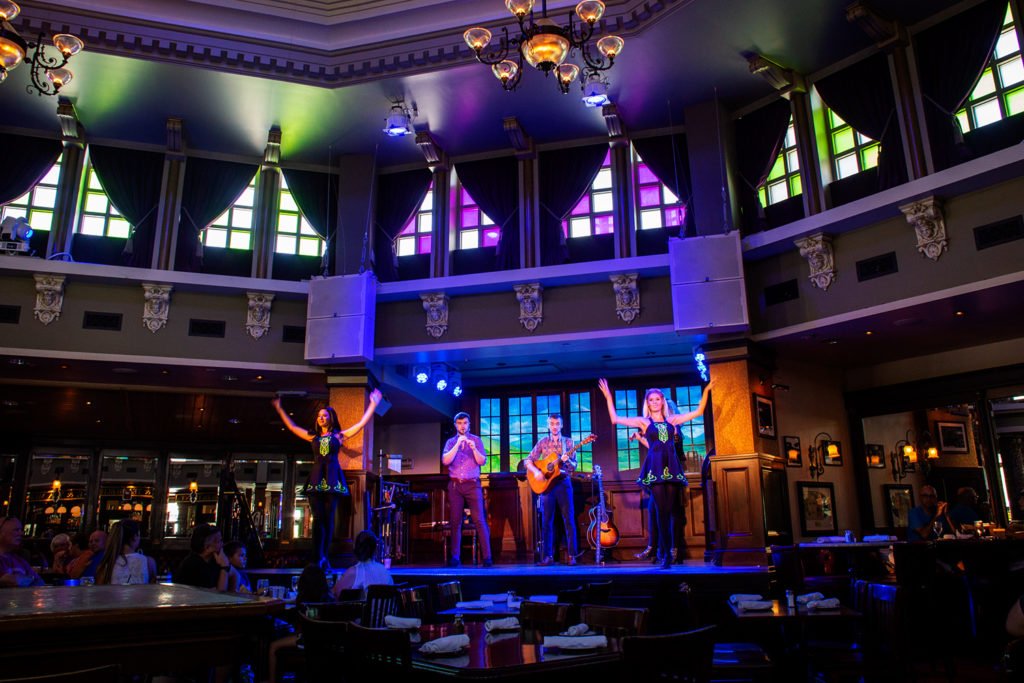 Join Morimoto Asia at Disney Springs for a Pan-Asian-inspired feast. No official announcements have been made for New Year's Eve. But you can get a taste of what to expect by checking out the Morimoto Asia events page.
Cost: TBA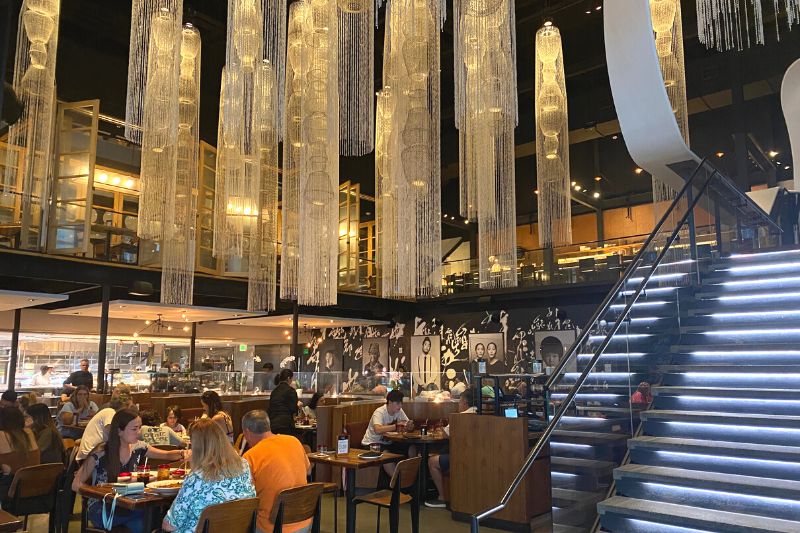 New Year's Eve Shopping
Most of the Disney Springs shops are open 10 a.m. to 11:30 p.m. on New Year's Eve.
There are dozens of stores at the large entertainment complex and some will likely have sales to help you pick out that perfect holiday gift.
Expect lots of crowds! If you're willing to traverse the crowds during New Year's Eve in Orlando 2024 then don't miss these favorite shops:
World of Disney
Marketplace Co-op (you can make your own candle!)
12 Days of Christmas
Art of Disney
Sugarboo & Co.
UNIQLO
Things To Do
There is more to do at Disney Springs during New Year's Eve besides eating and drinking. Be sure to enjoy the Tree Stroll.
The Disney Springs Christmas Tree Stroll
While you're at Disney Springs for New Year's Eve, be sure to pay attention to the beautiful Christmas trees. The Disney Springs Tree Stroll brings elaborately decorated Disney Christmas trees to areas throughout Disney Springs.
The Disney Springs Christmas Tree Stroll presented by AdventHealth kicks off on November 10, 2023.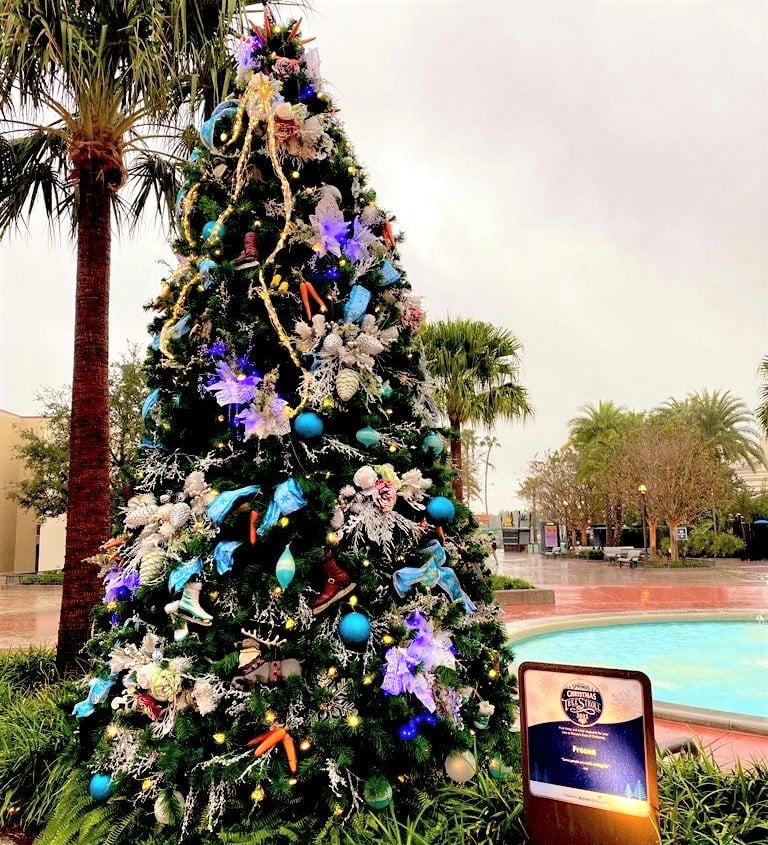 New Year's Eve fireworks at Disney Springs
It is possible to catch glimpses of Disney's New Year's Eve fireworks from Disney Springs. There are no fireworks at Disney Springs itself, but a few locations make it possible to see some of the fireworks at Disney's theme parks.
Our guide to viewing Disney fireworks outside of the parks includes locations at Disney Springs.
Disney Springs Parking
Expect parking garages at Disney Springs to fill up by midday on New Year's Eve.
Lime Garage and Orange Garage are the most popular. Grapefruit Garage is across the street and has a convenient pedestrian bridge. Finally, the surface parking lots near Cirque du Soleil are usually overlooked.
Just know these surface lots are at the far end of Disney Springs, and the West Side, and the rows are not as clearly marked as the ones in the garage. So, take extra note of your car's location.
Wear comfortable shoes, you can expect lots of walking on this busy evening.
While you're on Disney property enjoying New Year's Eve, consider stopping at one of the Top 5 Disney Hotels with the Best Christmas Decorations.
Ready for more festive fun?
Read The Complete Guide to the Holidays at Walt Disney World