… Because if you're going to be in a relationship, you might as well enjoy it!
Why is it that the further a relationship progresses – dating, moving in, marriage – the less fun we have together? The strongest couples never stop going on dates, and why should they? One of the best things about sharing your life with someone is actually living your life together, instead of simply drifting mindlessly from day to day. Eat… drive… work… drive… eat… sleep… repeat. How boring!
This is the reason the Orlando Date Night Guide exists. Formerly Great Dates Orlando, this website is THE place for local and visiting couples to find an endless list of ideas and recommendations for having fun and meaningful quality time together.
We just celebrated our 10th Anniversary!
Kristen Manieri
Founder and Editor
For me, date night isn't a luxury; it's a necessity. Married with two small girls, I've come to realize that Saturday night is probably the only time each week that Marc and I can actually have a meaningful, uninterrupted, and alert conversation. I'm a former freelance food and travel writer with frequent contributions to Orlando Magazine, Edible Orlando, WHERE Orlando, Forbes Travel Guide and Orlando Family Magazine.
I'm also the author of the book, Great Dates Orlando, and I founded this website in 2007 to not only share fun and romantic date night ideas with other couples, but to keep myself accountable to a regular date night, too.
And as if that wasn't enough, I'm also the host of The Synced Life, a podcast focused on the power and magic of human connection.
Kristen Manieri is available for media appearances, festival judging and panel discussions. She can be reached via email at manieri.kristenATgmail.com.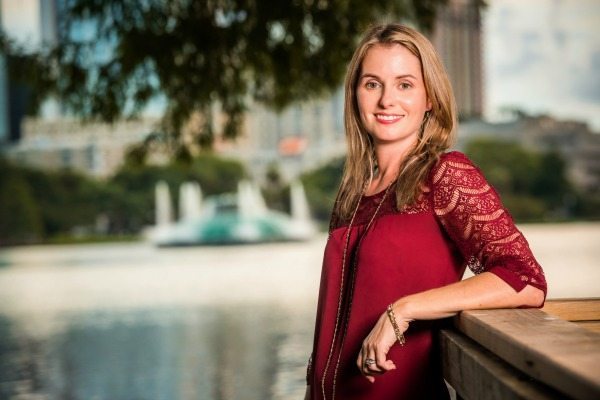 Stephanie Patterson – Managing Editor
Stephanie Patterson is a local travel and food photographer and writer with a passion for creativity, the beach, and great food. When she's not taking pictures or writing, you can find her hanging out with her boyfriend and their dog, trying new restaurants, or baking something sweet. Find her online at www.spattersonphotography.com and www.traveltasteclick.com.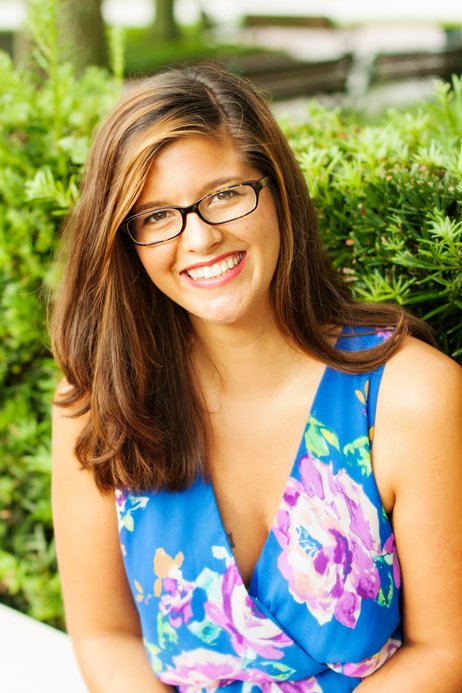 REGULAR CONTRIBUTORS
Nancy DeVault
Nancy DeVault is a fitness enthusiast, news junkie, shoe lover, adult beverage fan and travel addict. She works as an Orlando-based freelance writer, editor and PR pro. As mom to a baby boy, Nancy values both girls' night out and date night! Check out more of her date night suggestions on our national site DateNightGuide.com.
Christy Holley
Christy is a stay-at-home mom of three wonderful children and has been happily married to her husband, Steven, for over 23 years. She was born and raised right here in Central FL and currently lives in Lake County. She has been a Virtual Assistant and Blog Contributor for over 6 years and enjoys every minute of it!
Samantha Rosenthal
Originally from South Florida, Samantha Rosenthal is a local journalist who works full-time as a communications manager for a local nonprofit and freelances for a variety of local publications. She loves whiskey, brunch, soccer, Duke basketball and running. Check out her Instagram at @supaafly_sam!
Erica Thomas
Formerly an Executive Assistant now a Domestic Engineer, Erica spends her days overseeing the day-to-day operations of a home filled with love, laughter and lots of patience. In her limited free time, she enjoys dates with her hubby, reading, writing, and being outdoors. Erica and her husband Thomas are the proud parents of 2 small children, a fur baby (dog), and feathered babies (chickens).
Arlene Laboy
Arlene Laboy is so passionate about supporting local businesses that she created a blog site and Instagram to cover it in 2015. Arlene aims to give you a visual story with her words to make you experience places through her eyes, helping locals and visitors discover The City Beautiful. Follow her adventures at @arlenemlaboy on social media.
Dani Dennison
Born and raised in the land of sunshine and dreams come true, Dani is a proud Orlando native. She loves sharing her hometown with others from the theme parks to Florida's natural beauty. With work experience in six of Orlando's theme parks, she now works in the world of hotels, and enjoys exploring all of Central Florida in her free time. Follow her adventures on Twitter and Instagram @thisfloridalife.
Kelsey Glennon
Kelsey is a Winter Park native and working performing artist. She earned a degree in English from Rollins college while dancing at Orlando's major theme parks. Kelsey has recently returned to the Orlando area after many years of international travel. She aims to highlight Orlando's unique character and local haunts that make the city a cultural destination. When she's not dancing or writing, Kelsey is exploring the outdoors, playing frisbee, or sipping local beer on an outdoor patio. Follow her travels on Instagram @kelsey_wanders. Explore her work onstage at www.kelseyannglennon.com.
Hannah Green
Hannah is a high school media specialist (aka school librarian) in Osceola County. In her free time, she enjoys exploring Orlando and posting about her adventures on Instagram @lovecentralfl. She loves reading, exploring new places, being a foodie, brewery hopping, attending sporting events, visiting Disney, and marking things off her Florida Bucket List (which will never be completed). She moved here from Ohio seven years ago, so college football is obviously her favorite season! Go Bucks!
OUR SALES & MARKETING TEAM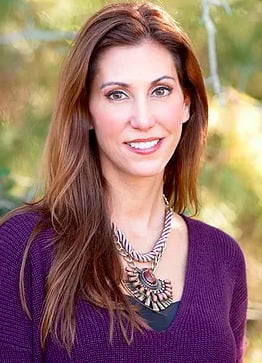 Nicole Spooner
Born and raised in New England, Nicole Spooner began her love affair with fine food and restaurants. She moved to Central Florida in 1997 and it's here, in the Orlando community, where her love of the culinary and hospitality industry quickly became a fundamental part of her life. As a Central Floridian, she understands that Orlando is a big city with small town values, a place where personal relationships and exceptional service matter. With love for not only food and hospitality, Nicole adores the community she lives in and has become passionate about supporting local businesses.
Nicole also serves on the board for Chef Showdown, previously Gourmet Soiree, which benefits Florida Hospital for Children's Mission fit POSSIBLE PROGRAM; Taste! Central Florida, benefitting the Coalition for the Homeless of Central Florida and Second Harvest Food Bank of Central Florida; A. Jones Family Foundation's Orlando Princess Ball, supporting Florida Hospital for Children; and Jack in the Park, a fundraiser for Special Olympics Florida.
Nicole can be contacted at 407-951-5100 or Nicole@MpactOrlando.com.
Tiffany Hartman
A native Floridian, Tiffany Hartmann has called Central Florida home most of her life. Growing up in Orlando, she developed an understanding and appreciation of the tourist industry and its importance to the area's economy. That led her to an early career in the entertainment business, working with Arabian Nights, Ringling Brothers and Cirque du Cheval. She earned an MBA degree in marketing and international business from the University of Phoenix. Her education, experience and creative thinking allow her to tailor marketing plans to the individual client's needs. She designs for both print and online publications and is an expert in brand strategy and social content management.
Tiffany can be contacted at 407-496-2838 or tiffany@mpactorlando.com.
OWNERSHIP
Orlando Date Night Guide is owned by DNG Media and is a part of the Date Night Guide national network of websites.
STATS
60,000+ Social Media Followers
18,000 email subscribers
1.6 million annual page views
Average of 50,000 monthly unique visitors
Facebook: facebook.com/GreatDatesOrlando
Twitter: @OrlandoDateNite
Instagram: OrlandoDateNightGuide
Pinterest: pinterest.com/DateNightGuide
Click here to learn about advertising.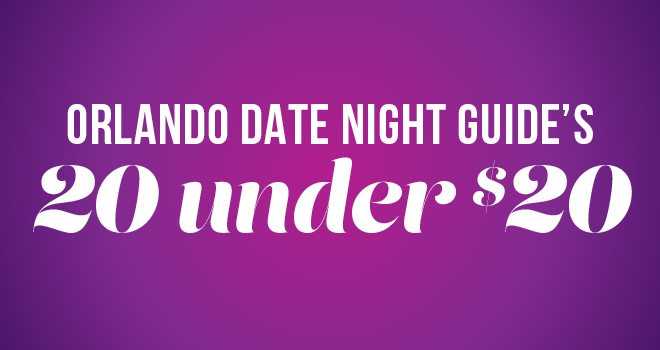 We don't have anything against fancy dinners and elaborate getaways, but there's value to your relationship and your wallet when you learn how to explore our city on a shoestring. The Orlando area has lots to offer those looking for quality time that won't break the bank.
Enter your email below to receive our list of the top 20 date ideas under $20.
SaveSave
SaveSave