We may call it Turkey Day, but we all know the Thanksgiving pie is the most important part of a Thanksgiving meal. What's a turkey dinner without pie? 
The kitchen is always bustling on Thanksgiving day, so you might not have the time or space to whip up a Thanksgiving pie. Luckily, Orlando is saturated with local bakeries that can provide a mouth-watering pie or two.
We encourage you to order your Thanksgiving pie from one of the local Orlando bakeries as soon as possible.
---
If you're looking to satisfy everyone's sweet tooth beyond just pies, you've got plenty of choices. Our list of local bakeries in Orlando for Thanksgiving desserts goes beyond the crust. Many bakeries do offer pies, but these tasty places have plenty of other desserts too.
---
Bakeries in Orlando for Thanksgiving Pies
Address: 247 E Michigan St, Orlando, FL 32806
Sister Honey's Bakery makes every Thanksgiving dessert with love. You can definitely taste it.  This artisanal shop offers fresh-baked pies, whole cakes, cupcakes, cookies, pastries, and bars. To wash down your Thanksgiving dinner at home, and to help with high demand, only the pumpkin streusel pie will be available for 2023 Thanksgiving orders.
Orders must be completed online and can only be picked up in-store. Orders open on November 1st and will close once capacity is reached. 
Address: 617 Primrose Dr, Orlando, FL 32803
Se7en Bites is an Orlando staple for Southern flavors and sweet treats. This locally-owned restaurant in the heart of the Milk District offers a bakery counter with pastries and pies made daily by scratch. Their baked goods are so decadent and comforting, especially with their Southern flair. 
This year they are offering their 9" double crusted Salted Caramel Dark Chocolate Pecan Pie ($70), 9" Mile High Pumpkin Pie ($70), and 9" Double crusted Cranberry Apple Cointreau Pie ($70). They are also offering mini individual sizes of these 3 pies sold in sets of 12 for $84 (mix & match).
They are currently taking orders through Thursday, November 16. All orders will be pre-pay only.  Cancellations are accepted by close of business 3pm Sunday, November 12 only. Call 407-203-0727 to place your order.
Address: 5565 Old Cheney Hwy, Orlando, FL 32807
Thanksgiving can be a bit tricky when you're a vegan or have other dietary restrictions. No worries–Orlando has so many vegan and dairy-free food offerings for the holidays, especially when it comes to dessert. 
Valhalla Bakery, which recently relocated, is the perfect spot to get your vegan-friendly holiday treats. You can chow down on their pumpkin, Southern sweet potato, mulled apple, or chocolate streusel pie without worrying about dairy, egg, or other non-vegan ingredients.
During the month of November, you must pre-order your Thanksgiving pie online. This year they are offering 11 different pies available for pre-order.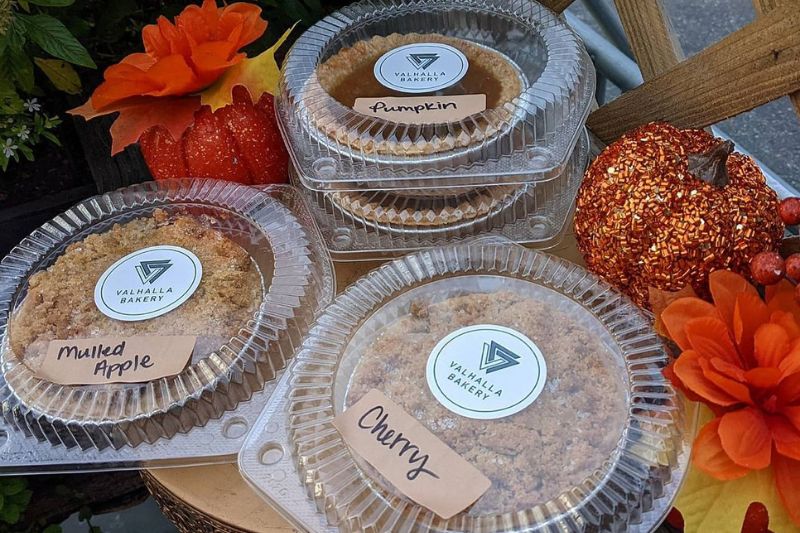 Delivery – local areas only
If you don't have time to go out and pick up your Thanksgiving pie, Winter Park Pie Company can have it delivered right to your door–one less task to think about on a holiday jam-packed with meal preparation and family. 
Their deep-dish pie crusts are so flaky and buttery, they basically melt in your mouth. You can get flavors like gourmet pumpkin, golden peanut butter apple, and triple berry.
Write note to seller at online checkout "Thanksgiving order"
They will send you a text message two hours prior to delivering, and serve these zip codes:
32789, 32751, 32810, 32792, 32714, 32701,
32707, 32803, 32804, 32801, 32814
**Pre-orders for Thanksgiving 2023 are currently full!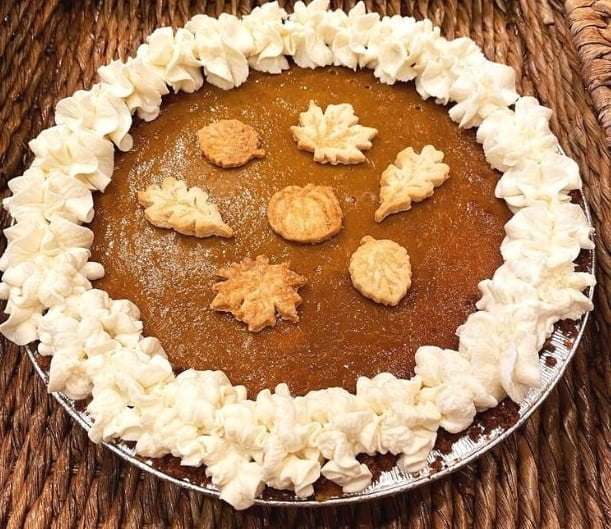 Select locations – Scoop Shops only
Corrine Dr
Winter Park – Orange Ave
Fern Creek Ave
Oviedo
Horizon West
The Yard
How about an ice cream pie for Thanksgiving? Do something different, while still perfectly festive and delicious with these Thanksgiving ice cream pies from local favorite Kelly's Homemade Ice Cream.
PIE CHOICES:
Caramel Apple Pie Ice Cream with Graham Cracker Crust
Dark Chocolate Chunk Ice Cream with Oreo Crust
Sweet Potato Pie Ice Cream with Graham Cracker Crust
Pre-orders available November 1st – 14th., $24 plus tax. Pies are available for pick-up November 17th – 22nd.
Hungry Pants
Address: 3421 S Orange Ave, Orlando, FL 32806
This year Hungry Pants, known for their plant-curious menu is offering their Sour Orange and Chocolate Silk pies for Thanksgiving. Pies are $40 each.
Call 407-412-6300 to place your order OR order directly on their website. Be sure to schedule your order by Sunday, November 19 for pick up on Wednesday, November 22!
Address: 3213 Curry Ford Rd, Orlando, FL 32806
If you're looking for simple, classic Thanksgiving desserts like pumpkin pie or pecan bars, you have to try Charlie's Bakery and Creamery. This bakery is oozing with rich history and a community-oriented vibe. You can always depend on Charlie's for classic family recipes and decadent flavors.
Address: 10000 Mark Adam Rd, Ocoee, FL 34761
A Lake Meadow's favorite every holiday season, Sharon's Perfect Apple Pie will be sure to wow your crowd this Turkey Day. Made with farm-fresh apples, this ready-to-bake show-stopper weighs over 4 pounds and will pair perfectly with a dollop of vanilla bean ice cream. The pie is sold frozen and needs to be baked at home. Pies are available for pick up at the farm store which is open Monday, Wednesday, & Friday 10am-5pm, Thursday 10am-6pm, Saturday 9am-5pm, and Sunday 10am-4pm.
---
More ideas for Thanksgiving weekend fun:
Thanksgiving dinner in Orlando: