During the holidays, few things are more romantic than a horse drawn carriage ride for two. The clip-clop of the horse's hooves hitting the pavement, snuggling up with your sweetheart, and riding past beautiful scenery while savoring a cool nip in the air make for a memorable holiday date night. Throughout Central Florida and beyond, there are numerous places to experience holiday horse drawn carriage rides. Make your plans now for a date night this holiday season in Orlando that is sure to kindle some romance.
Downtown Orlando
Downtown Orlando continues to evolve and the ability to enjoy a horse-drawn carriage ride is not what it used to be. However, there are still some options. Most of downtown Orlando is not accessible for horse and carriage traffic. But some companies may be able to work with you on a location nearby that can still provide those downtown vibes.
Horsepower Ranch Clydesdales Carriage Service offers horse and carriage service at the location of your choice or at their ranch. Pricing varies, but expect a minimum of $300 or more.
And Downtown Horse and Carriage is available via email at downtowncarriage@gmail.com.
Although no longer serving Downtown Orlando, Orlando Horse and Carriage is used by Orlando's famous theme parks and resorts, and are available for certain special events.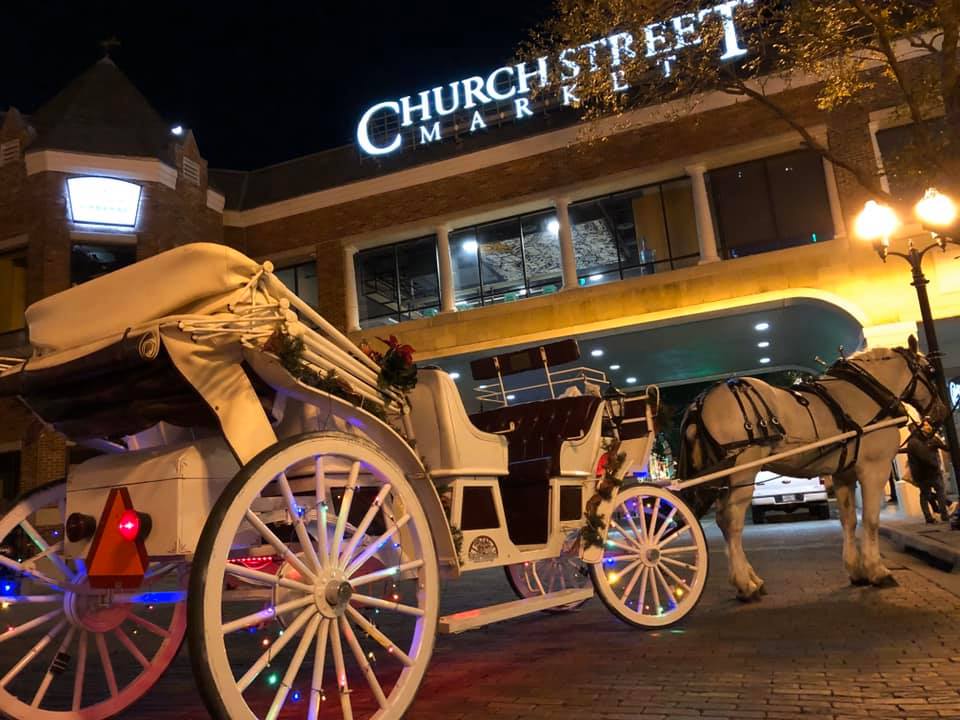 Winter Garden
During the holiday season, SOUL Haven Ranch offers special holiday horse drawn carriage rides through the historic neighborhood of Winter Garden. These 15-minute rides are focused on Downtown Winter Garden's holiday decorations and will fill you with holiday cheer.
The carriage fits up to four adults, or two adults and three kids. Available dates are December 3, 10, 12, 14, 17 -21, and 26 – 28, 2023 between 5:30 and 9:30pm.
Tours begin at the Winter Garden Downtown Pavillion (104 S Lakeview Ave). Reservations are required and can be booked online. This festive experience is $125.
SOUL Haven Ranch also offers a unique getaway experience in a Victorian-style guest house. Linger on the wrap around front porch, enjoy breakfast outside in the shade and get to know the adorable animals on the ranch. You can even take the ranch's miniature horse for a stroll along the West Orange Trail!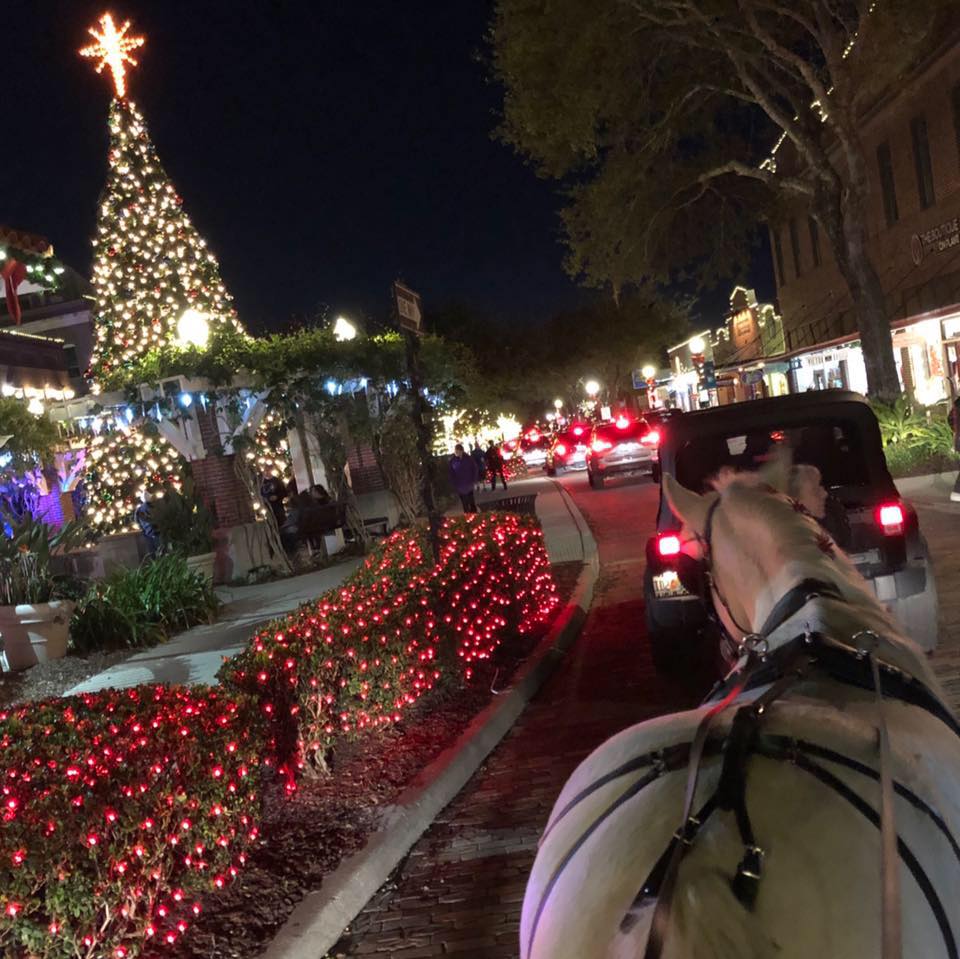 Walt Disney World
Fort Wilderness Campground
Throughout the year you can experience a horse drawn carriage ride through Fort Wilderness Campground at Walt Disney World. This cherished campground is a fun place to visit, even if you aren't a guest staying there. During the holidays the carriage rides become holiday sleigh rides as the carriage is decorated in festive finery.
Plus, it is a tradition for many guests staying at the campground to decorate their campsites for the holidays! Normally reservations for the sleigh rides booked up quickly. The holiday sleigh rides are $84 for up to 4 people.
Port Orleans Resort
The charm of the New Orleans French Quarter and the beauty of riverside manors are yours to enjoy on a horse drawn carriage ride through Disney's Port Orleans Resort. This 25-minute ride will transport you in a way only Disney could provide.
During the holiday season it is extra magical with festive decorations along the route and throughout the resort. Reservations are recommended. The cost is $65 for up to 4 people.
Celebration
One of the most magical places during the holiday season is the town of Celebration, where nightly snowfall on Market Street creates the perfect setting from 6-9pm November 25, 2023 – December 31, 2023. This popular holiday event in Celebration is celebrating its 25th anniversary this year in 2023.
Every night from 5-10pm, carriage rides depart from Front Street near the lake. Take your pick from the dreamy Cinderella carriage or festive Christmas sleigh. Rides are offered on a first come, first served basis for $65 for up to 4 people.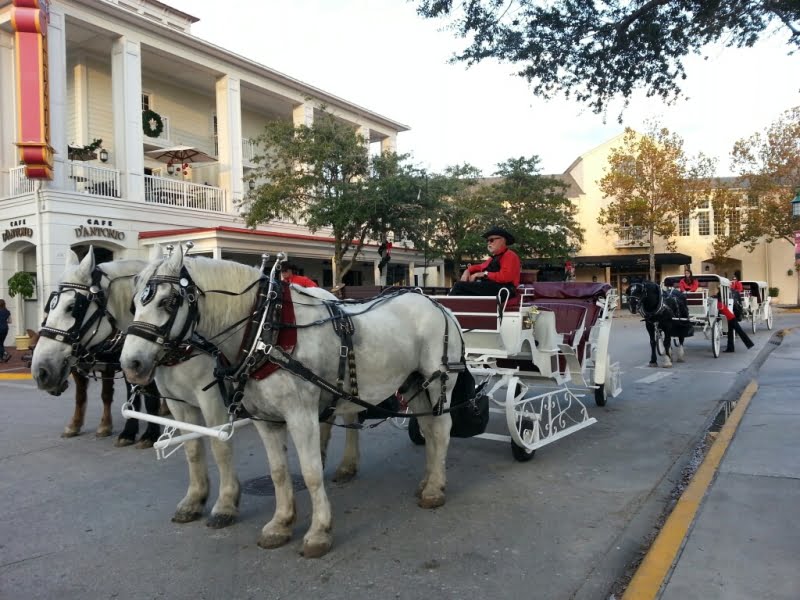 Ocala/Marion County
To experience how beautiful horse country in Marion County is, book a tour with Ocala Carriage Co & Tours. This small company offers carriage rides down a beautiful country road.
Also in Marion County, visiting Grand Oaks Resort feels like being transported to another time and place, yet it is within a 90-minute drive of Orlando. You can enjoy a fantastic horse drawn carriage ride during certain events and times of the year.
While it is not a horse-drawn carriage, you may want to consider the incredibly unique moonlit horse rides at The Canyons in Ocala. Embark on a one-of-a-kind sunset ride through our majestic Big Cliff Canyon to a fireside hideaway where you can enjoy a glass of wine and smores while sitting fireside by the lake. This experience is about two hours.
Viera
Oh what fun it will be to have a festive carriage ride in the bustling shopping and dining area of The Avenue Viera.
Climb aboard our carriage for a holiday tour around The Avenue Viera. A festive tradition for a great cause as all proceeds benefits the Viera High School Band & Orchestra. Check in for times near AMC Theatres November 24 – December 16, 2023 on Fridays and Saturdays 5 PM – 8 PM.
All rides are a $20 donation per carriage with capacity of four adults per carriage.
Feature image credit: SOULHaven Ranch