What was once an abandoned old church and a lawn full of weeds is now known as East End Market, the collective home of unique Orlando vendors and artisans. This European-style market has defined the Audubon Park Garden District and brought together a community passionate about local food, agriculture and artists. Many consider it to be Orlando's original food hall. Whether it's a freshly-baked pastry or you want to browse some local retail shops, East End Market can deliver.
Updated October 2023 by Meghan Roth
Music + Beer
East End's green courtyard is a cozy place to chill with a cold beer and good conversation. Enjoy the environment on Saturdays to the accompaniment of live entertainment from local musicians. Keep an eye on East End's Facebook page to see who's playing each week. There's plenty of food around from Central Florida's top food entrepreneurs at multiple vendors inside the market.
Breakfast Time
Most of the East End Market vendors do not open until 10:30am or 11:00am. However, Farm & Haus opens at 8:00am every day of the week (and has convenient online ordering), and right next to it is Lineage Coffee Roasting. You'll often find a line of 2-3 people at least no matter the time of morning at Lineage Coffee Roasting because their coffee is so rich and delicious.
Many folks head to this neighborhood market in the evening and on the weekends, but you'd be remiss to overlook it for a weekday breakfast date.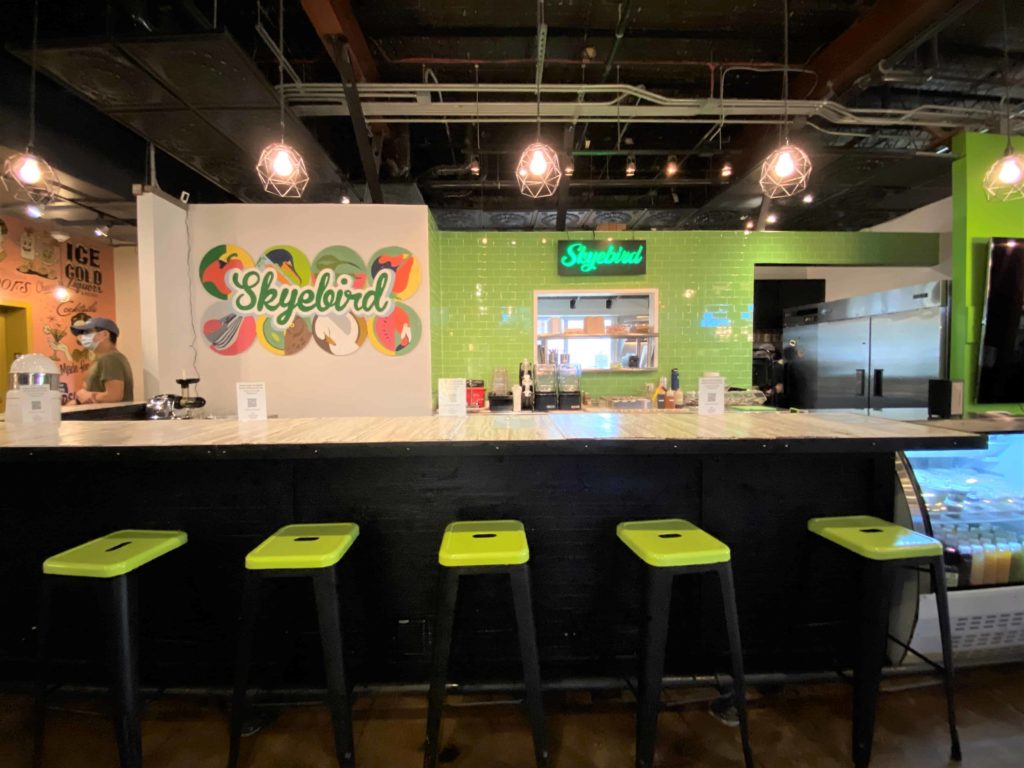 Order a farm fresh breakfast from Farm & Haus online before you get to East End Market. If you get there a tad early before your order is ready then consider a drink from Lineage while you wait. Or right next to these two vendors is Skyebird, which specializes in cold-pressed juices, smoothies, and other healthful options made from fresh fruit.
Once everything is ready head out to the expansion courtyard before the Florida sun gets any higher in the sky.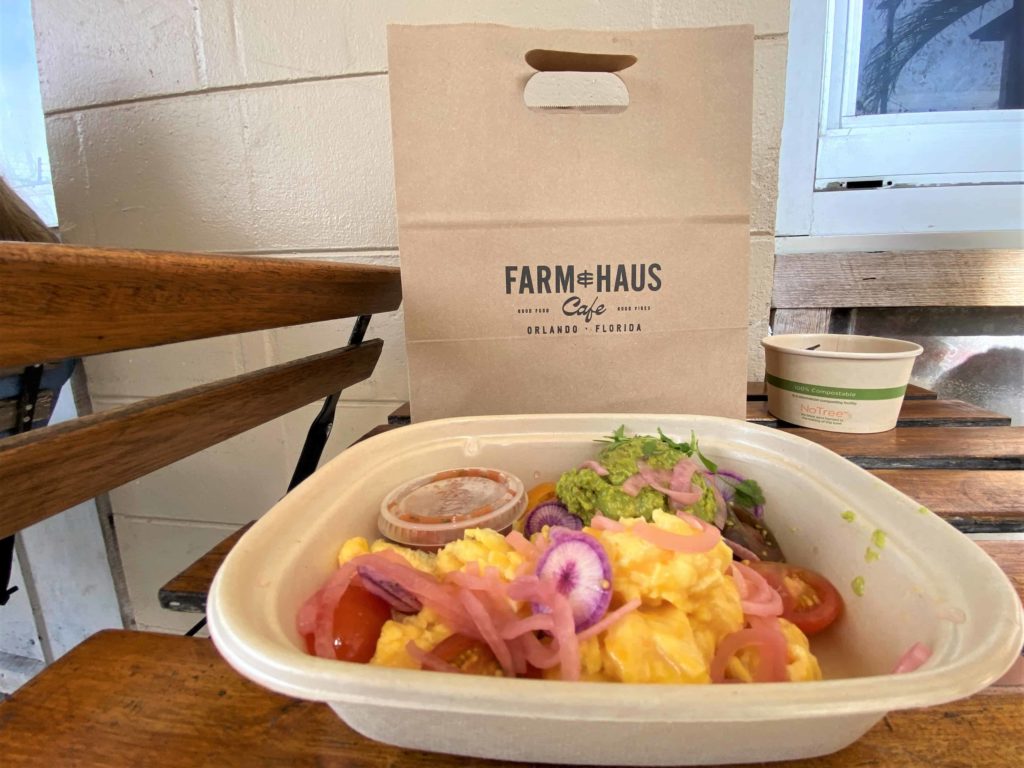 Start your day together over a local breakfast in a local courtyard, what could be better? The unique collection of restaurants makes it easy to grab a few bites from each spot and share.
Bike Ride + Garden
East End is most notable to passersby thanks to the extensive garden blooming in the front lawn. This productive plot was designed and built by Fleet Farming, a local organization dedicated to turning useless, water-hogging plots of grass (those are your lawns, people) into plentiful gardens that bear fruit for the whole community. Stroll through this garden with your love, hand in hand, but tread carefully.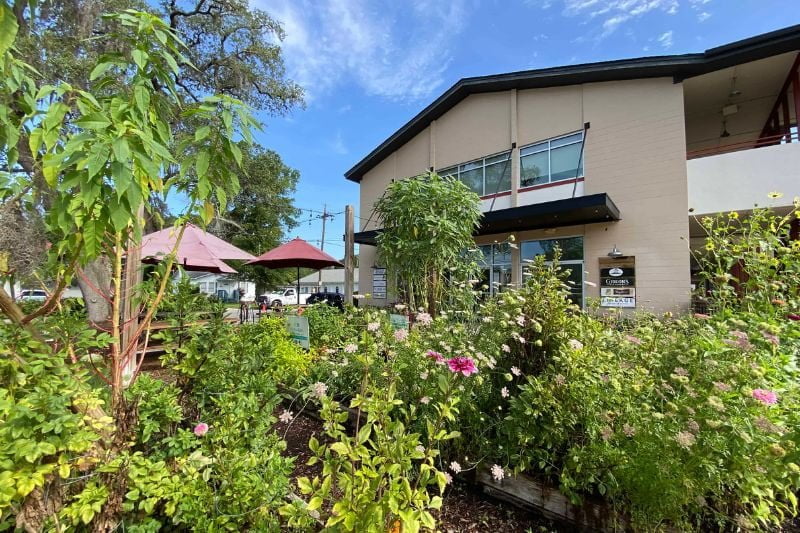 After you've explored East End Market, consider renting a bike from the bike share rack outside the market. There are so many great places around Audubon Park Garden District of Orlando. A hat and closed-toed shoes are a good idea for such an excursion. Keep an eye out for murals just begging for a post on Instagram.
Legendary Cookies and Cakes
Gideon's Bakehouse, a gothic themed bakery, is a resident East End Market vendor you cannot miss. Their half-pound cookies are perfect for sharing (or not; buy 2 just in case). Try one of the unique flavors like Pistachio Toffee Dark Chocolate, or the monthly exclusive flavor. Although they are known for their cookies, their rich, dense cakes should not be overlooked either.
If you want to guarantee a specific treat be sure to order online in advance – some items can sell out.
Bonus idea: If Gideon's is too busy or you'd rather have a sweet that is a bit lighter, head upstairs to Wafu. Specializing in Japenese style waffles, the Taiyaki menu includes sweet and savory options.
One word: Domu
Domu, an award-winning Japanese restaurant, has quickly become an Orlando staple for authentic bowls of rich ramen. Domu is attached to the East End main building but operates as a separate restaurant with special events. This world-class ramen restaurant has expanded to a few other locations and concepts around Florida, but the quality remains.
Beyond the ramen menu, Domu is known for their life-changing crispy Kimchi wings. On a hot day, stop in for some soft serve or cocktails. Keep an eye on Domu's Facebook page to see when they host their Wine Down Wednesday all-you-can-drink event from 5:30-9pm.
Get there as early as possible as reservations are not accepted.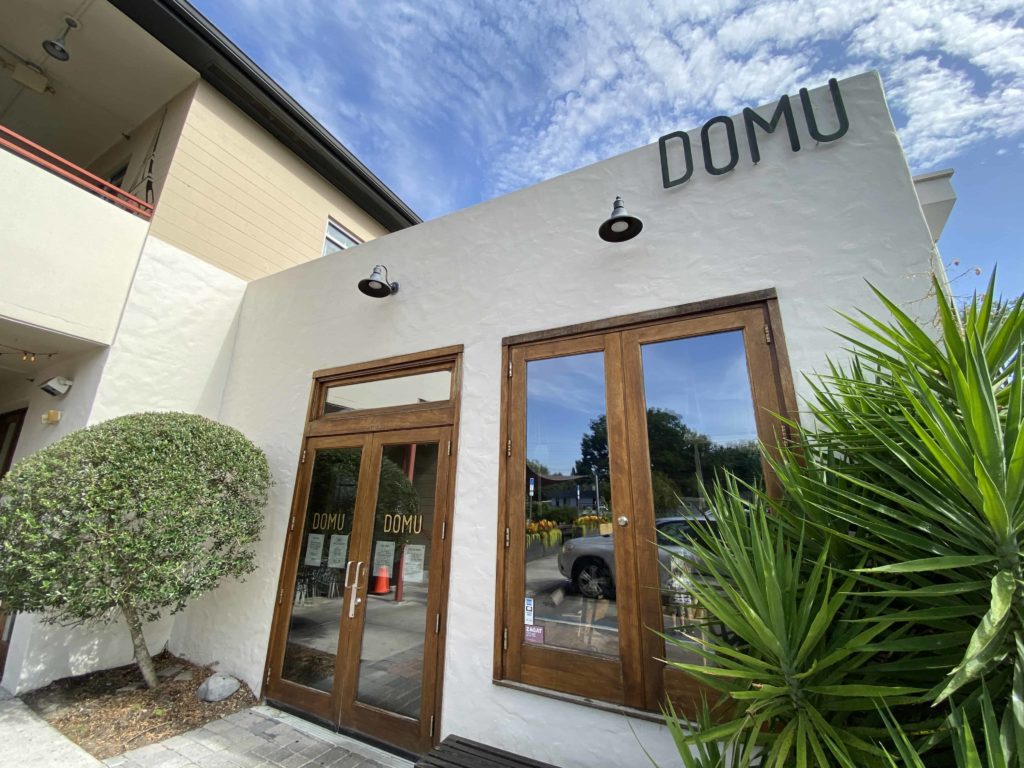 Important news! Domu is now included in the Michelin Guide to Orlando, with a Bib Gourmand rating. Discover more of the most romantic restaurants in Orlando.
Grilled Cheese + Beer
Cheese monger La Femme Du Fromage is a resident vendor and host to the delicious grilled cheese happy hour every Friday from 4-8pm. For just $15 you get a not-your-average-grilled cheese, each week a new unique creation. La Femme pairs these flavors with local beers, ciders, and hard waters, for just a few dollars more. Keep it local with this delicious date night.
Shop and Sip
Over the years a few vendors have come and gone from East End Market. However, one vendor that is a staple of this special venue is Freehand Goods. Anyone who has a love for Florida in their heart is going to love this little shop.
Over the years Freehand Goods also has a great website for ordering their apparel and other items. Their original stall inside East End Market stands proud and is a must-visit if only for a few giggles at some of the Florida-themed humor.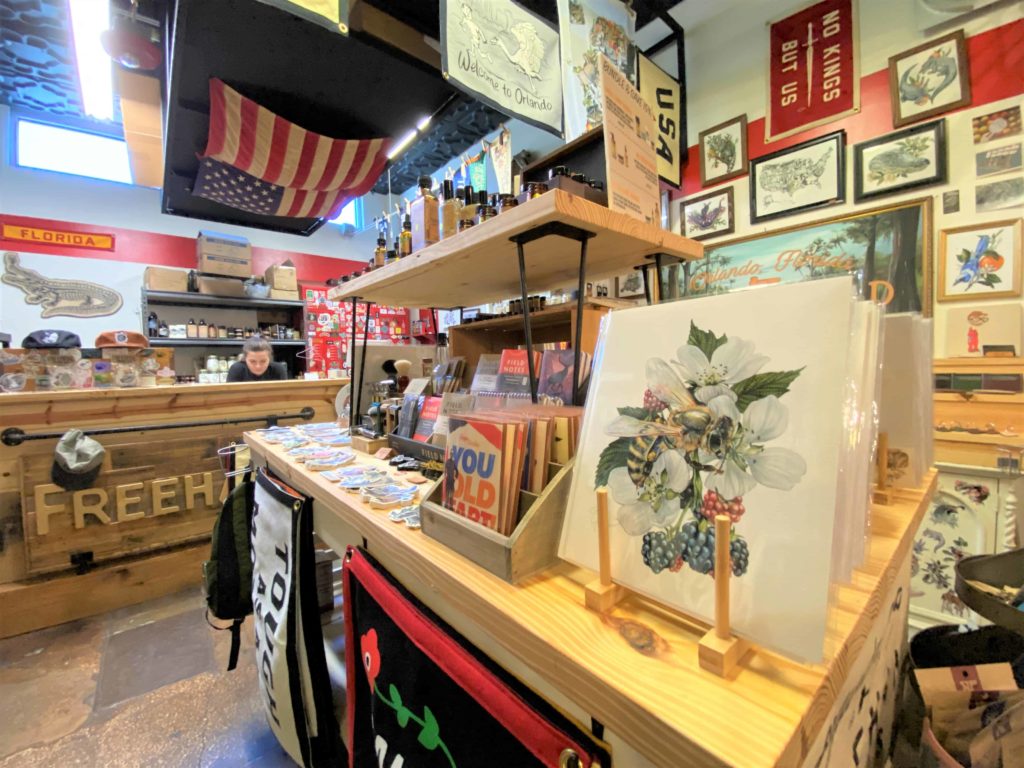 Another must-visit location is The Neighbors. This bar and shop are located upstairs at East End Market and it already has a loyal following. Climb the stairs or take the elevator in this two-story structure to find your way to The Neighbors.
Serving cocktails, non-alcoholic drinks, craft beer, and wine the bar is great for unwinding and has a nice happy hour. Plus, the specialty drinks are each named after a different Orlando neighborhood or landmark.
The retail space is full of goods from local designers and artists. If any holiday or birthday is on the horizon The Neighbors is a great place for unique gifts. If you've got company visiting from out of town, take them here to get a crash course in Orlando culture.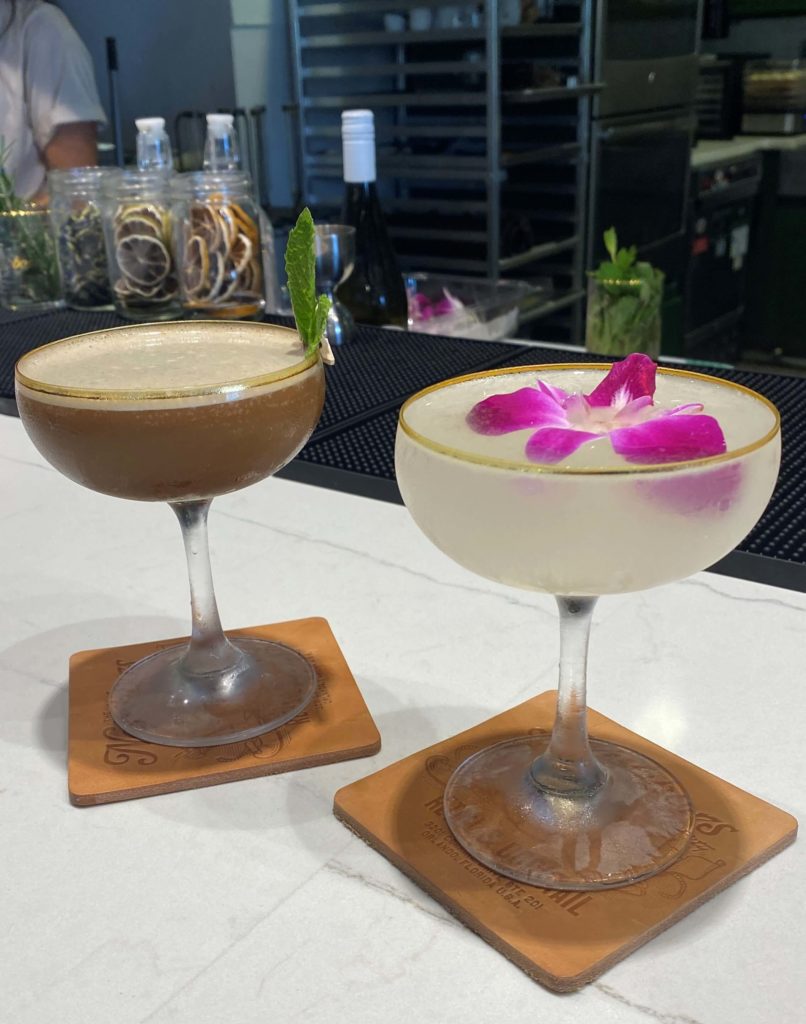 The Neighbors have converted their upstairs office into a rentable space for events! Corporate meetings, baby showers, bridal parties, private dinners, workshops & more. You name it, they can host it. With seating for 20-30 people, amenities like a projector, built-in speakers, a full-service bar & dedicated staff, they are able to help you host a large variety of events.
ALSO TRY:
Winter Park Biscuit Company
Hinckley's Fancy Meats
Dochi
Danilo's Pasta Bar
East End Market DETAILS
You'll find East End Market just south of Winter Park nestled in the quaint Orlando Main Street district known as Audubon Park. For Baldwin Park residents, this food hub is in your backyard. If you find yourself cruising down the Cady Way Trail by bike, take a short detour to browse the vendors that define Central Florida's arts community.
East End Market's hours vary. Monday – Thursday, 8AM – 7PM, Friday and Saturday, 8AM – 9PM, Sunday 8AM – 6PM.
Note – many vendors have hours that are a little different than the market itself. Visit the East End Market website for individual merchant hours.
East End Market
3201 Corrine Dr
Orlando, FL 32803
www.eastendmkt.com
Parking info, from East End Market's Facebook page: Overflow parking: Please do not park in the neighborhood directly behind the Market. Additional parking is available up & down Corrine Drive as well as a full parking lot at Audubon Park School, only a couple of blocks away at 1500 Falcon Dr Orlando, FL 32803.