There's nothing quite like a good slice of pizza for date night. It's certainly a way to show your cheesy side. Need a few suggestions for a place to grab a pie? Whether you want quick and casual, or something gourmet and special, here's your guide to some of the local spots for pizza in Orlando. 
And to avoid controversy, this list is in no particular order. Each of our local picks offers something to love.
Updated October 2023 by Meghan Roth.
Quick and Casual Pizza in Orlando
Posto Pizza
Location: Celebration, Florida
Best for: Authentic Italian pizza, salads, and quick online ordering
Pizza lovers prepare to be infatuated with Posto Pizza. Enjoy flavors ranging from traditional to gourmet, as well as international inspirations. Try the Portuguesa or the Bazillian pizza for a totally different take on pizza.
Pasta, salads, and desserts are also available to complete your meal, including a Nutella Pizzetta. Wines by the glass and bottle create a romantic date night, even if Posto Pizza is casual.
Save some money and visit during lunch for $10 and $12 pizza specials. Salads and sandwiches are also on lunch special, available Monday-Friday, 11:00AM-3:00PM.
More ideas: 10 Date Ideas in Celebration, Florida
Tomasino's
Location: Winter Springs, Lake Mary, Lake Nona, and Orlando
Best For: New York style pizza
Tomasino's has been perfecting New York style pizzas for generations and are proud to honor them by expanding Tomasino's New York Pizzeria into the franchise community. The difference between Tomasino's and other pizza shoppes is their understanding that customer loyalty is earned.
Tomasino's is all about the experience! They bring you back to the good old times, with Dowop and Motown music. They bring you back in time, wearing their signature fedora hats and suit and tie to the table, properly greeting everyone at the door "welcome to the family."
Their broad, made-to-order menu also includes pasta, strombolis, calzones, soups, salads, wings, subs, desserts, and pizza by the slice, as well as beer and wine. They also have all sorts of pizzas for those with dietary restrictions including gluten free, vegan, vegetarian, and keto.
Blaze 
Location: Disney Springs and Winter Park
Best for: An inexpensive date without sacrificing quality
Looking for a quick and easy place to grab a pizza? Blaze is your place. Located in Disney Springs (Winter Park and near UCF too), Blaze is a fast fire'd pizza designed by you! It is an assembly line set-up with scratch-made dough and all the fresh ingredients that you and your date could fathom. 
Be as inventive as your heart desires or follow the more classic choices. As you scoot down the line you get to design your own pie, or select from their speciality pies. They currently have a Garlic Lover's Pizza with garlic pesto sauce that is *chef's kiss*.
Blaze also carries a Gluten Free Crust, Cauliflower, Keto Friendly and Vegan Friendly. It's a good option for everyone, create a couple of pies to share with your boo and sit on the patio to enjoy the Disney Springs views or Winter Park vibes. 
Lil Vinny's
Location: Oviedo
Best for: Great service
Don't let this little spot tucked in next to Publix pass you by! Lil Vinny's is a family-owned restaurant serving authentic Italian cuisine and pizza in Oviedo. They offer a wide range of Italian classics along with inspired specials in a comfortable, modern setting. The menu at lil Vinny's consists of items prepared from sustainably sourced ingredients arriving fresh each morning.
Want to feel like family when you walk in or call in your to-go order? This is the place for you. Pretty much everyone you ask will gush about the friendly and helpful staff when asked their opinions (in addition to the delicious pizza of course). Looking for something new to try? Check out their Alla Vodka Pizza that has their alla vodka sauce topped with fresh mozzarella.
They offer dine-in and carry-out but keep in mind that they are closed on Mondays.
Lazy Moon 
Location: University / UCF and Mills / Orlando
Best for: Iconic, massive pizza
Comically huge pizza more your speed? Then Lazy Moon is your spot. When we say large we mean it. Their slice of pizza is large and in charge! They also carry a 20-inch pizza and a 30-inch pizza that the box likely won't fit in your car! It's pretty good stuff, though the size of the pizza is definitely the main draw. For a casual date night, and an Orlando staple, it is hard to pass up.
Lazy Moon has two locations one near Downtown Orlando, in the Mills neighborhood, and one near UCF. They have a wide array of toppings from traditional to more interesting choices like pickles, if you so choose. They also have some intriguing specialty pies like a Cuban slice with Mojo pork or Jason's Mom's Slice with Chicken, Sautéed Mushrooms, Baked Ranch and Baked Jason's Mom's Sauce.
Pair your giant slice with a salad, a craft cocktail, or something cold from the draft beer wall.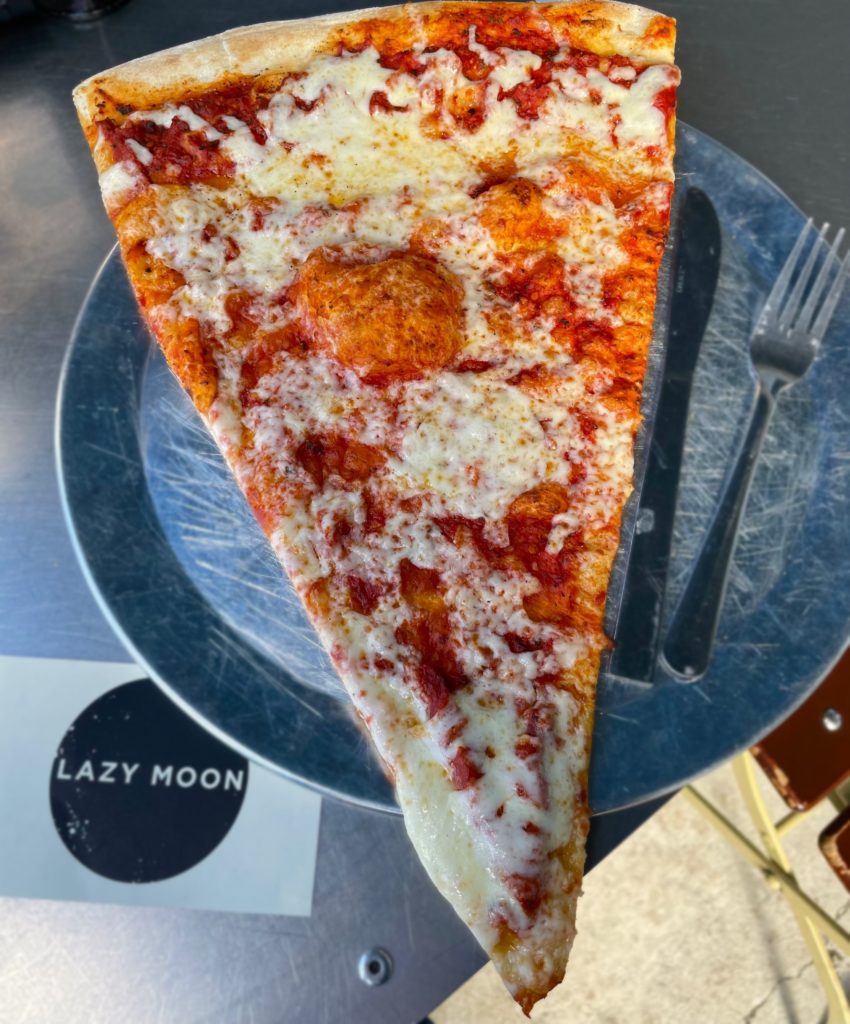 Anthony's Thornton Park – Pizzeria & Restaurant  
Location: Thornton Park
Best for: Local ambiance
Thornton Park near Lake Eola in Downtown Orlando is home to a cute little Italian restaurant called Anthony's Thornton Park. Since opening in 1998 it has solidified its place as one of Thornton Park's staples. Anthony's has NY-Pies and traditional cheese/pepperoni toppings but they also have some more daring options like Cheeseburger Pie and a Philly Pie. The menu is not just pizza, they have fantastic Italian Dishes.
Grab the Garlic Knots, they are life-changing! 
Thornton Park is a great neighborhood to spend a Sunday, renting scooters, grabbing pizza and hopping over to Lake Eola for the Farmer's Market. On the weekends they offer a brunch menu that includes a brunch pizza with Bechamel sauce, bacon and sunny-side-up eggs! Anthony's also has a great happy hour menu with cocktails and discount appetizers. 
Related: Thursday Night Date Night at Thornton Park
Tornatore's Restaurant and Italian Market
Location: College Park
Best for: Made-from-scratch menu
You may be thinking to yourself that you've heard of this spot before, but can't quite place it. Located in College Park, Tonatore's was on Food Network's Ambush Episode of Restaurant Impossible with Chef Robert Irvine in 2015. Together they developed a new Tornatore's menu filled with delicious signature dishes, creating the only neighborhood restaurant in College Park with a complete "made from scratch" menu.
So how many chefs does it take to make everything from scratch? It takes four! Two are from Sicily, one from Roma and the fourth is from Brooklyn. Open for lunch and dinner, Tonatore's has an extensive pizza menu AND a dedicated pizza chef. The menu changes seasonally and there are daily chef's specials as well. And don't miss out on their wine selection! Owner Denny Tonatore is also a Sommelier, so they have an extensive wine list with options from all over the world.
Don't forget to check out their Italian Market while you are there. Just keep in mind that the market keeps different hours than the restaurant.
Chianti's Pizza & Pasta
Location: Longwood, FL
Best for: Family-friendly, patio dining
Longwood may be a bit north of Orlando, but the drive is worth it. Chianti's Pizza and Pasta is located in a large shopping complex that's been around for decades, and it's just off the I-4 exit so it is easy to get to. Locals love Chianti's for its hometown feel and quality food.
The patio is lovely for al fresco dining when the weather is right. If you're on a strict budget, the lunch specials make for an affordable date. And as good as the pizza may be, the garlic knots are even better.
Pizza and Romance – Romantic Pizza Restaurants in Orlando
If you're ready to elevate your date night from cheesy to gourmet, head to one of these romantic pizza restaurants. Yes, pizza can be romantic. There's a lot of connection to be had as you browse the menu, choose a specialty pizza, and anticipate its arrival together while you sip on a glass of wine, chat, and soak up the ambiance.
Francesco's Ristorante & Pizzeria
Location: Maitland
Best for: romantic atmosphere and authentic flavors
If you're not familiar with the Maitland area you may be overlooking this romantic gem. Francesco's Ristorante & Pizzeria is small, but mighty. Reservations are a good idea at this popular local spot. The pizza is fresh, authentic, and satisfying.
The wine selection is sure to add some romance to your evening as you sit back, relax, and savor the delicious flavors. If you miss out on a table, they have online takeout ordering.
Related: Ideas for a Date Night in Maitland
F&D Woodfired Italian Kitchen 
Location: Orlando, Longwood and Winter Park
Best for: A good blend of casual and romance
A great date night option with an atmosphere, perfect for the couple nestled in the booth in the corner, is F&D Woodfired Italian Kitchen. With locations Longwood and Winter Park, you've probably got one near you.
There's something about woodfired pizza that just makes it superior! Tear into the crispy crust, with plenty of awesome topping options. Start off with an appetizer and a selection from the well tailored wine and cocktail list. 
The market lights, dark wood, brick walls and decor give it a date night feel without breaking the bank.
On Sundays F&D offers bottomless brunch, which is a pretty fantastic way to taste many of their food options, including some of the pizzas!  They have a Queen Bee Brunch pizza that has sopressata and local honey; paired with a mimosa it's pretty divine.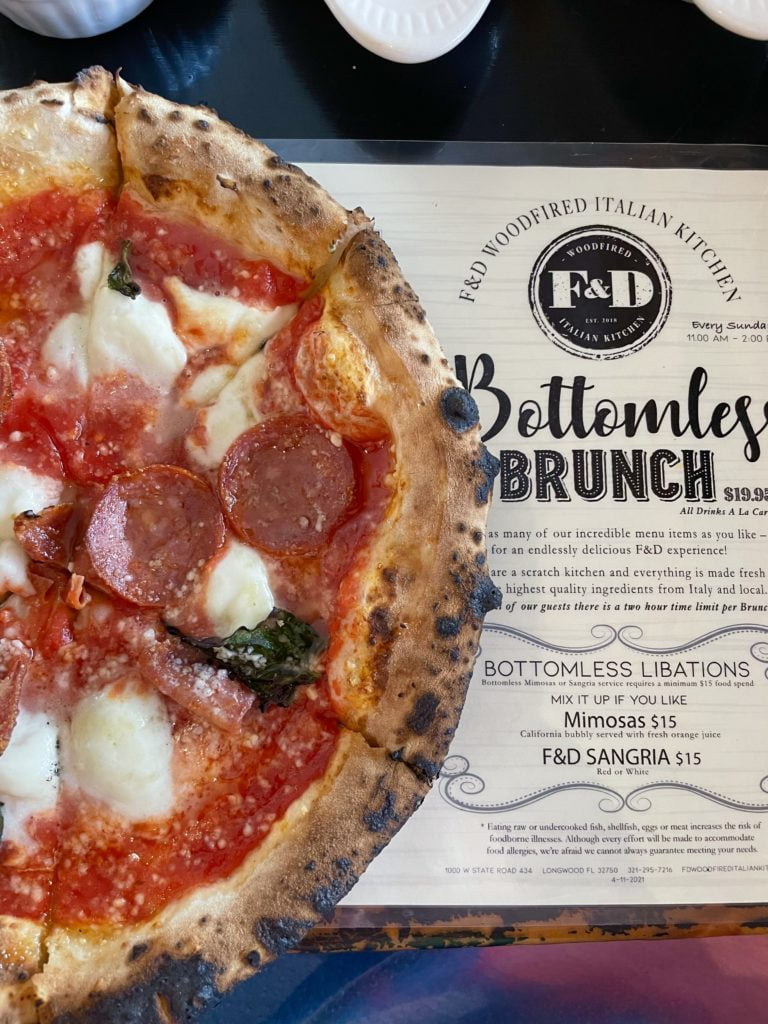 By the way, if the sound of brunch is music to your ears then check out our picks for The Best Restaurants for Brunch in Orlando.
The Wine Barn 
Location: Winter Park
Best for: rustic pizza paired with wine
Winter Park is home to many options for Date Night, but one of them is sure to make your heart flutter and has great pizza. The Wine Barn proves looks can be deceiving — on the outside, it looks strip-mall-esque but on the inside it's lined with gorgeous brick walls, dark wood, and a pretty epic wine display. 
In addition to their great wines and tastings, The Wine Barn has exquisite signature wood-fired pizzas, all made from scratch and then fired in an 800-degree oven for just the right amount of crisp. The Queen Margherita pizza is not one to pass up.
They also have live music/entertainment and the wine tastings focus on small-batch wines. The wine selection is most impressive, plus a substantial craft beer selection and meads as well. The service is impeccable, all adding up to a special date night. 
Il Mulino New York Trattoria 
Location: Walt Disney World
Best for: Romance, service, and authentic flavors
Special Date, anniversary or event? Il Mulino New York Trattoria is what you're looking for.  Located in the wondrous Swan Hotel at Walt Disney World, it is a New York-based concept with a Disney Flair. Gorgeous, high ceilings, dark woods, low lighting, white linings, and a gorgeous back lit bar set a sumptuous atmosphere. This date night spot is on the more expensive side, but tends to be worth it. Make sure you make a dining reservation for this location.
The hearty pizza pies are practically perfect and shareable. Be ready to carb up from the start, with a warm and squishy bread basket that has focaccia bread that you'll dream about. Make it a full meal with beautiful fresh-made salads and appetizers to go with your pizza. Your experience will conclude with house-made limoncello brought to your table to end your date in high spirits.
Related: Italian Restaurants + Experiences for an Italy-Inspired Night Out
PRIMO
Location: JW Marriott Grande Lakes
Best: Romantic and modern atmosphere
Indulge in the exquisite cuisine of PRIMO at JW Marriott Grande Lakes. The atmosphere is lively as the dining rooms fill with conversation. The menu changes frequently based on what is fresh and seasonal. The desserts are fresh and divine too.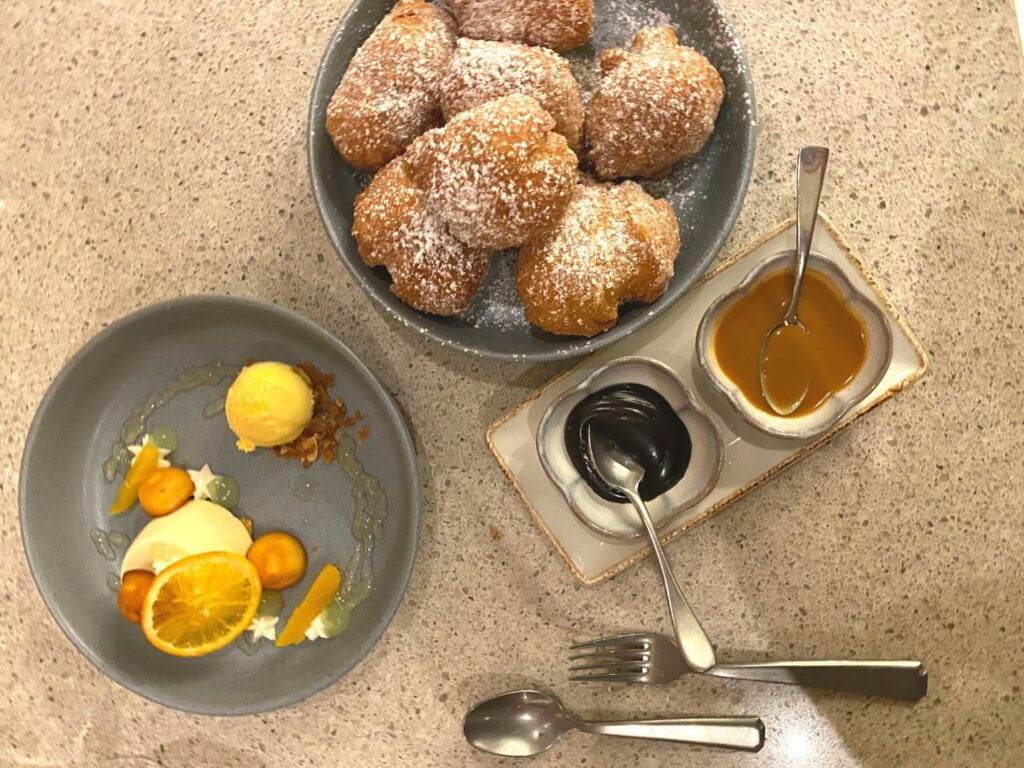 If sitting down at a table for a full meal is not your speed, see if you can grab a spot at the bar. Order a pizza to share and a round of craft cocktails or a bottle of wine. The dough is perfection, the sauce is rich and balanced, and the toppings are fresh.
Before or after your indulgent pizza dinner, head to the patio and enjoy the firepit and views of the resort.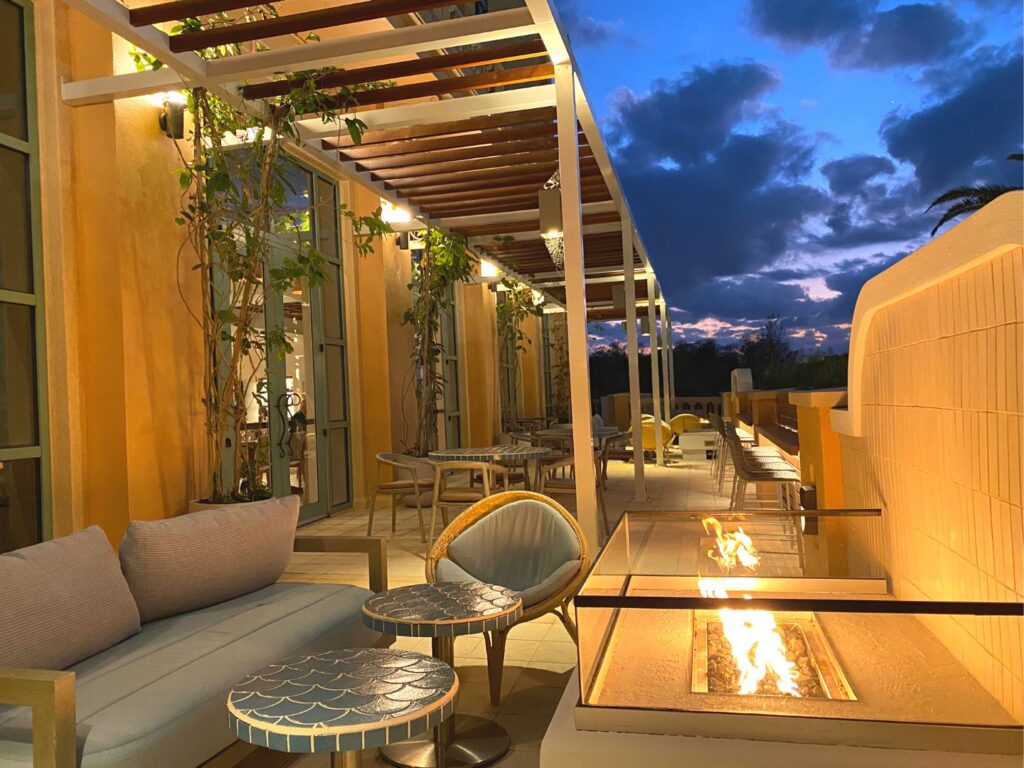 There's even more pizza in Orlando to discover! See our additional picks below.
Honorable Mentions 
Featured image courtesy of Lazy Moon Pizza (@lazymoonpizza)