It may be hot in Central Florida, but September brings a major spooky season kick-off in the Orlando area. Among the Halloween classics is Howl-O-Scream at SeaWorld Orlando, a haunted event that has been taking place at Busch Gardens for years, but only made its way to SeaWorld in 2021. It's definitely a top Halloween event in Orlando and has earned its place among the top haunted houses in Orlando. 
At Howl-O-Scream, an after-hours ticketed event that happens after SeaWorld closes to day guests, you and your sweetie can explore haunted houses and scare zones, visit themed bars, and more. Read on for our guide to all the spooky fun happening at Howl-O-Scream 2023, plus important time saving tips.
And while this scary event contains adult themes, it can be considered one of the Orlando haunted houses that are okay for older kids. There's even a way to let the performers know you'd prefer not to be scared!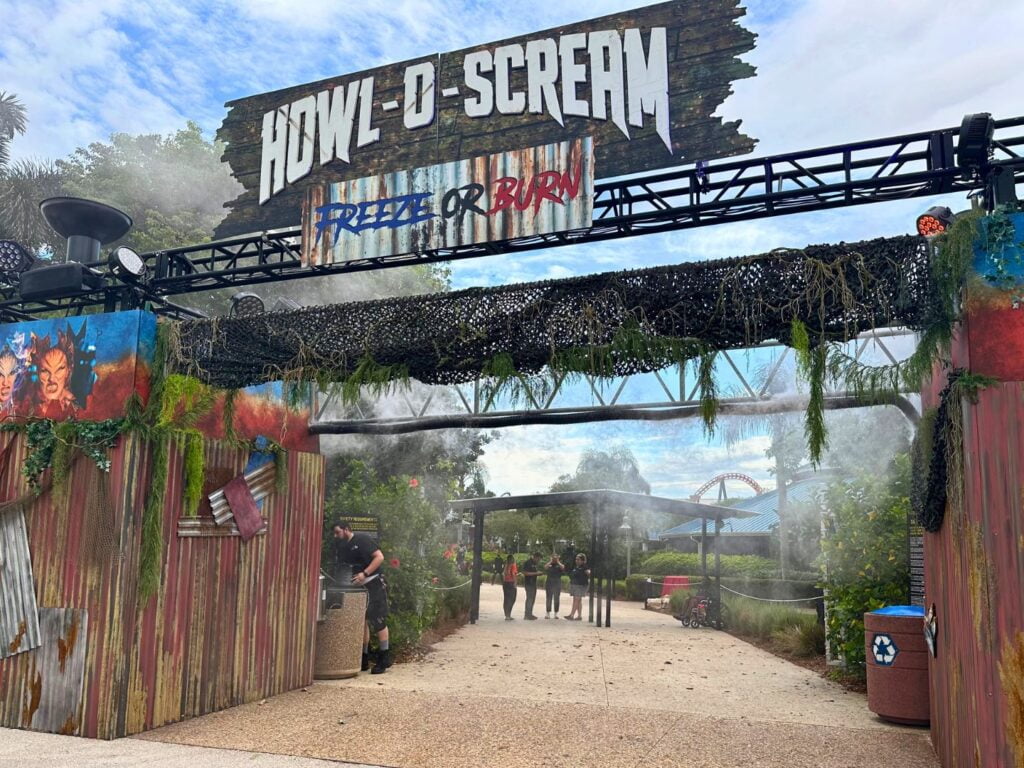 About Howl-O-Scream 2023
Howl-O-Scream started this year on September 8, 2023, and runs on select nights through October 31.
Tickets range from $105 for a one-night ticket to $180 for an unlimited admission ticket, which allows guests to visit as often as they want.
SeaWorld annual passholders get special ticket discounts, and there's an option for any guest to purchase a ticket that allows for daytime park admission in addition to the Halloween event for $230.
The event runs from 7 p.m. through midnight. In September, Howl-O-Scream only takes place on Friday and Saturday, but in October, Thursdays, Sundays, and October 31, 2023 Halloween night get added into the mix.
Recently, I attended Howl-O-Scream with my husband for the first time and I truly found the jump scares and spookiness to be among the best in the Orlando area. If holding onto your partner and braving a bit of Halloween chills and thrills sounds like your idea of a great date night, you'll be in good company at Howl-O-Scream.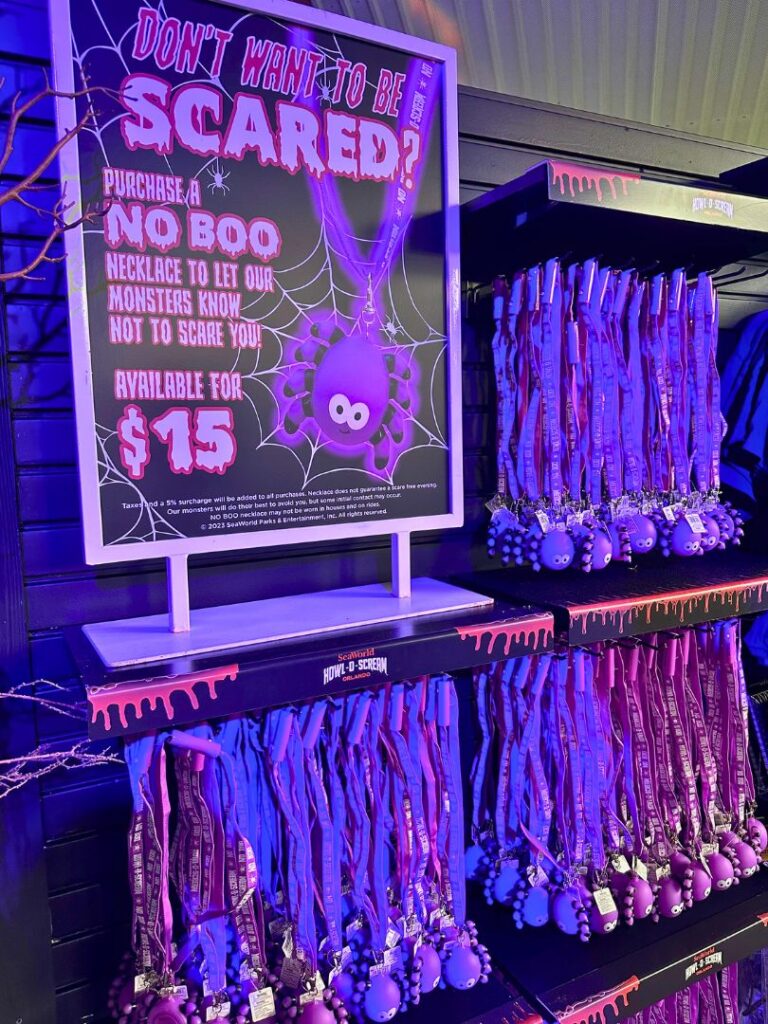 Tips for Howl-O-Scream 2023
Review the map beforehand
Check out the descriptions to decide your must-do experiences
Purchase a "No Boo" light up necklace in the park for $15 if you'd like to signal to the performers you'd rather not get scared (no guarantees but it helps)
September is less crowded than October
Plan extra time to enjoy the scare zones
Take a break and hydrate
Talk about your expectations and comfort level
Read on for our guide on making the most of a date night at SeaWorld's Howl-O-Scream 2023.
Note: Admission is NOT included with regular park admission. You will need a separate event ticket in order to attend.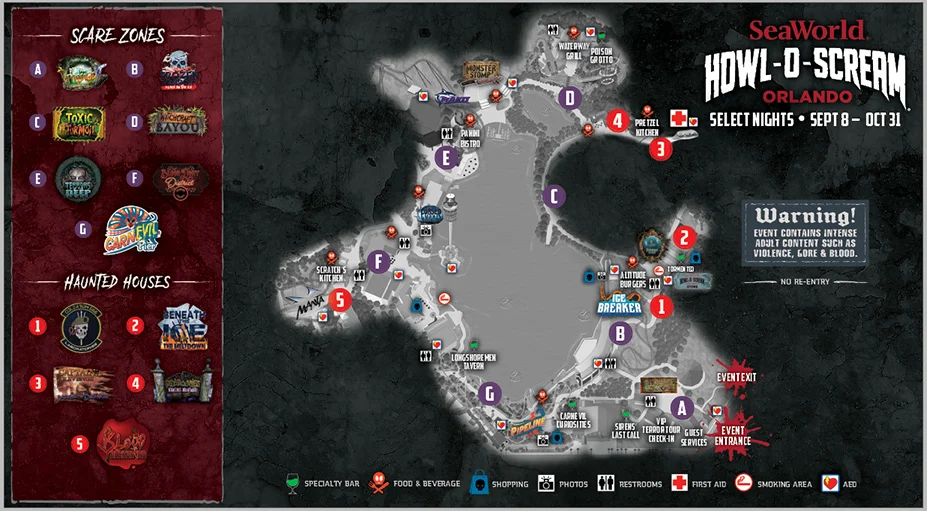 Howl-O-Scream 2023 Haunted Houses and Scare Zones
At SeaWorld Orlando's Howl-O-Scream, there are five thrilling haunted houses to walk through. A whopping seven scare zones add to the scary fun!
Haunted Houses
Blood Beckoning, returning from previous years
An all-new haunt, Beneath the Ice: The Meltdown
Captain's Revenge: Drowned in Darkness
Dead Vines: Nawlins Nightmare
Delirium666 Laboratories house
In the Blood Beckoning house, which returned from previous years, scary sirens from the underworld are out for blood and to get there, you've got to walk through the Blood Light District scare zone, a vampy and fun red light district where the jump scares are non-stop.
An all-new haunt, Beneath the Ice: The Meltdown, is a frightening haunted house that involves fire, ice, and scary escapes after a siren gets kidnapped and her terrifying sister seeks revenge. 
There's also nautical-themed Captain's Revenge: Drowned in Darkness and Dead Vines: Nawlins Nightmare, where plants and scary characters have taken over. Captain's Revenge: Drowned in Darkness is a fan favorite thanks to its immersive theming, definitely put this one on your list.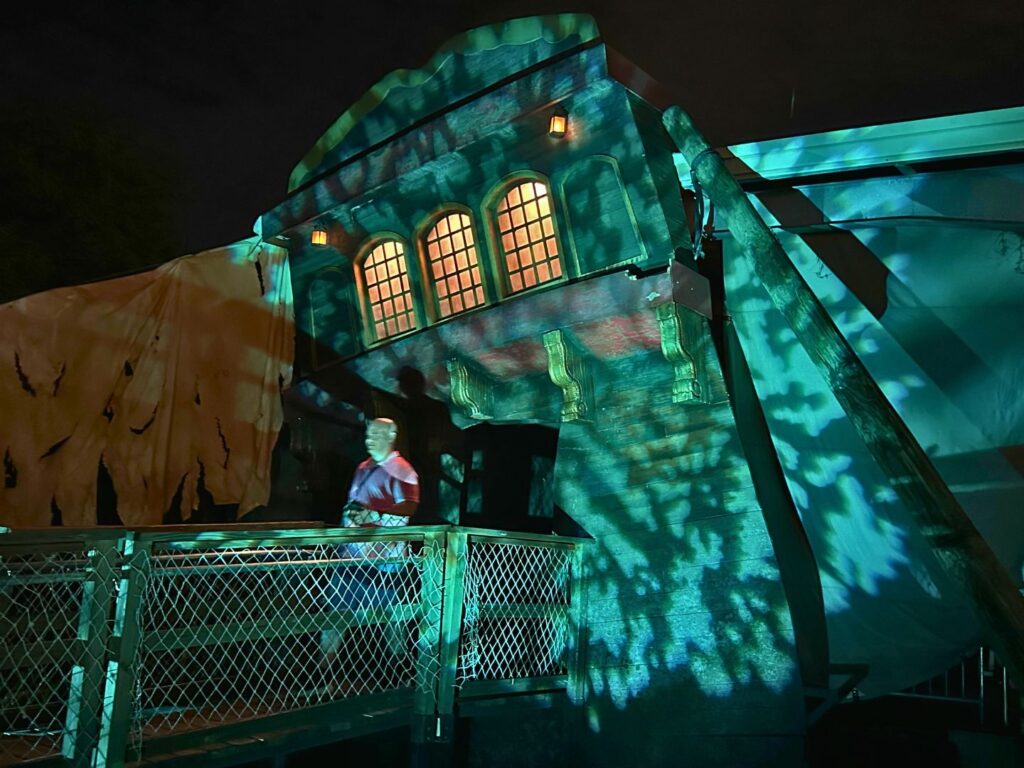 Rounding out the scary line-up is the Delirium666 Laboratories house, where a tour of a government facility goes very, very wrong.
Scare Zones
Bloodlight District
Toxic Turmoil
CarnEvil Pier
Portal of Passage
Frozen Terror: Alive in the Ice
Witchcraft Bayou
Terrors of the Deep
One of the best things about SeaWorld Orlando's Howl-O-Scream is the use of aquatic themes that fit the park. Each scare zone plays off of the area in which it is located – elevating the fun and spookiness.
There are also scare zones throughout the park, where guests walk through spooky scenes and actors who like to jump-scare. There are seven in total: Bloodlight District, Toxic Turmoil, CarnEvil Pier, Portal of Passage, Frozen Terror: Alive in the Ice, Witchcraft Bayou, and Terrors of the Deep. 
The CarnEvil Pier Scare Zone, for example, is near the brand new Pipeline Coaster, which is also one of the rides open during Howl-O-Scream.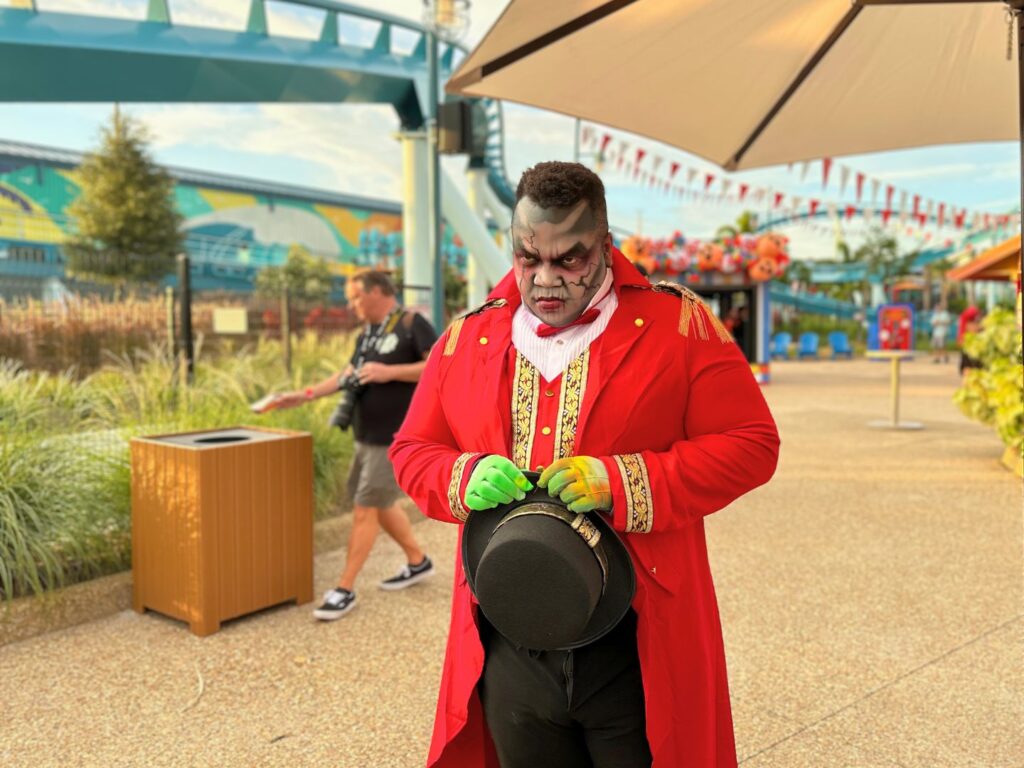 In addition to scare zones, there are roaming haunts dressed as sirens and their evil minions and in hard-to-see, spooky camouflage, so watch out. Among my favorite scares of the night were characters camouflaged as bushes who'd jump out and scare you when you least expected it.
Shows 
No spooky Halloween event would be complete without a chilling stage show, and at Howl-O-Scream, the returning Monster Stomp: Slasher Alley is sure to give guests their dose of creepy entertainment. Jack the Ripper stars in this scary don't-miss musical.
Two additional shows, Cursed Lagoon and Siren's Song, provide a great way to take a break without missing out on the spooks.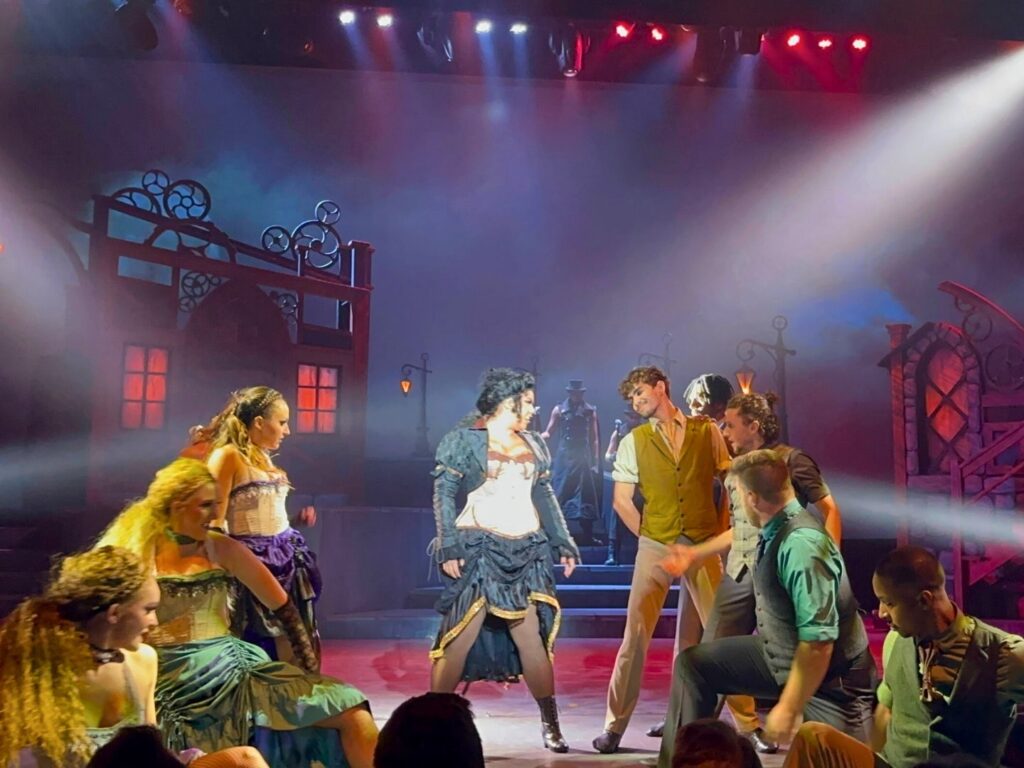 Themed Bars
The event also features five themed Halloween bars: Sirens' Last Call, Poison Grotto, Tormented, Longshoremen Tavern, and CarnEvil Curiosities, a new one in this year's line-up. While some spots to grab a libation are simply a kiosk or cart, there are multiple bars that are inside immersive venues.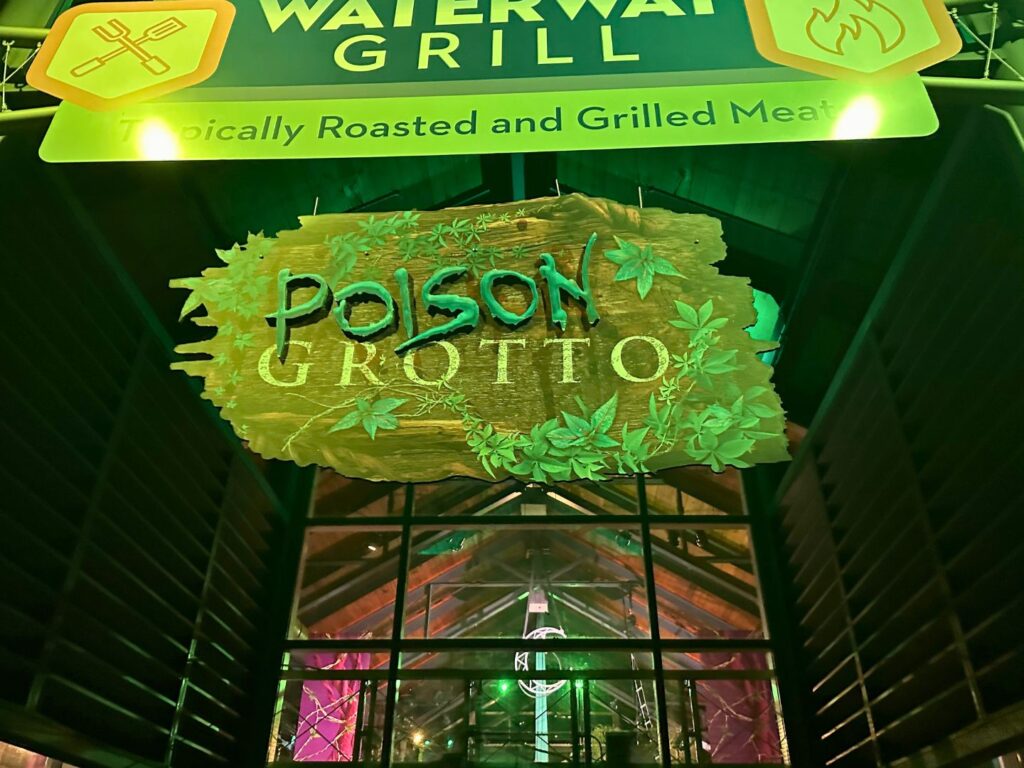 The Poison Grotto is a must-do! It's tucked away in a back corner of the park, but it is worth the extra steps for the alluring atmosphere.
There are popular cocktails served in pouches, adding playfulness to the grown up fun.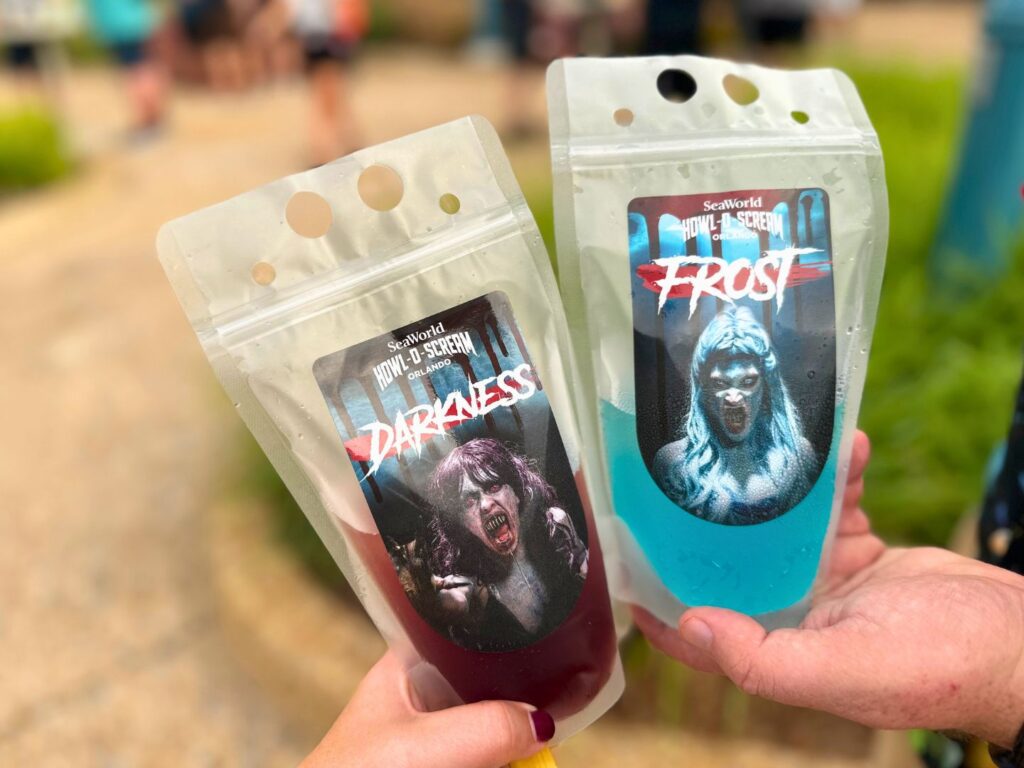 Don't forget to fuel up on food too! There are multiple booths around the park, adding to a festival atmosphere. The Ofrenda Tamale is a favorite!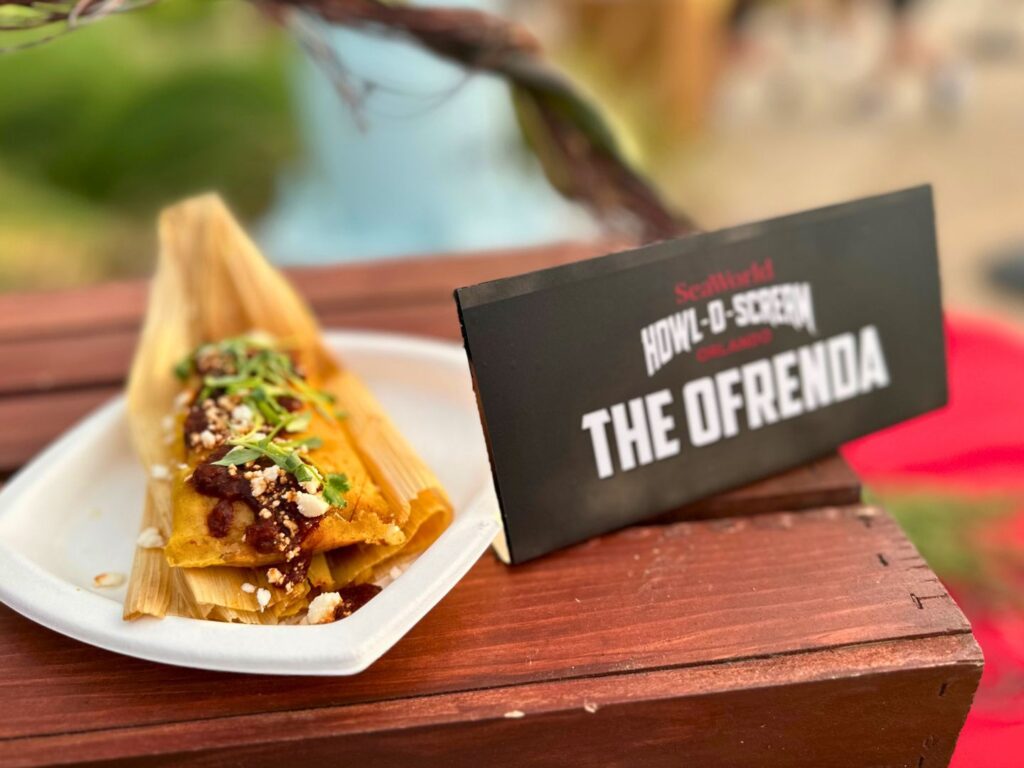 Rides
In addition to the spooky activities that are exclusive to Howl-O-Scream, some SeaWorld Orlando attractions — like the new Pipeline surf coaster — are open for guests to ride. Experiencing these thrilling rides in the dark only adds to the spook factor, and the wait times when we visited were less than five minute throughout the entire event.
Pipeline: the Surf Coaster
Ice Breaker
Mako
Manta
Availability is subject to change and weather permitting.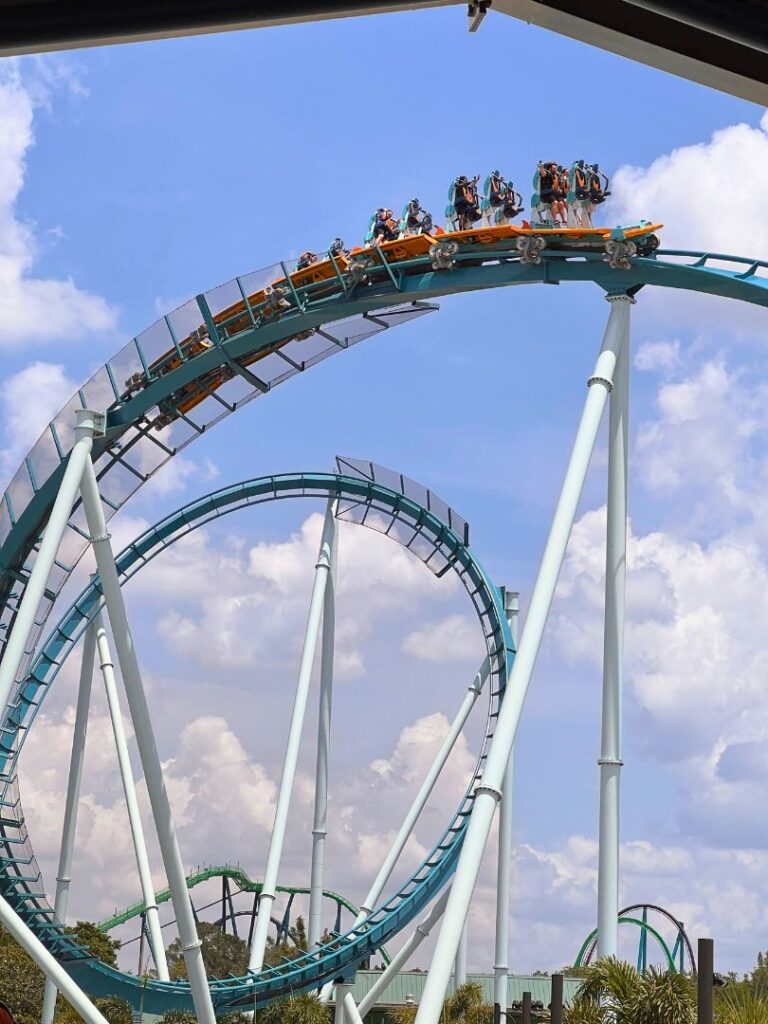 Front Line Fear Upgrades
If you'd prefer to avoid long lines, there are two options to skip wait times at Hall-O-Scream. For $60, guests can purchase a Front Line Fear pass, which allows them to skip the line once at each of the five haunted houses. The $80 Front Line Fear Extreme pass allows for skipping haunted house lines and the park's Mako, Manta, and Pipeline coasters. The extreme pass also gives guests reserved seating for the Monster Stomp show.
While pricey, these types of upgrades can be a great way to help your scary date night run more smoothly. After all, you'll want to have time to visit those spooky themed bars.
Featured image by Terri Peters