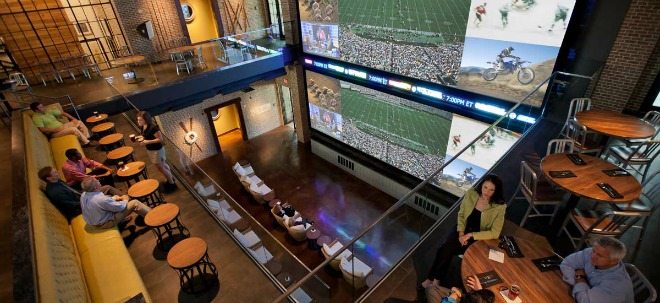 During football season, your significant other may be married to the television for both NFL and college football games. So, if you need a new game plan with more date night fantasies and less fantasy football, we recommend these best places to watch football in Orlando.
Best Orlando Sports Bars for Football Lovers
Since football is America's most beloved sport, it seems fitting to watch games at this restaurant since its tagline is: "This is your place. This is American social." Coinciding with Monday Night Football, America Social kicks off the work week with 'Burgers, Bourbons & Beats.' Try the Horseradish Cheddar Burger, which is two quarter-pound patties, topped with horseradish cheddar sauce, pickled peppers, lettuce, sharp cheddar and potato sticks.
Sweeten the deal with an interesting pour of a PB&J Old Fashioned, a blend of Maker's Mark, Skrewball peanut butter, strawberry preserves, black walnut bitters and garnished with a mini PB&J. Of course, there's no shortage of televisions, so you can cheer on your team as your cheers with your bourbon (or other beverage of choice).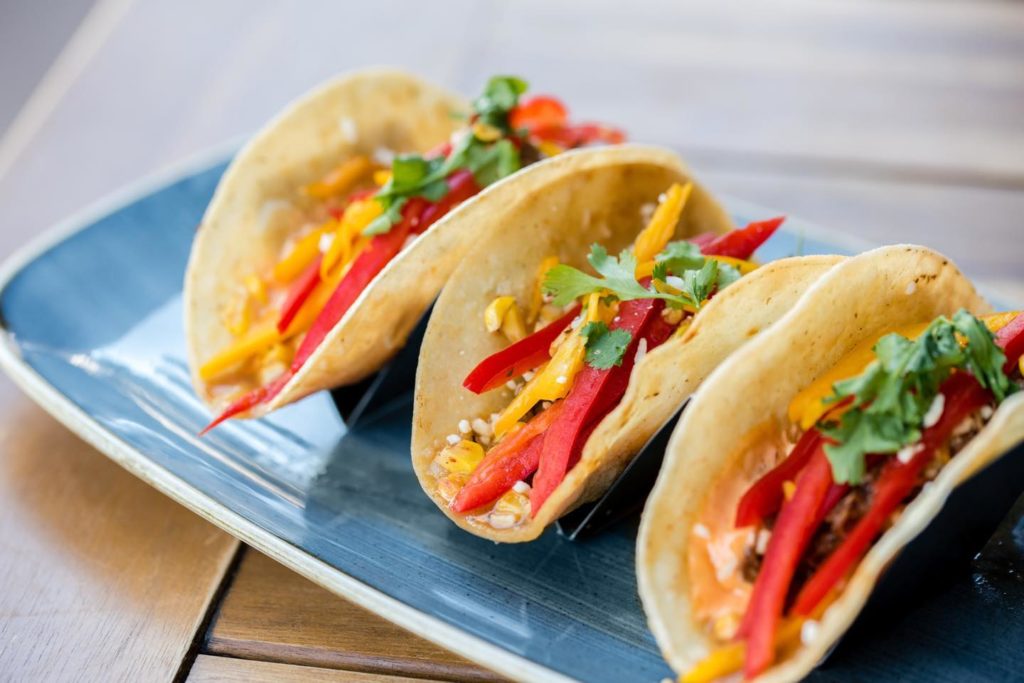 When pulling into the parking lot of Cabana Live you may not realize what's in store. This waterfront restaurant is located inside the Port of Sanford Marina near I-4 and the Central Florida Zoo. This place has everything you need for a perfect day of watching football.
The large bar faces multiple TVs, as well as seating that faces the pool – yes, a pool! A small, but lovely pool welcomes everyone to cool off without missing the game. There are outdoor TVs including a massive multi-panel TV facing the pool that can act as one large display or four individual displays.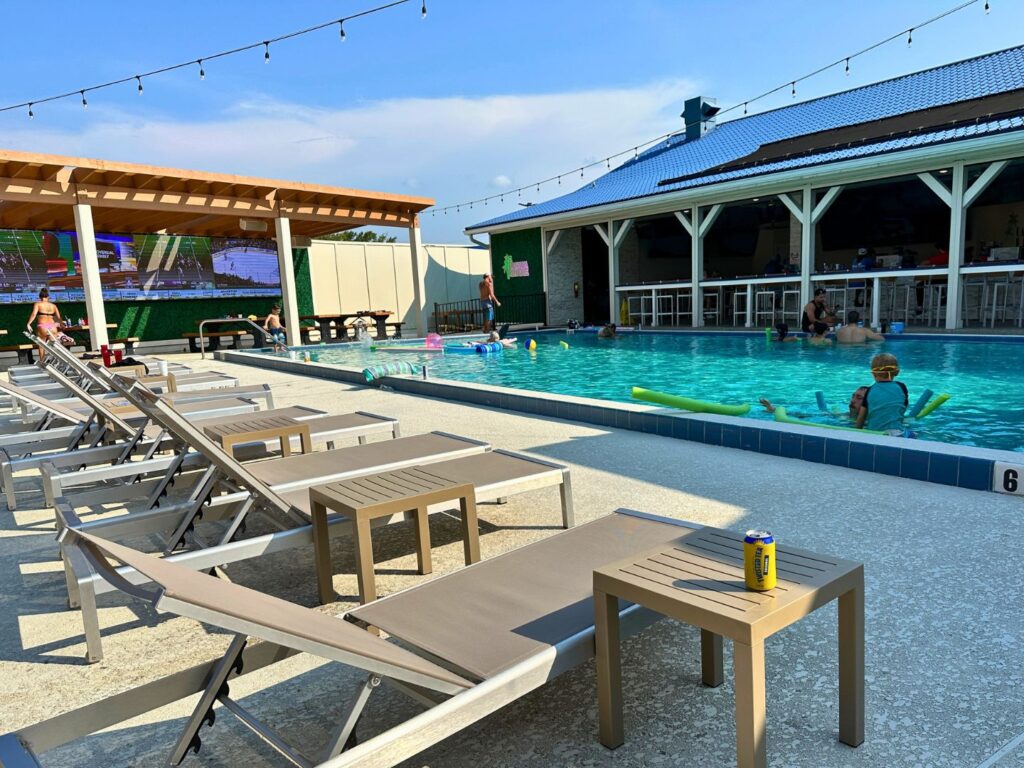 Plenty of tables inside and outside give you the option to still see the big games and choose the vibe that's right for you. There is a weekend brunch menu as well as specials each weekday including happy hour Modnay – Thursday, Taco Tuesday, Kids Eat Free on Wednesdays, and more!
This logo and mascot of this restaurant is a well-dressed duck, but fans of a different water-lovin' animal tend to flock here. Yup, supporters of the Miami Dolphins make waves at Dapper Duck. As fancy as the dapper namesake may be, expect casual American-style menu items, including typical tailgating favorites and more.
If you prefer to share liquor rather than a bucket of beers with your team of dining comrades, collectively order the Big Duck Drink, which is described as a giant shareable cocktail – Moscow mule, vodka red bull or vodka lemonade ─ topped with a mini rubber duck. Quack-tastic!
If you find yourself on International Drive then consider making a break for FastBreak. Located at Hilton Orlando there is indoor and outdoor seating with plenty of TVs to watch football and other sports.
The logo of Friendly Confines features a baseball but football fans (especially Chiefs) can have a ball here during season and beyond. Fanatics may be thrilled to know that this restaurant also sells sports memorabilia with authenticated signatures.
In fact, the interior is decked out in 'Confines Collectibles.' Nosh on game day wings or one of Confines huge sandwiches, such as a BLT, French dip, Italian beef or Reuben.   
This large franchised tavern offers a crowd-pleasing experience with all football essentials: huge TVs, cold beers and a diverse menu, including gluten-free selections. For Monday Night Football, NFL viewers can feast on 'All You Can Eat' wings from 6-10 pm. Placing bets on the game? Maybe the loser (or winner – depending on your bravery) has to eat an order of Gator Tail!
Hideaway Bar
(Virginia Dr. near Ivanhoe District)
This small place is a big hit with Dolphins' fans. Hideaway claims to be "Your Neighborhood Sports Bar and Home of the DolFan Club of Orlando." And we give this place extra points for offering deep fried jalapeno slices. Um, flavor touchdown! Expect a few giggles as you read through the football themed menu (i.e. The Hot Marino Sub). 
You know what goes great with college football? Bloody Mary's! Seriously… I can't be the only one who thinks so. For Sunday brunch, a herd of football fans can be found at The Hammered Lamb across from Lake Ivanhoe. Their Bloody Mary toppings often include peppers, hot sauces galore, and all the fixings your football lovin' heart desires.
The Hammered Lamb doesn't have as many television screens as other sports establishments so be sure to request a table with optimal game viewing. 
Hooch

 
(Wall Street Plaza)
The corner of Wall Street Plaza that now houses Hooch was previously the center of Florida's largest moonshine operation (back in the 1920s). Hooch also happens to be the new football bar for the Central Florida Packer Backer club.
And because the Wall Street Plaza hosts a Sunday Funday Block Party, the tailgate drinking games are in full force. Bring on the jenga, cornhole and giant beer pong.  
TopGolf
(Orlando & Lake Mary)
Don't let the 'golf' namesake sack your game day plans because this place is absolutely on par for football viewing. You may see a lot of Pittsburgh jerseys because TopGolf welcomes Steeler diehards. This "Vegas-style bar and lounge" is outfitted with tons of TVs (including a 25-foot big screen), an ample menu and drink specials to keep you well-hydrated from kickoff to the final seconds of play.
In between games, challenge yourself on an interactive football simulator as a QB or kicker. Throw to receivers all over the field and hone your precision with every release. Or split the uprights with field goal kicking in five different simulated stadiums.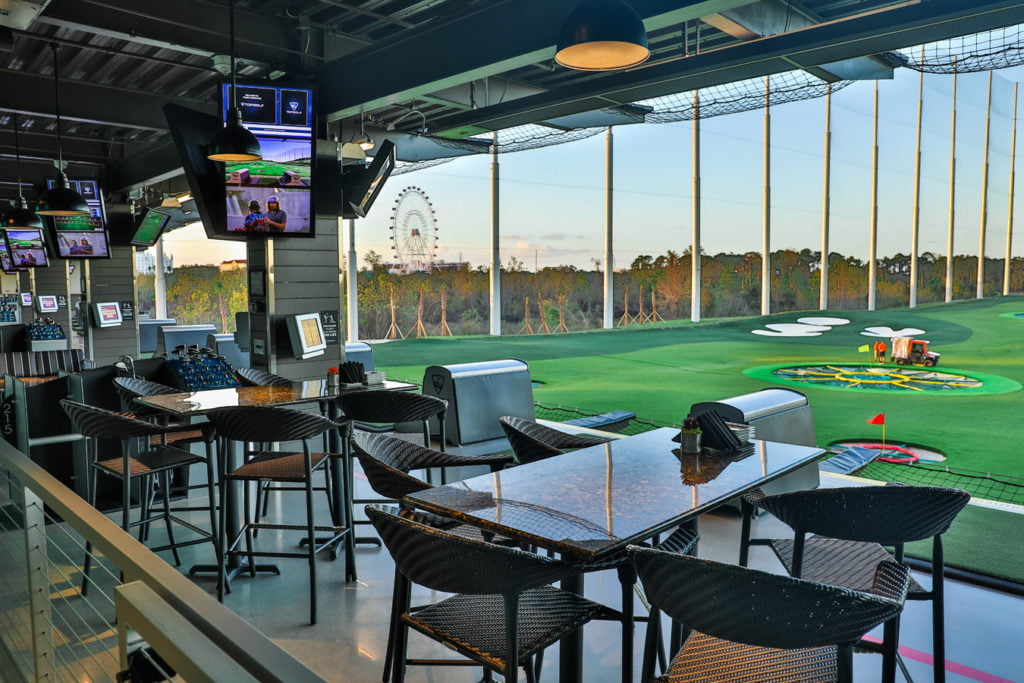 BONUS IDEA – Another similar spot to play golf and watch football in Orlando is PopStroke.
This restaurant is part of the Orlando Public Houses family (along with Ollie's in College Park) so you know it will satisfy both your food and your football cravings. Take a seat at an outside patio table to watch games on large screen TVs with a backdrop of Lake Jennie Jewel. Nibble on fun shareables, such as the Nacho Mama, Bacon Caramel Fries or Fried Pickles, as you sip cold ones amidst the crisp autumn air.
Related: Orlando's Best Burgers
New Orleans Saints fans can eat up Louisiana classics at Walk-On's, like duck & andouille, gumbo, crawfish etouffée and beignets. And aside from standard selections of bottled beers, this restaurant also has a rotating assortment of local brewskis.
When it comes to a love of sports as a whole, this place is legit. You see, its founders, Brandon Landry and Jack Warner, became friends as a pair of walk-ons (unrecruited and unsigned athletes) on the Louisiana State University basketball team. The company has, of course, since grown to appreciate all sports, including football!
Stop by this neighborhood pub ─ the proud home of the Orlando Eagles Fan Club ─ on game day to watch your favorite football teams battle it out on large projection screens with outdoor viewing options. Wing Shack was voted Best Wings multiple years in a row so grab your wing-man and head to the Conway area.
World of Beer
(Downtown Orlando and Lake Buena Vista)
The perfect Sunday Funday in Downtown Orlando can include football. Stroll through Lake Eola farmer's market, stop to gaze at the ducks and turtles (before rooting for the Gators), and, then, feast on "beerunch." Whether you're in the mood for the Hangover Skillet, Chimay Burger or Black & Blue Flatbread, this brew-tastic eatery has over 50 craft beers on tap and 500 in the cooler to salute your favorite football team.
There is also a popular World of Beer location in Lake Buena Vista in the Palm Parkway and Daryl Carter Parkway area.
The resort's multi-level bar, which features a 37′ sport screen, boasts loads of game-worthy appetizers, hearty concoctions and plenty of beers on tap. This much-loved hub (and best kept secret) is a must-visit for sports fans.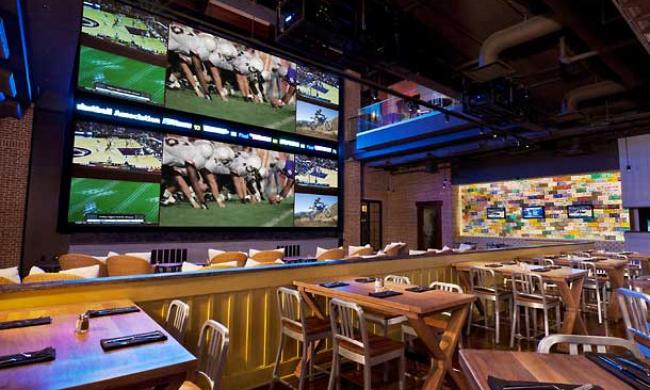 More places to watch football in Orlando