An unforgettable night at the theater is as close as downtown Orlando. You can experience AdventHealth Broadway in Orlando at the Dr. Phillips Center for the Performing Arts in downtown Orlando. Talk about an awesome date night!
Dr. Phillips Center for the Performing Arts tenth Broadway season lineup is impressive. The 2023/2024 season will bring the best of Broadway to Walt Disney Theater including: Annie, Disney's Aladdin, Les Misérables, and more!
AdventHealth Broadway in Orlando 23/24 Season
Annie – October 24–29, 2023
Funny Girl – December 5–10, 2023
Disney's Aladdin – January 3–7, 2024
Moulin Rouge! The Musical – February 20–March 3, 2024
Jagged Little Pill – March 19–24, 2024
Mrs. Doubtfire – April 23–28, 2024
Peter Pan – May 14–19, 2024
Clue – June 4–9, 2024
Les Misérables – June 25–30, 2024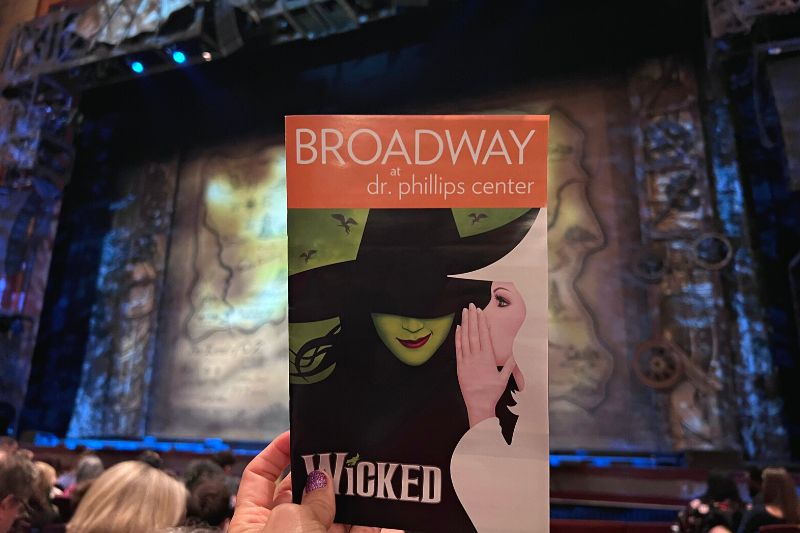 Read on if you want to learn more about the shows coming to the Dr. Phillips Center in the 2023/2024 season.
If you're looking for tips for attending a show, we've sprinkled in a few. But first, let's discover the incredible performances that remain in this season of AdventHealth Broadway in Orlando.
Annie – October 24–29, 2023
Holding onto hope when times are tough can take an awful lot of determination, and sometimes, an awful lot of determination comes in a surprisingly small package. Little Orphan Annie has reminded generations of theatergoers that sunshine is always right around the corner, and now the best-loved musical of all time is set to return in a new production – just as you remember it and just when we need it most.
Annie, directed by Jenn Thompson, features the iconic book and score, written by Tony Award®-winners Thomas Meehan, Charles Strouse and Martin Charnin. This celebration of family, optimism and the American spirit remains the ultimate cure for all the hard knocks life throws your way.
Funny Girl – December 5–10, 2023
Featuring one of the most iconic scores of all time by Jule Styne and Bob Merrill, an updated book from Harvey Fierstein based on the original classic by Isobel Lennart, tap choreography by Ayodele Casel, choreography by Ellenore Scott, and direction from Michael Mayer, this love letter to the theatre has the whole shebang!
The sensational Broadway revival dazzles with celebrated classic songs, including "Don't Rain On My Parade," "I'm the Greatest Star," and "People." This bittersweet comedy is the story of the indomitable Fanny Brice, a girl from the Lower East Side who dreamed of a life on the stage. Everyone told her she'd never be a star, but then something funny happened—she became one of the most beloved performers in history, shining brighter than the brightest lights of Broadway.
Disney's Aladdin – January 3–7, 2024
From the producer of The Lion King comes the timeless story of ALADDIN, a thrilling new production filled with unforgettable beauty, magic, comedy and breathtaking spectacle. It's an extraordinary theatrical event where one lamp and three wishes make the possibilities infinite.
Moulin Rouge! The Musical – February 20–March 3, 2024
Pop the champagne, Moulin Rouge! The Musical is the winner of 10 Tony Awards® — including Best Musical!
Enter a world of splendor and romance, of eye-popping excess, of glitz, grandeur, and glory! A world where Bohemians and aristocrats rub elbows and revel in electrifying enchantment. Welcome to Moulin Rouge! The Musical! Baz Luhrmann's revolutionary film comes to life onstage, remixed in a new musical mash-up extravaganza. Directed by Tony Award® winner Alex Timbers, Moulin Rouge! The Musical is a theatrical celebration of Truth, Beauty, Freedom, and — above all — Love. With a book by Tony Award® winner John Logan; music supervision, orchestrations, and arrangements by Tony Award® winner Justin Levine; and choreography by Tony Award® winner Sonya Tayeh, Moulin Rouge! is more than a musical — it is a state of mind.
Jagged Little Pill – March 19–24, 2024
Joy, love, heartache, strength, wisdom, catharsis, LIFE—everything we've been waiting to see in a Broadway show— is here in the exhilarating, fearless new musical based on Alanis Morissette's world-changing music.
Directed by Tony Award winner Diane Paulus (Waitress, Pippin, 1776) with a Tony-winning book by Diablo Cody (Juno) and Grammy-winning score, this electrifying production about a perfectly imperfect American family "vaults the audience to its collective feet" (The Guardian). "Redemptive, rousing and real, JAGGED LITTLE PILL stands alongside the original musicals that have sustained the best hopes of Broadway." (The New York Times)
You live, you learn, you remember what it's like to feel truly human… at JAGGED LITTLE PILL.
Mrs. Doubtfire – April 23–28, 2024
A new musical comedy about the things we do to stay together.
Everyone's favorite Scottish nanny is headed to Orlando in an internationally acclaimed new hit musical critics call "wonderful, heart-warming, and laugh-out-loud funny" (Manchester Evening News) and "a feel-good, family-friendly comedy that delivers" (The Hollywood Reporter). Based on the beloved film and directed by four-time Tony Award® winner Jerry Zaks, Mrs. Doubtfire tells the hysterical and heartfelt story of an out-of-work actor who will do anything for his kids. It's "the lovable, big-hearted musical comedy we need right now," raves the Chicago Tribune – one that proves we're better together.
Peter Pan – May 14–19, 2024
This high-flying musical has been delighting audiences of all ages for close to 70 years and is now being brought back to life in a new production directed by Emmy Award winner Lonny Price with additional book by celebrated playwright Larissa FastHorse. The adventure begins when PETER PAN and his mischievous fairy sidekick, Tinker Bell, visit the nursery of the Darling children late one night. With a sprinkle of pixie dust and a few happy thoughts, the children are taken on a magical journey they will never forget. This extraordinary musical full of excitement and adventure features iconic and timeless songs including "I'm Flying", "I Gotta Crow", "I Won't Grow Up" and "Neverland". PETER PAN embraces the child in us all so go on a journey from the second star to the right and straight on 'til morning – your entire family will be Hooked!
Clue – June 4–9, 2024
Murder and blackmail are on the menu when six mysterious guests assemble at Boddy Manor for a night they'll never forget! Was it Mrs. Peacock in the study with the knife? Or was it Colonel Mustard in the library with the wrench? Based on the cult 1985 Paramount movie and inspired by the classic Hasbro board game, Clue is the ultimate whodunit that will leave you dying of laughter and keep you guessing until the final twist.
Les Misérables – June 25–30, 2024
Set against the backdrop of 19th century France, Les Misérables tells an enthralling story of broken dreams and unrequited love, passion, sacrifice and redemption – a timeless testament to the survival of the human spirit. This epic and uplifting story has become one of the most celebrated musicals in theatrical history.
The magnificent score of Les Misérables includes the songs "I Dreamed a Dream," "On My Own," "Bring Him Home," "One Day More," "Master of the House" and many more. Seen by over 130 million people worldwide in 53 countries and 22 languages, Les Misérables is undisputedly one of the world's most popular musicals.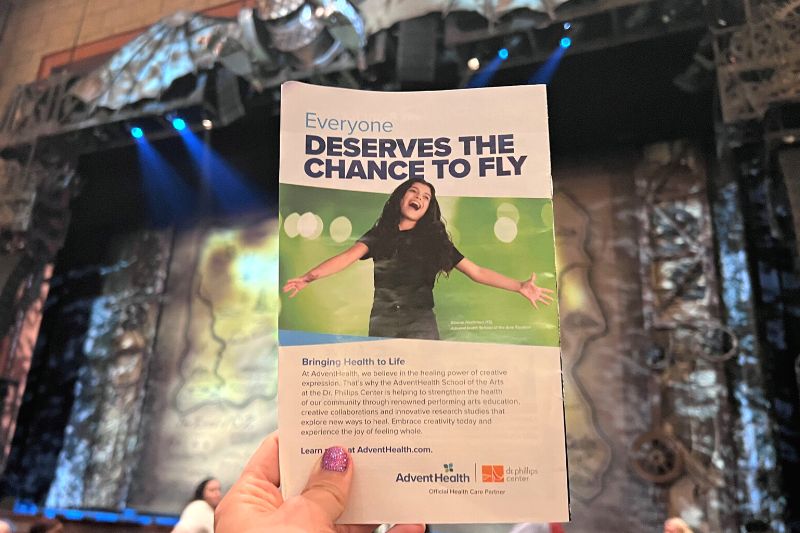 Where is the Dr. Phillips Center for the Performing Arts Located?
Dr. Phillips Center for the Performing Arts
445 S. Magnolia Avenue
Orlando, FL 32801
The Dr. Phillips Center for the Performing Arts is located in the heart of downtown Orlando, directly across from City Hall.
It's easily accessible from both I-4 and the 408, and located within walking distance of several downtown restaurants. The remarkable architecture of the arts center makes it an icon within Downtown Orlando.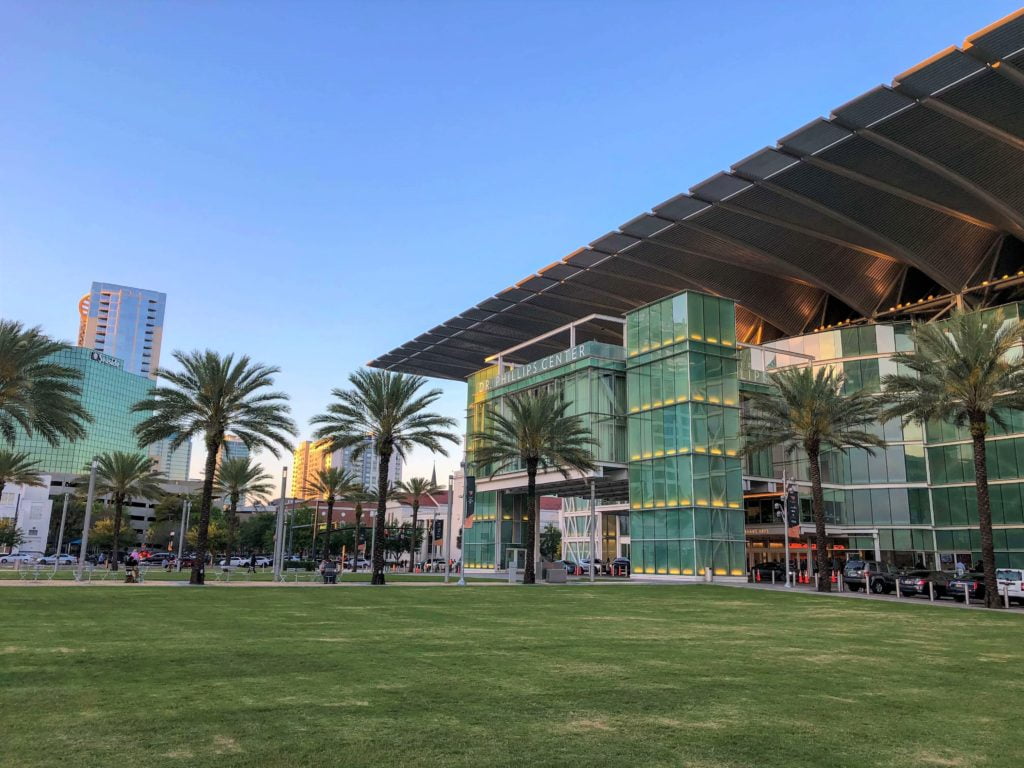 Dr. Phillips Center Snacks
If you don't have time to go out to eat before the show, feel free to grab soft drinks and prepackaged snacks like trail mix, gummi bears, and chocolate-covered pretzels at one of the theater concession kiosks. There is one on every floor, each with the same selection.
Important tip: Plan on arriving about 45 to 60 minutes before the show starts so you're not stressed and don't miss the start of the show. A Broadway in Orlando date night is a special occasion that should not be rushed.
Plus, you can take your drink and snacks into the theater with you! Outside food and beverages are not permitted.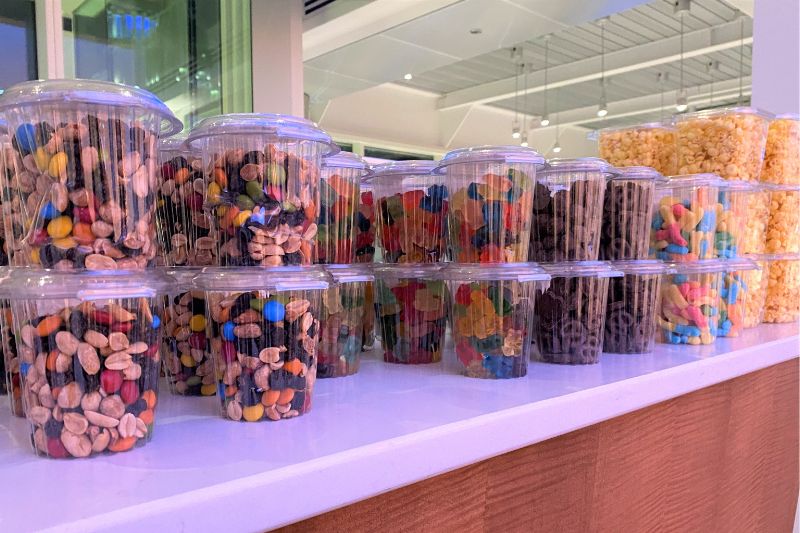 Attending AdventHealth Broadway in Orlando with Kids
Some of the shows in this year's lineup are great for families. Kids will be comfortable thanks to complimentary booster seats.
Just head to the guest services desk on the first floor. You'll need to present an ID as collateral. These complimentary booster seats are cushioned and relatively easy to carry into the Walt Disney Theater for your Broadway show.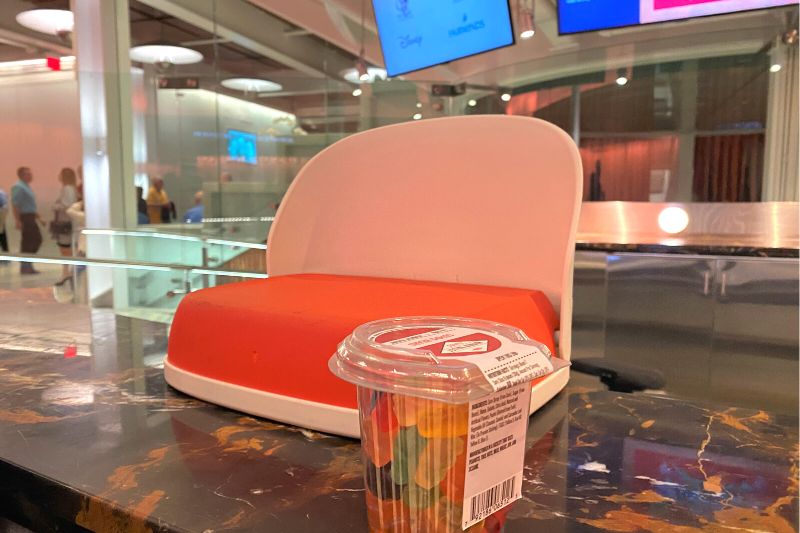 There is also an AdventHealth First Aid station on the first floor should you have any medical needs during your night at the theater. Family restrooms are also available making it more comfortable for families, just ask a staff member for the nearest one.
Dress comfortably and show your young theatergoer around the Dr. Phillips Center before the show begins so they get a little energy out and feel familiar with the space.
Lastly, selecting seats near the end of an aisle may make it easier for your family's Broadway night.