The City Beautiful is full of marvelous places. If you're looking for a truly spectacular place to get engaged in Orlando, there are plenty of possibilities to choose from. Our list of places to propose in Orlando has 10 tried and true locations that are sure to create an unforgettable moment.
It may be cliche but Valentine's Day in Orlando is a popular time to propose. And Orlando's Most Romantic Restaurants are also great places to get engaged.
Once you've gotten your "yes!" it'll be time to plan a bachelor or bachelorette party in Orlando too!
Updated January 2023 by Alayna Curry
Hot Air Balloon
Popping the question–with fire above and the wind in your hair–will be the ultimate romantic adventure. There's no short supply of hot air balloon companies offering customizable experiences in Orlando (we recommend Bob's Balloons and Aerostat Adventures).
Be sure to arrange a flight that includes a champagne brunch afterward.
Alternatively, the Aerophile Balloon at Disney Springs is another perfect proposal spot.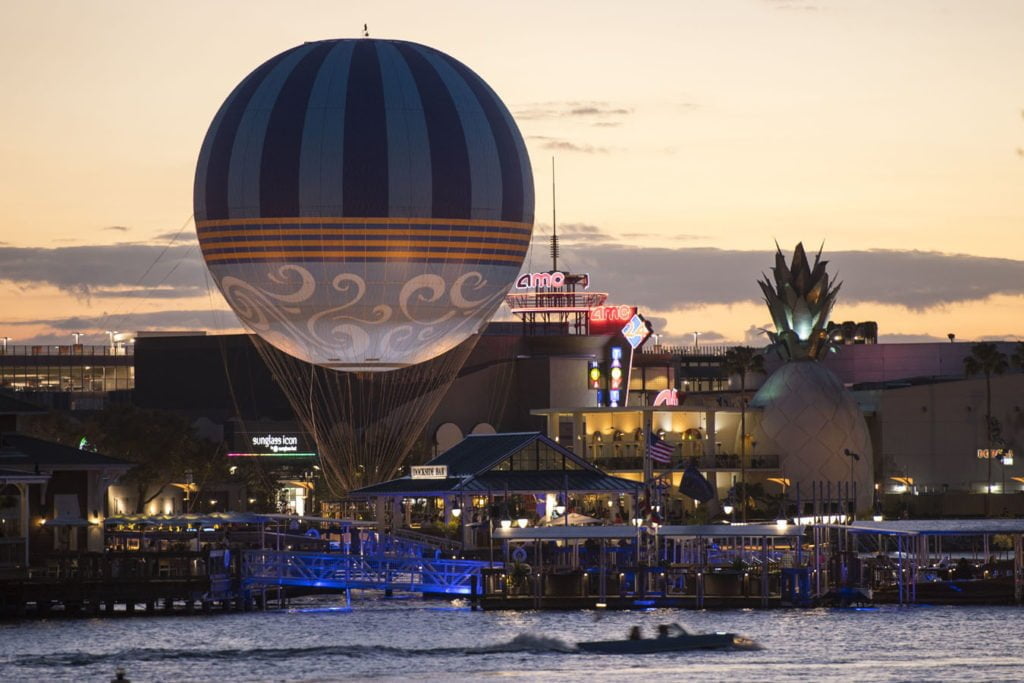 Tiffany Chapel at the Morse Museum
Get engaged in the presence of great artwork. The Morse Museum has one of the world's largest collections of Tiffany glass, including a room that mimics the inside of a Renaissance chapel. It's an elegant setting for a proposal.
Follow up the big moment with a stroll along Park Avenue.
Harry P. Leu Gardens
Leu Gardens is a botanical oasis along the shores of Lake Rowena near downtown Orlando. The gardens cover nearly 50 acres, sprawling outward from the historic Leu House Museum. Make memories beneath the shade of an ancient oak tree, in the butterfly garden or amidst the towering bamboo forest. Not only is this spot unforgettable for saying "Yes" it's also the ultimate place for "I Do's".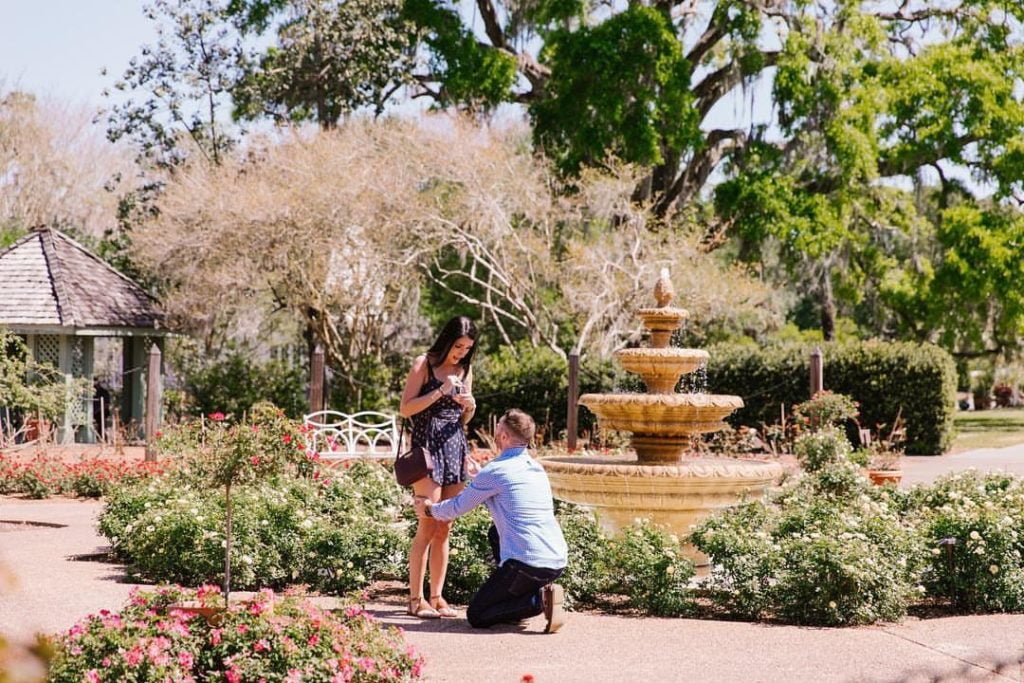 Cinderella Castle
There's no shortage of princes on bended knee here, but that doesn't mean your engagement will be any less special. Book a dinner proposal package at Cinderella's Royal Table and arrange for the ring to appear in a champagne glass, tied to a silk pillow or atop a cake. Or consider a starlit proposal beneath the Magic fireworks in front of the castle.
Alternatively, consider one of the many places where you can see Disney's fireworks outside of the parks.
Lake Eola Park
Hire a swan boat and paddle your way around the lake. Enjoy the picture postcard view of the Orlando skyline. Stay beyond sunset and enjoy the lights of the fountain and music playing throughout the park's 1-mile walking path.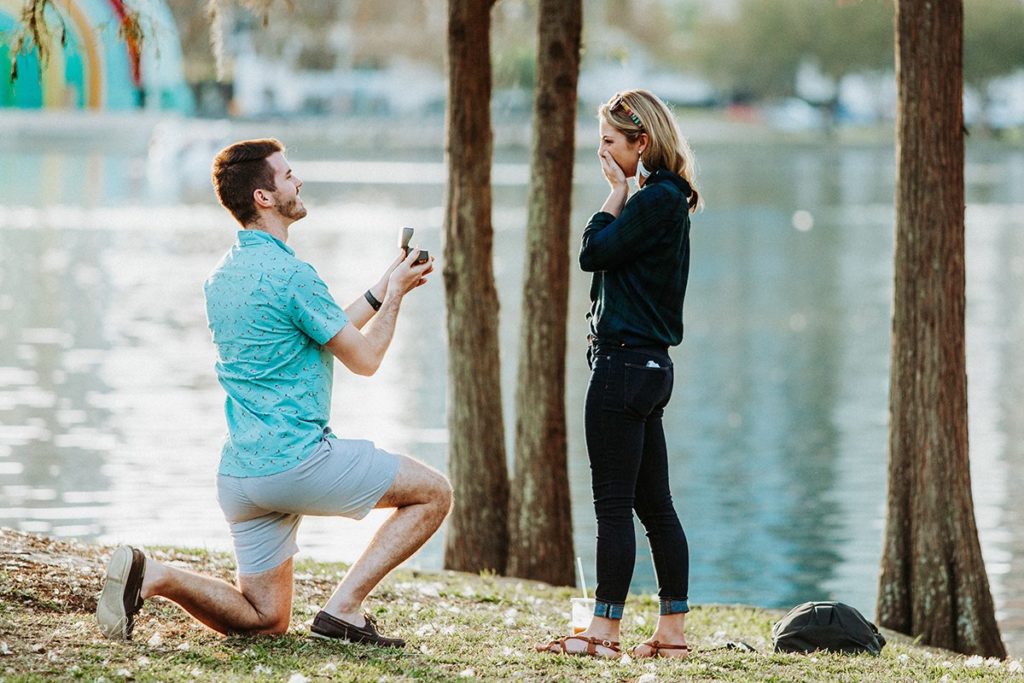 Take your proposal one step further and plan a regular date at the Lake Eola Farmer's Market a couple of weeks before you plan to propose. Or revisit after your proposal. Either way you'll be creating multiple memories at one of Orlando's most iconic locations.
Disney's Boardwalk
Disney's Boardwalk is a promenade of activity. Rent a surrey bike and pedal among the bustle of jugglers, entertainers and food vendors. After the big moment, let it all go. Sing, dance and celebrate at the nearby Atlantic Dance Hall, a hopping night club, or at JellyRolls, which features dueling piano performances.
We love the nostalgic romance of date night at Disney's Boardwalk.
EPCOT's World Showcase
Explore eleven countries around the World Showcase Lagoon. For the well-traveled couple, get engaged in the atmosphere of a country that elicits fond memories. Or, choose something foreign, like under France's Eiffel Tower.
Most pavilions offer a variety of romantic Disney restaurants, from casual to fancy.
One of the best is San Angel Inn in Mexico, a scene of endless twilight and Mayan temples. No matter where you spend your evening, you must stay for EPCOT's fireworks extravaganza.
Discovery Cove
You'll feel like you've been transported to a remote tropical island the moment you step into Discovery Cove. Spend the day lounging in a private cabana, playing with dolphins, and cruising down the lazy river before finding a special place to pop the question.
Only 1,300 guests are admitted per day, so the park never feels crowded.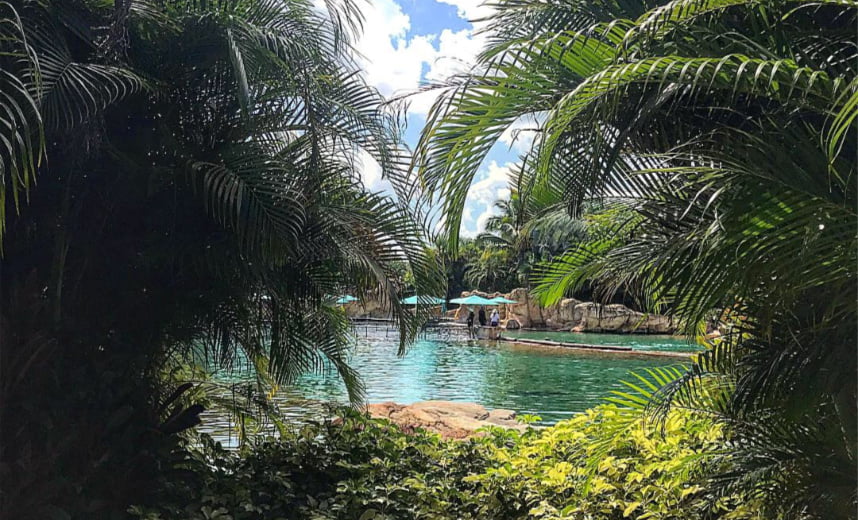 On the Beach
Sure you can drive all the way out to New Smyrna or Cocoa, but you could also pop the question on the shores of Lake Virginia. Not a lot of people are aware of the secluded slice of sand known as Dinky Dock. Located next to Rollins College, this public park is a beautiful spot to get engaged. You might even join one of the paddleboard tours that departs from the beach and get engaged on the water. Just be sure not to lose that ring!
Table-Side with Sunset Views
If getting down on one knee as the sun sets sounds like a good idea, then you're in luck. There are many Orlando restaurants offering patios and outdoor spaces with views of the sunset. See the full list of 10 Best Places to Dine with Sunset Views in Orlando.
ALSO TRY:
Need more inspiration? Here are 10 Amazing Orlando Wedding Proposals We Love.