Orlando is home to a symphony of unique cuisines and talented chefs. With so many options to choose from, you'll be hangry by the time you read through all the online menus. Burgers are always a safe bet for the perfect indulgence. Where can you find the best burgers in Orlando? Want a good old-fashioned classic, with beef patties and classic American cheese? Or how about the rich flavors of truffle mushrooms or bleu cheese?
Look no further! Here's a breakdown of Orlando's best burger joints, from classics to gourmet and other noteworthy burgers in between.
Updated March 2022 by Ashley R (@floridahopmama)  
Classic Burgers in Orlando
Take a look at these places for some customary classic burgers. If you're looking for casual, but still great for date night, here's where to head for the best burgers in Orlando.
Whether you visit their Winter Park location, or Sanford inside Tuffy's Bottle Shop, Swine and Sons has a few burger options and there's absolutely no doubt you'll be back for more of their scratch kitchen specialties. Grab the OK Onion Smash, a double cheeseburger with grass fed beef patties, onions, American cheese, and pickles. If you're looking for a burger with a little kick, opt for the Southern Smash, made with pimento cheese, candied collard greens, and some special sauce. They also have the Simple Man Smash with lettuce shreds, tomatoes, cheddar, and pickles. All these options are served between some hot, buttered buns.
Let's not forget the fries! Swine and Sons serves up seasoned curly fries as a side dish, the perfect pairing to your main meal.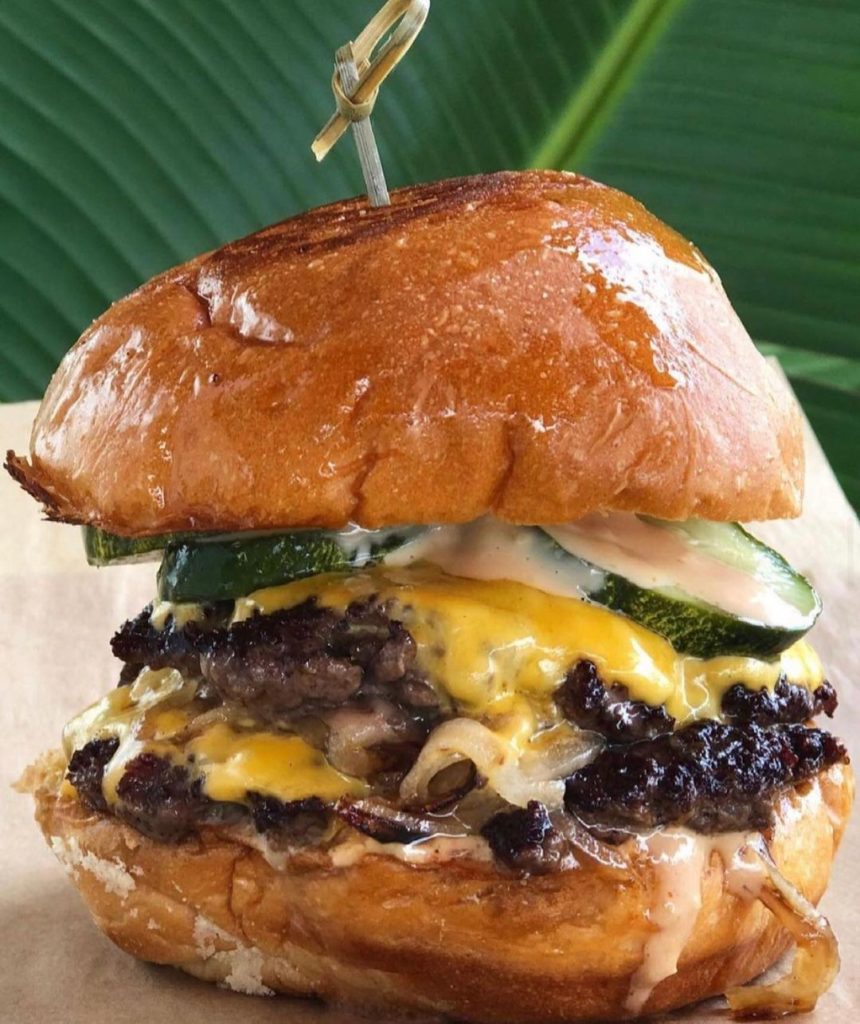 This laid-back hangout spot is on the corner of Michigan and Fern Creek, tucked away in South Orlando. Here, you'll find all the classics: the mushroom and swiss, a juicy hangover burger topped with a fried egg on French toast, and even a spicy cheddar jalapeno burger with bacon. You can also get a mini burger with toppings of your choice.
An icon of Winter Park, The Ravenous Pig is a gorgeous dine-in restaurant, but just around the corner out back you'll find a bountiful beer garden with solid options for food–one of them being a classic pub burger. This burger has bleu cheese and caramelized onions atop a thick, juicy patty and is accompanied by some crispy truffle fries. Yum!
Formerly Mason Jar Provisions, The Hen & Hog serves up an array of different sandwiches, salads, burgers, and brunch. Try the traditional butter burger or one of their unique "smash burgers" like the Nacho Burger – a burger stuffed with nacho cheese and Doritos.
Head to South Downtown Orlando for a variety of great burgers at Vanbarry's Public House. The Bacon-Jam Burger is the perfect balance between classic and gourmet. Check out their menu for the full line-up. Want to do some good together while on your date? Ask about their monthly Good Burger. Each month a different charity is selected to build a burger with a variety of toppings. Proceeds from the sale of the Good Burger during the month are donated to the selected charity.
Prefer to be plant-based? Plant-Based Restaurants to Support Your Health Goals
If this isn't setting off your radar for a quest to find a juicy burger, perhaps it'll kick up a notch. Keep reading for some of Orlando's gourmet burgers!
Gourmet Burgers in Orlando
Not a fan of traditional burgers? No worries. Orlando has plenty of places that will tantalize your taste buds with elevated flavor and flair.
This hidden gem is a build-your-own experience. Your imagination will run wild by looking at the selections for meat, sauces, toppings, and more! First, you'll choose your protein. You can pick from bison, turkey, tuna steak, salmon, spicy Italian sausage, short rib, grilled chicken, or the Impossible Burger. After that, you'll want to pick your bread and greens: pretzel bun, brioche, Texas Toast, lettuce wrap, and they even have a gluten free option. Traditional toppings are offered, as well as peppers, olives, cucumbers, and hummus.
Elevate your burger with a sriracha or bourbon glaze or even some pesto. Finally, make a selection for cheese and add-ons, like mushrooms, fried onion straws, pork rinds, bourbon bacon jam, or even beets. There's an opportunity for some adventurous flavors here, so you'll have to check it out.
The Hangry Bison is also home to the Haymaker Food Fight, a challenge suited only for the biggest of appetites. The Haymaker Food Fight consists of a triple patty bison burger, short rib burger, and Italian sausage between two grilled cheese sandwiches smeared with bacon jam and topped with fried onion straws, bacon, jalapenos, pepper jack cheese, and bourbon sauce. If that's not enough for you already, they also serve this bad boy with fries!
Burgers so good, you can find them in two locations: Maitland and Orlando. An ultimate burger menu resides at this neighborhood grill and just one look will make your friends with adventurous palates elated to dig in. Teak has an extensive burger menu with bountiful options that, no joke, will impress burger aficionados from all over. Additionally, there's a menu option that is so secret, you'll need a password to order it. From glazed donuts to flaming hot, ghost pepper and sriracha, your mind will be spinning as you try to decide what to get.
Some notable burgers on the menu are the Cronie Burger (made with a cinnamon sugar cronut and an egg) the Jack Knife (a burger smothered in Jack Daniels Hollandaise sauce topped with bacon), and the Dirty Bird (a turkey patty with guacamole, chipotle mayo, salsa, and provolone cheese).
This burger joint also hosts a challenge for some of the competitive folks out there: the Teak Challenge. This monstrosity is composed of two pounds of beef, nine slices of American cheese, nine slices of Swiss cheese, nine slices of provolone cheese, 24 slices of bacon, two fried mozzarella rounds, four beer-battered onion rings, tomatoes, lettuce, and smothered in Teak's house-made chili, cheese sauce, and jalapenos.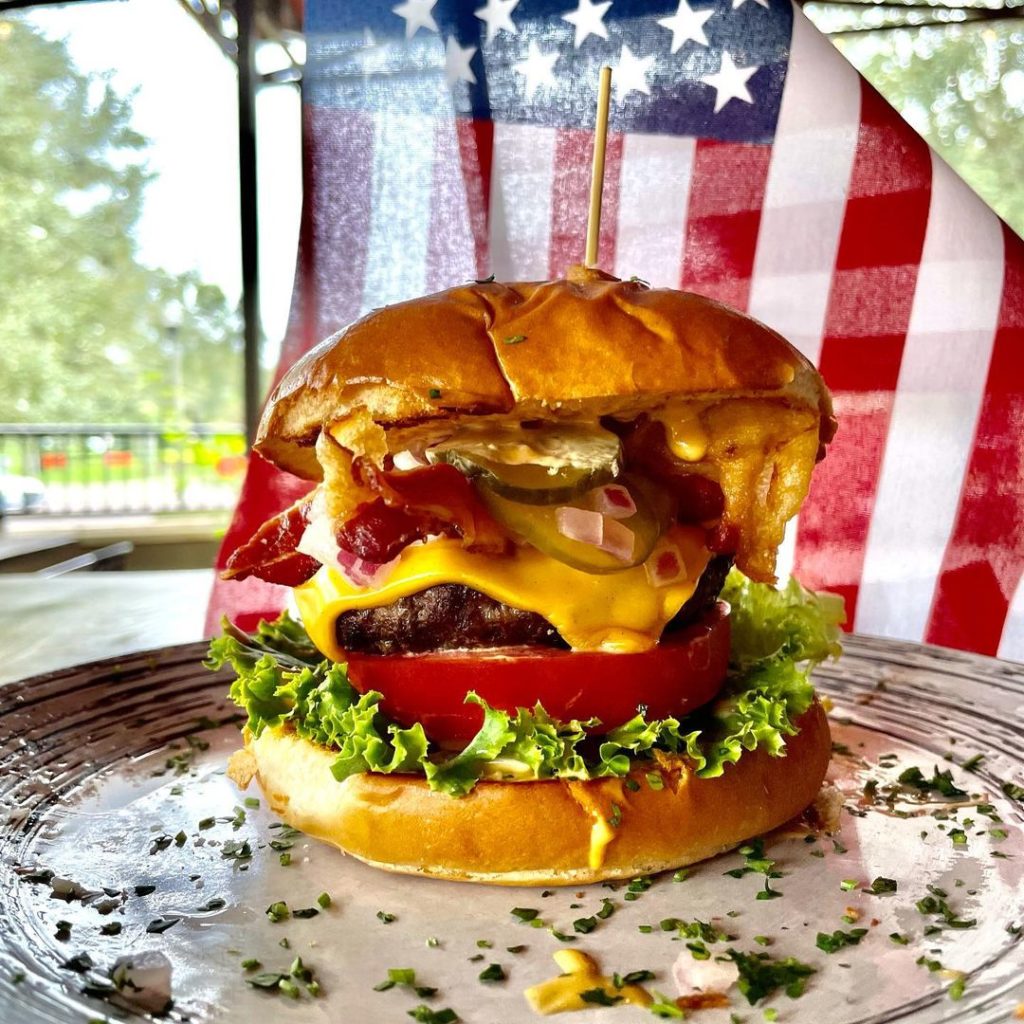 Head to Lake Mary for a gourmet burger that only a steakhouse powerhouse could provide. Shula's is known for distinguished steakhouses, and the 347 Grill brings the expected quality to a more approachable experience. Although it is located at the Westin Lake Mary, everyone and anyone is welcome to enjoy their gourmet burgers, steaks, salads, and so much more.
For a gourmet burger without a gourmet price tag, Twisted Root Burger in Winter Park is a great choice for date night. Throughout the year your gourmet burger can become even more unique with game options like bison, venison, and more. The Gosh Jam It! Burger is fun to say, and comes with herbed goat cheese, tomato-bacon-onion jam, and chipotle sauce. Wash down your delectable burger with a cocktail, cold beer, or gourmet milkshake.
Just in time for the 50th Anniversary of Walt Disney World, Steakhouse 71 opened at Disney's Contemporary Resort. Disney fans instantly fell in love with the retro Walt Disney World decor, as well as the Steakhouse 72 burger. It is being hailed as the best burger on Disney property!
Best burger on Disney property, you say? Well, Raglan Road's OMG Burger would like a word. This dry-aged prime rib and brisket burger is topped with Irish bacon, Dubliner Irish cheddar cheese, crispy potato straws, and Jameson Irish Whiskey BBQ Sauce. If that doesn't sound date night worthy enough, don't overlook the live music and live Irish dancers that take to the stage every day.
Featured image "OMG Burger" from Raglan Road
What do you get when you combine a great sushi restaurant with a great burger joint? You get The Cowfish! For a fun date night head to Universal Orlando's CityWalk and check out the wide variety of gourmet burgers, as well as plenty of sushi options, for the ultimate surf and turf experience.
Related: Best Universal Orlando Restaurants for Date Night
Other Great Burgers in Orlando
The fun (and appetites) shall not stop here–Orlando has even more burger restaurants worth mentioning.
Overall, the burger joints in Orlando are outstanding. The comfort of a traditional cheeseburger is a satisfying and fun way to enjoy a meal together. The endless possibilities of flavor combinations and inviting atmospheres will delight you.
Road trip idea – Grab a farm-fresh burger with A Date Day at Keel Farms in Plant City
For more yummy eats, scope out Taco Spots in Orlando and our Local's Favorite Places for Pizza.