It's Saturday morning and you're adding a touch of zen to your routine, flowing through a peaceful outdoor yoga class. Feeling tranquil in tabletop pose, you suddenly feel a jolt as four little hooves take up residence on your back. Welcome to goat yoga.
One of the latest crazes in the yoga world, goat yoga is your chance to de-stress amongst a horde of adorable goats. Goats are curious and love interacting with people, as evidenced by their tendency to hop straight onto your back or snuggle up on your mat for a nap. Besides the mind-calming and body-strengthening benefits of yoga, you'll get an extra dose of animal therapy.
Lucky for us, there are a handful of places to practice goat yoga in Central Florida. Stretching from Sanford to Sarasota, here are our top picks.
Mini Goat Yoga at Oak Aged Farm – Saint Cloud
When: Select Saturdays – see website for details
Where: Oak Aged Farm, 2365 Absher Road, Saint Cloud, FL
Cost: TBD
Yoga mat needed: Yes
Oak Aged Farm offers one of the cutest goat yoga experiences around. Their Mini Goat Yoga includes 10 minutes of stretching followed by 35 minutes of beginner yoga accompanied by their Nigerian Dwarf residents from the farm. After the class is over, you'll have an extra 15 minutes to take pics and snuggle with the remaining goats on the farm. Yoga mats are available to rent and goat food is available for purchase. Want more cuteness? You can also book a baby goat bottle feeding session.
Baby Goat Yoga at Wildflower Farms – Orlando
When: Select weekdays and weekends (see website for details)
Where: Wildflower Farms, 2218 Carrington Drive, Orlando, FL 32807
Cost: $23.50/class
Yoga mat needed: Yes
Yoga sessions at Wildflower Farms will be held in their pasture accompanied by adorable baby goats. Before or after the session, you can help bottle feed them too! Feel free to take selfies and squeeze in some goat snuggles.
Goat Yoga at Patty's Parrot Palance – DeLand
When: Sundays at 10am
Where: Patty's Parrot Palace, 1065 S. Beresford Rd., DeLand, FL 32720
Cost: $30/class
Yoga mat needed: Yes
At this family-owned farm, enjoy the fresh air outdoors as you get to do yoga with friendly goats! Proceeds go towards Patty's Parrot Palace, a nonprofit organization that rescues and rehabilitates exotic and tropical birds. Classes are 90 minutes and held on Sundays. They also offer group classes for birthday celebrations, family reunions, work parties, bachelorette parties, and more!
Grady Goat Yoga Tampa Bay – Thonotosassa
When: Saturdays and Sundays at 10am
Where: Hat Trick Ranch, 12551 Franklin Road, Thonotosassa
Cost: $39/person
Yoga mat needed: Yes
The goat yoga experience at Grady Goat is best described as delightful, hilarious chaos. There are no words for the moment the goats are released into the fenced-in area where class takes place. As the gate is opened, a herd of playful goats gallop out, dispersing through the crowd. There's an instant eruption of laughter, Instagram photoshoots, and a palpable sense of happiness. Goats jump on your back, nibble on your hair, jump from your back to your neighbor's back and more. If you want to partake in a goat yoga class that doesn't take itself too seriously, this is your ticket. Expect 95% goat love and 5% yoga. Afterwards, stick around for lunch and craft beer at Two Henry's Brewing/Keel and Curley Winery nearby.
Bonus: Attending this class benefits the Grady Goat Foundation, a non-profit that supports children facing physical, mental, or economic adversity.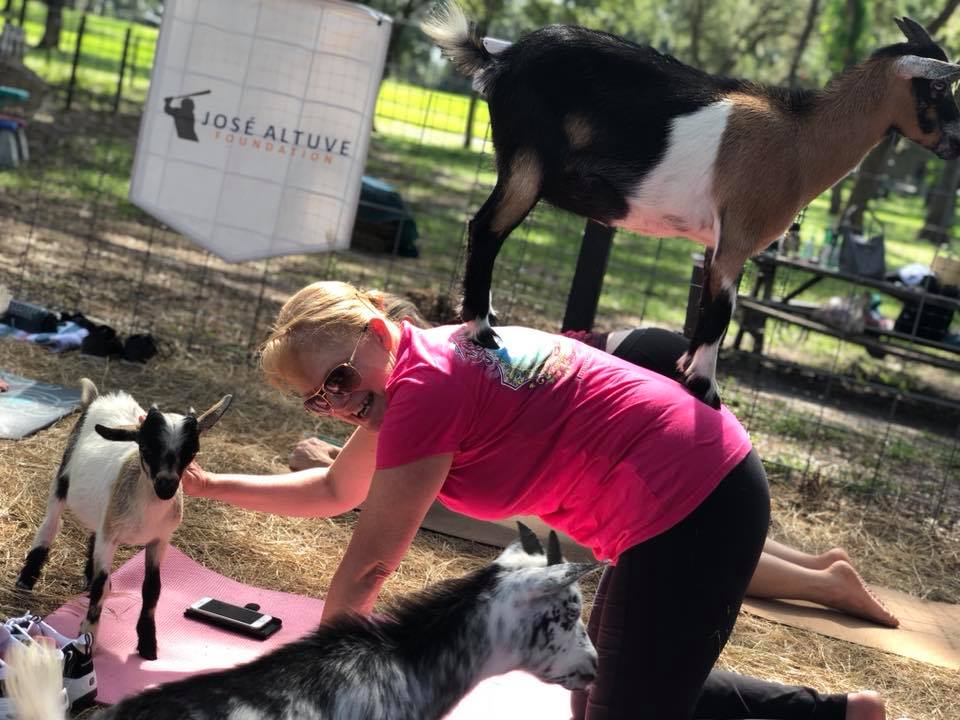 Goat Yoga SRQ – Sarasota
When: Select Saturdays (classes resume in the fall)
Where: Fruitville Grove, 7410 Fruitville Road, Sarasota
Cost: $30-$40 per person
Yoga mat needed: Yes
You'll want to namaste all day at this peaceful farm market in Sarasota, which hosts weekly goat yoga classes. Friendly and inquisitive goats roam about as you perfect your poses in the shady, fenced-in goat yoga area. Classes resume in the fall.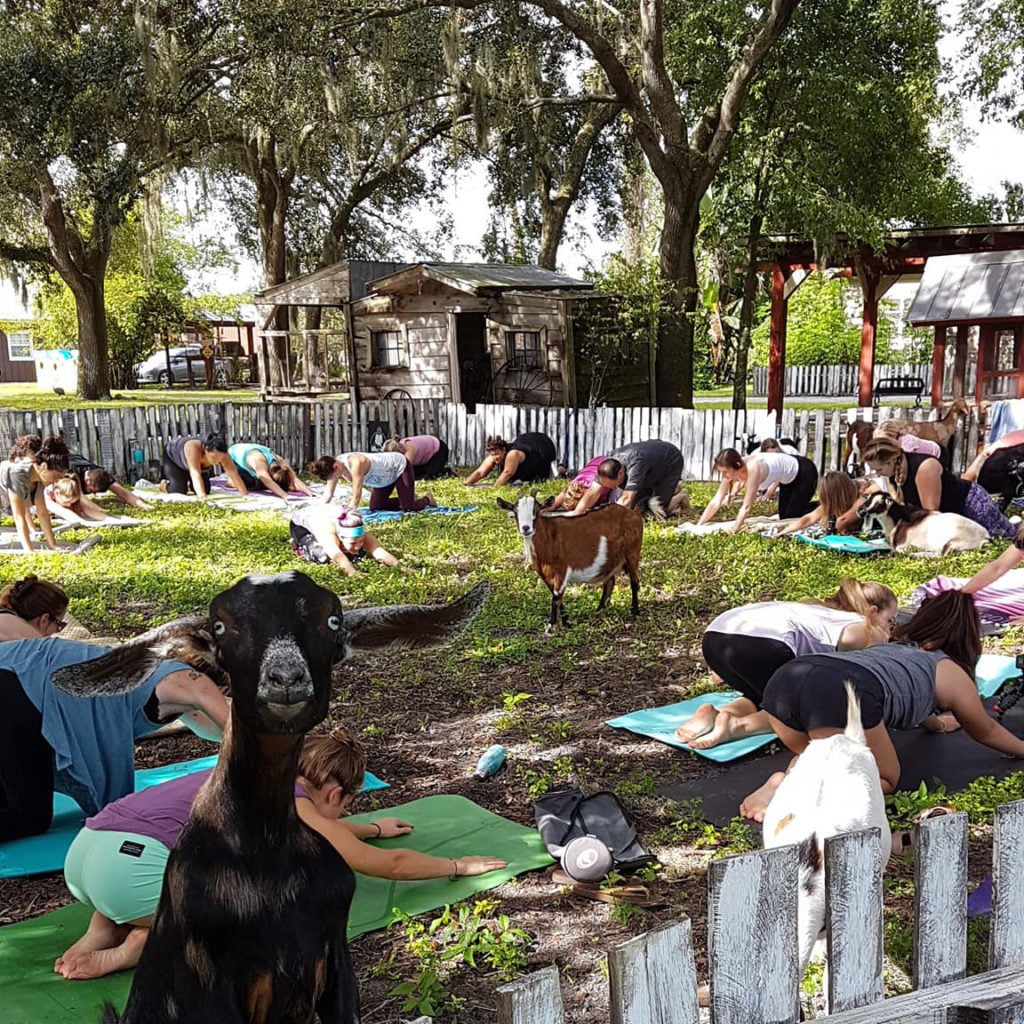 ALSO TRY:
The Lazy H – Eustis. Check out their Baby Goat Yoga!
THE ELEPHANT IN THE ROOM…
Yes, you should expect the goats to do their "business" throughout class. It may even happen on you or on your mat (so don't bring your fanciest yoga mat). But, in my experience, it's cleaned up before you even have time to realize it happened. If the thought makes you squeamish, you might want to skip goat yoga.
More places to do animal yoga
Peaceful Peacock Orlando
Head to this zen yoga studio in the Hourglass District for quarterly yoga classes with puppies, kittens and exotic rescue animals. Keep up with their Facebook page for upcoming events.
Firefly Yoga Company
This Ocoee-based studio is hosting quarterly bunny yoga. Yep, you read that right. Watch their Facebook page for upcoming events to be announced.
Orlando Cat Café
Partake in a one-hour yoga class while mingling with adoptable cats and kittens. Class is followed by plenty of time to interact with the cats and hang out in the kitten tent. Classes are offered on the 2nd and 4th Saturday of each month and the cost is $20.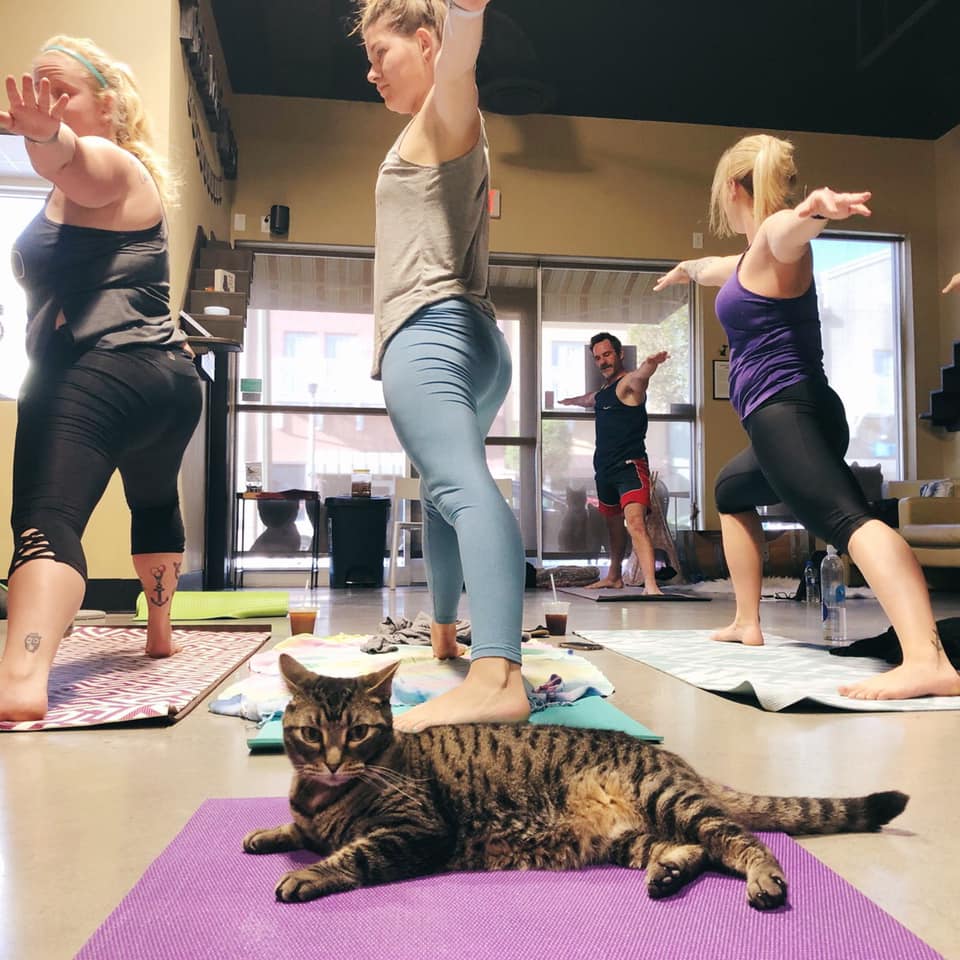 Disclosure: Wild Florida is one of our valued advertising partners.