The 2023 International Food and Wine Festival at EPCOT dates are July 27, 2023 all the way to November 18, 2023!  That's nearly four months of your chance to eat and drink your way around the world. To make the most of your Disney dollars, you'll want to avoid some common mistakes.
Appetizer-sized food samples, wine tastings, beer flights, and specialty cocktails await! Plus there are concerts, a scavenger hunt, special festival merchandise and more.
Here's our strategy to conquer the 2023 Food and Wine Festival at EPCOT.
Make a park pass reservation
Plan your meals, snacks, and drinks
Set a budget
Go on a weekday
Bring a tray
View the concert schedule ahead of time
Bring a refillable water bottle to stay hydrated
Take breaks and slow down
When to visit EPCOT…
Before you do anything, you've got to make a park pass reservation. You can't go inside a Walt Disney World theme park without a park pass reservation. Sadly this is a common mistake people make and show up at the gate without one. You will not be let into EPCOT, or any Disney theme park, without booking a park pass reservation.
This is changing soon, but for now, that's the way it is. Annual passholders can enter after 2pm without a park pass reservation.
Weekends are very crowded and busy during the EPCOT Food and Wine Festival 2023, so try to go on a weekday if you can, or even just in the evening on a weekday.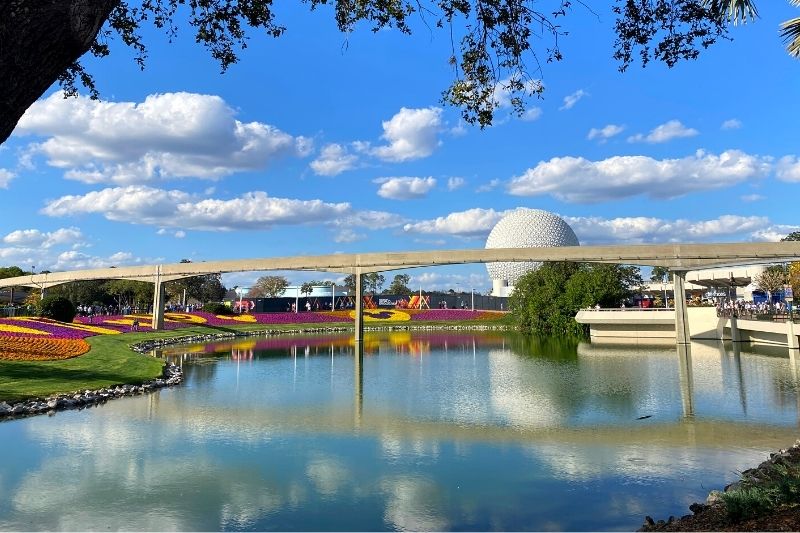 Plan your 2023 Food and Wine Festival Eats and Drinks
Since the festival just kicked off we'll be visiting the festival a few times to make sure we don't miss any key eats and drinks. But the good news is many of our favorites from last year are returning, and we've previewed some of the new items too!
You can browse the 2023 Food and Wine Festival Menu here.
A common mistake couples make is just showing up without a plan on what they're going to order. This leads to overspending and sometimes ordering a few things that don't really satisfy.
To help you plan, here are our Favorite 15 Eats and Drinks at EPCOT Food and Wine Festival 2023. We selected these items based on them being sharable and fun for couples.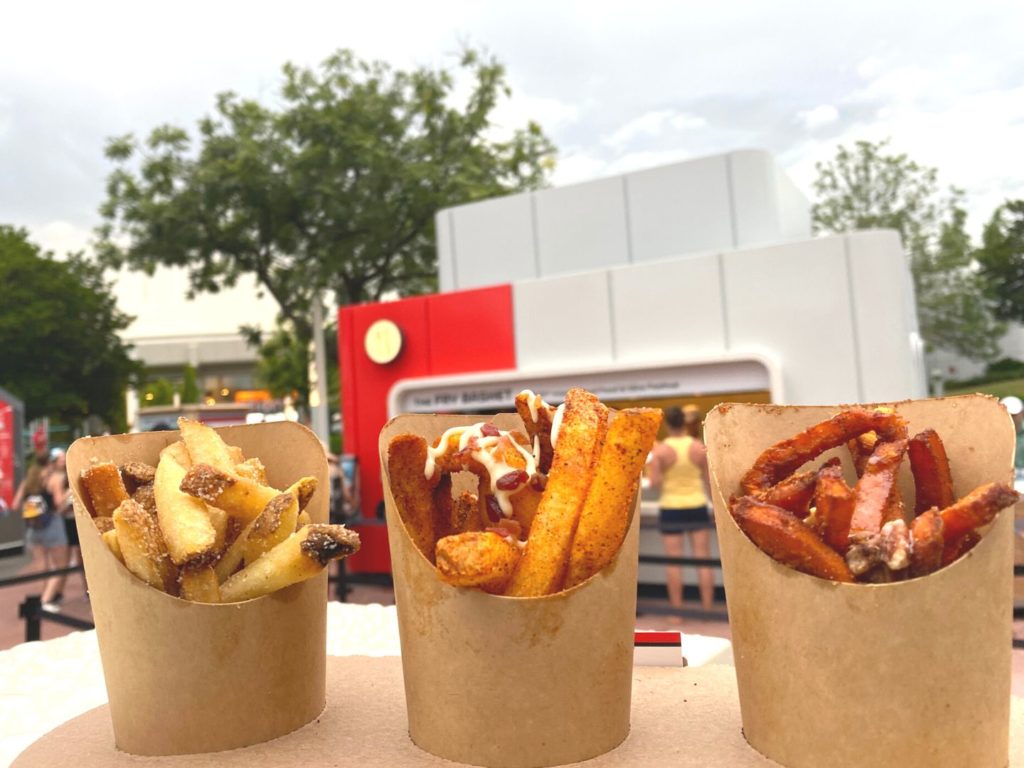 The Fry Basket near Test Track has 3 gourmet french fry baskets that come as a flight.
We'll be visiting the 2023 Food and Wine Festival many times throughout its duration.
Set a 2023 Food and Wine Festival Budget
The amount of things to eat and drink at the 2023 Food and Wine Festival is quite overwhelming. It would be impossible to try it all, and it will quickly add up.
Do not make the mistake of just going for it. Instead, plan ahead and determined a rough budget of what you will allow yourself to spend. $50 per person is about the bare minimum you can get away with, while $75 per person is about average.
If you're going to want to enjoy some beer, wine, or cocktails to go with those delicious eats then you may be looking at closer to $125 per person.
Food samples range from $5 – $10 on average, per plate
Wine samples range from $7 – $10
Beer samples range from $6 – $9
Cocktails and specialty drinks $9 – $13
Sharing is caring – When you stop at a Food and Wine Festival Booth decide if you really need to order each item, or are there 1-2 stand-out items you'd be willing to share together. You'll save some money, and save some room for the rest of the festival.
Besides, half the fun of the 2023 EPCOT Food and Wine Festival is the social aspect. And when you split and share items you can have fun discussing what you love, or not, about each item.
Pro-tip: If you go as a group, bring a tray. Tables can be hard to come by so a tray can help you carry all the items you ordered. And, if you can't find a table the tray will make it easy to eat off of as you crowd around whatever surface you can find.
View the 2023 Food and Wine Festival Menus. And, check out our Favorite 15 Eats and Drinks at EPCOT Food and Wine Festival 2023.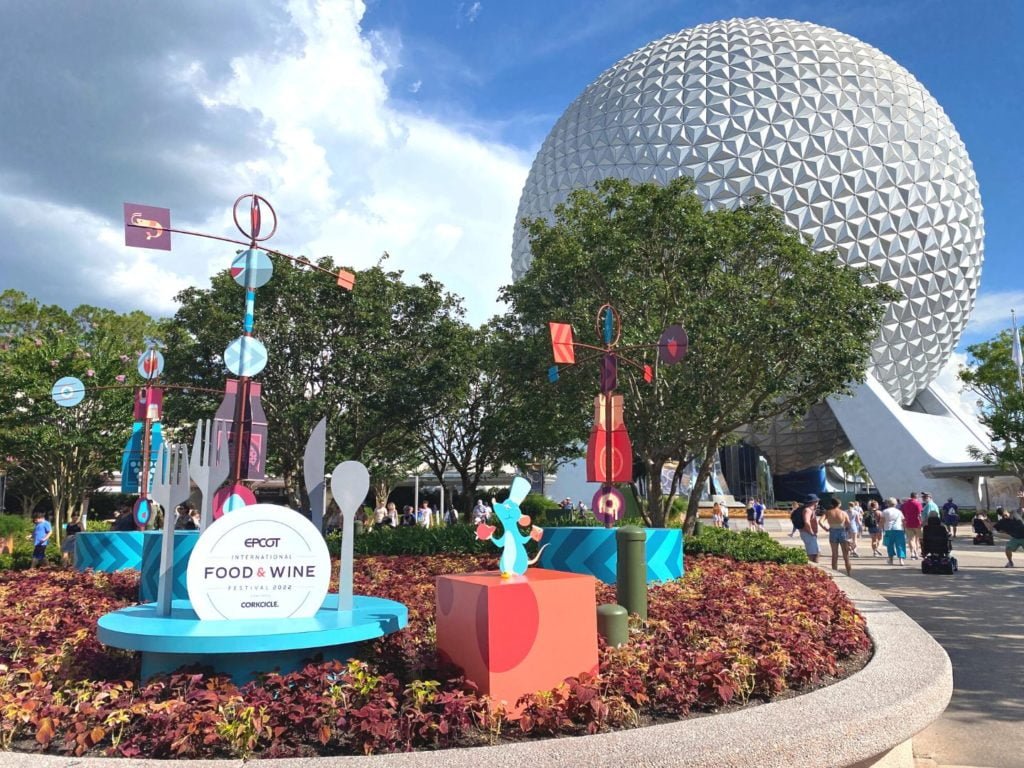 Eat to the Beat Concert Schedule
To complement all of these gastronomical delights, EPCOT also features the "Eat to the Beat" concert series with a lineup of classic rock and more. Some performers may not be ones that you feel are worth grabbing a seat for, so be sure to view the Eat to the Beat concert schedule.
The bigger names are saved for the busier nights and weekends.
July 28-29 – Orianthi (NEW)
July 30-31 – FOR KING + COUNTRY (NEW)
Aug. 4-5 – Southern Avenue
Aug. 6-7 – Tiffany
Aug. 11-12 – Ruben Studdard with Haley Reinhart
Aug. 13-14 – The Bacon Brothers (NEW)
Aug. 18-21 – Joey Fatone & Friends
Aug. 25-26 – Ayron Jones (NEW)
Aug. 27-28 – Phillip Phillips (NEW)
Sept. 1-2 – Baha Men
Sept. 3-4 – MercyMe
Sept. 8-9 – Ray Parker Jr.
Sept. 10-11 – TobyMac
Sept. 15 – Monsieur Periné
Sept. 16-17 – Raul Acosta and Oro Solido
Sept. 17-18 – Bacilos – NEW!
Sept. 22-23 – Los Amigos Invisibles
Sept. 24-25 – 98 °
Sept. 29 – Oct. 2 – Boyz II Men
Oct. 6-7 – Mark Wills
Oct. 8-9 – Sugar Ray
Oct. 13-14 – Hoobastank
Oct. 15-16 – Air Supply
Oct. 20-21 – Taylor Dayne
Oct. 22-23 – Billy Ocean
Oct. 27-30 – Hanson
Nov. 3-4 – We The Kings (NEW)
Nov. 5-6 – Sheila E.
Nov. 10-11 – Big Bad Voodoo Daddy
Nov. 12-13 – 38 Special
More tips…
Stick around for the EPCOT fireworks show that explodes over World Showcase Lagoon each evening. It's incredible. Or, you can plan a date night by viewing Disney fireworks outside of the parks.
Most important of all, hydrate! The EPCOT Food and Wine Festival 2023 starts in July when it is super hot and humid. Please take care of your health and safety by hydrating a lot. Bring a refillable water bottle. You can get free water at any Disney quick service restaurant and there is a water bottle refill station near the center of the park, at the World Showcase rose garden restrooms.
It is going to be super busy this year, so pack your patience and take lots of breaks.
Feature image provided by Walt Disney World
Updated July 2023 by Dani Meyering