The only thing that could sweeten a date with your honey more is to end it with a delectable dessert. These final course options are so spectacular they can make even the most simple date seem special and extraordinary. Splurge on one of these over-the-top desserts in Orlando and end your date on a sweet note.
Updated July 2023 by Dani Meyering
Ice Cream Desserts in Orlando
This Winter Park tea bar highlights deconstructed Thai dishes to enjoy with a lengthy list of teas that are pleasing to the eye and belly. While the name may not suggest decadent desserts, digging into one of the Baked Butter Toast delicacies will prove otherwise.
Dive into the Sleeping Beauty Brick Toast consisting of organic honey, Nutella, banana, and vanilla ice cream. For the matcha fans there's the CHA-CHA Butter Toast with honey, green tea pocky candy topped with matcha ice cream. Either way, your sugar craving will be satisfied.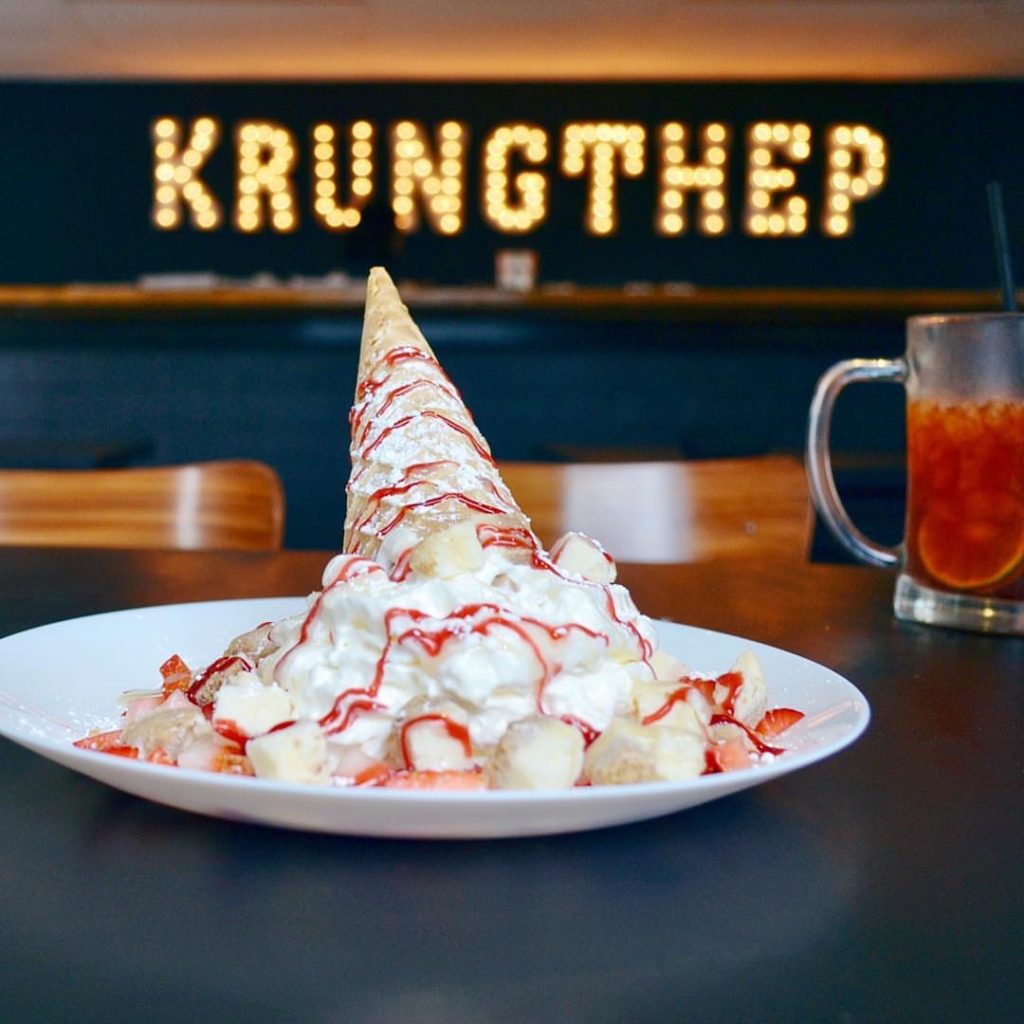 Thrust yourself into the Toothsome Family heritage at Toothsome Chocolate Emporium in Universal Orlando CityWalk. This bazaar of sugary confections offers anything your heart could desire. Their grandiose milkshakes are served in large mason jar-like containers. Toppings include crushed candies, brownies, and even whole cupcakes.
Red Velvet, Marshmallow Crisp, Key Lime Pie, and Chocolate x 5 are just a few of the different flavors to choose from.
Tip – Keep an eye out for seasonal flavors and a few dairy-free options too.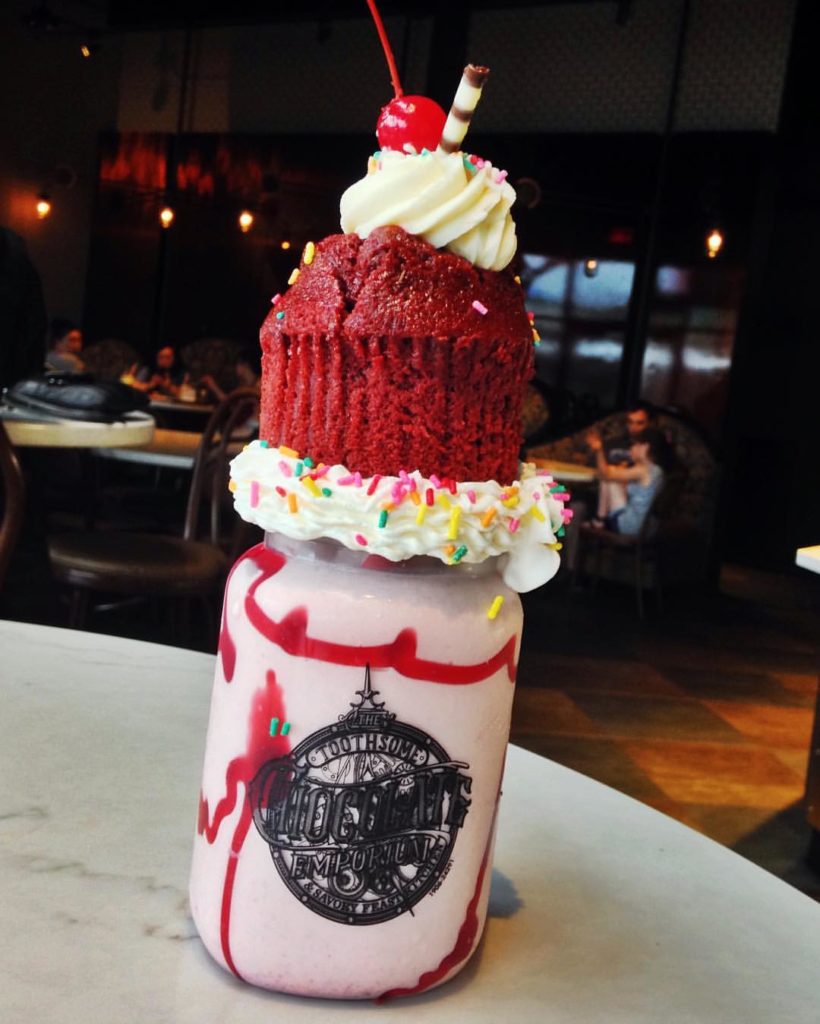 Located in Ivanhoe Village, this sweet spot is a sure way to heat up the evening with sex appeal. With the sultry photos displayed on the walls, chic chandeliers, and mostly private dining tables, you can nestle close to your heartthrob and nibble your way through dessert clandestinely.
Arouse your taste buds with menu items such as The Fever, Fork-You Fondue, Peanut Butter Perversion, Tongue Bath Truffle, or Cookie Nookie Pie. And you can't forget your glass of wine rimmed in chocolate.
Any one of these desserts is sure to be a happy ending to your tryst. Since the venue is cozy, reservations are recommended, especially on weekends.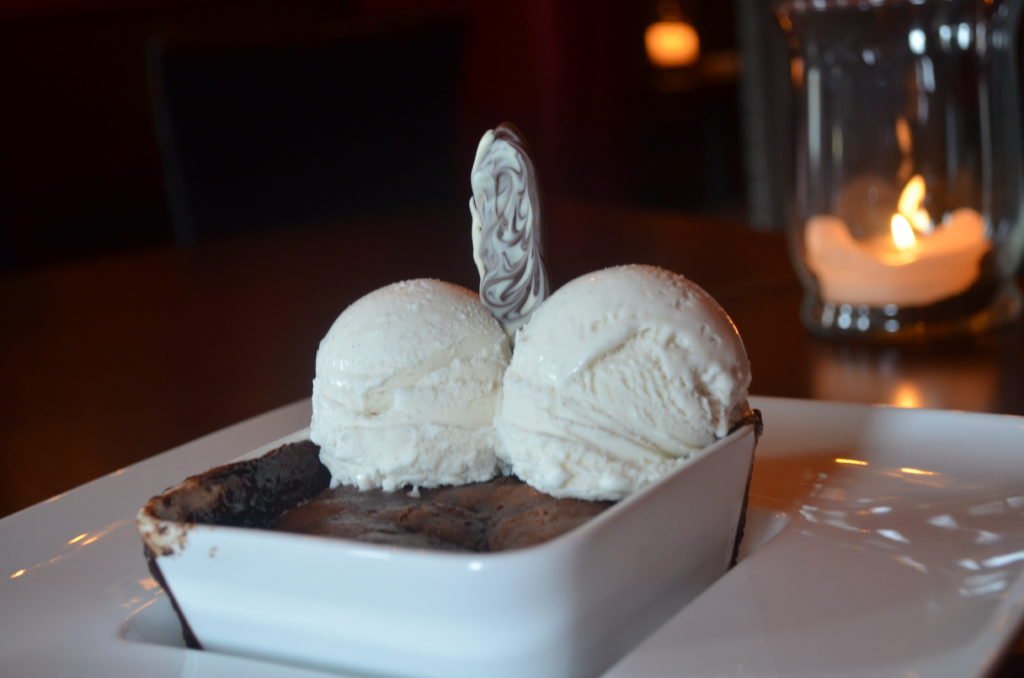 Planet Hollywood Observatory is a fun spot at Disney Springs. The atmosphere is reason enough to visit (who doesn't love it when the entire restaurant spontaneously and simultaneously breaks into song?!) but the desserts are the icing on the cake.
The Cosmic Cotton Candy milkshake is an out-of-this-world concoction adorned with candy, cotton candy, and a lollipop.Try one of the out-of-this-world Star Jars or marvel at the Planet Meltdown as a chocolate sphere is melted tableside by hot chocolate sauce to expose a double chocolate fudge cake.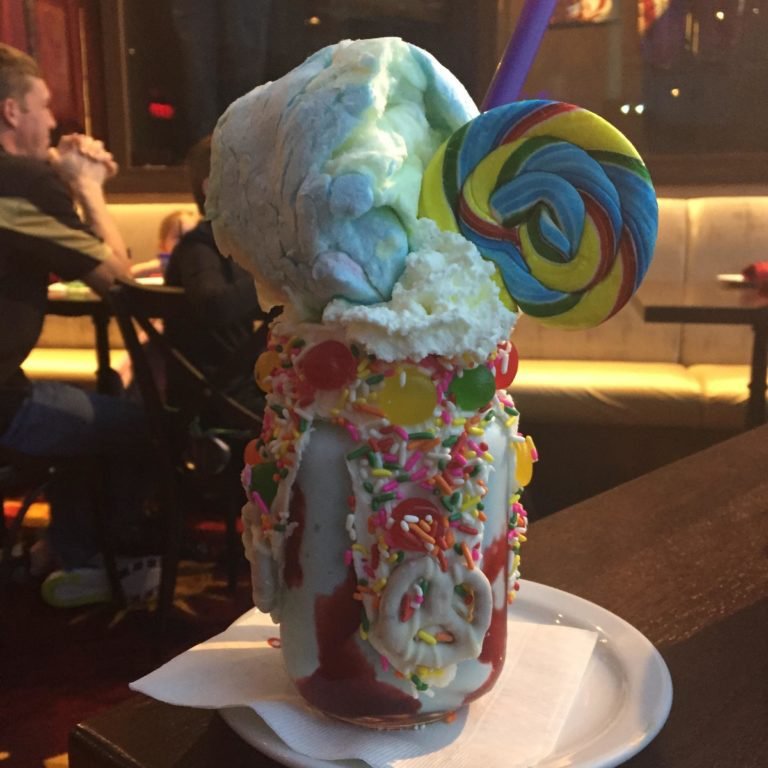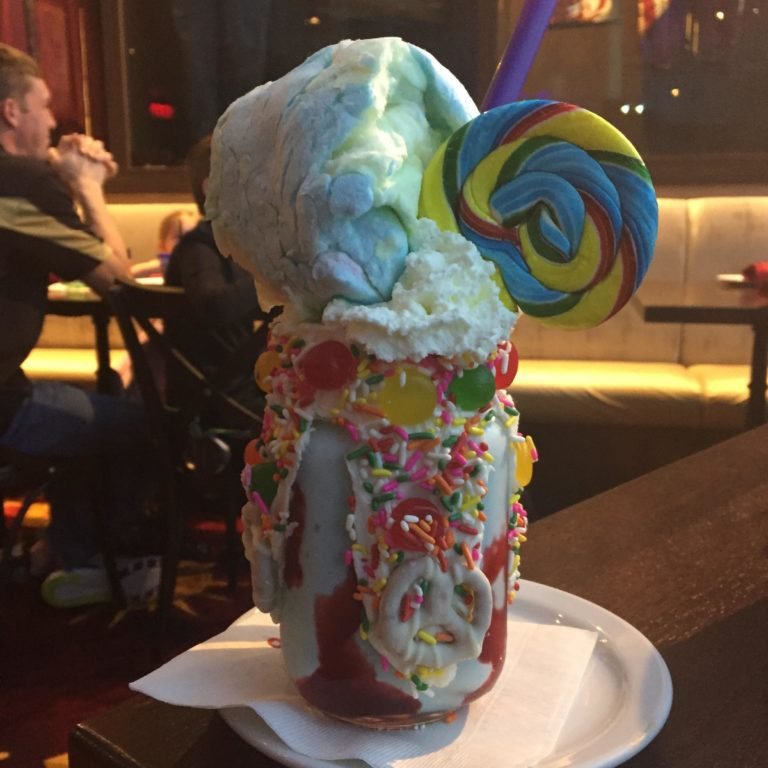 Related: Our favorite spots for Happy Hour in Disney Springs
A stop at this All-American store's rooftop beverage bar at Disney Springs is a fun way to cool down on a hot day. You and your honey will enjoy sharing sixteen Coca-Cola beverages from around the world, each with one scoop of vanilla ice cream. At around $10 per tray, this is an affordable option to spend time out while curbing those sweet cravings.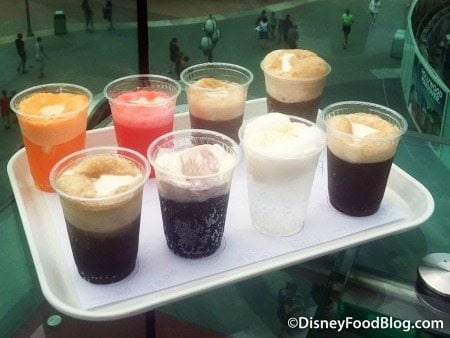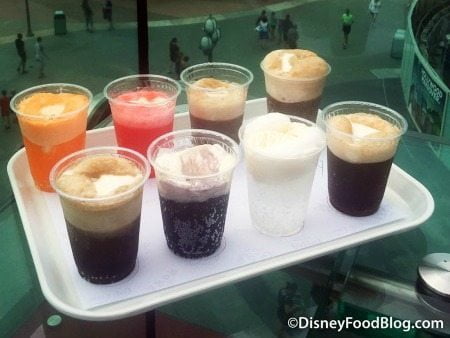 Step out of the hot Florida sun and into a Korean oasis to quench your sugary appetite. With fresh ingredients purchased from local markets and recipes created on-site, Ice & Bites Café offers a truly unique experience. The Taiyaki is just as mouth-watering as it is eye-pleasing. Choose your ice cream flavor, add 2 toppings, and 1 sauce, and savor your creation served in a fish-shaped waffle cone. Yum-O!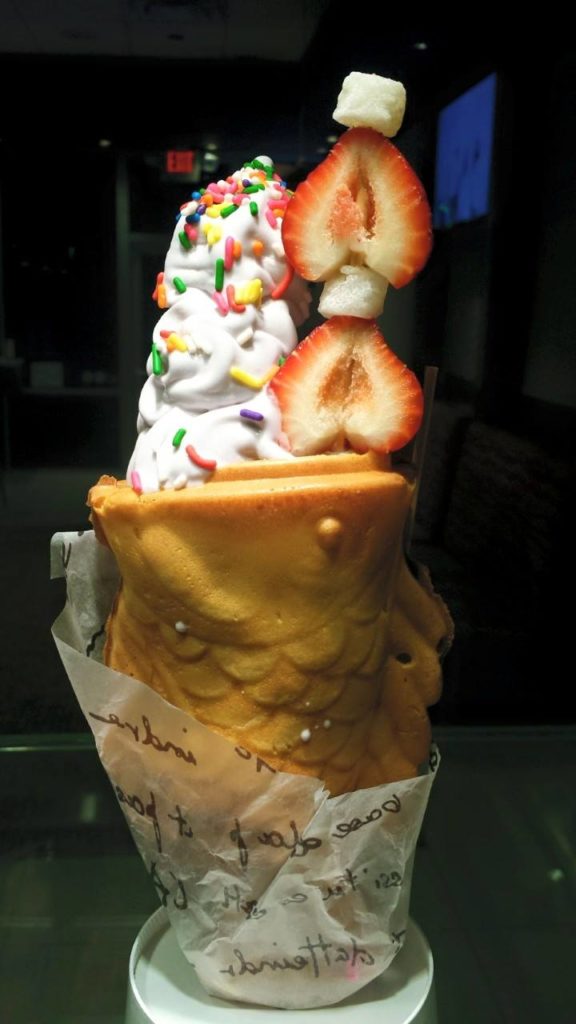 Chocolate Desserts in Orlando
The Supernova at Aurora
Paying tribute to UCF's connection to the space program, the Celeste Hotel practically on UCF grounds is a surprising taste of the luxurious life, while still being approachable. Aurora at The Celeste is a hidden gem of a restaurant. Any meal here is sure to impress your date, but make sure you save room for the Supernova.
This signature chocolate dessert is Instagram worthy, but you have to see it in motion. The Supernova is a chocolate dome surrounding vanilla ice cream, a brownie, and topped with candied walnuts, smashed raspberry, and hot rum flamed caramel sauce poured on top. Check out this Reel to see it in action.
We love the variety of restaurants at Universal Orlando that are perfect for date night. And one of our top picks is Bigfire at CityWalk. Even if you just head here for drinks and dessert, the tableside s'mores are sure to be a memorable date night. The variety of fixings to make your s'mores unique will make it fun for you to get creative and try each other's creations. And with the unmistakable energy of CityWalk, this experience is one of the best desserts in Orlando.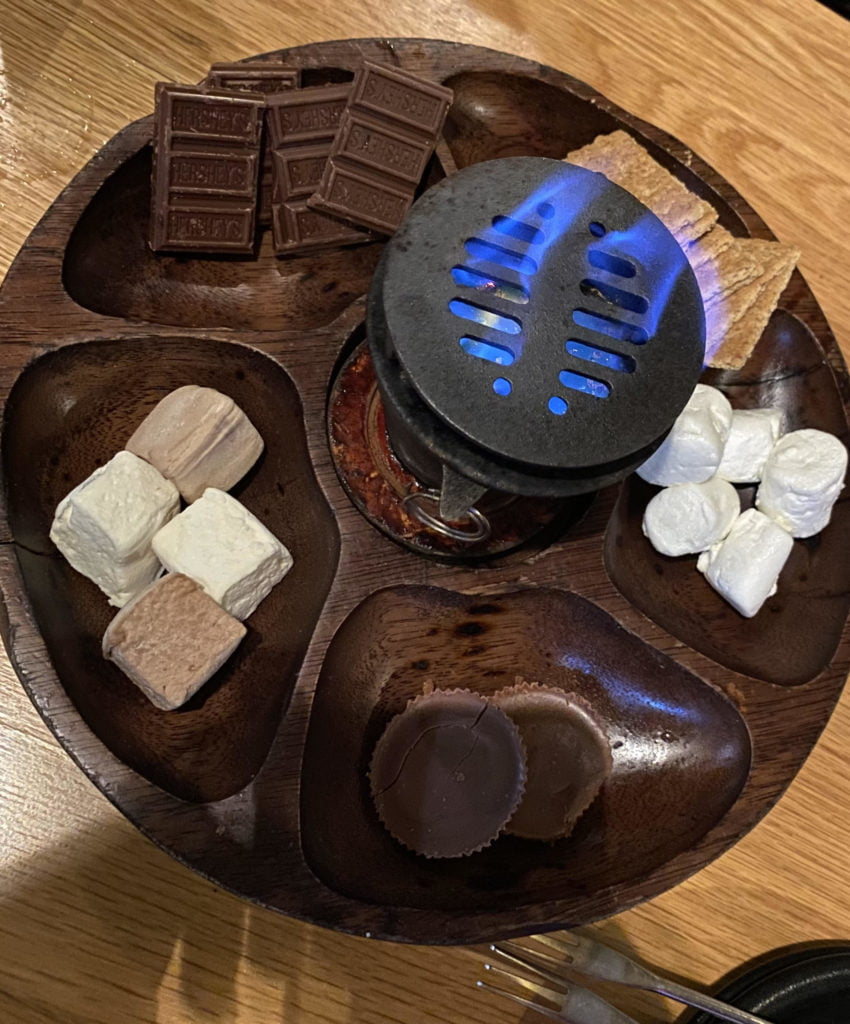 Anyone who has ever taken a bite of a cream puff or crepe cake from Light on the Sugar has fallen in love immediately. For delicious chocolate without feeling like you're overindulging a Cookies-and-Cream Cream Puff will do the trick.
If you see Cookies and Cream Crepe Cake in the display case order it immediately. The creamy, sweet chocolate goodness is light and heavenly, and sure to satisfy. It looks impressive too!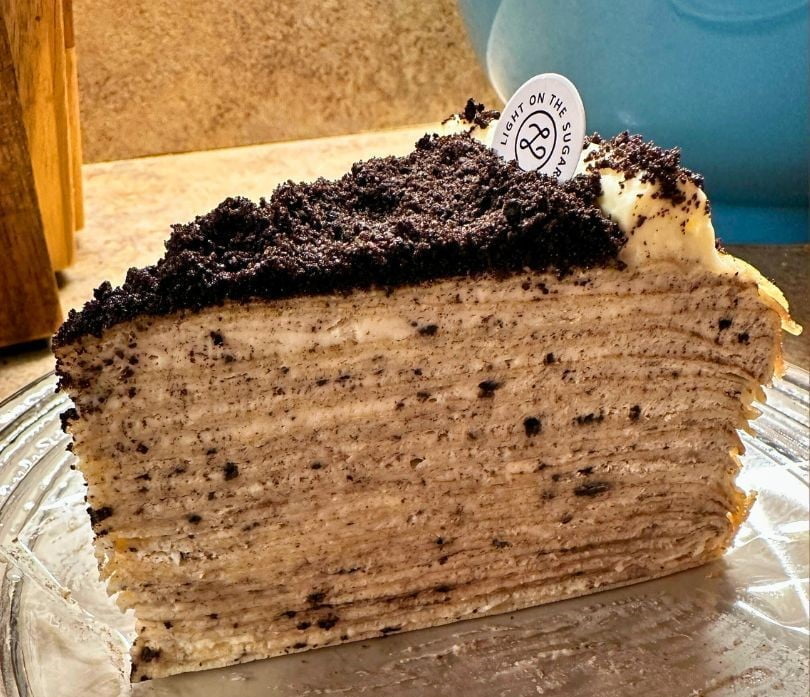 Other favorite restaurants for dessert in Orlando: