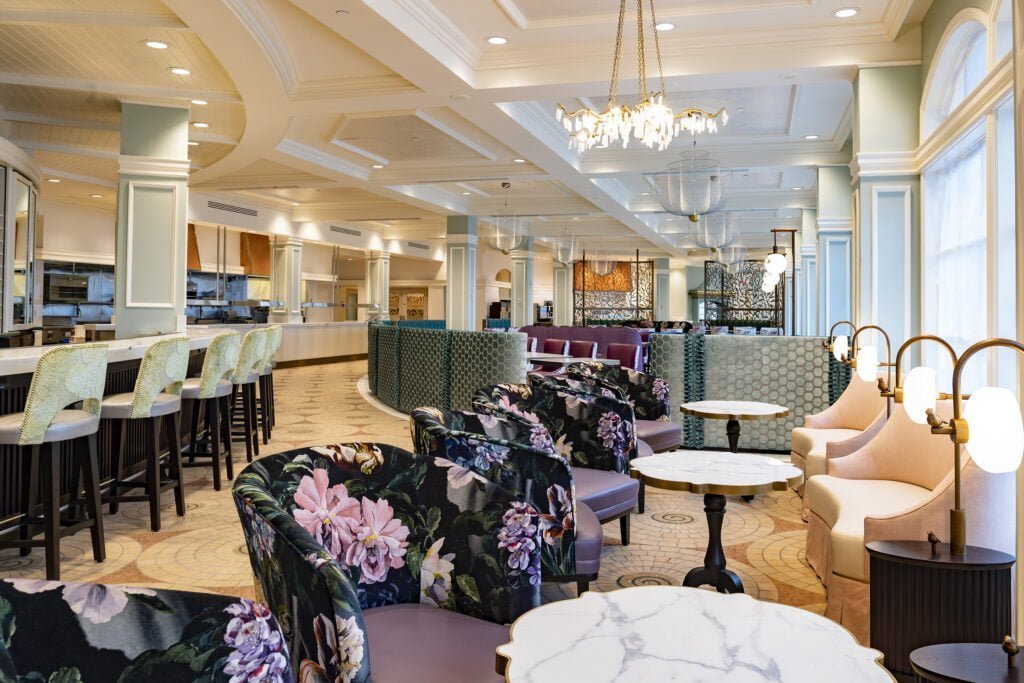 Lots of couples are choosing to reduce or eliminate their alcohol intake. Either as part of the new year or just a general wellness commitment, reducing alcohol can seem like an uphill bottle. Thankfully more and more places are offering mocktails. You can even find mocktails at Walt Disney World, lots in fact.
Across Disney property from the theme parks to the hotels, this list will help you know where to find the best mocktails at Walt Disney World. And even if you haven't made a decision to reduce your alcohol intake, it can be fun to try new things together.
Best Mocktails at Disney Springs
There are so many ways to enjoy Disney Springs including brunch and happy hour. If you've been to Disney Springs many times before, it might be fun to challenge yourselves and try out some of the mocktails at Disney Springs.
It is quite a climb to get to the Coca-Cola Store Rooftop Beverage Bar, but you'll be rewarded with sweeping views.
If you can, head here before sunset so you can sip on a mocktail like the Cherry Cucumber Sprite or the Fresca Habanero Lime. The Fresca Habanero Lime is certainly unique with Fresca® Original Citrus, habanero lime syrup & TAKIS® Rolled Tortilla Chips.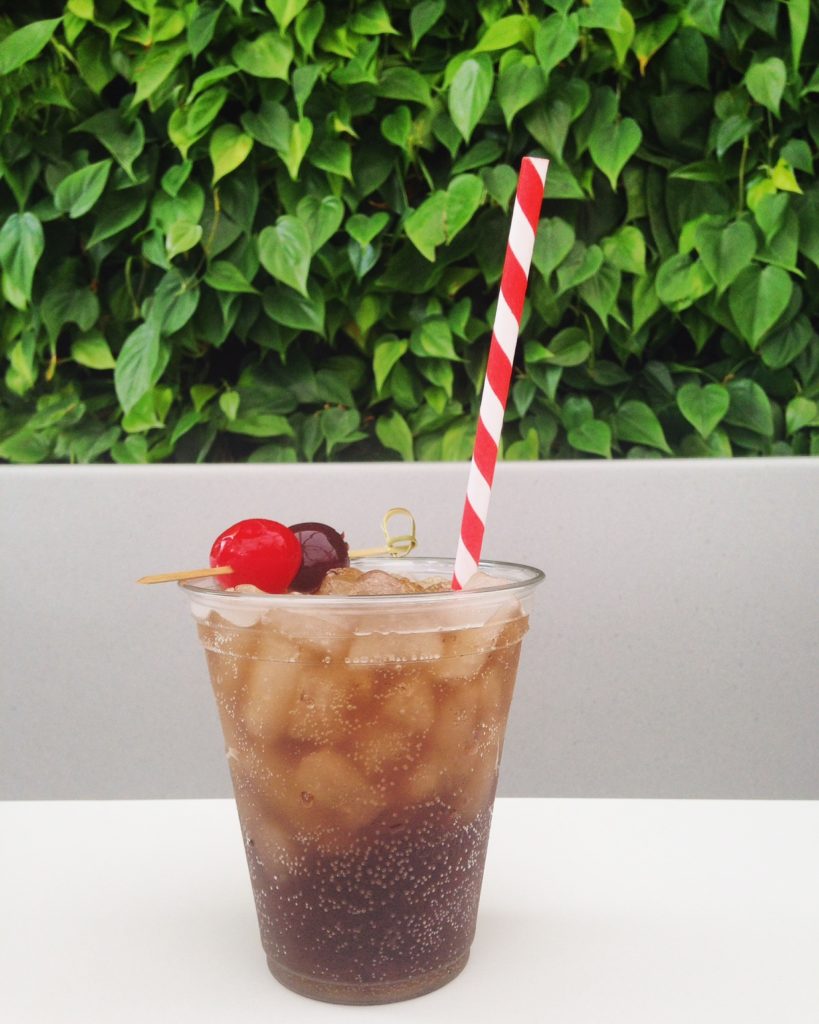 One of the coolest atmospheres at Disney Springs can be found at The Edison. Once home to a favorite nightclub of the Pleasure Island days, this impressive venue is now a favorite for date nights, birthday celebrations, bachelorettes, and more. The party doesn't stop even without the spirits because there are three great mocktails on the menu.
Try the Apple Propellant made of apple cider, honey, lemon juice, and ginger ale; the Phonograph, an energizing non-alcoholic drink of lime juice, lemon juice, orgeat, and Red Bull Tropical; and finally the favorite Smoke & Mirrors with pineapple juice, lemon juice, lime juice, and orgeat.
Another unique atmosphere can be enjoyed at Jock Lindsey's Hangar Bar (make a reminder in your calendar to visit next holiday season, it's cutely decorated). There are four mocktails on the menu, each one is pretty simple. The one that intrigues me the most is Teddy's Tea made with green tea with mint and tangerine.
It's nice to know that a place that has such a lovely rooftop area also offers special mocktails. Paddlefish is a seafood-centric restaurant right on the water, with multiple levels.
There are only two mocktails, and they're a tad pricey, but it's still a nice option to enjoy the beautiful views with a non-alcoholic cocktail in hand. The Strawberry Basil Lemonade offers fresh strawberries, basil, lemonade, and Sprite while the Cucumber Sipper is cucumber, simple syrup, fresh lime juice, and lemonade.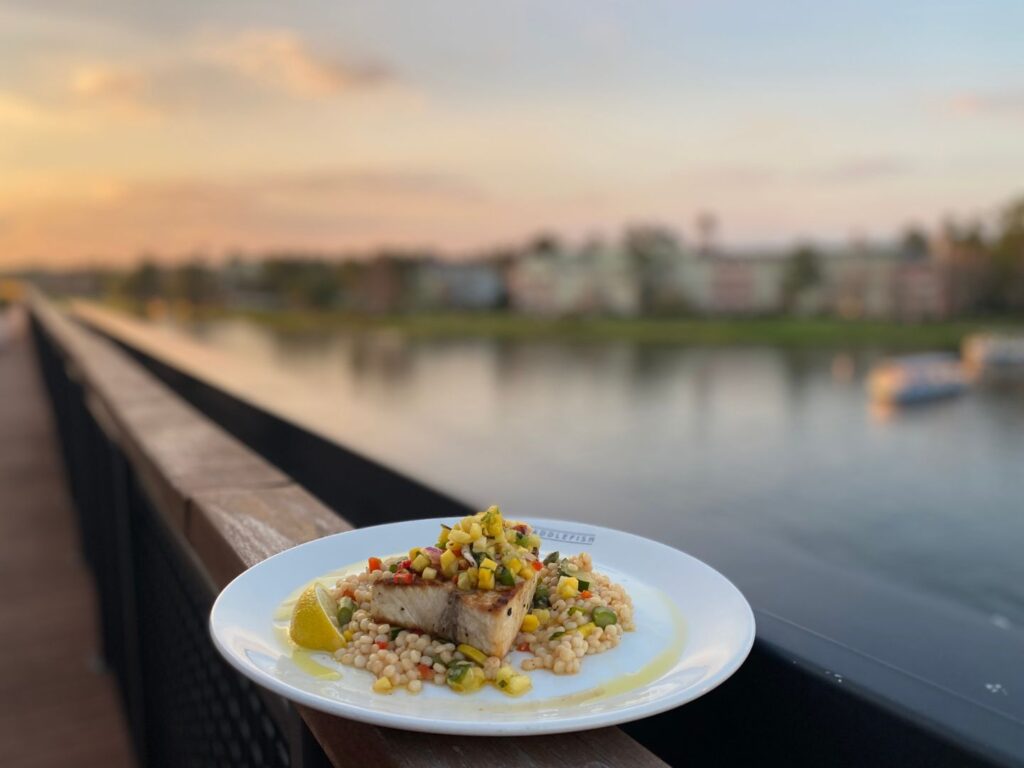 This iconic Disney Springs restaurant is certainly popular with families. But head to the side of the entrance for the Lava Lounge, a cool lounge right on the water.
Sip on the Swimming Hole made with lemonade, Monin mango syrup, and Monin Blue Curacao syrup and you'll absolutely feel like you're still having a very special drink. Or try the Rainforest Ricky with apple juice, pineapple juice, grapefruit juice, and strawberries, served blended or on the rocks.
A note about Planet Hollywood at Disney Springs: I don't consider specialty shakes to be a mocktail, but it is worth mentioning that Planet Hollywood serves Super Nova Shakes that are massive and loaded with impressive toppings. If you're avoiding alcohol but want something memorable to sip on together, this is a fun option.
Best Mocktails at Disney Hotels
Any Disney Hotel Pool Bar
Each Disney hotel has at least one lounge, and as you move higher through the categories of Disney hotels you'll find more lounge options. Practically every Disney lounge, especially the ones near the pool, can whip up a tropical drink known as the Piña Colava. It's a classic colada elevated by raspberry puree, available with and without alcohol. With the thick raspberry puree in the mix, you won't miss the alcohol if you go for the non-alcoholic version.
Please note, the non-alcoholic version is called the Lava Smoothie at some lounges.
Besides the Piña Colava, most hotel lounges have a special non-alcoholic drink called the Agave Garden which is like sipping on a tropical, slightly spicy margarita – without the booze.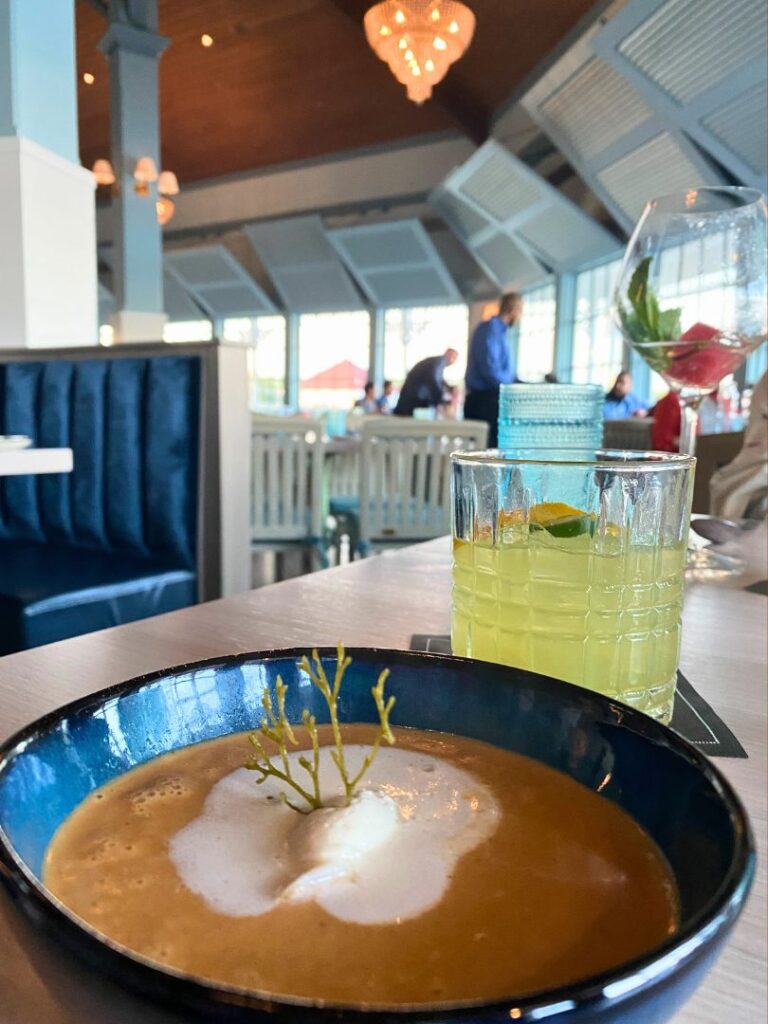 If you're looking for the absolute best place for a mocktail at Walt Disney World, you'll find it at Disney's Grand Floridian Resort. Head to the upper level of the resort's main building to Citrico's. If you do not have a dining reservation see if there is a spot available at the restaurant's lounge (the earlier in the evening the easier it will be to find a spot).
This elegant, modern Marry Poppins-themed restaurant is an underrated gem.
There are seven specialty mocktails on the menu, the most of any place on this list. It's hard to choose a favorite. The most elegant is the London Dry Juniper Seltzer with authentic cinchona bark and smoked rosemary blended with citrus, lemongrass, and juniper aromatics.
The most instagram-worthy is the Purple Penguin, a luscious mix of pineapple, peach, lemon, lavender, and grenadine topped with house-made seltzer served in a precious penguin glass.
Parking tip: If you do not have a confirmed reservation, you can take the ferry boat from Magic Kingdom or bus from Disney Springs.
The best bar at Walt Disney World for a romantic night out is the Enchanted Rose Lounge at Disney's Grand Floridian. The decor is elegant and stunning.
The cocktail list is the classiest, and therefore most expensive, of any Disney World lounge. There are a handful of mocktails on the menu, and the priciest is at $13. However, the Garden Spritzer is sure to impress with Seedlip Garden 108 Herbal Distilled Non-alcoholic Spirit, lime, agave, and soda.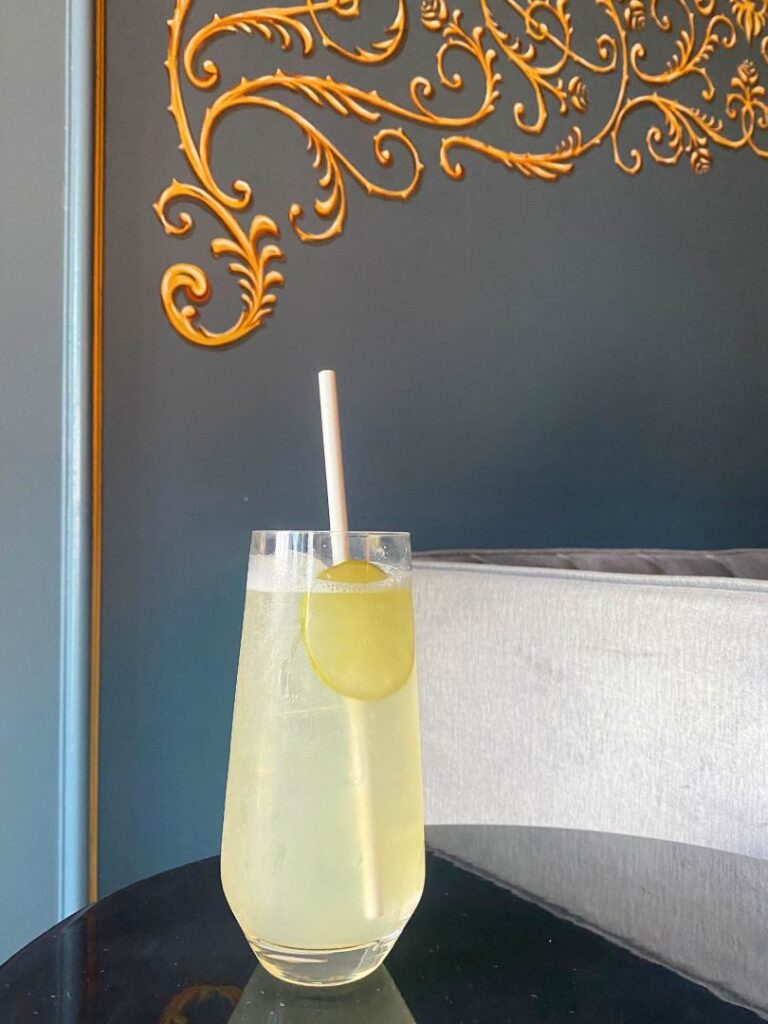 For something less expensive and just as refined go for the B&B, fresh brewed iced tea, lemon, blueberry and basil. Between the two, I would recommend Citrico's Lounge over Enchanted Rose for better mocktails.
Parking tip: If you do not have a confirmed reservation, you can take the ferry boat from Magic Kingdom or bus from Disney Springs.
The atmosphere of AbracadaBar is unique and special. This bar is themed as a favorite hangout of magicians of the early 20th century, resulting in an enchanting atmosphere perfect for date night. The Magic Mirror is a refreshing combo of soda water, honey mango, Sprite, and lime juice.
Another great drink that is just as good when the alcohol does a disappearing act is the Hoodunit's Punch. Just ask for the bartender to make it without alcohol and you'll have a tropical punch of orange juice, pineapple juice, and coconut. Mix in the spectacular location of Disney's Boardwalk and this date night will surely cast a spell on you.
Parking tip: If you do not have a confirmed reservation, you can take the bus from Disney Springs.
Ask any Disney fan what their favorite Disney bar is and chances are they will answer with Trader Sam's Grog Grotto. This tiki bar is an immersive experience that is great for celebrating a special occasion or date night with a silly side. Naturally there are plenty of strong rum drinks here, but there are some delightful mocktails too. During my pregnancy, it made for a favorite place to enjoy a mocktail and feel included.
In fact, there is a special section of the menu called "Sam's No-Booze Brews" dedicated to these delicious drinks. It's hard to pick a favorite, but the Skipper Sipper with tropical juices, organic agave nectar, falernum, mint, and fresh lime juice topped with soda water is the closest fit to a standard tiki drink. The incredible atmosphere coupled with the expertly crafted mocktails will take you to paradise.
Parking tip: If you do not have a confirmed reservation, you can take the ferry boat from Magic Kingdom.
Alternative idea: Tambu Lounge, located upstairs in the Polynesian's lobby, also has a list of mocktails. These are mostly lemonade-based, and my pick is the Keikei Lemonade which has the most tropical flavors of the lemonade mocktails.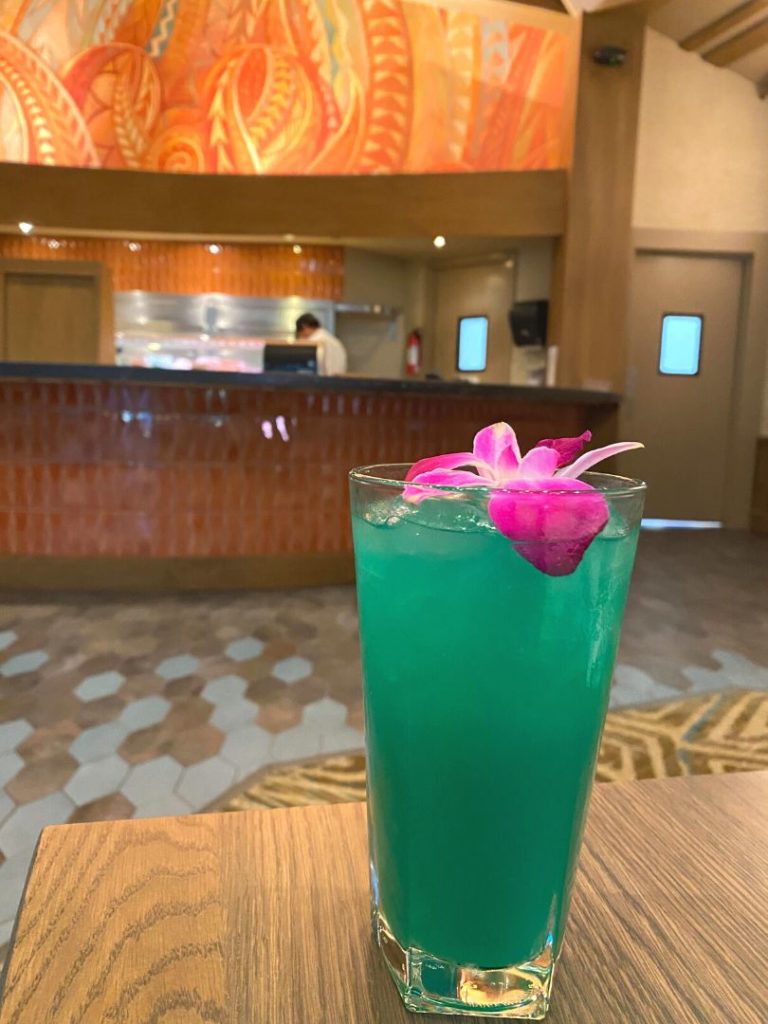 A favorite Disney resort in the Moderate category is Disney's Port Orleans Riverside Resort. The Southern charm makes this resort a great pick for a casual date.
At the River Roost lounge, you'll often find live entertainment in the evenings and a decent selection of mocktails. The most impressive mocktail on the menu is the Pink London Spritzer made with Lyre's Pink London Spirit, Grapefruit Soda, Pomegranate Green Tea, Lime and Mint
This is one of my favorite hidden gems at Walt Disney World. Bar Riva is a poolside bar with an upgraded French Riviera feel. My husband and I love hopping aboard the Disney Skyliner when we're in EPCOT to head here for a quiet lunch or early dinner. Besides some unique craft cocktails here, you can sip on a few magical mocktails.
The Mediterranean Mint Lemonade made with lemonade, honey, and mint is refreshing on a hot Florida day. And the Hibiscus Coconut Refresher with hibiscus, coconut, honey, strawberry and soda water is so flavorful you won't believe its alcohol-free.
Parking tip: If you do not have a confirmed reservation, you can take the bus from Disney Springs, or Disney Skyliner from EPCOT or Disney's Hollywood Studios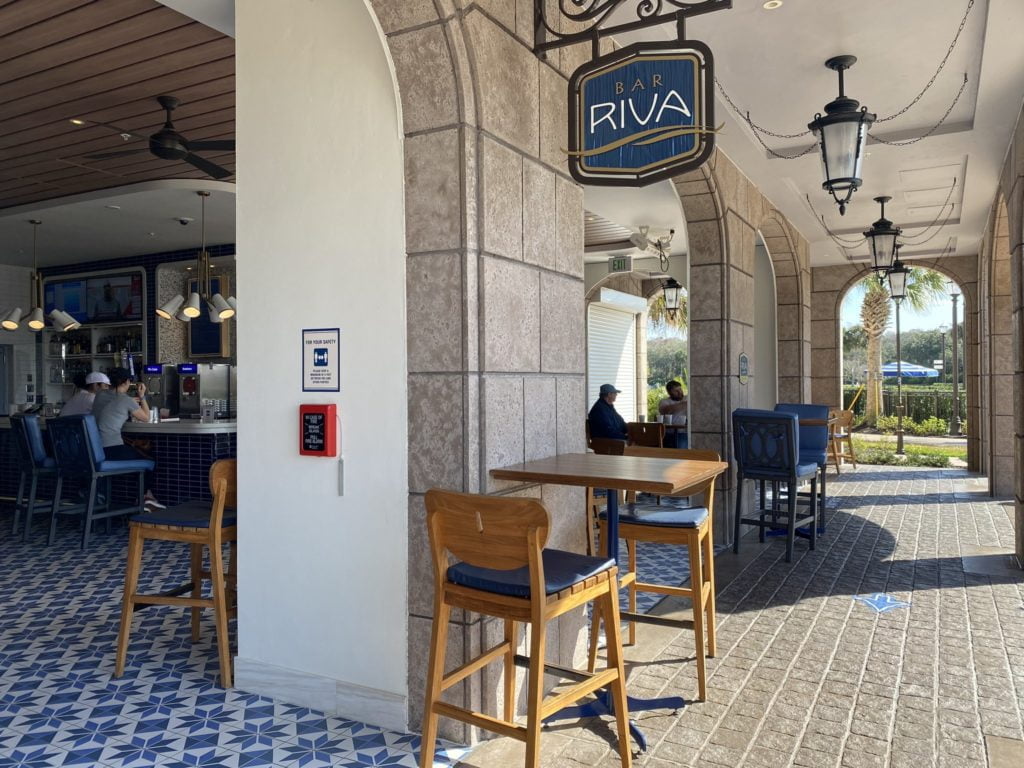 BONUS IDEA – If you find yourself having breakfast at Topolino's Terrace also located at Disney's Riviera Resort you may notice the breakfast mocktails costs as much as the cocktails do (around $14 – $15). The Pêche Repose is just $5.99. and has Peach, Mint, Lemon, Soda Water.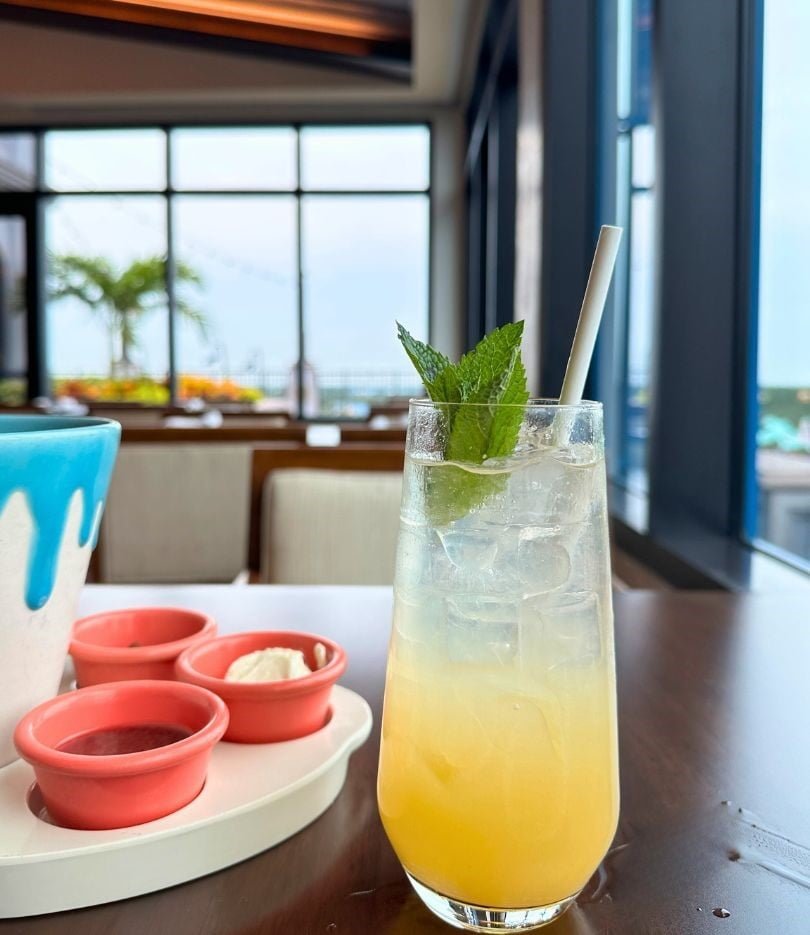 Best Mocktails at Disney Theme Parks
Alcohol-Free Specialty Drinks at Magic Kingdom
Magic Kingdom, of course, is going to have its fair share of non-alcoholic specialty drinks.
For a quick grab-and-go specialty beverage stop at Gaston's Tavern in Fantasyland. The theme here is delightful and will certainly make you feel like you've stepped inside the "Beauty and the Beast" animated feature. LeFou's Brew is a mix of frozen apple juice, toasted marshmallow, and passion fruit/mango foam.
And while you stroll on Main Street USA or wait for the Magic Kingdom fireworks, head to Casey's Corner for an alcohol-free Mint Julep Lemonade. Save time and use the mobile order function at Casey's Corner, while you wait in line at an attraction.
Mocktails at EPCOT
Finding mocktails at EPCOT is a little difficult because quite frankly it is such a popular park for drinking. Still, a few delicious mocktails can be found.
Joy of Tea at the China Pavilion has milk bubble tea and mango iced tea. A popular non-alcoholic beverage can be found at Fife and Drum Tavern. Called The American Dream, this Instagram-worthy slush is layered with Frozen Fanta® strawberry, vanilla ice cream and Frozen Fanta® Blue Raspberry Slushy.
Finally, the La Cantina Slushy found at La Cantina de San Angel could make you feel like you have a margarita in hand with its tropical flavors. Plus, the outdoor seating along the lagoon makes for a lovely setting.
Disney's Animal Kingdom
Animal Kingdom is actually my favorite park for mocktails. Nomad Lounge is my favorite Disney theme park lounge, offering plenty of craft cocktails and mocktails.
The Zingiber Fizzie is a zesty blend of passion fruit puree, mint, ginger beer, and lime juice. And the Night Blossom frozen slush at Pongu Pongu inside Pandora – World of Avatar is another favorite.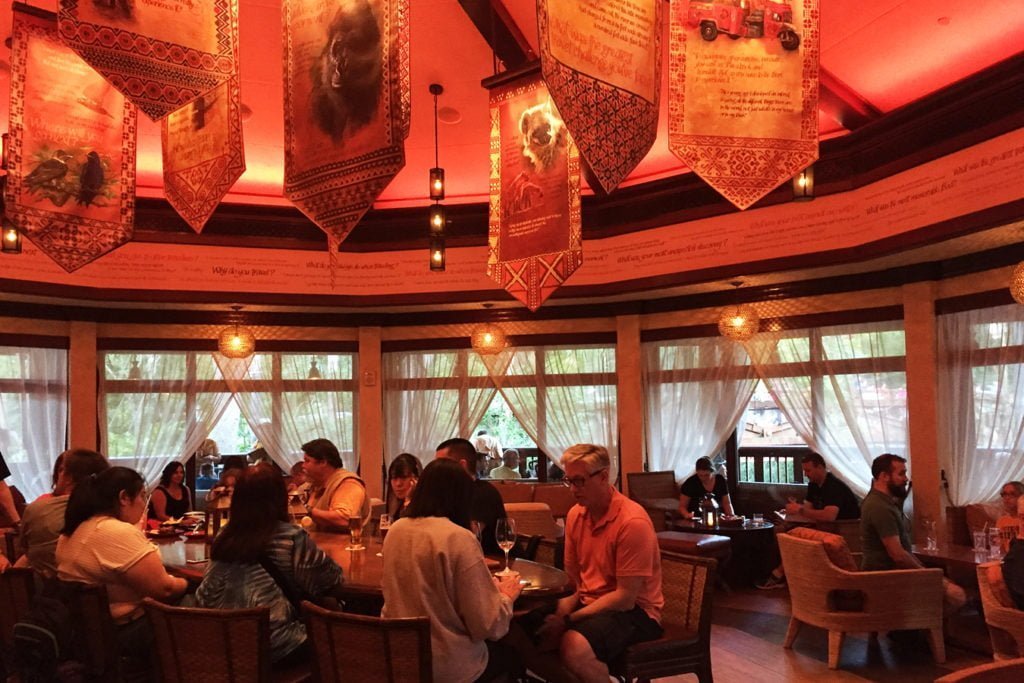 Disney's Hollywood Studios
Disney's Hollywood Studios is home to some fun mocktails thanks to its themed dining locations. Venture off-world to Docking Bay 7 Food and Cargo inside Star Wars: Galaxy's Edge for a Moof Juice. Not only is it fun to say, but it is tasty with a slight kick thanks to the Simply® Fruit Punch, Simply® Orange with Pineapple, and chipotle-pineapple.
Of course, the most popular watering hole is Oga's Cantina. Here you'll find a whopping 7 mocktails on the menu!
My son and I each ordered our own mocktails, Hyperdrive (Punch It!) and the Blurrgfire. He enjoyed the Hyperdrive made with POWERADE® Mountain Berry Blast, White Cranberry Juice, Black Cherry Purée, and Sprite®, while I enjoyed the slight spiciness of the Blurrgfire with Minute Maid® Premium Lemonade, Pomegranate Juice, and Habanero-Lime.
And next door at Toy Story Land there is Woody's Lunch Box which offers the Frozen Mystic Portal Punch, made with POWERADE® Mountain Berry Blast with flavors of lemon-lime and tangerine. Mobile order at either of these locations before you're thirsty to save yourself time.
I hope you and your honey enjoy raising a non-spirited glass together at the most magical place on Earth. To your health!
Feature image credit: Walt Disney World Resort