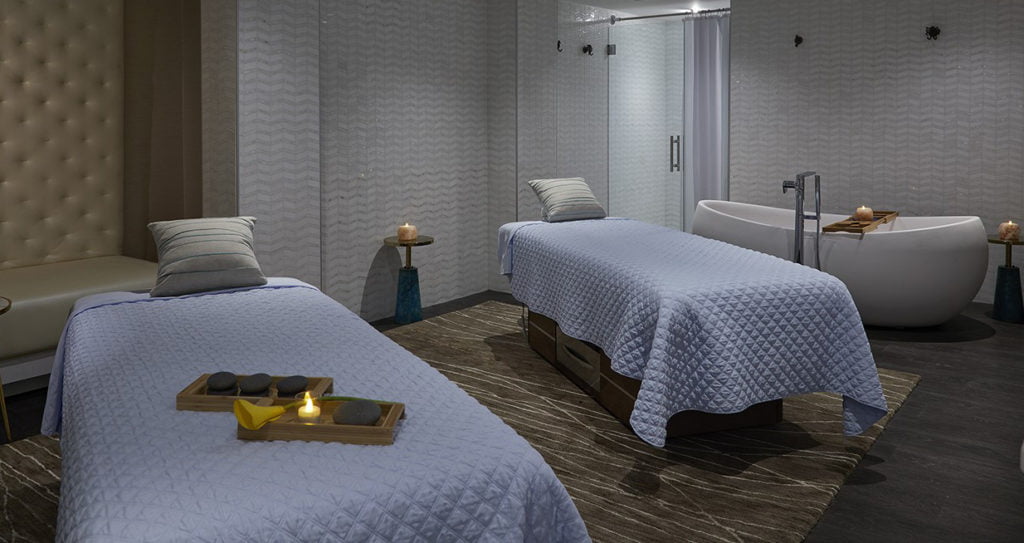 A major perk of living in Central Florida is that the beach is only a short drive away. In an hour or less, you can be sunning yourself on the east coast. Or you could be getting a massage or facial and then lazing by an oceanfront pool. The Rock Spa at Hard Rock Hotel Daytona Beach is one of our favorites because it is fun, playful, and different than your typical spa.
Whether you choose to visit for the day or join the monthly spa membership, the Rock Spa at Hard Rock Hotel Daytona Beach is worth the one hour drive. The service and unique atmosphere are just some of the reasons we included it on our list of Orlando spas for couples.
Rock Spa at Hard Rock Hotel Daytona Beach
The Rock Spa is located on the first floor of the Hard Rock Hotel Daytona Beach. This oceanfront hotel has a fun and vibrant atmosphere, and the spa follows suit.
Of course, the standard spa elements of soft lighting, salt lamps, and comfortable seating are all there, but Rock Spa offers a little something different. The music is more playful than typical spa music. And many of the products offered for sale at the front desk are surprisingly affordable.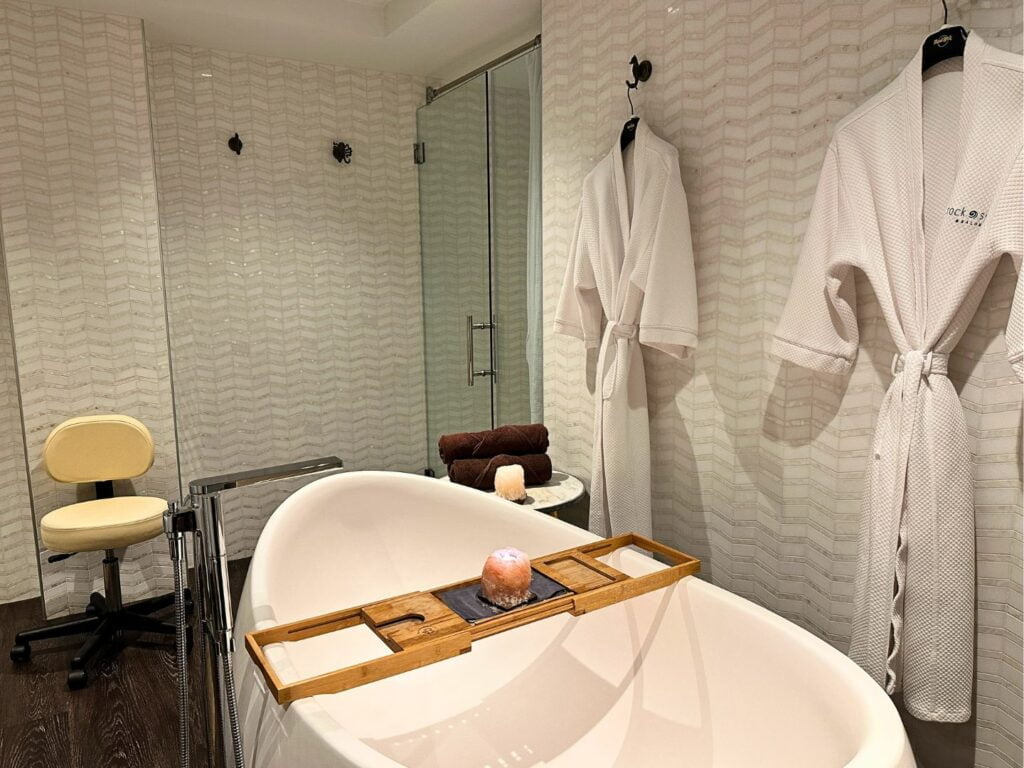 The staff is very attentive, providing a rock-star treatment. And there is even a spa treatment room that incorporates music as part of your experience. Keep reading for details.
SPA MEMBERSHIP DETAILS
The Rock Spa Membership program invites you to take your self-care practice to the luxurious, music-infused Rock Spa & Salon at the hotel's dreamy oceanfront property.
Besides getting one 50-minute massage or facial each month, additional perks include a day pass for the hotel (including pool access) and more.
The $105/month Gold Record membership includes:
One 50-minute massage or facial per month
Resort day pass (including wristband for accessing the pool and hot tub; hotel occupancy permitting)
Unlimited access to spa lounge and steam room
20% off all additional spa services
10% off spa retail items
VIP backstage passes to Rock Sparties
Exclusive offers for dining, events, and accommodations
Complimentary valet parking the day of spa service (for spa guests not staying overnight)
Or, upgrade to the $149/month Platinum Record Membership. This option includes an 80-minute massage or facial instead plus unlimited monthly access to the Body Rock gym.
The monthly spa membership includes your choice of facial or massage from the spa menu, including the exclusive Rhythm & Motion offerings.
SPA HIGHLIGHTS
Music lovers will delight at the music memorabilia (there are even guided memorabilia tours of the hotel offered upon request), thoughtful playlists, and various homages to music throughout the property. The spa is no exception – signature Rhythm & Motion offerings uniquely integrate music in a way that only the Hard Rock can deliver.
The signature Synchronicity massage combines a relaxing, rhythmic massage with a special soundtrack. Taking place in a special treatment room (decked out with a guitar of course), you start by picking one of three custom soundtrack options for your treatment.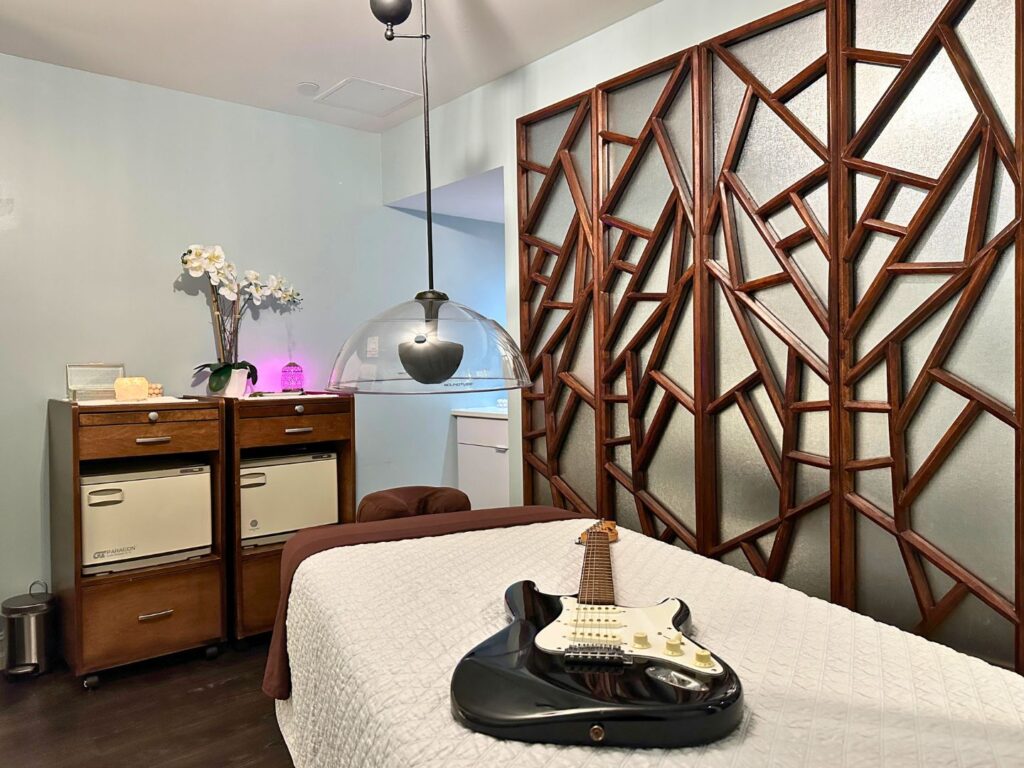 Remixed versions of The Beatles' "Here Comes the Sun" and Neil Young's "Harvest Moon" are just a few examples of what you'll hear – way cooler than typical spa music.
The room features a speaker positioned above the massage table to envelop you in sound while bass comes through the massage table itself. It's just as interesting and wonderful as it sounds.
The signature Face the Music facial is also performed in this special treatment room. The 50 or 80-minute facial combines the benefits of sound vibration with organic products that will hydrate and restore skin.
Other massage offerings include the Classic Pop, Heavy Metal Deep Tissue, In Sync (customizable) and Rock On (hot stones). Facials include the Iron Man (for the guys) and Drenched (a classic facial customized to your skin). Fancy robes, slippers and access to the spa lounge are included.
Additional treatments like manicures, pedicures, and more are also available.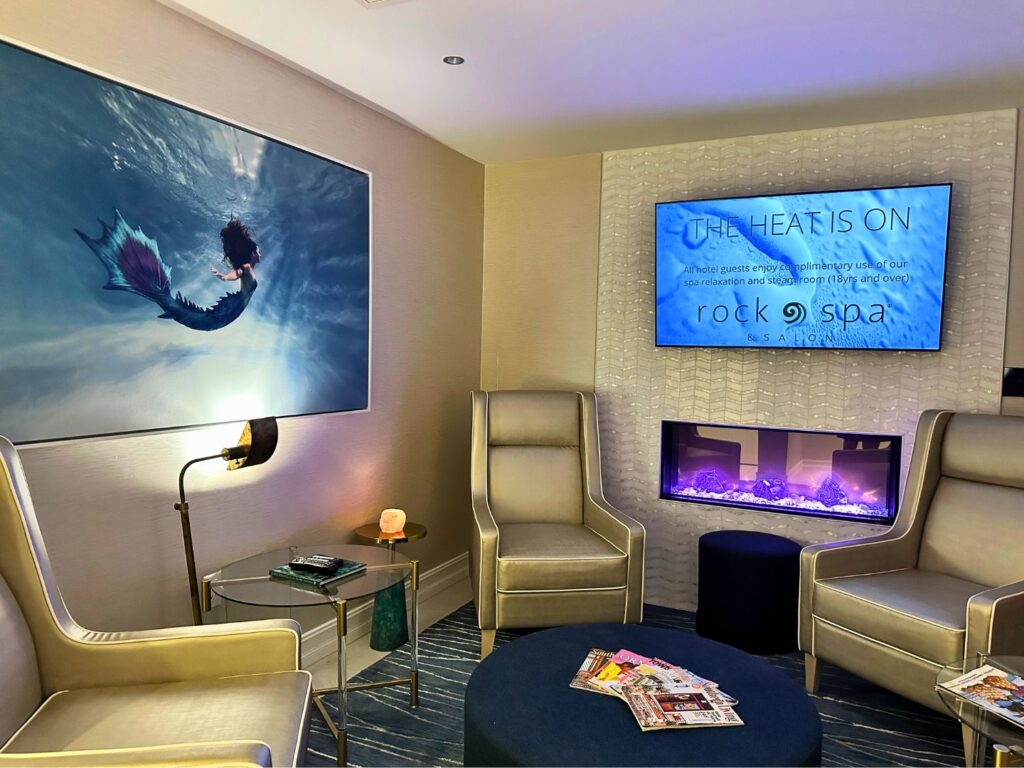 Pool and Beach Access
Spa membership includes a day pass to the resort, including a wristband for accessing the hotel's oceanfront pool (based on hotel occupancy). Relax in a lounge chair while soaking up the ocean views and perhaps sipping on a cocktail – waiters regularly come by to take drink orders poolside.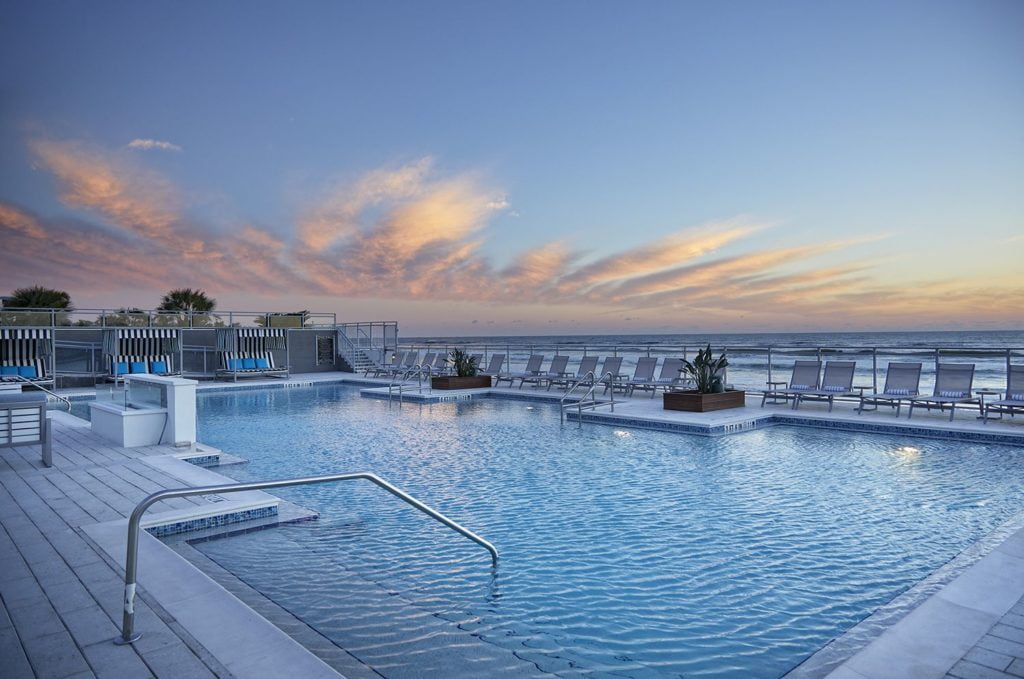 The hotel also has an onsite restaurant, Sessions, serving breakfast (think hearty avocado toast and decadent Belgian waffles), lunch and dinner (the burger is delicious). Close the night out with live music or one of the regular concerts. The Rock the Beach tribute band concert series features a free outdoor performance on the Wave Terrace on select Friday nights.
We love the Hard Rock Hotel Daytona Beach for a fantastic beach getaway close to home. There is live music nightly and this beachfront hotel is newly refreshed with new pool deck enhancements, new music memorabilia, and ultimate upgrades to the rooms.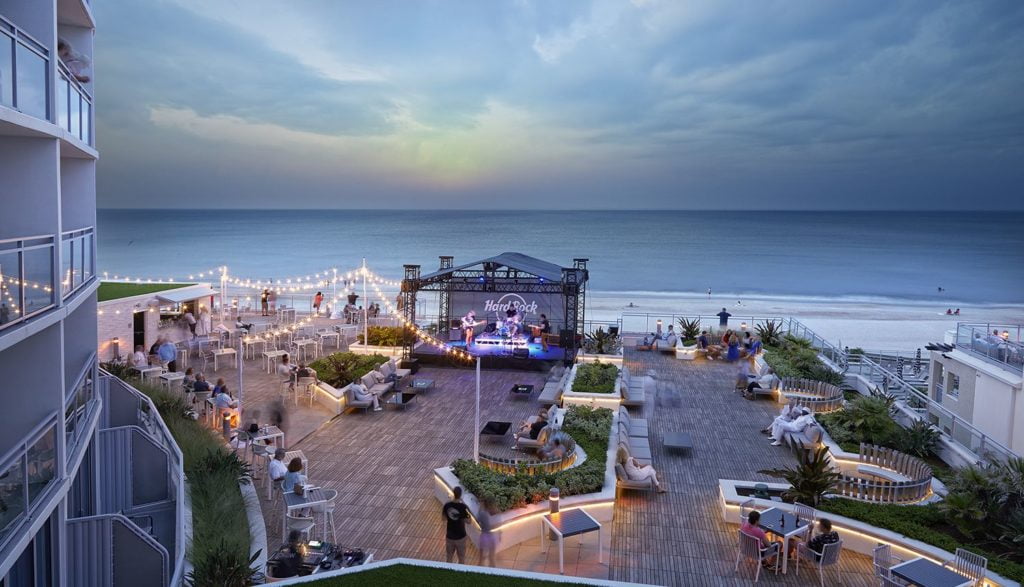 DETAILS
Rock Spa & Salon at Hard Rock Hotel Daytona Beach
918 N Atlantic Ave
Daytona Beach, FL 32118
(386) 947-7366
hardrockhotels.com/daytona-beach/rock-spa-salon
To become a Rock Spa member, visit https://www.hardrockhotels.com/daytona-beach/rock-spa-salon/rock-spa-membership.