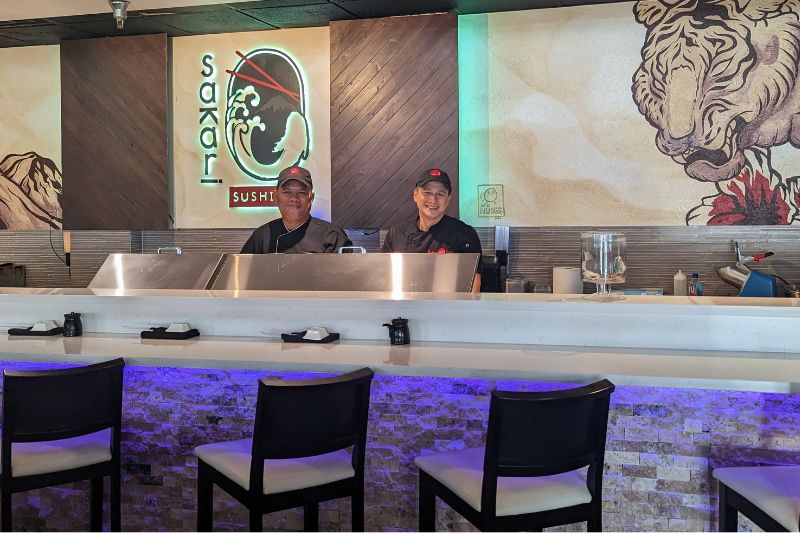 Without a doubt, sushi bars in Orlando have been and continue to be prime date night locales, and even better spots to just unwind after a long day at work. With high-end experiences like Kadence's intimate omakase topping out at $275 per person and hip insta-worthy dinners like at EDOBOY, an eight person standing sushi bar, options for eating sushi out can easily become eventful, high priced affairs, but they don't have to be. Make it easy on your wallet at these Orlando sushi bars with happy hour.
Thankfully, College Park, Maitland, Colonial Drive and areas surrounding downtown Orlando have a great selection of alternatives from cozy to casual, offering up inexpensive appetizers, sushi and wine.
Looking for your next sushi night out that won't break the bank? We rounded up some awesome Orlando sushi bars with happy hour – sorted by neighborhood!
And you can jump over to our Orlando Happy Hour guide that covers the best options all around town.
College Park Area Sushi Bars with Happy Hour
1606 N Mills Ave, Orlando, FL 32803
407-228-1730
When:

4-6pm Monday to Saturday

House Wine

: $4

Happy Hour Food:

Select rolls and appetizers are buy one get one half off

Need To Know:

Located in the Fresh Market plaza at Mills and Virginia, visitors can park in the large lot easily. Yamasan offers indoor and outdoor seating. Reservations are not required.
Yamasan sees regulars and newcomers all day for lunch and dinner, with one of the most popular happy hours in town. Owner Owen runs the operation alongside his wife and friendly staff.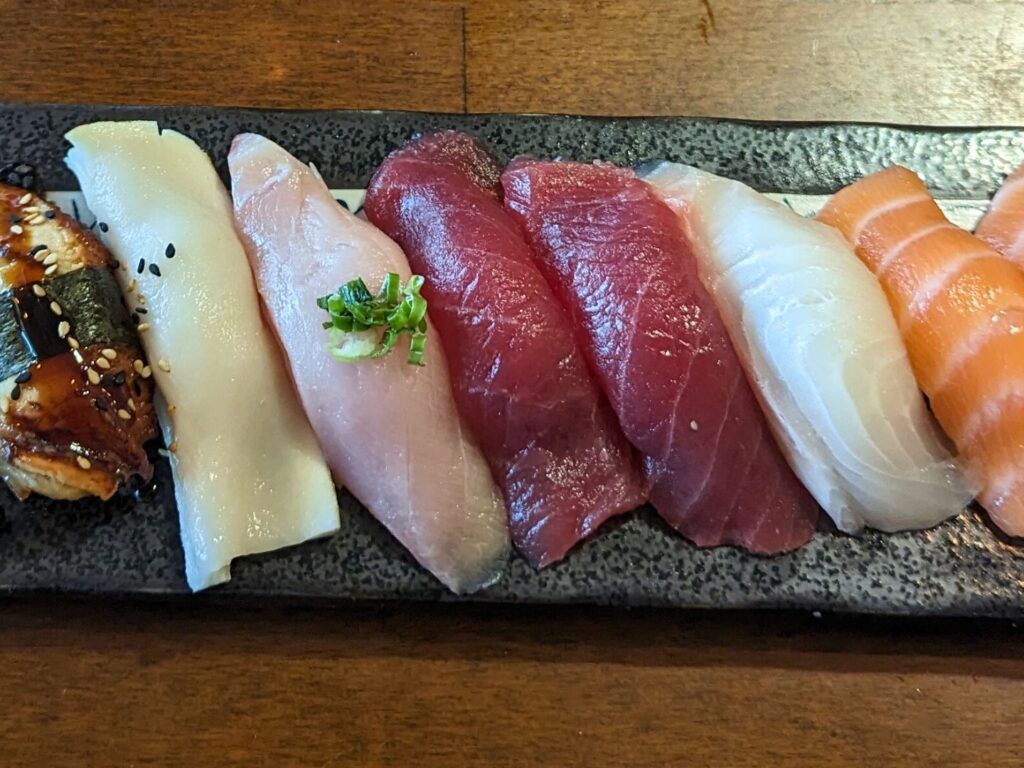 With a wide range of happy hour offerings, diners can enjoy basic rolls like spicy tuna or philly rolls for a buy one get one half off special. Kids can enjoy heaping plates of tamago or cucumber rolls, while adults may favor their spicy and crunchy rock shrimp appetizer.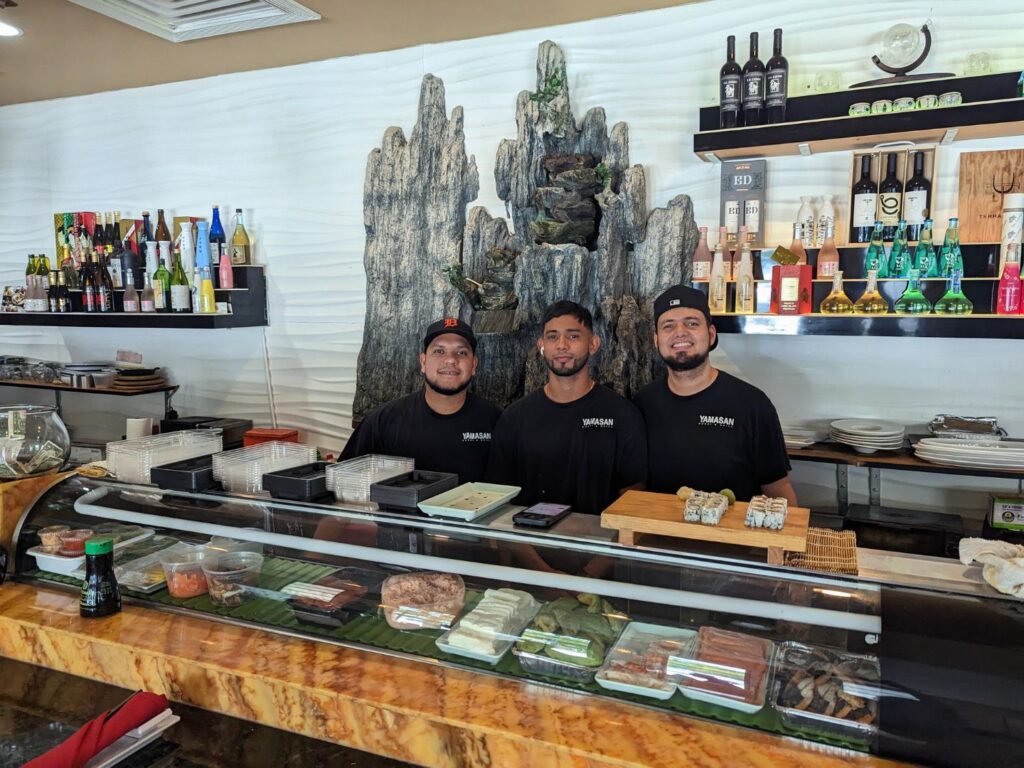 Their "sushi regular" option includes eight pieces of chef-selected nigiri and a spicy tuna roll at a very affordable price, and their exceptional bento box dinners will fill any hungry customer's belly. Including soup, salad, a four piece california roll, krab rangoon, tempura, a dumpling and yogurt you should literally be running towards this place for an amazing low cost dinner.
With large pours on the house happy hour wine, everyone will leave happy.
2902 Corrine Drive, Orlando, FL 32803
407-898-5652
When:

4-6pm Monday-Saturday

House Wine

: As little as $4 per glass

Happy Hour Food:

Select beer and house wines at 2 for 1 prices, $5 hot or cold sake, 2 for $12 regular rolls and 2 for $25 deluxe rolls

Need To Know:

Parking can be challenging later in the evening, so come early. Reservations are not necessary.
Sushi Lola's small storefront restaurant has a reputation for quality, creativity and fresh baked chocolate cookies given out as a treat upon leaving!
Part Japanese, part Korean, the menu is an incredible fusion of your favorite sushi standards to flaming magic rolls, literally on fire when it arrives at your table. Meat mongers can indulge in Korean marinated kalbi or bulgogi, served on sizzling cast iron skillets, accompanied with rice and banchan (kimchi, daikon and other great Korean small plates).
For happy hour, a small hand written sign on the wall details drink and sushi specials, but don't stop there – save room for appetizers ranging from Korean dumplings (a must) to sushi nachos.
With a creative menu, outstanding happy hour prices, and service from energetic souls like proprietor Gina, your visit is sure to be a pleasant one.
1421 N Orange Ave, Orlando, FL 32804
407-826-1964
When:

Daily 5pm -630pm

House Wine

: $5 chardonnay, $5 hot/cold sake

Happy Hour Food:

$2 per piece nigiri or sashimi including salmon, tuna and whitefish

Need To Know:

Street parking only, Ta-Ke sushi is along popular Ivanhoe Row, so consider stopping in on foot or come early. Reservations are not necessary, but come early to avoid a wait on the weekend.
With a large menu, Ta-Ke Sushi has a lot to offer. Classic rolls all come in under $10 each, while happy hour offers select nigiri or sashimi at $2 per piece. Situated on Ivanhoe Row near College Park, their College Roll is a popular option.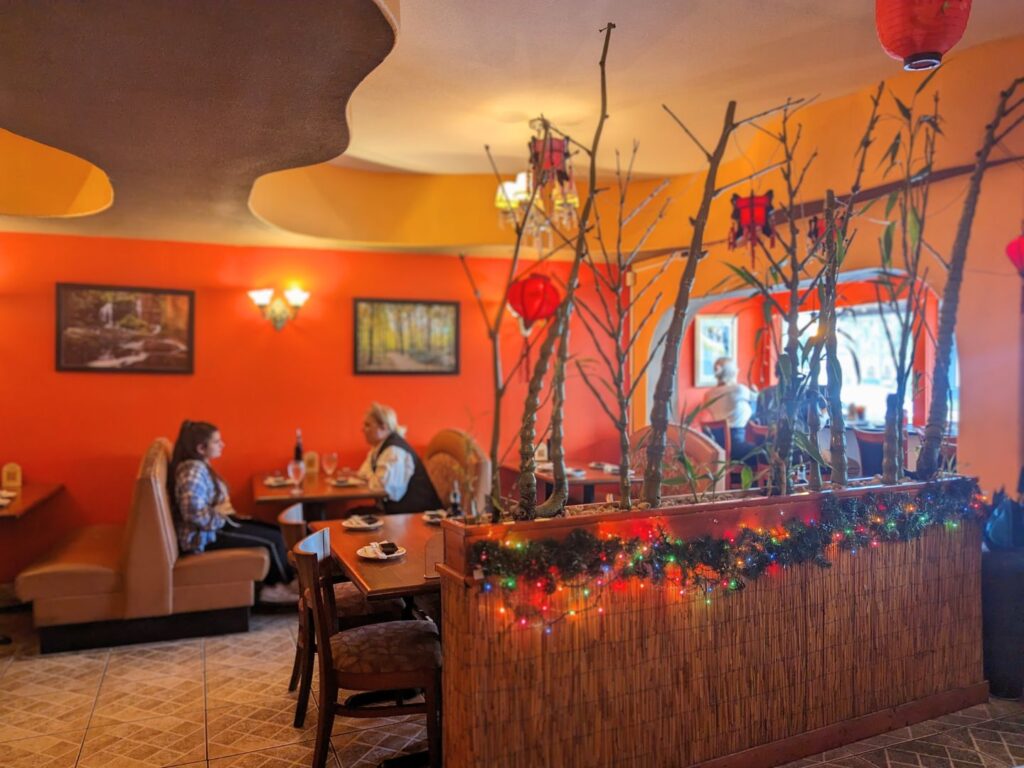 The whimsically named "Once Upon a Roll" menu, includes names from the Lion King, Frozen and Spiderman, to name a few.
With prompt and friendly service, their intimate space has room for a few tables and booths and counter seating with views of Lake Ivanhoe across the road.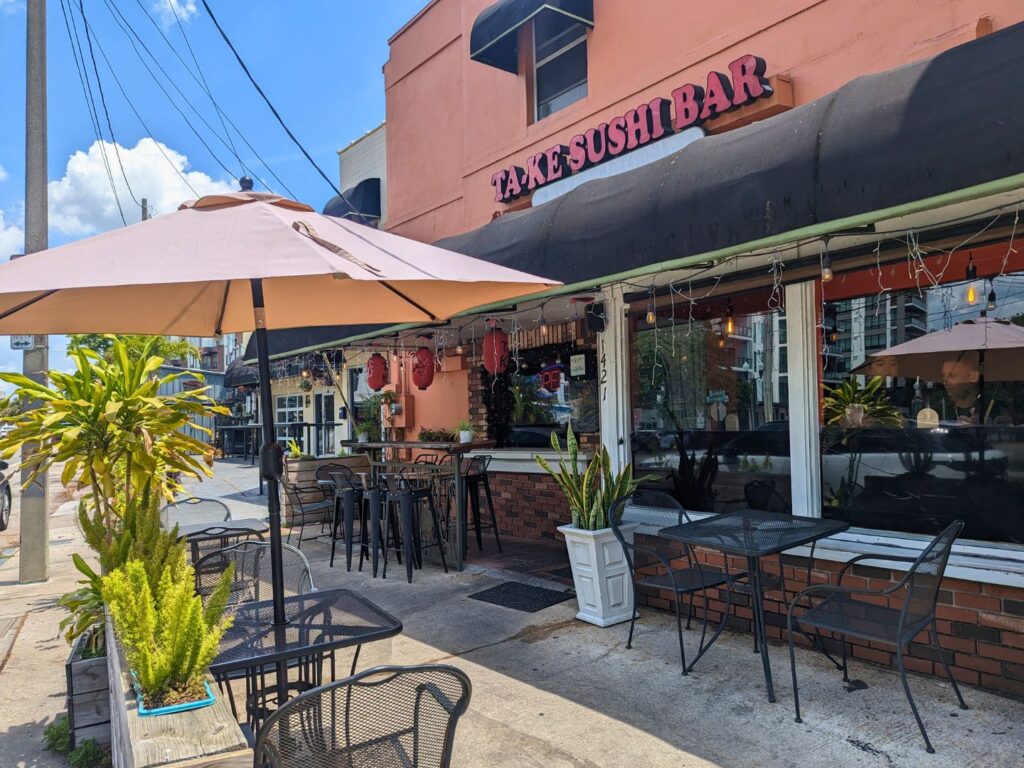 Great with family, a girl's night out to catch up, or part of your Sunday Funday, Ta-Ke Sushi's great location and reasonably priced wine is a great bet in the College Park area for sushi and more.
Mills/Colonial Drive Sushi Bars with Happy Hour
3122 E Colonial Dr, Orlando, FL 32803
407-228-3839
When:

5-7pm Monday-Thursday

House Wine

: $10

Happy Hour Food:

2 pieces of nigiri for $7, gyoza $7, and sticky ribs $10

Need To Know:

Parking is easiest if you come early. Reservations are recommended.
Chef Henry Moso, originally from Laos, has made a serious splash in the culinary scene in Orlando. Receiving a Michelin nod in 2022, the unassuming strip mall restaurant in the East Colonial Drive corridor by Fashion Square Mall has been serving up high end sushi to foodies and date night couples for years.
Although the options for happy hour are limited to a few select items, the quality alone is worth stepping in the door.
One of their most heralded and popular dishes amongst visitors is their maguro truffle. Bursting with color and flavor, this tuna dish is served with a shitake crema and a balsamic truffle soy. Topped off with serrano peppers, this is a delightfully decadent dish for diners to enjoy time and time again.
1919 E Colonial Dr, Orlando, FL 32803
407-894-4494
When:

5-7pm every day

House Wine

: 2 for $9

Happy Hour Food:

$1 nigiri, select appetizers and rolls topping out around $5

Need To Know:

Be sure to note that the entrance leads visitors up to a second-floor dining room overlooking Colonial Drive.
Likely the most affordable restaurant on this list, Bikkuri gets even more affordable at their daily happy hour from 5-7pm. A popular hang for college kids and families, you can get nigiri for as little as $1! With select $4 rolls, happy hour offerings also include small bites and appetizers, sake, wine and cocktails at 2 for $9 and martinis at 2 for $10.
The menu is huge and the atmosphere is pretty relaxed. If you are looking for a no-frills, inexpensive sit-down sushi experience, Bikkuri is definitely worth a try.
Maitland Sushi Bars with Happy Hour
140 Independence Ln, Maitland, FL 32751
407-960-5577
When:

4-5pm Monday-Saturday

House Wine

: $4 house wine or Japanese beers, $5 hot/cold sake

Happy Hour Food:

A large selection of hot and cold menu items from $3-10

Need To Know:

There is ample garage parking. No reservation necessary.
Tucked away in the Maitland City Centre apartment complex, Boku sushi is hiding an amazing happy hour secret. Early birds rejoice because their happy hour only runs from 4-5pm Monday to Saturday. That's a slim window to take in their seriously great happy hour menu so plan to get there on time.
If you ask the Boku staff, they'll tell you that the must try dishes on their happy hour include their spicy tuna kobachi, jalapeno hamachi, and pork belly bao buns. But it doesn't stop there. With gyoza, rock shrimp and special happy-hour-only hand rolls for $6, the list of discounted options may seem endless and hard to choose from.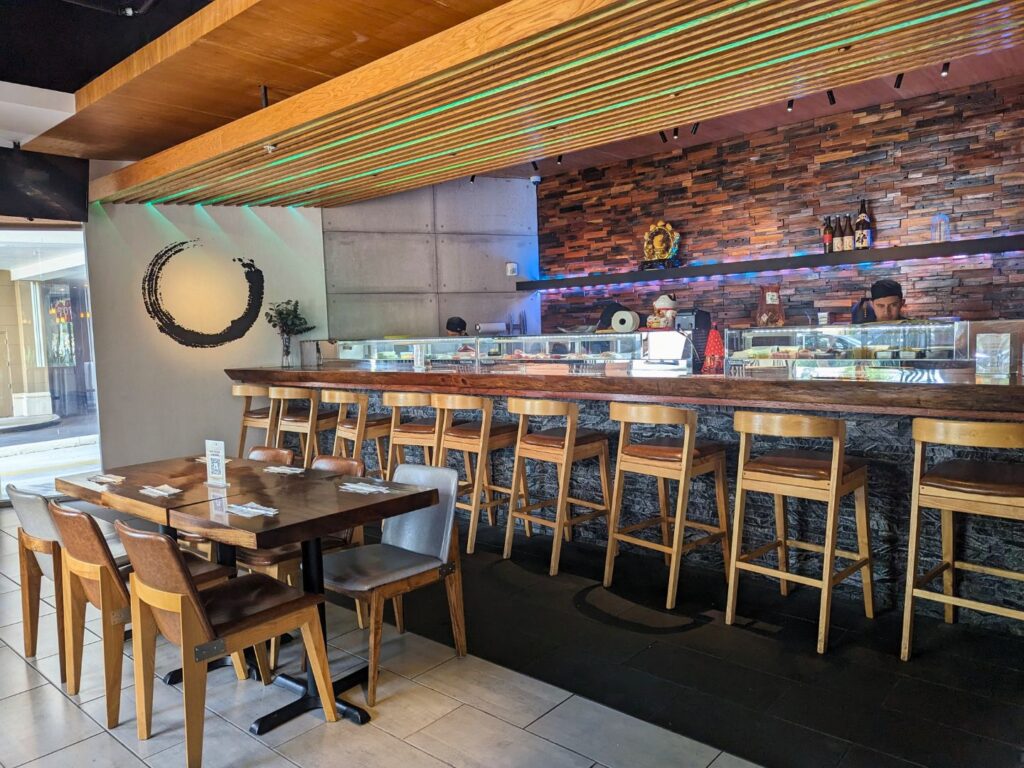 The casual, cool, upmarket vibe invites any type of restaurant-goer to come for happy hour, but stay for the chill neighborhood feels. Looking to discover a new sushi joint? This is the place.
510 Orlando Ave #104, Winter Park, FL 32789
407-644-5050
When:

3-6pm every day.

House Wine

: $8

Happy Hour Food:

Lemon-garlic edamame, pork belly bao buns, Korean fried wings, hamachi crudo, and salmon ponzu

Need To Know:

Located in Winter Park Village, there is ample parking. Reservations are not necessary.
Another great neighborhood option, located in Winter Park Village, is Sakari Sushi. With a laidback and inviting atmosphere diners can enjoy delicious happy hour offerings including beer, sake and wine from $4-8. Their $7 tasting menu includes lemon-garlic edamame, pork belly bao buns, Korean fried wings, hamachi crudo, and salmon ponzu and two uniquely curated tuna rolls.
With a beautifully crafted dinner menu and an excellent happy hour list, it's no wonder that they're popular among locals. And for an added bonus? Their happy hour is every day from 3 to 6pm. Sounds to me like it's calling for a long lingering weekend lunch with the girls.
Downtown Sushi Bars with Happy Hour
Head to downtown Orlando for some great happy hour. Pair it with one of our downtown Orlando date ideas.
43 E Pine St, Orlando, FL 32801
407-423-2688
When:

5-7pm daily

House Wine

: Drinks range from $3-6

Happy Hour Food:

There is a long list of apps like gyoza, spring rolls and salads for $4, and rolls and nigiri starting from $3-6.

Need To Know:

Shakai is downtown, so parking is limited. Try the movie theater garage half a block away, or street parking along Rosalind or Church streets.
Shakai is quite the amalgam of sushi bar vibes. By day it offers a moody interior, and lively spot for families, after-work crowds and bachelorette parties fueling up for the night downtown. At night, it completely flips on its head and becomes a nightclub scene. How does a bar with such a huge pendulum of characteristics appeal to all audiences? Happy hour.
Bring your mom, your best friend or your grandma and all will be welcome. Kind servers run a well-oiled machine, dishing out bento box dinners and unreal happy hour priced small plates night after night. Opening at 5pm, it's not uncommon to see the place fill up quickly, so get there early.
Enjoy the ornate wood chandeliers and decor around the restaurant. The scenery is beautiful, the food is delicious, and the prices are fantastic. So what are you waiting for?
803 N Orange Ave, Orlando, FL 32801
(407) 648-8000
When:

530-7pm Monday-Thursday

House Wine

: $9 or $1 off select wine and hot sake

Happy Hour Food:

$6 small plates including gyoza, fried avocado, shishito peppers and tuna kushikatsu

Need To Know:

There are free parking garages directly behind the restaurant on Park Lake and Orange.
This down to earth sushi spot has been in Downtown's North Quarter since 2007. Technically bordering Lake Ivanhoe and the Ivanhoe Row area, it could also appropriately be considered downtown, as its proximity to many of the downtown apartment complexes is just steps away.
Popular for good reason with the after work crowd, Shin Japanese offers up a select menu of delicious small plates to enjoy before diving into their impressive sushi menu.
621 E Central Blvd, Orlando, FL 32801
407-930-2002
When:

Monday all day, Tues-Fri 430-630, Saturday-Sunday 12:30-6:30

House Wine

: $5

Happy Hour Food:

Lots of appetizers and sushi specials ranging $7-9 and 3 rolls for $19

Need To Know:

Parking is limited. Seek out street parking or walk from downtown.
Located in Thornton park, Ootoya is well located for the downtown crowd. Just steps from Lake Eola, a perfect date night can start at Ootoya and end with a stroll around the lake.
Ootoya proudly features uni (sea urchin) every Wednesday and Friday, but it's first come, first served – they only have about 25-30 servings a day!
With a seriously impressive list of hot and raw dishes on their happy hour menu, Ootoya knows how to cater to an early bird. From tempura, gyoza, tataki and kobachi, the menu has enough to satisfy any diner without even touching the primary menu. With a great selection of rolls at 3 for $19, this is a slam dunk for downtown date nights or long weekend lunches.
With a fun outdoor patio and swanky interior vibes, this one is a no brainer for happy hour.
---
Whether for date night, time out with the family after school, or just a cold drink and some nigiri after work, Orlando's sushi bar happy hours are sure to provide for a relaxing night that doesn't empty your wallet.