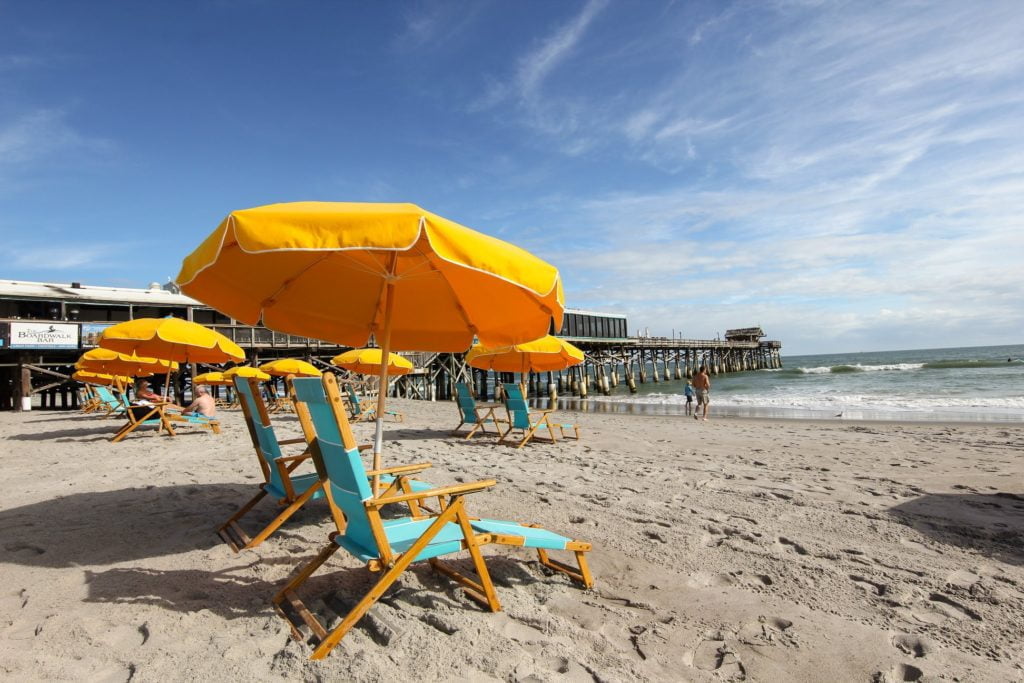 Did you know that no matter where you are in the state of Florida, you're never more than 60 miles from the coastline? Of course, how long it takes to get to a beach depends on traffic. It can be hard to decide which beaches near Orlando to go to for 4th of July. This practical guide to Central Florida area beaches will help you find the right beach for you.
You can also hop over to check out these 4th of July Events at Beaches Near Orlando.
What is the closest beach to Orlando?
Although Orlando is part of Central Florida, the majority of the Orlando area is a little closer to the east coast of Florida. And besides the slight lean towards the Atlantic coast, there is generally less traffic and congestion driving from Orlando to the Space Coast and the Volusia County beaches. 4th of July weekend at the beach is bound to be busy, so consider the East Coast for less traffic and less crowds.
Let's take a look at some of the closest beaches near Orlando:
Cocoa Beach
Melbourne
Titusville
New Smyrna Beach
Daytona Beach
Beaches near Orlando for 4th of July weekend
Cocoa Beach
Location: Using the address 1300 N Atlantic Ave Cocoa Beach, FL 32931 puts you near the center of the stretch of Cocoa Beach
Best for: A great local beach with lots of nearby dining and shopping, and an easy drive
Parking and admission: Free at Lori Wilson Park (1400 N Atlantic Ave) and George McLeod Park Landmark (345 N Azure Ln)
For most people, Cocoa Beach is the closest beach to Orlando. It is one of the easiest beaches to get to thanks to the 528 toll road, lovingly known as the "beach line," directly connecting Interstate 4 with the Atlantic coast. A visit to Cocoa Beach isn't complete without stopping at Ron Jon's Surf Shop. And, the Cocoa Beach Pier is a popular tourist spot (but beware of the pricey parking charge).
Plan your 4th of July weekend now and check out all these things to do near Cocoa Beach.
I love the beach town feel of Cocoa Beach. Besides soaking up the sun, I love driving around the neighborhoods to see the classic coastal styles. You can find plenty to eat around town. Some of my favorites are 4th Street Filling Station, Florida's Fresh Grill, and Rusty's Seafood and Oyster Bar.
Besides a charming beach area, Cocoa Village is nearby. This historic downtown area has fantastic dining and shops, and is wonderfully walkable. For a quiet 4th of July option away from the crowds it is a great choice.
Make a weekend getaway of it with our itinerary for Three Perfect Days in Cocoa Beach.
Or, have a truly epic experience by following our Sunrise to Sunset Florida Trip.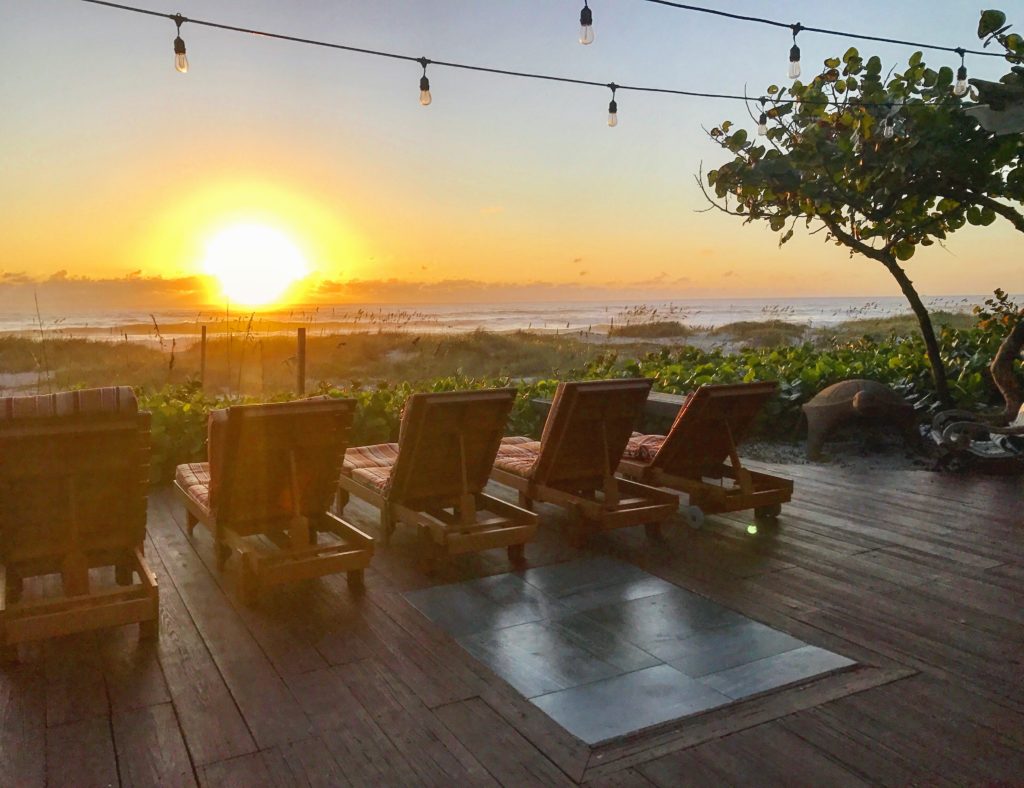 Melbourne Beach
Location: 30 minutes south of Cocoa Beach, with beach access along A1A from 1st Street to Surf Road
Best for: A quieter, more relaxing beach that's still close to Orlando
Parking and admission: There are free lots along Atlantic Avenue / A1A starting at Ocean Avenue down to Surf Road, but they are small
Situated along Florida's Space Coast, the city of Melbourne is located a little less than 90 minutes from downtown Orlando. Melbourne Beach is quieter and more relaxed than Cocoa Beach. History Point Melbourne (194 Ocean Avenue) is a great place to start when visiting Melbourne Beach. Free parking along A1A fills up fast, so Melbourne Beach is best for early risers.
If you're coming from the Kissimmee / St. Cloud area, Melbourne Beach is closer to you than Cocoa Beach. And if you'd rather not get your toes sandy, Historic Downtown Melbourne and the trendy Eau Gallie Arts District are great to explore. Find more ideas for a lovely day during 4th of July weekend with our guide for spending a day in Melbourne.
Playalinda Beach in Titusville
Location: Playalinda Beach is reached via Fla 402 (also known as Beach Road)
Best for: The ultimate Space Coast destination
Parking and admission: There is a park entrance fee of $20 for one vehicle, it is valid for 7 days
Not too far from Cocoa Beach is Titusville. It is about 30 minutes north of Cocoa Beach, so if you are coming from the north side of Orlando, towards Seminole County, it is convenient. Here you'll find a smaller beach town with a charming historic downtown. Celebrating Americana in a historic area like this is great for 4th of July weekend.
Titusville celebrates the unique culture of the space program and is a very popular spot for viewing rocket launches. There aren't as many public-access beaches here, but you will find a nice selection of restaurants and lounges. Make sure to also stop by Playalinda Brewing.
We've got a step-by-step itinerary for a wonderful day in Titusville.
Playalinda Beach in Titusville is where to head for beach access. This beautiful beach is housed within a natural reserve, the Canaveral National Seashore. FYI: it is home to a nude beach (around parking lot 13, the farthest pier). If you wish to avoid this area there is plenty of space — just park at one of the lots before parking lot 13. And if you prefer to explore the nude beach, well, you know where to go!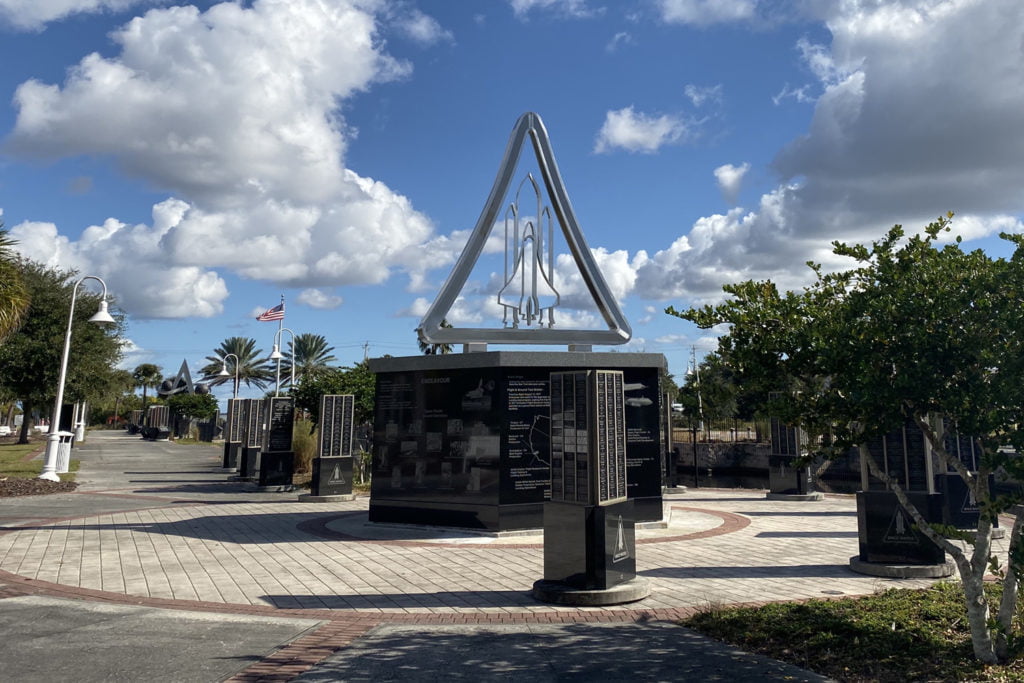 New Smyrna Beach
Location: Volusia County, closest beach to Seminole County and West Volusia County
Best for: Charming small-town feel with great local dining and shopping
Parking and admission: Free parking in select small parking lots along Flagler Avenue and side streets – walking involved, parking lots closest to the beach are $20 per day
New Smyrna Beach is small, but mighty. Charming small businesses make up this town, and there are plenty of great restaurants for a delicious 4th of July meal. Locals call New Smyrna Beach "NSB" and you're sure to see "NSB" stickers on cars as you approach the area. Plentiful beachside parks give you another way to enjoy the beach. One of my favorites is 27th Avenue Beachfront Park, with its beachside playground and picnic facilities. There is also a dog-friendly beach at Smyrna Dunes Park (though it is very popular on the weekends and usually reaches capacity by 11:00 am).
Make the most of it with these 14 Things to Do in New Smyrna Beach (besides the beach).
Important note: Driving on the beach is allowed through most of New Smyrna Beach and Daytona Beach. Please be extremely careful around children.
Daytona Beach
Location: North Volusia County
Best for: Exciting atmosphere and lots of activity
Parking and admission: Driving on the beach access is $20, free parking at 834 N. Atlantic Avenue, Daytona Beach, free parking at 611 S. Atlantic Avenue, Daytona Beach, you can also park for free at Hard Rock Hotel Daytona Beach as long as you dine at the onsite restaurant or have a spa appointment
Perhaps the most well-known beach on Central Florida's Atlantic coast is Daytona Beach. Home of Daytona International Speedway and the famous Daytona 500 race, this beach allows cars to drive and park right on the sand, in honor of the original Daytona 500 races taking place on the beach itself. It is one of the most visited beaches near Orlando, and very popular for 4th of July weekend.
Personally, I find Daytona Beach to be too busy and congested. However, Daytona Beach is a must-do if you're new to Florida or you're showing people around Central Florida. If you want to enjoy the excitement of Daytona Beach and experience a romantic atmosphere, the Hard Rock Hotel Daytona Beach should be on your list.
Whether you do a weekend getaway at the Hard Rock Hotel Daytona Beach or stop by for brunch, it is one of the best features of this area.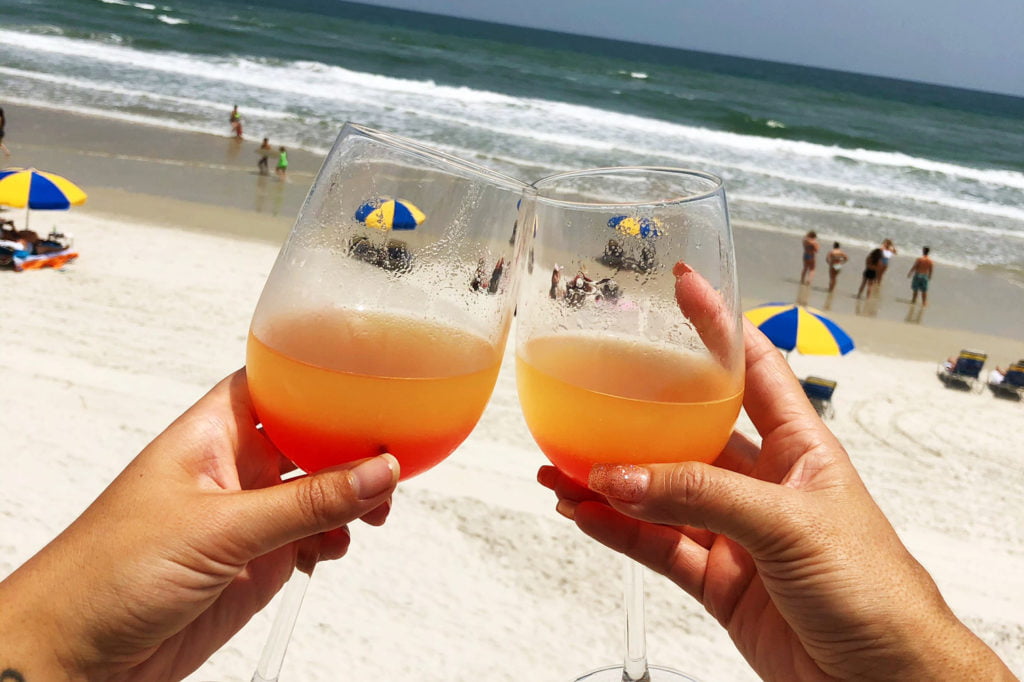 What is the nicest beach near Orlando?
The answer to this is certainly subjective and open to opinion. Still, there's no denying there are a few favorite beaches among locals.
New Smyrna Beach is my favorite among the Atlantic coast beaches near Orlando. A small, coastal town feel exudes from the New Smyrna Beach area. Flagler Avenue is full of great local restaurants and shops, with the beach itself at the end. What could be better for 4th of July?
On the Gulf site, St. Pete Beach is considered to be among Florida's nicest beaches. The surrounding area is more metropolitan than natural relaxation, but offers plenty of options including art museums, breweries, eateries and more.
Plus, the St. Pete Pier is a must-do attraction with dining, local artisans, and a fantastic playground it is sure to be popular on 4th of July.
---
Quiet Beaches Near Orlando to Escape the 4th of July Crowds
Honeymoon Island (Gulf Coast)
Egmont Key State Park (Gulf Coast)
Jetty Park (East Coast)
Ponce Inlet (East Coast)
Not too far from Clearwater Beach is Honeymoon Island. This beautiful Florida state park is perfect for 4th of July weekend. You can rent bicycles and kayaks for the ultimate in beach-day recreation. You can also take a ferry to Caladesi Island for unspoiled natural beauty. Grab a bite to eat at the small cafe near the boat dock here or claim your piece of paradise and rent beach chairs and umbrellas to make the most out of your island time.
Another Gulf Coast destination for 4th of July with a private island feel is Egmont Key State Park. Just over an hour from the attractions area, it is one of the best beaches near Orlando for 4th of July. My husband and I loved exploring this island. We booked the Hubbard's Marina Ferry, which departs from Fort De Soto Park near St. Pete. With this ferry you'll be on the island for three hours, giving you time to explore the beaches on both sides of the walkable island, explore the ruins, and more. Get all the details at Sail Away to Egmont Key State Park for the Day.
Jetty Park is one of my favorite beaches on the Atlantic coast, and it is so fun for 4th of July. Because of the jetty at the end of its beach, the water is calmer than the other beaches in the area. It is also home to a campground, complete with cabins that are almost on the oceanfront. Camping at Jetty Park is a great romantic getaway.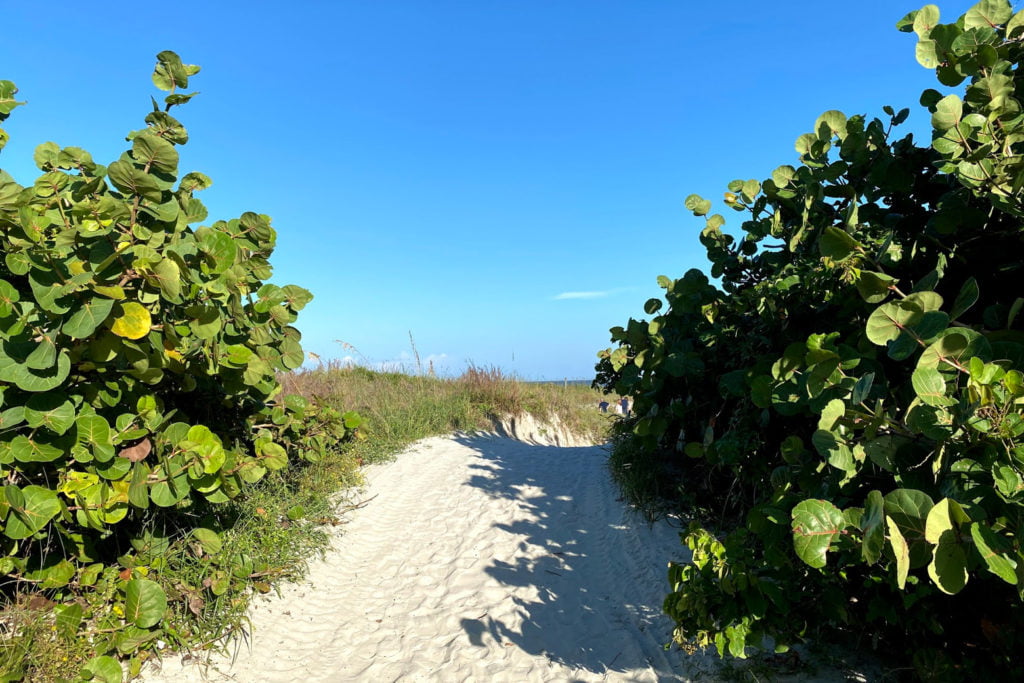 From Jetty Park, you can enjoy the beach, walk out on the pier, and watch cruise ships head out to sea in the afternoon. There are also restroom facilities near the parking lot, which is a rare and helpful feature.
Jetty Park is open daily from 7am to 9pm. Access to parking is available to Jetty Park Passholders only. An Annual pass, 3-month pass or Daily Pass must be purchased online prior to arrival at the park. No credit card or cash transactions can take place at the entrance gate – a parking pass / day pass is required and must be purchased online, in advance.
Finally, Ponce Inlet is a quiet beach near the Daytona Beach area. Although the southern tip of Ponce Inlet is open to beach driving, most of Ponce Inlet beaches are closed to vehicular traffic. Winterhaven Park in Ponce Inlet is a great choice for free parking and access to a quieter beach.
Feature image credit: Westgate Cocoa Beach Pier