As much as we love the nighttime energy and nightlife at Pointe Orlando, there's something special about brunch. Heading to this iconic destination along International Drive for brunch is full of fun whether it's on a date or gathering with friends. Creative brunch cocktails and delicious brunch eats await!
Come along with us to check out three Pointe Orlando restaurants that serve brunch on the weekends. We're sharing some of the best things to order so your brunch outing is the best it can be.
Brunch at Pointe Orlando Restaurants
The Hampton Social

The Pub Orlando

JoJo's Shake BAR
Pointe Orlando continues to evolve and add exciting enhancements. There are comfortable outdoor seating areas along the promenades and plazas. Multiple entertainment venues are open, and more additions are on the horizon.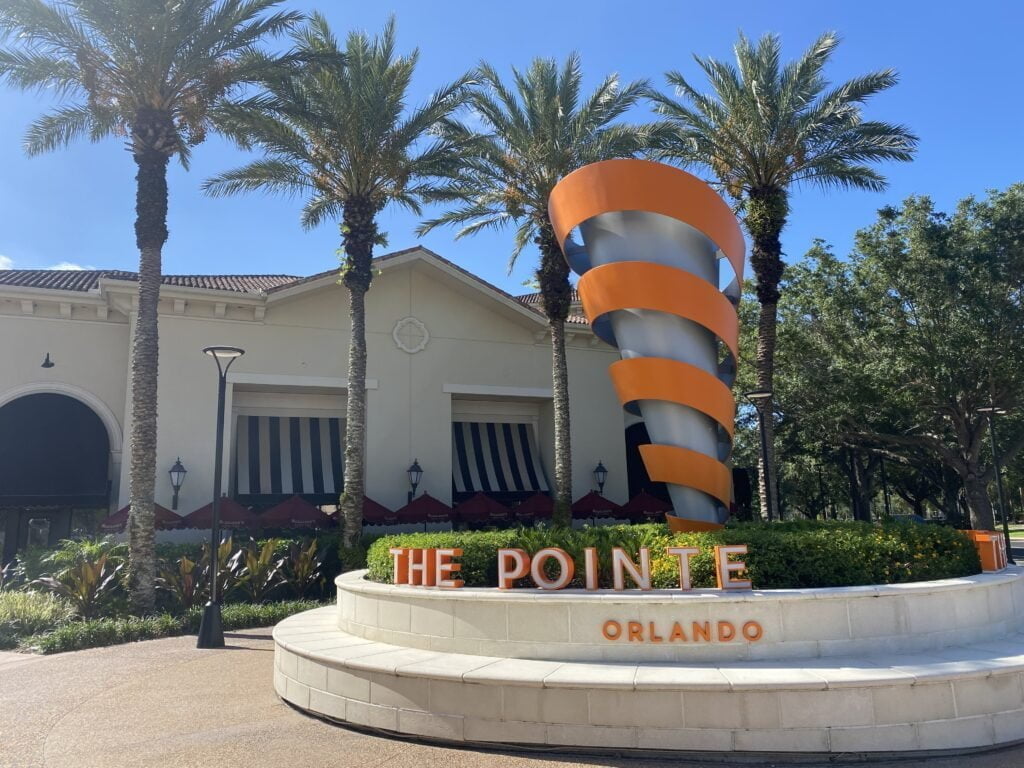 Brunch at Pointe Orlando is great for locals as well as visitors looking for a tasty and relaxing way to celebrate the weekend.
9101 International Dr, Orlando, FL 32819
Brunch hours: Saturday and Sunday 10am – 3pm
Menu highlights: Sunrise Beach Bowl, Crab Cake Benedict, Espresso Martini, Frosé
Escape to The Hamptons and pretend you're a socialite at this beautiful Pointe Orlando restaurant. The Hampton Social is bright with modern seaside decor and lovely indoor and outdoor seating.
When you arrive for your brunch gathering you'll probably notice how popular The Hampton Social is on the weekends. There is plenty of space here, but definitely make reservations to make things easier on yourself.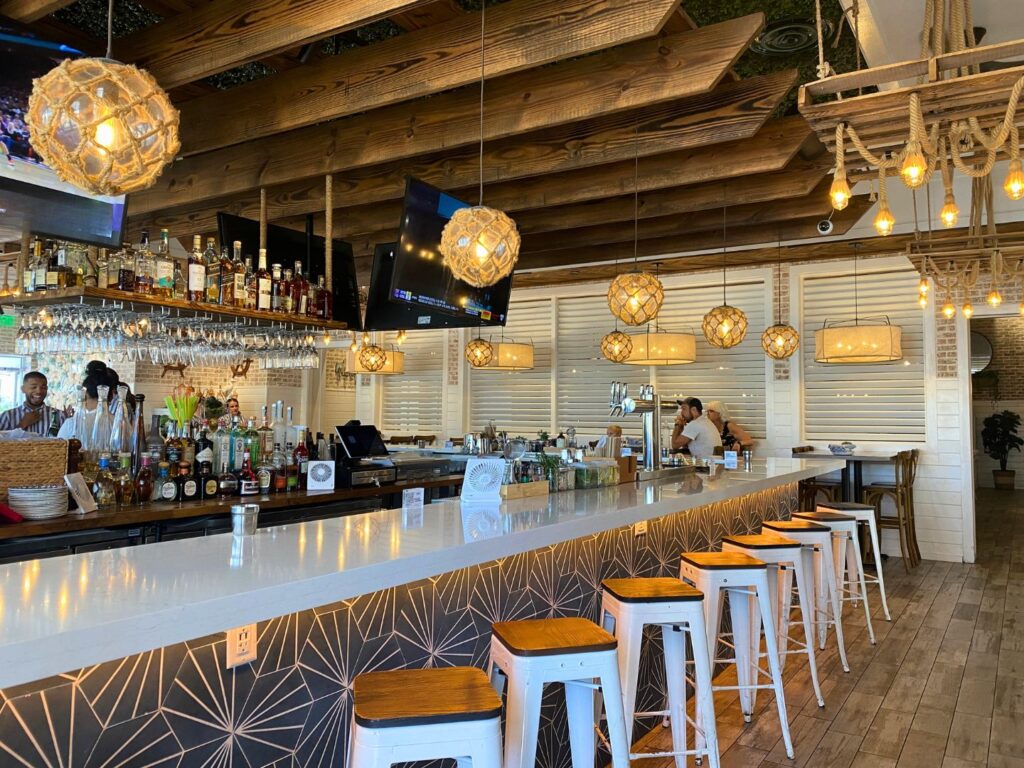 The Espresso Martini is hard to resist, especially with a classy touch of edible gold glitter dusted on top. For entrees, the Sunrise Beach Bowl and Crab Cake Benedict are two popular choices.
There are even multiple mocktails as well as non-alcoholic sparkling rosé in case you want to raise a glass to the best brunch life, without the spirits.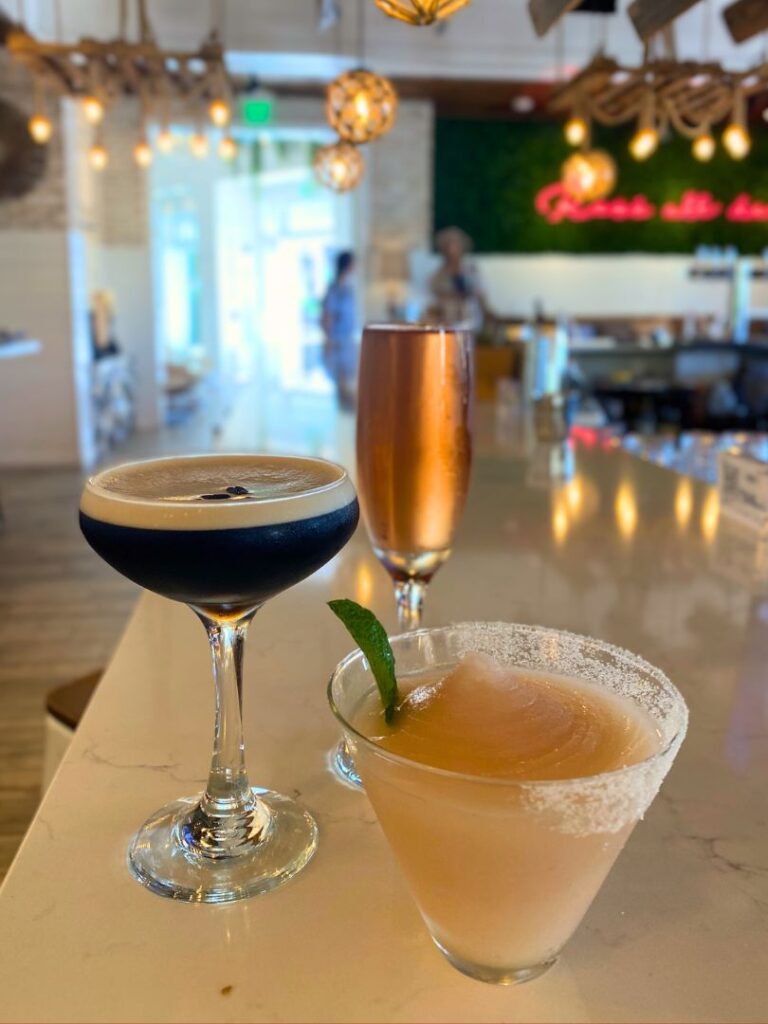 9101 International Dr. Suite 1003, Orlando, FL 32819
Brunch hours: Saturday and Sunday 10:30am – 3pm
Menu highlights: Hold the Hangover Bowl, The Cure Sandwich, Nick's Signature Bloody Mary
You should only enter The Pub Orlando for brunch if you are ready for hearty fare. Right across the courtyard from The Hampton Social, the difference in menu and atmosphere is completely opposite at The Pub.
Rich, dark wood and traditional pub decorations adorn the walls. The interior is large, yet cozy, while the outdoor dining overlooks the main plaza of Pointe Orlando.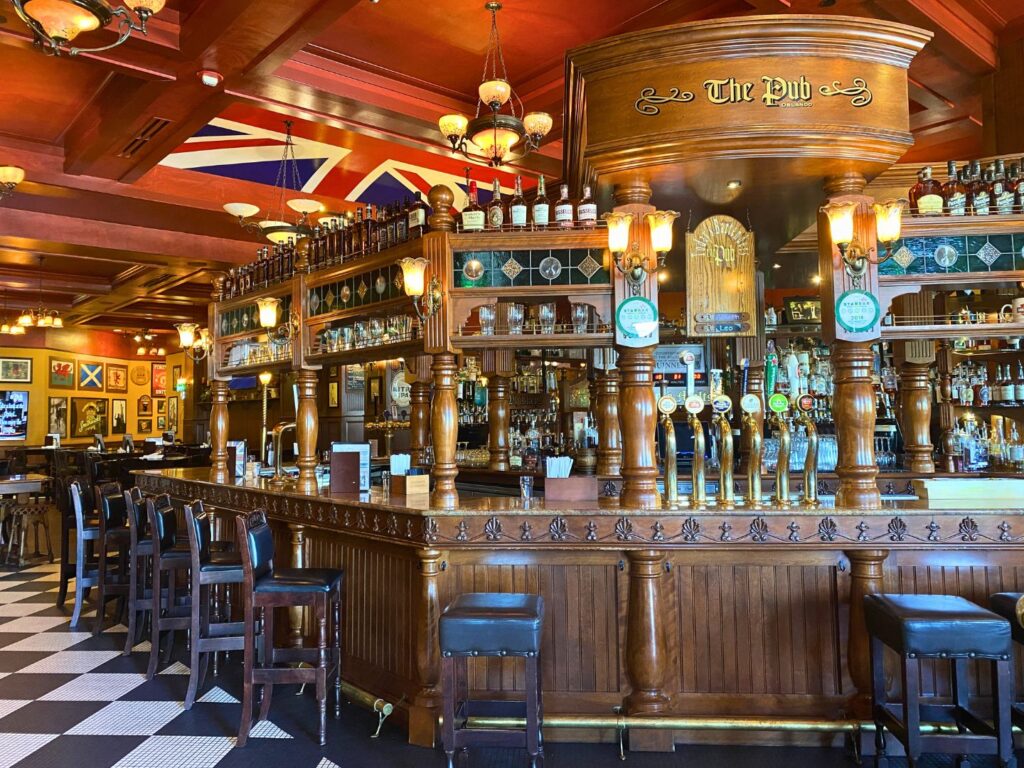 The draft beer selection will please any traditional pub enthusiast. There are multiple flavored mimosas here, but the best brunch drink at The Pub is the awesome Nick's Signature Bloody Mary. You won't find fancy garnishes on this Bloody Mary, but the flavor is king – especially if you ask for it extra spicy.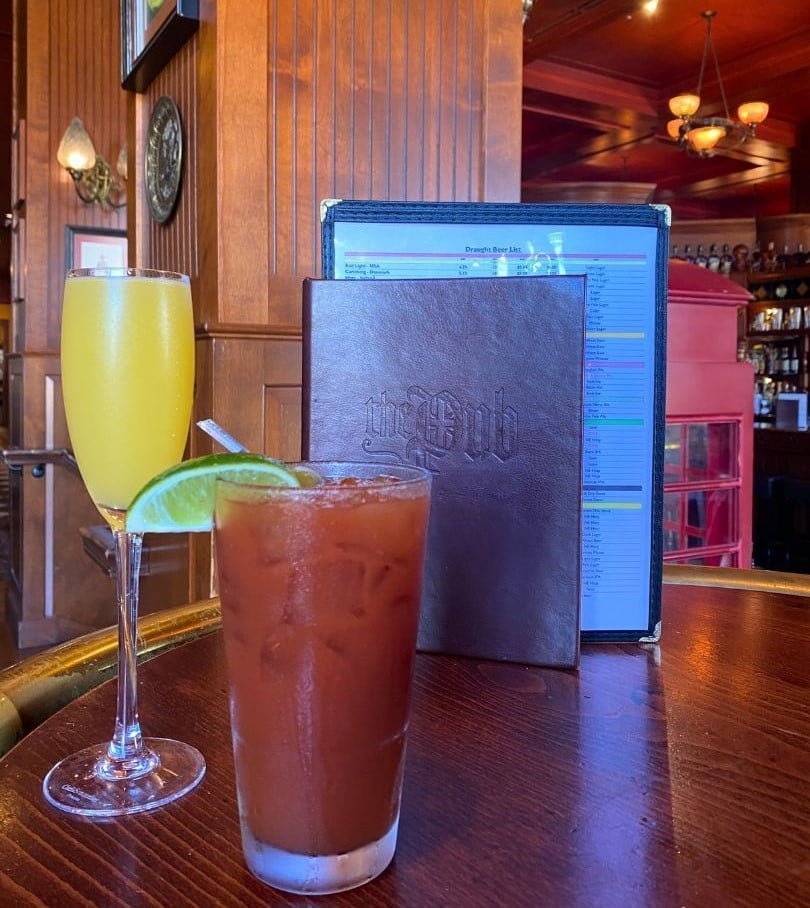 Prepare to be full all day long after your brunch thanks to the rich and hearty servings like the Hold the Hangover Bowl and The Cure Sandwich. In fact, to conquer The Cure Sandwich with its pretzel bun, fried eggs, Bellhaven beer cheese, and onion straws you're going to need a knife and a fork.
The Pub offers the heartiest brunch at Pointe Orlando. Wear your stretchy pants.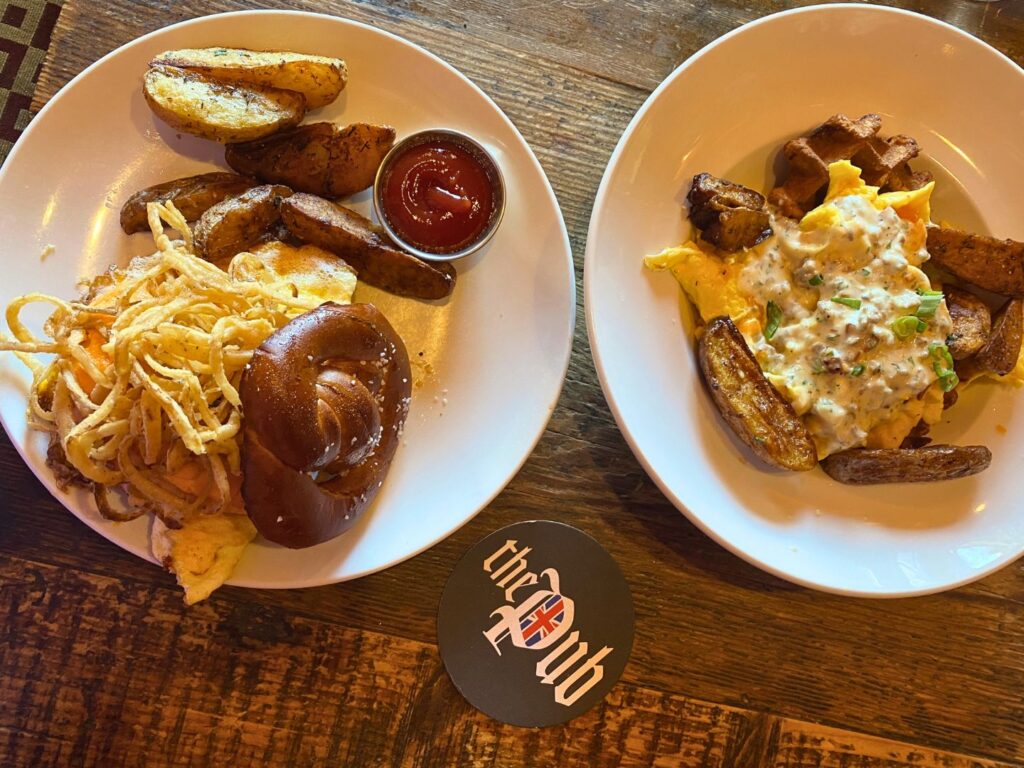 9101 International Dr #1208, Orlando, FL 32819
Brunch hours: Saturdays and Sundays 11am – 2pm
Menu highlights: Chilaquiles, Baked French Toast, Bloody Mary with a mini Chicago dog
One of the newest restaurants is JoJo's Shake BAR. If your brunch at Pointe Orlando is a gathering of friends, then JoJo's is the move.
The vibrant interior sets off a fun atmosphere. The colorful cocktails and massive milkshakes (available with or without alcohol, and vegan varieties available too) are cause for a celebration.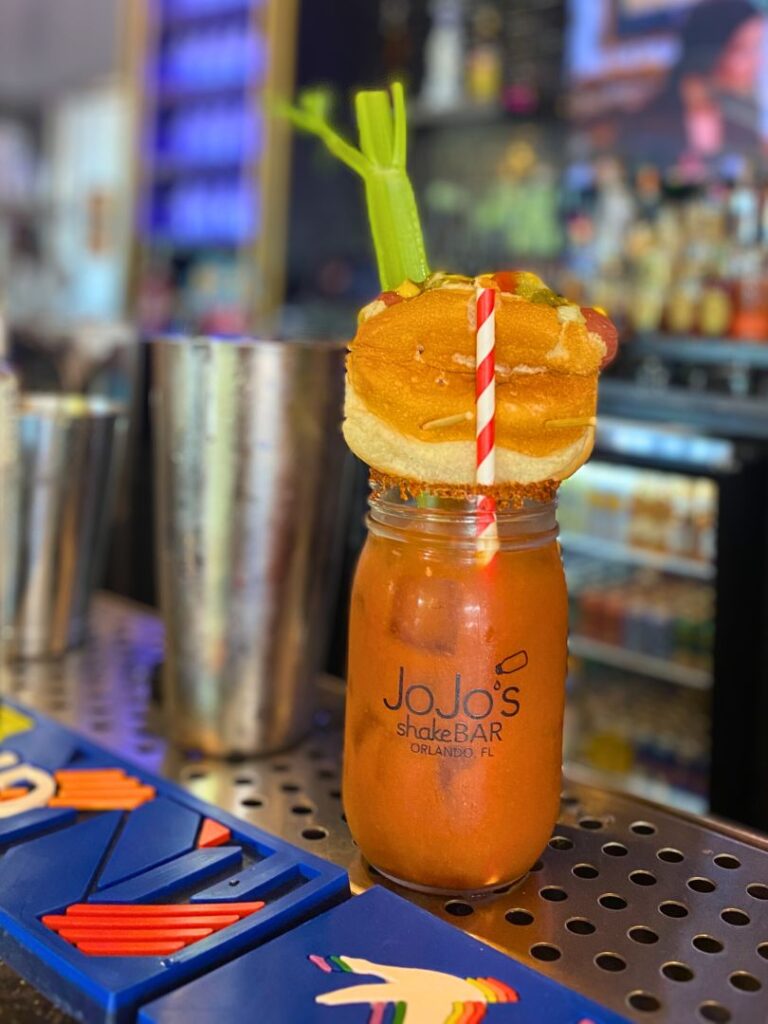 The brunch items like Chilaquiles and Baked French Toast are flavorful and satisfying. Surprisingly there is only one specialty brunch drink, and it is actually a shot. But the Bloody Mary topped with a mini Chicago dog is available anytime.
Of course, any of the milkshakes can be a fun brunch beverage too, especially the Three's Company strawberry banana shake with a nutty donut hole, chocolate cone, and sugar cookie. Try it with Captain Morgan spiced rum!
And the Cereal Killa Shot is like taking a shot of spiked cereal milk, and it comes with an edible Fruity Pebbles cup!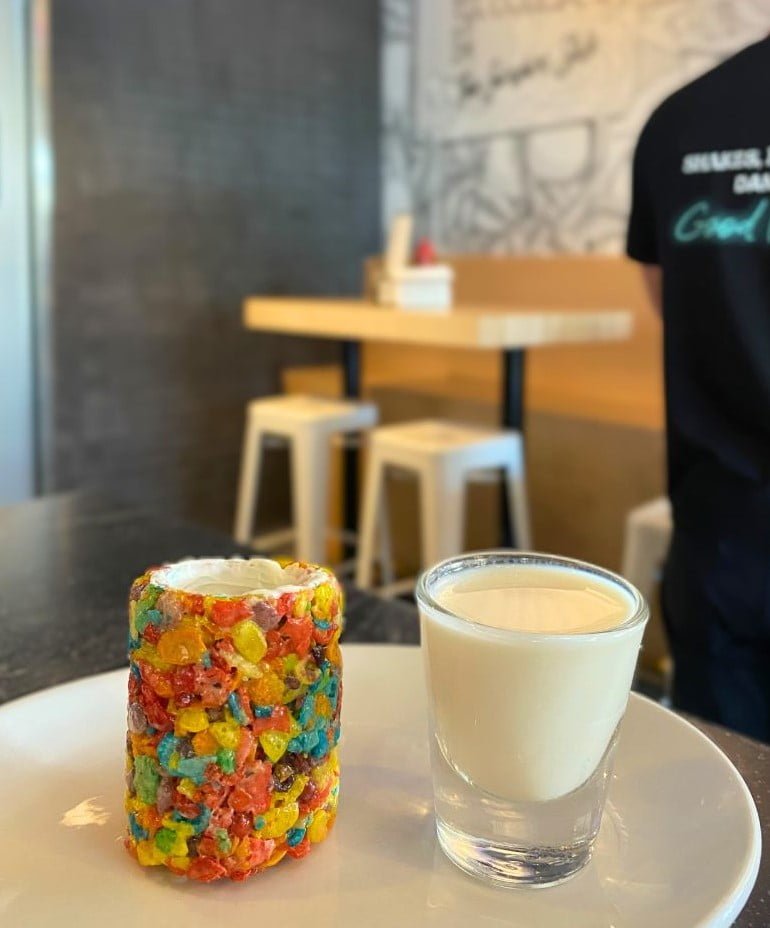 Booking brunch here means you're ready for an indulgent and fun time.
Things to Know
Book reservations in advance

Most restaurants will validate self parking in the parking garage. Be sure to ask.

Walk around and enjoy some of the other venues at The Pointe after your meal

Check the Pointe Orlando Events Calendar to see if any special events are happening
After your indulgent brunch at The Pointe, you may want to burn some energy by playing bowling, laser tag, or arcade games at Main Event Orlando. You can also embark on an edutainment adventure at WonderWorks.
Of course, you may find it best to get comfy and catch a flix at Regal Pointe Orlando. Either it's bound to be a fun weekend date.
Featured image from @thehamptonsocial