Move over Shark Week – the ultimate predator is about to take center stage in Central Florida.
Gator Week is Back!
Wild Florida's Annual Gator Week is back May 29 – June 3, 2023! It just doesn't get more "Only in Florida Experiences" than a week-long celebration honoring alligators, and at a local gator park no less!
It's no secret that longtime central Florida attraction Wild Florida knows a thing or two (or two hundred) about alligators and their reptile cousins. Filled with a certain passion and immense knowledge, Wild Florida hosts this one-of-a-kind event centered around one of Florida's most recognizable, yet misunderstood animals… the American alligator!
It's also one of our top picks for Things to Do Memorial Day Weekend in Orlando.
What is Gator Week?
Gator Week is an entire week hosted by Wild Florida every year dedicated to educating guests about Florida alligators, debunking common gator myths, and fostering a more positive attitude towards these historic reptiles.
During Gator Week, enjoy free admission to Wild Florida's Gator Park with a donation of any money or spare change (and dollars accepted, too :-). The park is aiming to collect funds to help graduating Osceola County high school seniors pay for college.
Throughout Gator Week, there will be exciting daily shows, gator jumpathons, a gator cake decorating contest, alligator trivia, myth busting experiments and usually a huge birthday party for National Alligator Day on May 29.
More Ways to do a Date Day at Wild Florida
Make a day of it by exploring even more of Wild Florida's attractions. Here are a few of our favorites for couples:
Drive-Thru Safari Park
We've posted about Wild Florida's Drive-Thru Safari park several times and it has been a total hit with our readers. During the 2-mile long drive, cruise by giraffes, zebra, bison and more. You can add on a stop to get out and hand feed a giraffe if you'd like.
Tickets are $24 for Florida residents (normally $34). Giraffe feeding is an extra $5/person.
Dine with Crusher
This is truly an "only in Florida" date day activity. During this unique encounter, you'll be able to dine alongside Crusher, Wild Florida's 1,000 lb. alligator, while learning fun facts from his trainer over lunch. The cost is $55/person and reservations are required. See all available alligator encounters here.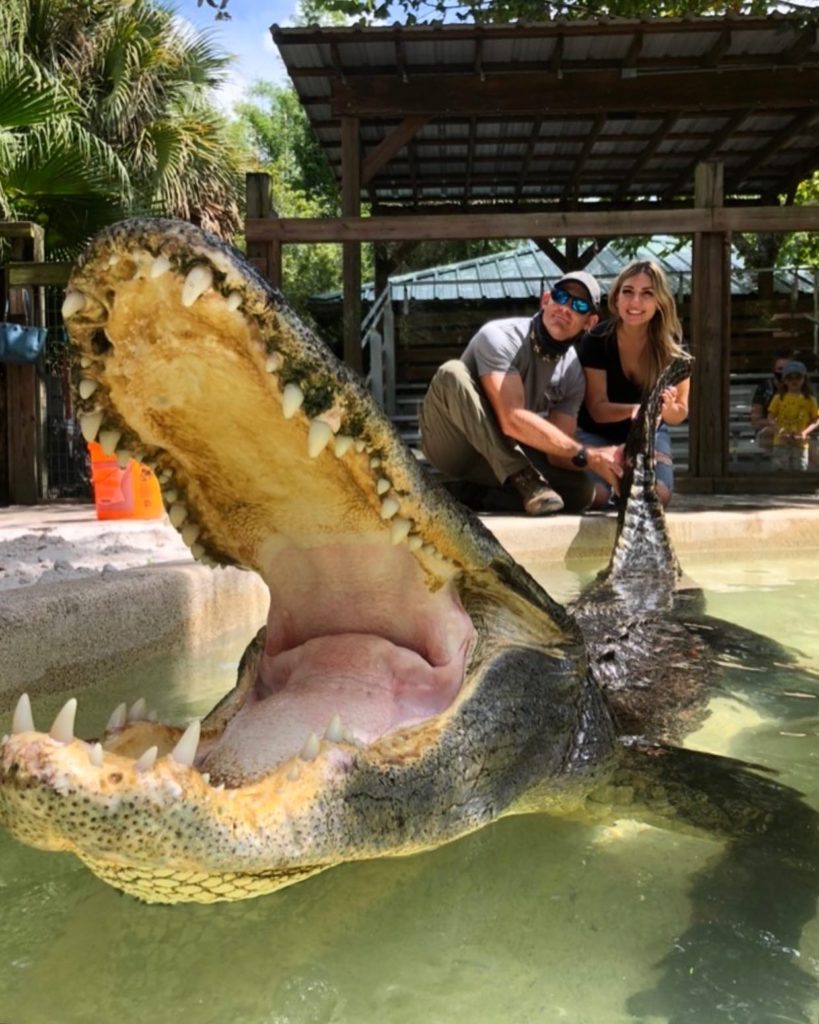 Sloth Encounters
Get up close and personal with Wild Florida's lovable sloths during a sloth encounter. Wild Florida offers two unique sloth experiences. The regular sloth encounter invites you into the enclosure to snap selfies with the sloths and learn about these two-toed creatures. The VIP experience, limited to just 4 people per day, allows you to actually hold a sloth. Reservations are required in advance.
Giraffe Painting
One of the newer animal encounters to join the lineup, giraffe painting invites you to co-create a masterpiece with one of the park's resident giraffes. You'll also get to feed and pet the giraffes during the experience. The cost is $145 and reservations are required in advance.
Check out all of Wild Florida's animal encounters here.
About Wild Florida
Wild Florida Airboats, Drive-thru Safari & Gator Park, which opened on Lake Cypress in Kenansville in 2010, focuses on educating individuals about Central Florida's natural resources. The Wild Florida team is dedicated to protecting, conserving, and enhancing Florida's diverse ecosystem to ensure that future generations can enjoy the wonders of wild, native Florida.
For full details and to see everything Wild Florida has to offer, visit wildfloridairboats.com.
All images courtesy of Wild Florida