Looking for a surefire way to impress your date? Treat them to a decadent night out at one of Orlando's best Brazilian steakhouses, where you can indulge in sumptuous, fire-kissed meats served "rodizio-style" right at your table. Savor endless cuts of seasoned, perfectly grilled churrasco, paired with hot Brazilian side dishes, grilled vegetables, fresh fruit, and more. Brazilian steakhouses typically offer a more elegant dining experience, so dress up, crack open a bottle of wine, and enjoy a romantic night out with your love at one of these fantastic Brazilian steakhouses with a great date night atmosphere.
Updated May 2023, by Zoë Joiner
What to Expect
Brazilian steakhouses specialize in churrasco-style cooking, in which seasoned meat is slowly roasted or grilled on a spit. A full "rodizio-style" meal is typically all-you-can-enjoy, with enhancements and alcohol available at an additional cost. Waiters called gauchos roam the restaurant, carrying massive skewers of a dozen or so grilled meats, from filet mignon to lamb picanha. Hot sides and unlimited access to an impressive market table are also included, so you can balance all that protein out with gourmet salads, marinated veggies, fresh fruit and more.
Upon arrival, you'll be given a small two-sided token, typically with a green side and a red side. Place it on the table, green side up, to indicate that you'd like more food, and gauchos will flock to your table to offer cuts of whatever meat they carry. Watch as your plate magically fills with a mouth watering variety of meat prepared churrasco style, and feel free to visit the market table or order drinks and enhancements at any time. When you can't possibly eat another bite, flip the token red side up to indicate that you're taking a break.
Orlando Brazilian Steakhouses with Great Atmosphere
8282 International Dr, Orlando, FL 32819
Fogo de Chão brings serious date night style to the table, with a stunning dining room, attentive service, and South American food, wine, and cocktails that wow. The full rodizio experience is offered during lunch, brunch, and dinner, featuring endless fire-roasted meats like picanha, medalhões con bacon, and cordeiro.
Complement your meal with included side dishes of warm pão de queijo, caramelized bananas, crispy polenta, and mashed potatoes served tableside, plus exotic vegetables, imported cheese, seasonal soup and more from the market table and feijoada bar. Don't miss the fogo feijoada, a traditional black bean stew with sausage served over white rice. Share a bottle of South American wine, and toast to your love at this indulgent Brazilian steakhouse.
For a different take on the full Fogo experience, order premium paid upgrades, keep it simple with a la carte dinner entrees, or enjoy Fogo to-go for an extra special date night at home.
Premium paid upgrades include chilled seafood appetizers and specialty beef, like aged wagyu ribeye and dry-aged tomahawk ancho: a 36oz. Long Bone Ribeye dry aged for a minimum of 42 days. Try the jumbo shrimp cocktail or cold water lobster appetizer to start. It comes with two full lobsters (two split lobster tails and four lobster claws), drawn butter and Brazilian Malagueta cocktail sauce.
A la carte entrees include Chilean sea bass, pan-seared salmon, or cauliflower steak. Best of all, Brazilian side dishes and access to the market table and feijoada bar are included during brunch and dinner!
Online ordering includes churrasco combinations, meat by the pound, and Brazilian side dishes for curbside pick-up or contactless delivery. You can even order raw, premium cuts from the butcher shop if you want to try your hand at grilling your own churrasco at home! Browse all options here.

5259 International Dr Suite 1, Orlando, FL 32819
Texas de Brazil serves an extravagant rodizio-style feast with a generous splash of Texas hospitality. Cozy up to your date in a lush, moody dining room complete with scarlet walls, iron chandeliers, and dark wood beams, and sip on a caipirinha or two to start. Savor flame-grilled picanha, sausage, bacon-wrapped filet mignon, braised ribs, and twelve other sumptuous cuts of meat – you can even watch the meat being cooked in the open kitchen!
Your indulgent feast includes hot side dishes, like feijoada black beans, fried bananas, and Brazilian cheese bread, as well as chef-crafted salads, roasted vegetables, imported cheese and charcuterie from the salad bar. End on a sweet note with decadent desserts like Brazilian cheesecake, flan, and Brazilian papaya cream.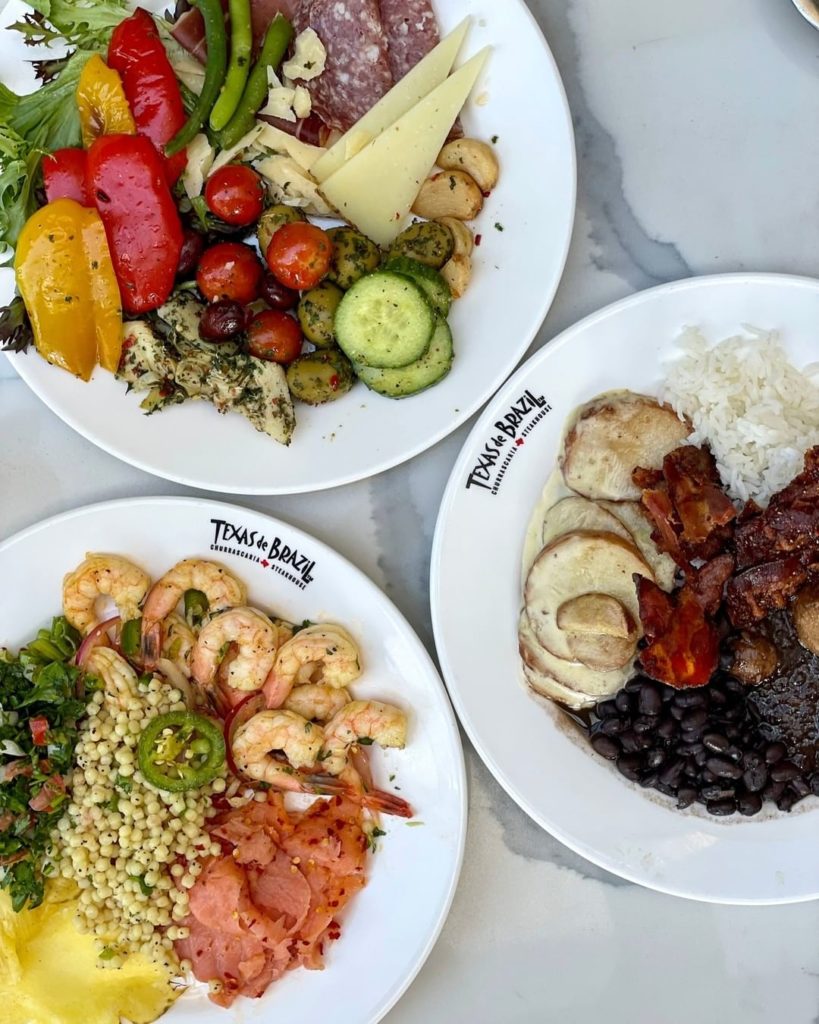 Related: Birthday Ideas for Adults
8204 Crystal Clear Ln #1700, Orlando, FL 32809
Adega Gaucha is a fantastic Brazilian steakhouse, tucked away in a nondescript building just outside the Florida Mall. Head inside, and you'll find a warm, elegant dining room with crisp white linens, tons of natural light, and some of the best churrasco in Central Florida. The full churrasco experience is available during lunch, brunch, and dinner, as is a selection of à la carte entrees for those who want a lighter experience.
Succulent fire-roasted meats are the star here, but don't overlook the gourmet table, where you'll find grilled and marinated vegetables, fresh fruit, charcuterie and more. Plus, the full churrasco experience comes with your choice of three hot signature sides, like a sweet and savory corn brûlée. If you're too full for dessert, share the Brigadeiro trio, three traditional fudgy chocolate balls topped with nutella, guava and dulce de leche.
9101 International Dr #1220, Orlando, FL 32819
This stylish, modern steakhouse at Pointe Orlando has quite the claim to fame. Rodizio Grill is the first Brazilian steakhouse chain ever established in the United States, with flavors inspired by the founder's own Brazilian family recipes. In addition to traditional cuts like fraldinha (flank steak) and picanha (top of the rump), you can try maminha (a flavorful tri-tip sirloin) and bife con parmesão, a center cut steak topped with Parmesan, both of which are unique to Rodizio Grill.
The salad bar is packed with fanciful enhancements, like marinated quail eggs, ceviche, fresh strawberry salad, and roasted coconut pineapple slaw. There are more hot side dishes here than at any other Orlando Brazilian steakhouse on our list. Try the couve, a traditional side dish of sautéed collard greens and bacon. For a sweet finish, share the rabanada, a warm cinnamon pastry with a creamy center, served with vanilla ice cream and caramel sauce.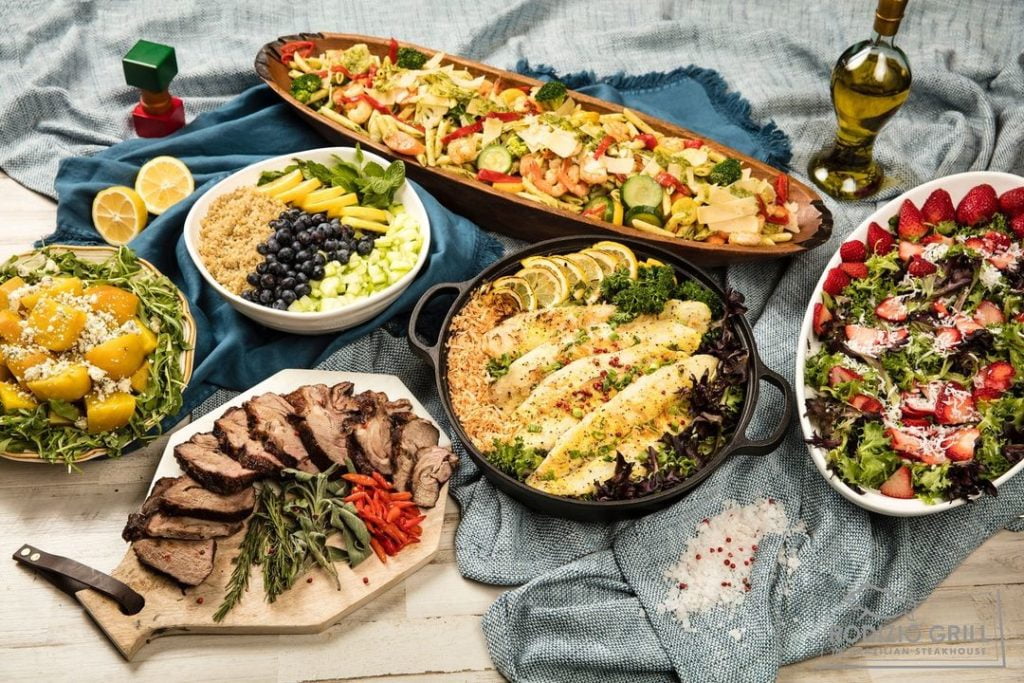 Date night tip: Rodizio Grill Brazilian Steakhouse Orlando provides complimentary parking validation at the Pointe Orlando garage with the purchase of at least one full rodizio experience.
Brazilian Steakhouse Orlando – Great Drinks and Specials
Savor an indulgent Brazilian date night for less with these fantastic happy hours and dining promotions.
Happy Hour at Fogo de Chão: Get a taste of Fogo without the commitment of an endless meat parade, at their weekday happy hour! Snag $5 bar bites, small plates at $10 or less, meat boards, burgers, and even the premium wagyu steaks you'd find on the regular dinner menu. This is a great way to skip right to the fanciest cuts of meat, without paying for regular dinner service. Enjoy happy hour in the bar and patio area Monday-Friday from 4:30-6:30pm.
Related: Orlando Happy Hours
Drink Specials at Adega Gaucha: Stop by on Fridays for half-off all bottles of wine under $100, or hit the bar for weekday happy hour from 3:30-6:30pm. Get the party started with $4 beers, $6 wine or cocktails, and $5 appetizers.
Visit Orlando's Magical Dining: every fall, 100+ of Orlando's best restaurants offer a limited-time Magical Dining menu, where diners can score a special prix-fixe dinner for $37 per person. The full lineup has not been announced for 2023, but Adega Gaucha and Fogo de Chão have both participated in recent years.
Go à la Carte: Fogo de Chão and Adega Gaucha offer à la carte entrée options for diners who don't want the full rodizio experience. At Fogo de Chão, access to the market table is included with individual entrees during brunch and dinner service. At Adega Gaucha, you can add access to the unlimited gourmet table for $11 with the purchase of an individual entrée.
Stick to the Salad Bar: If endless meat just isn't your cup of tea, ask for the salad bar only option. The market tables at Brazilian steakhouses are packed with savory options, like smoked salmon, candied bacon, gourmet cheese and charcuterie, and marinated beef brisket, to balance out an endless buffet of fresh, delicious fruit, salads, and roasted vegetables.
Join Loyalty Clubs: sign up for loyalty clubs and email lists for special deals and savings. At Texas de Brazil, for example, e-club members get $20 off the purchase of two regular dinners combined, plus birthday and anniversary gifts.
Featured image from Fogo de Chão @fogo