Movies make for some of the best date nights, wouldn't you agree? And the most spectacular event for movie lovers is back, right here in Orlando. The Florida Film Festival lasts 9 days all centered around unforgettable films, shorts, scrumptious food and drink, and fabulous parties.
And you're invited to all of it! It can be overwhelming to figure out what to do at the Florida Film Festival (April 14 – 23, 2023) and decide which events are best to attend. This couple's guide to the Florida Film Festival includes our picks for the must-see movies that are best for couples as well as our picks for the best festival events and parties.
Updated by Dani Meyering in April 2023
What is the Florida Film Festival?
The Oscars come to Orlando? Well not exactly, but the Florida Film Festival boasts 180 films from 35 countries and is an Oscar®-qualifying festival. Couples can experience multiple movies throughout the festival or just see one single movie.
There are multiple ways to experience the festival. Ticket options range from admission to one single movie to all-access passes to the entire festival. Single movie screenings are $13.00. Some ticket packages include Early Entry which means you will be allowed access to the theaters before single ticket holders. Single ticket holders will be given access starting 15 minutes prior to show time.
In addition to films that are shown across a ten-day schedule, there are special events and parties. More details on the events schedule can be found down below.
When is the Florida Film Festival?
From April 14 – 23, 2023 the Enzian will present a dynamic collection of 160 films as well as special events. There are film screenings every day of the festival with showings taking place as early as 10:00am and as late as 9:30pm, or later. The weekend and evening screenings will be the most popular.
Read on for how you can tackle this momentous annual affair together.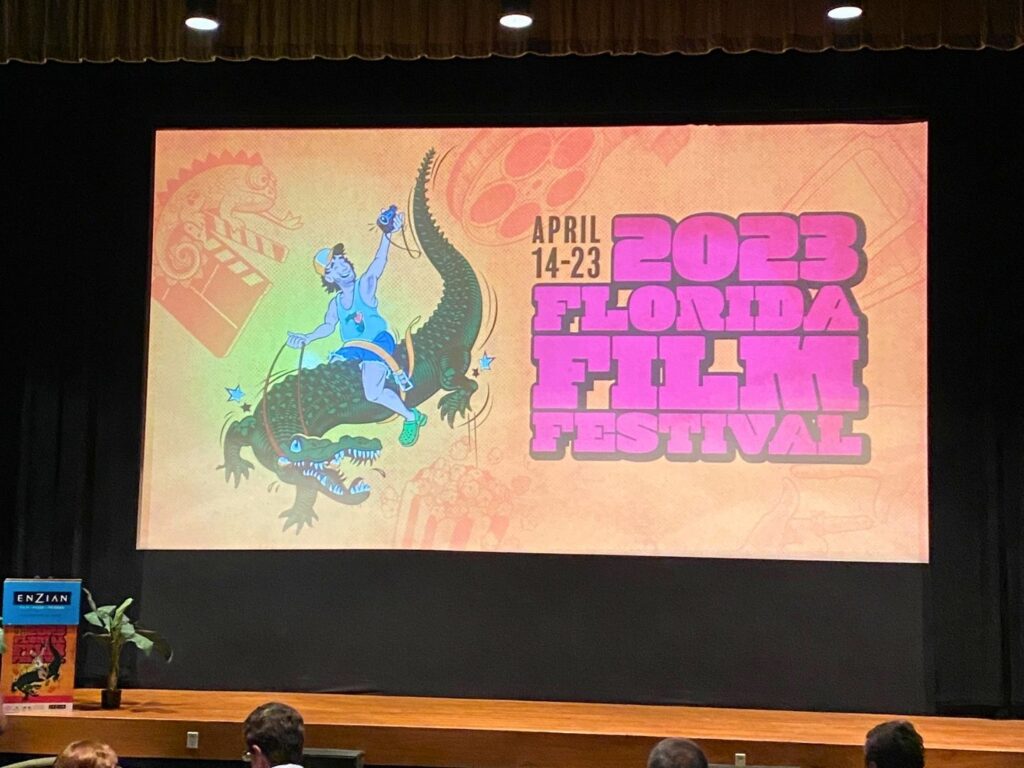 What do you do at the Florida Film Festival?
There are lots of ways to enjoy the Florida Film Festival. Of course, the main draw is to watch films! But there are also special events and parties. These events are one of the ways this festival is special and a must-do date idea.
Let's look at how to get tickets and review our picks for the best films for couples to see together.
Our Must-See Movies at the Florida Film Festival
We attended the Program Announcement Party and watched all the trailers for the films of the 2023 Florida Film Festival (you're welcome). Okay, well we stayed until the scary movies in the Midnight Movies and Shorts categories – eeeek.
Since there are 160 films during this 9-day festival, they are placed into categories. We've listed our picks for the movies that are best for couples below, with the appropriate category.
International Showcase
Okay! (The ASD Band Film)
Canada, 2022, 86 minutes
Thu, 4-20, 1:00 pm
Sun, 4-23, 4:15 pm
In this original, feel-good music documentary, the title refers to "autism spectrum disorder." Each band member is on the spectrum with her/his own distinctiveness: "We're different, but not less."
Watching this trailer felt heartwarming. Anyone that loves music will enjoy this documentary and find it uplifting.
Joyland
Pakistan, 2022, 126 minutes
Wed, 4-19, 3:15 pm
Fri, 4-21, 7:00 pm
Set in the heart of Lahore, Pakistan, Joyland is a compelling family saga of lies, secrets, and self-discoveries. First-time director Saim Sadiq masterfully tells this complex story of transgender desire with brilliant colors and nuanced visuals, accurately depicting both the beauty and tragedy of the characters that inhabit these frames.
The trailer for this film included the phrase "dazzling heartbreaker" and this ringed true in just the few minutes I witnessed.
Music Films
Immediate Family
Sun, 4-16, 11:30 am
Thu, 4-20, 5:45 pm
This documentary is an absolute MUST-SEE for music fans. Singer/songwriter hits of James Taylor, Jackson Brown, Linda Ronstadt, and Carol King all featured a handful of L.A. studio musicians who
played on virtually everything in the 1970s. Danny "Kootch" Kortchmar, Leland Sklar, Russ Kunkel, and Waddy Wachtel. Their bluesy, rock-friendly sound literally defined American radio of the era, so why didn't they become stars in their own right? This doc, helmed by Danny Tedesco (The Wrecking Crew! FFF 2009), offers one possibility: they were too damn successful and having too much fun as studio players to care about solo careers!
The Zombies: Hung Up on a Dream
Mon, 4-17, 4:00 pm
Sun, 4-23, 2:30 pm
For quite a while the song "Time of the Season" could be found in Instagram Reels and TikTok clips. This song debuted in 1967 from the band The Zombies and their story is quite fascinating. The Zombies were the first British band after The Beatles to hit number one in the U.S. And yet they didn't last.
Florida Films
Python Huntress
Sat, 4-22, 12:00 pm (Earth Day)
Donna Kalil is a South Florida environmentalist who spends her nights patrolling the Everglades in search of the Burmese Python—an invasive apex predator that has devastated local wildlife. Donna too is a hunter, but fulfilling her job responsibilities does not always come easy.
As a Florida native this trailer hooked me in immediately.
Greetings from Queertown Orlando
Mon, 4-17, 6:30 pm
Sat, 4-22, 12:45 pm
A project of the Watermark Publishing Group, this incredible historical document gathers together a who's who of local representation. From activist/playwright/performer Michael Wanzie and Headdress Ball founder Sam Ewing, to first openly gay city commissioner Patty Sheehan and Watermark founder Tom Dyer, their testimony serves as an important document in chronicling the joy and sadness, the pain and the progress that has been made over the past 50 years in Central Florida.
Did I?
Sat, 4-15, 9:30 pm
Sun, 4-23, 6:15 pm
Genevieve (Alexandra Pica) attempts to navigate her life with dissociative identity disorder but begins to see flashbacks of memories she had no part in creating. Nervous about how dangerous she may be becoming, she descends further into psychological hallucinations as she approaches the origin of her trauma.
Sunshine and Swampland: New Florida Shorts, Volume 1 and Volume 2
A collection of short films made in Florida or by Florida filmmakers
There are two collections of Florida short films
Collection 1 on April 22, 12pm
Collection 2 on April 22, 2:30pm
Anyone who loves Florida is going to enjoy this collection of short films. The stories range from humorous to slightly horrifying.
Take Me Home
Part of the "Hopeless Devoted to You" Shorts #1 collection
Sat, 4-15, 2:00 pm
Tue, 4-18, 6:30 pm
After their mother's death in Central Florida, a cognitively disabled woman and her estranged sister must learn to communicate in order to move forward.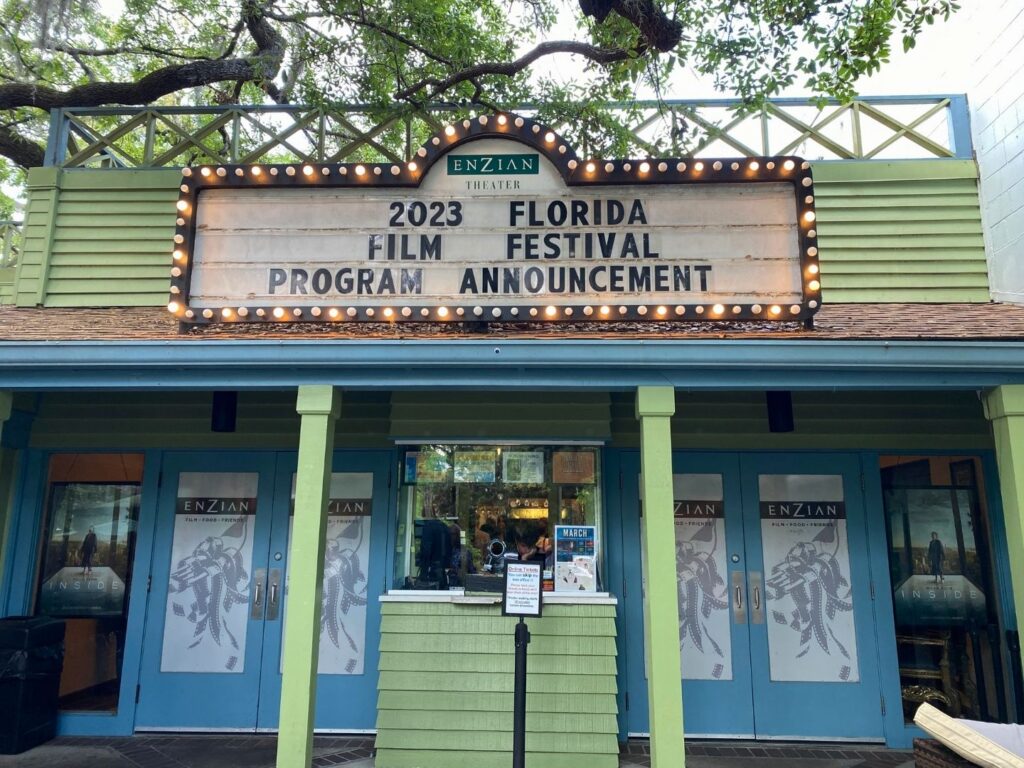 Important tip – Make note of the location of the film's showing. The Florida Film Festival is so large that it takes place in multiple venues. Most of the films are shown at The Enzian Theater, but the Winter Park Library, as well as Regal Cinemas at Winter Park Village, are also utilized.
Step one: select your ticket or packages
Check out the Festival's Films List and decide which films are on your must-see list. You can buy tickets to a single film for $13.00. There are also multi-movie packs, ranging from 5 movies for $60, 10 movies for $115, and 20 movies for $220. To view these options select "Packages" on the Florida Film Festival Tickets page. From there, there are more options under "Passes" with a variety of options.
Important tip – Screenings that take place on weekends and in the evening can sell out, and well in advance. So get those tickets early!
Step two: Pick a special event
There are so many fun events planned for this year's Florida Film Festival. Here are our picks for couples:
Step three: Stop by The Eden Bar
One of the best features of the Enzian Theater is The Eden Bar. Locals love this open-air bar whether they are heading to see a film at The Enzian, or not. The lush landscaping that surrounds the bar and patio is entrancing, and the colorful mural behind the bar evokes the fun spirit of Florida.
During the Florida Film Festival there is live music at The Eden Bar every night from 6pm – 9pm. Enjoy the live music, sip on cocktails or mocktails, and dine on delicious fare.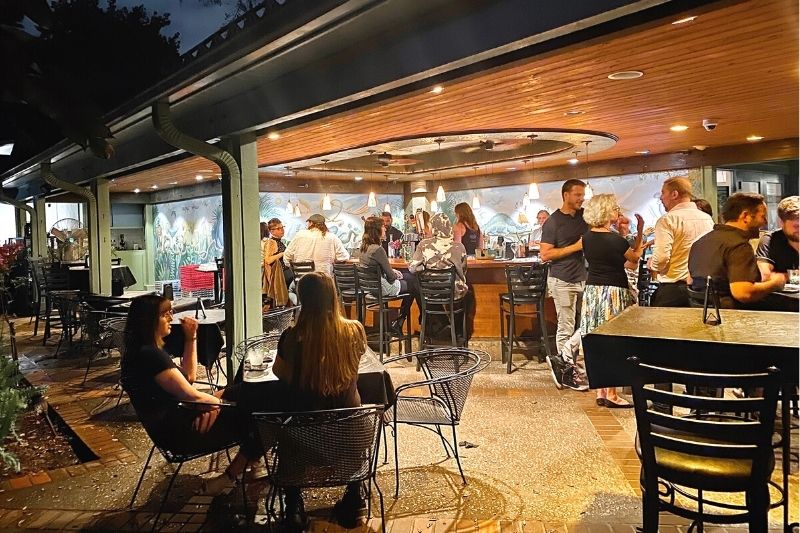 Step four: Attend a free event
Besides ticketed events, which are still pretty darn reasonable, the Florida Film Festival features a few events that are free, wonderfully free! Here are a few you might want to check out:
Popcorn Flick in the Park – Encino Man
Thursday, April 7, 8pm
Central Park, Winter Park
Grab your chairs and blankets and head to Central Park for a special movie screening sponsored by Full Sail University. This year-round outdoor series is an initiative of the City of Winter Park and Enzian Theater. These films are presented with open captions.
A Peek Behind The Pixels–a Conversation With Industry Leaders In Virtual Production
Wednesday, April 19, 12:00PM–1:00PM
Full Sail University, Building 4D – 517 S. Semoran Boulevard,Winter Park, FL 32792
All Festival Forums are free and open to the public.
Hear from leading industry experts as they discuss the burgeoning realm of virtual production, and its wide array of functionality in weaving cutting-edge gaming technology with visual storytelling to create some of today's most notable projects.
The Florida Film Festival has a reputation for being one of the warmest and most welcoming film festivals in the world. In its multi-year history, it is the event for film creators and buffs to casually gather and celebrate great cinematic art. Grab your sweetie and join in the festivities; you might just reignite more than a love of film.