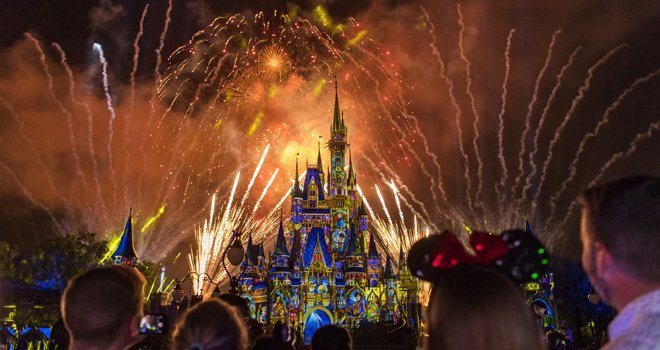 Here in Orlando, we have "The Most Magical Place on Earth" in our backyard. Walt Disney World is a magical place, and visiting such a place with our loved ones is all the more enchanting. Yet you don't need to enter the theme parks to enjoy a memorable date with your honey. You can still make magical memories while enjoying a Disney fireworks finale, outside of the theme parks.
We've created this list of places where you can view the fireworks without having to enter the parks, categorized by each theme park/fireworks show. Keep in mind, access to some of these locations may be restricted based on occupancy, and Disney's policies are subject to change without notice.
During busy seasons we've observed Disney security at the resorts being very strict about needing a confirmed reservation to park at the resorts. And you can bet during major holidays like Christmastime at Disney, New Year's Eve at Disney, and 4th of July access is completely restricted.
We hope this guide helps you and your loved one have an enchanting, and affordable, evening at Walt Disney World!
Editor's note: This post was originally published in June 2017 and is updated regularly.
Where to View Disney Fireworks Outside the Parks
Fireworks begin nightly around 9pm – check schedule
Where to view: Disney resort hotel restaurants, Disney's Polynesian Resort, Disney's Grand Floridian Resort, Disney's Contemporary Resort
Magic Kingdom's fireworks are the most popular in Walt Disney World. The most visited theme park in the world hosts a nightly fireworks show called "Disney Enchantment". This fireworks show includes new technology that makes for a visually stunning experience. While many of the effects are best seen inside the park, you can still enjoy a lovely evening in the Magic Kingdom resorts area, at multiple viewing spots.
Beginning April 3, 2023 the beloved "Happily Ever After" fireworks show returns to Magic Kingdom. And you can see Magic Kingdom's fireworks at nearby resorts, without a theme park ticket.
Disney's Polynesian Village Resort
Disney's Grand Floridian Resort and Spa
Disney's Contemporary Resort
Magic Kingdom's nightly fireworks usually begin at 9pm, but check the schedule to be sure.
Please note that parking at Disney's resort hotels is officially for guests with hotel and dining reservations only. Most nights you can use the hotel parking lot after showing photo identification and explaining that you're heading to the lounge or restaurant for food and drink. But, it is best to have a confirmed dining reservation that you're able to show to Disney Security alongside your photo identification.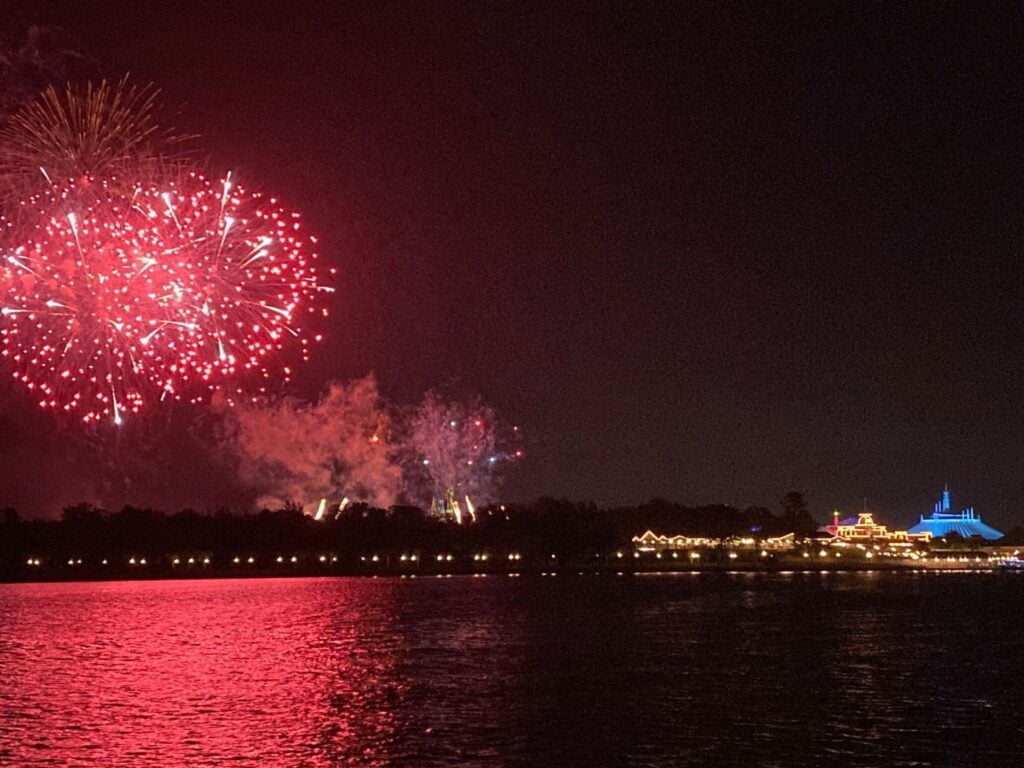 EPCOT area – EPCOT Forever 
Fireworks begin at 9pm or later, check schedule
Where to view: Disney's Boardwalk Resort
EPCOT's longest-running fireworks show, "IllumiNations: Reflections of Earth," celebrated its last performance in September of 2019. The new Harmonious show debuted as part of Walt Disney World's 50th anniversary. And now as EPCOT prepares for a brand new fireworks show debuting at the end of 2023, a temporary show returns.
"EPCOT Forever" fireworks is a temporary fireworks show that celebrates the history of the EPCOT theme park. This show debuted in 2019 while Harmonious was put in place. And now it is back for a few months starting April 3, 2023 while EPCOT's new spectacular is put together.
Because this is a temporary show it is not as big of a production as past fireworks shows at EPCOT. So, watching these fireworks from outside the park is not as impressive as other shows.
"EPCOT Forever" is an 11-minute fireworks display.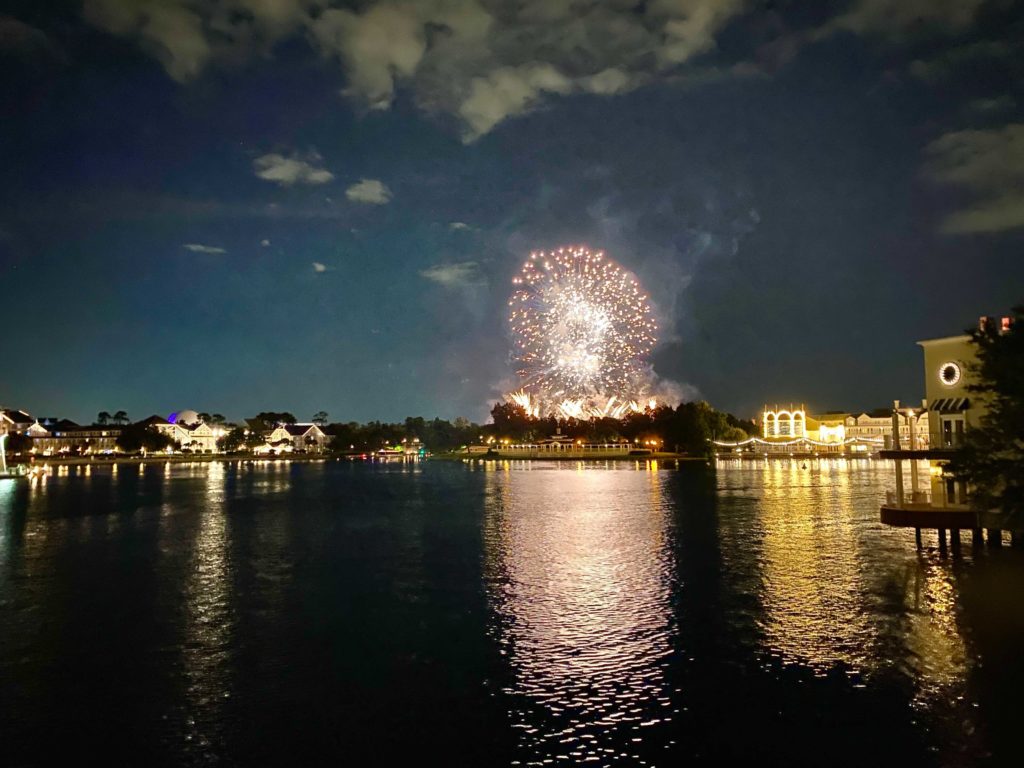 Along the Boardwalk, enjoy a wide variety of dining locations, lounges, sweet shops, and even a few midway games. During non-peak times, you should be able to park at Disney's BoardWalk Resort without a dining reservation, but availability isn't guaranteed. Make a dining reservation if you want to play it safe. Big River Grille and Brewing Works is usually easy to get into and is nice for a casual, relaxing meal.
For the best view of the fireworks, head toward Jellyrolls and Atlantic Dance Hall. Or you can walk towards the former ESPN Club, continuing almost to Disney's Beach Club Resort. There is a bridge that connects the Boardwalk and Beach Club hotels. On this bridge, you'll catch a pretty good view of the show, but it does get crowded sometimes.
Another option is the bridge between the BoardWalk Hotel and the Walt Disney World Swan and Dolphin. Depending on show times, you may be able to view each park's fireworks all around the same time from this one spot. Plus, the Swan and Dolphin is a visually unique backdrop.
---
Disney's Hollywood Studios area – two shows
Wonderful World of Animation
Nightly show at 9:00 p.m. 
Fantasmic
Nightly show at 9:00 p.m. (most nights)
Where to view: Disney's Boardwalk, Beach Club, and Yacht Club Resorts, Walt Disney World Swan and Dolphin Resort
Hooray for Hollywood! This park is home to two nighttime spectaculars, once Fantasmic returns on November 3, 2022. For many Disney fans, Fantasmic is the ultimate nighttime spectacular at Disney World. Fireworks are not constant during this show, they take on a supporting role compared to the theatrics and performances.
If you view Fantasmic outside of the parks be prepared for lots of lulls. Thankfully there is a second, smaller nighttime show that usually performs at the same time as Fantasmic.
Combining fireworks with projection technology and other effects, this show is enveloping when viewed inside the parks but still brings excitement to those viewing from outside the park. There aren't as many fireworks in the Wonderful World of Animation as compared to the other parks, but still enough for a fun viewing experience.
Visit Disney's Beach Club and head for Beaches and Cream's to-go window to indulge in ice cream, sundaes, and shakes that you can take to the resort's beach and catch glimpses of Wonderful World of Animation and Fantasmic fireworks.
At the Swan and Dolphin Resort, there are over ten different dining options ranging from casual to the essence of sophistication (check out our food crawl itinerary). You can catch glimpses of the fireworks from the Dolphin side of the complex or along the bridge that connects to Disney's Boardwalk.
If you're in the mood for a stroll and a closer view, walk along the path the extends toward Disney's Hollywood Studios, in between Disney's Boardwalk and the Swan hotel. This walkway will take you up to the entrance of Disney's Hollywood Studios. Stand back along the water and face the entrance of the park. Here you can see the fireworks up close and hear the music and sounds of this spectacular show.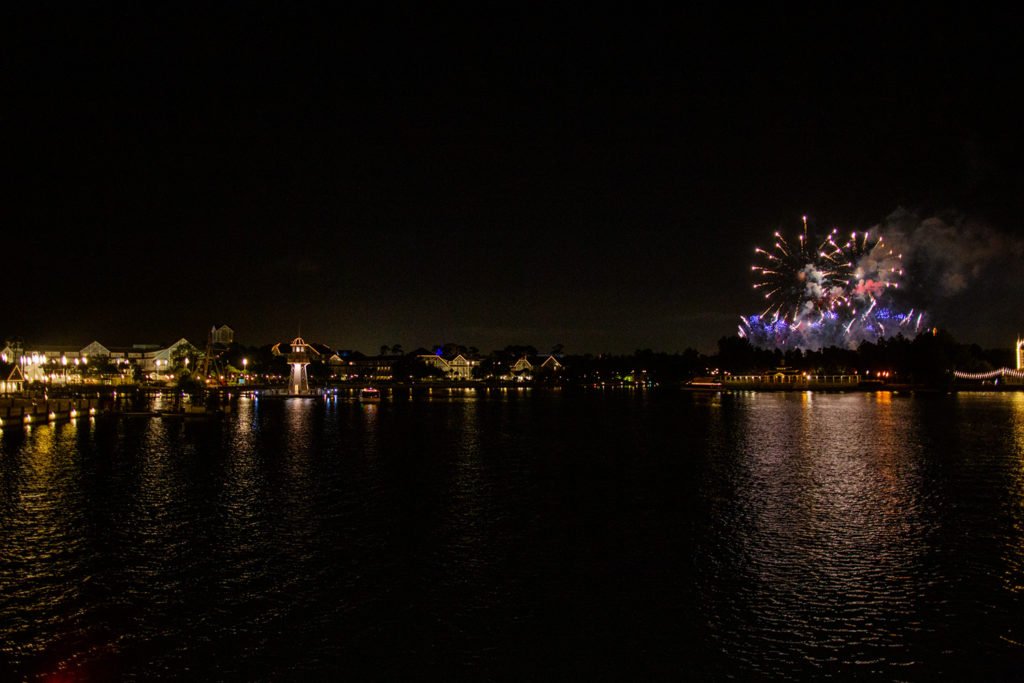 Alternative Locations
ROOFTOP RESORT DINING
If you're feeling in the mood to indulge a little, consider dining at Capa, the rooftop steakhouse located at the Four Seasons Resort on Walt Disney World property. Here you'll catch views of fireworks not only at the Magic Kingdom but at other area theme parks as well. Or you can grab a cocktail at the Capa Lounge and enjoy the view.
Disney Restaurants with Fireworks Views (reservations required)
FIREWORKS CRUISES
There are multiple options for booking a cruise on Disney's enchanted waterways to watch the fireworks. Check out our guide to Disney's fireworks cruises.
DISNEY SPRINGS
Get a bird's eye view by boarding the Disney Aerophile balloon at Disney Springs. Soar above Disney Springs with views of nearby Epcot, plus Magic Kingdom and Disney's Hollywood Studios in the distance. Fireworks can be viewed while aboard the Disney Aerophile Balloon, however, there is no way to guarantee your boarding will occur during the fireworks time.
We recommend checking with one of the operators near the balloon's loading dock to see if they can assist you with this; if the attraction is not too busy they may enable you to wait to the side until it is time to board around fireworks show time.
Feature image credit: Matt Stroshane/Walt Disney World Resort