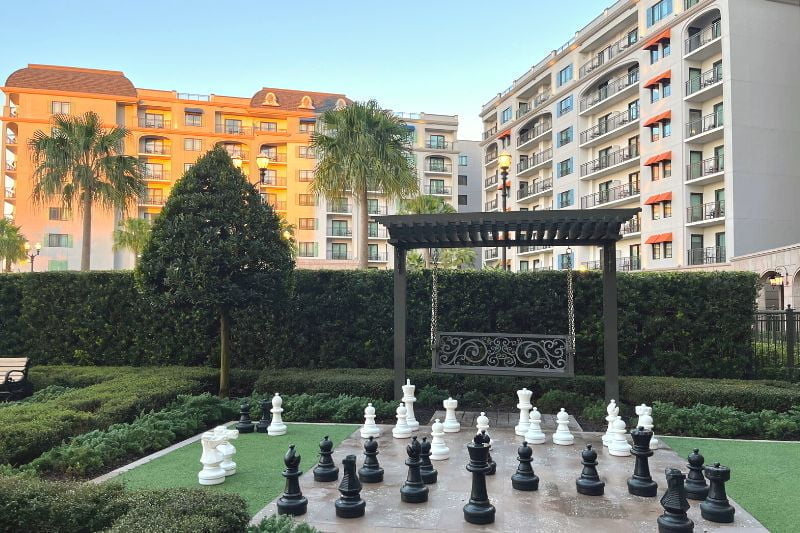 Disney's Riviera Resort exudes romance from the moment you step foot into the hotel. Although this is a Disney Vacation Club resort, non-members can still snag reservations if there is any availability. Inspired by Europe, this resort is filled with beautiful artwork, vivid colors, and metal architecture. If you're looking for romance in a luxurious setting, Disney's Riviera Resort is everything you seek and more. 
In this review of Disney's Riviera Resort, we will cover the following areas: 
Hotel Layout And Lobby

Resort Layout

Room Features

Skyliner Transportation to Disney's Hollywood Studios and Epcot

Pool and Activities
Keep reading to discover why Disney's Riviera Resort is one of our favorite romantic Disney hotels for couples.
Disney's Riviera Resort Review
What is the best thing about Disney's Riviera Resort? 
The best thing about Disney's Riviera Resort is its romantic and elegant atmosphere along with its breathtaking views and delicious cuisine.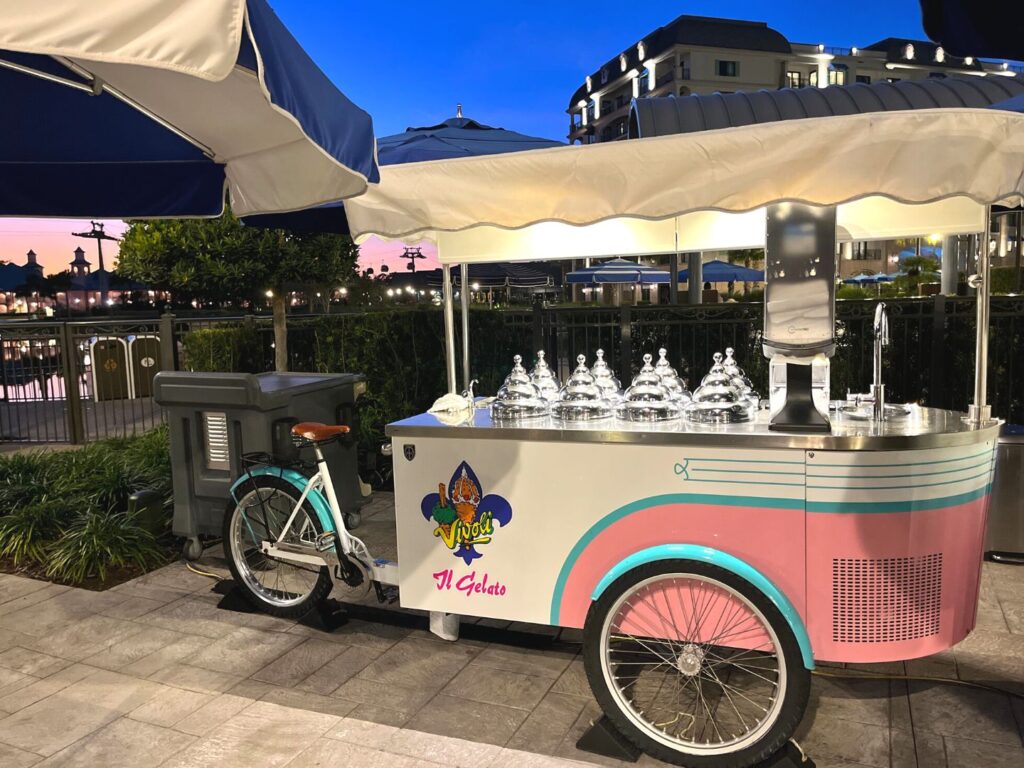 Where is Disney's Riviera Resort? 
Disney's Riviera Resort is a mid-sized resort located in the Epcot resort area on Esplanade Avenue. If you're looking to visit the Walt Disney World theme parks during your stay, Epcot is the closest park. Disney's Hollywood Studios is just a few minutes away via the Disney Skyliner.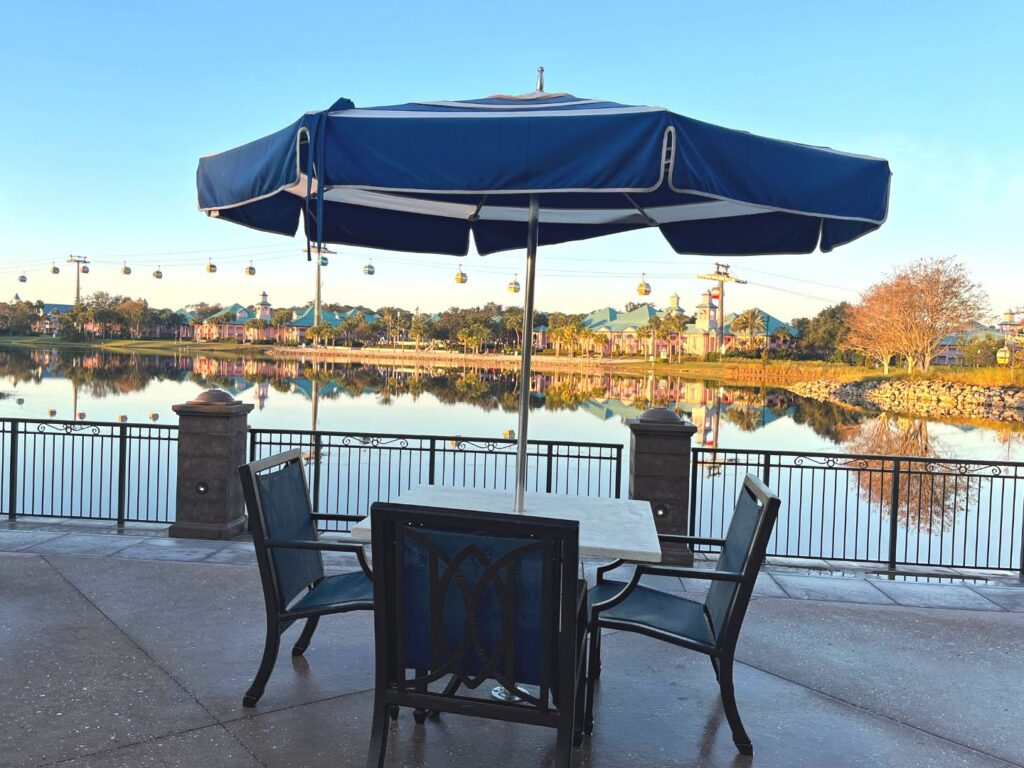 Riviera Resort Layout and Lobby 
When you step foot into the lobby at Disney's Riviera Resort, you will feel as though you are inside an art museum with its beautiful paintings and artwork in addition to its abstract lighting, patterned furniture, and rugs. 
What makes this resort stand out from many other Walt Disney World resorts are the features. The lobby, guest rooms, fitness center, recreation room, Topolino's Terrace, Le Petit Cafe, and Primo Piatto are all centralized inside one building (aside from the pools and Bar Riva). 
Watching The Sunrise 
Even though it may be tempting to spend the morning relaxing in bed with your partner, we recommend waking up early and heading down to the pool or beach area to watch the sunrise. The views are breathtaking and provide a picturesque backdrop for photo taking.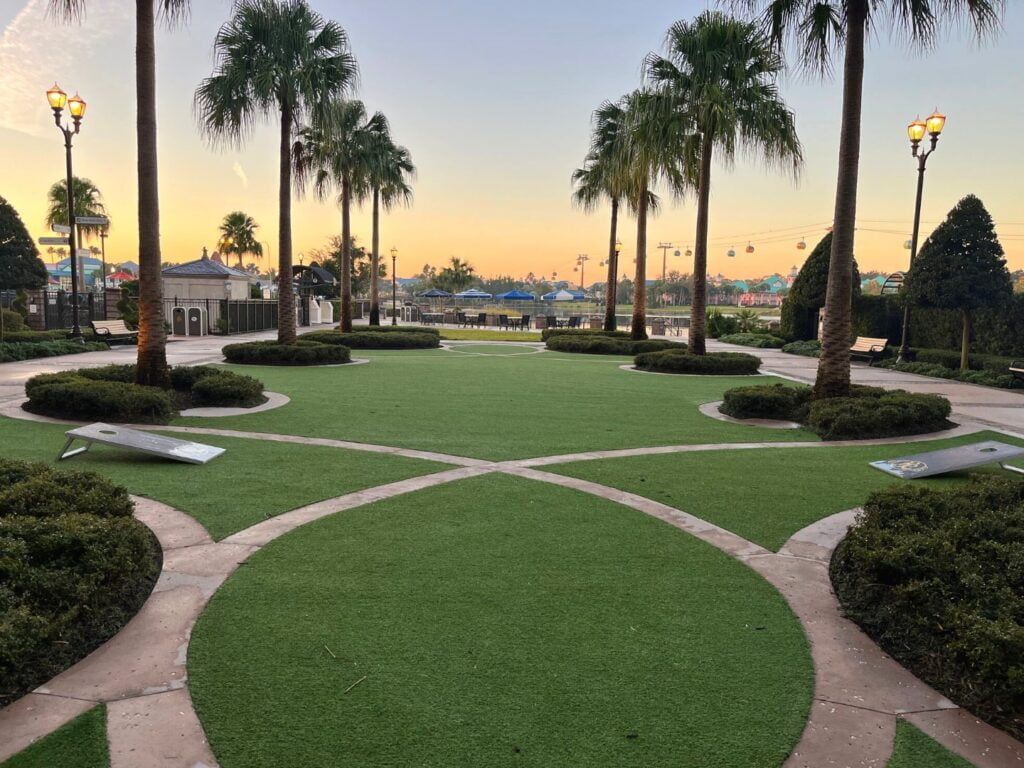 Room Features 
If you want to treat your partner to a room filled with romance, the rooms at Disney's Riviera Resort are some of the most romantic on the property with minimalistic, yet beautiful color and decor with Disney touches throughout and including the headboards. 
Since Disney's Rivera is a Deluxe Villa resort or Disney Vacation Club resort, there are deluxe studios, 1-bedroom, 2-bedroom, and 3-bedroom villas available.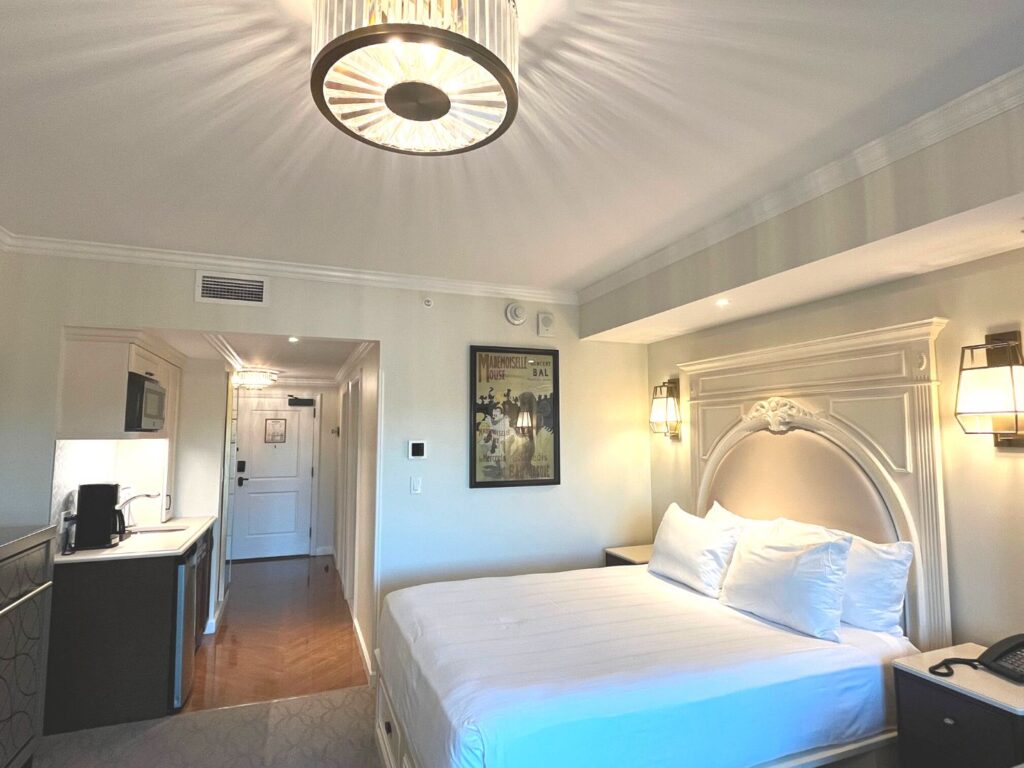 The Deluxe Studio is a nice option for couples who want to enjoy the romance of Disney's Riviera Resort, and stay within their budget. A small kitchenette makes it possible to refresh and refuel in your lovely studio. The microwave is especially helpful if you want to enjoy breakfast in bed.
Disney Skyliner Transportation
One of the best features that make Disney's Riviera Resort a romantic hotel for couples is the Disney Skyliner transportation. The Riviera Skyliner station sits a couple of yards from the pool area of the resort. You can transport yourself to Epcot and Disney's Hollywood Studios using the Disney Skyliner. 
How long is the Skyliner from Disney's Riviera Resort to Epcot? 
From Riviera Resort to EPCOT you should expect your direct flight to take between 8 and 10 minutes. 
Once at the Epcot stop, you will be dropped off at the parks International Gateway entrance closest to the World Showcase portion of Epcot which is especially favorable if you're looking to take a romantic stroll around the showcase or share some delicious eats from the surrounding pavilions. 
How long is the Skyliner from Disney's Riviera Resort to Hollywood Studios? 
If you're looking to step into the action together at Disney's Hollywood Studios, you will need to hop aboard the Skyliner. The travel time from the resort to the theme park may vary as you need to transfer lines at Caribbean Beach Resort. We recommend allotting 20 to 30 for travel to account for transfer time and other guests who may be ahead of you waiting to board the next car. 
RELATED: How to Do a Disney Skyliner Pub Crawl
Bus Service
If you're traveling to Magic Kingdom, Animal Kingdom, Disney Springs, Blizzard Beach, or Typhoon Lagoon, the resort offers complimentary bus service for guests.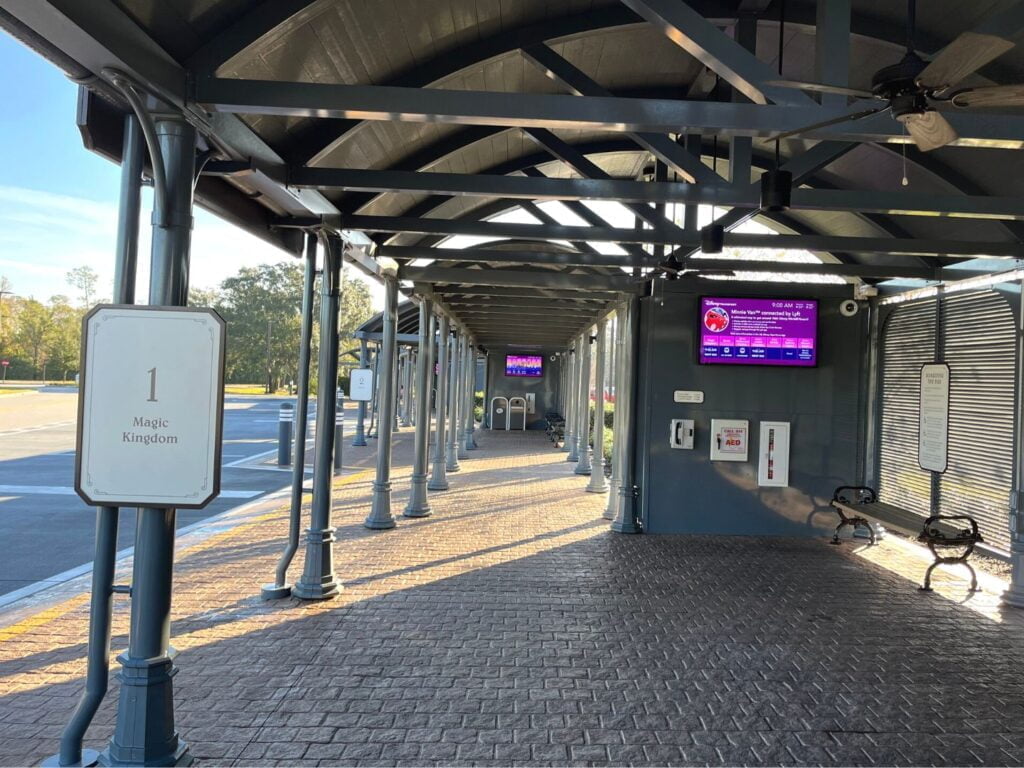 Pools and Afternoon Activities  
Multiple Pools 
How many pools does Disney's Riviera Resort have?
Disney's Riviera Resort is home to two pools both located in the outdoor courtyard area of the resort. 
If you're looking to have some fun in the sun, you can head over to the main pool also known as Riviera Pool. Filled with a hot tub, umbrellas, pool chairs, and comfortable sofa beds, you can have a good time while also listening to some Disney jams. Just outside of Riviera Pool sits the open-air pool bar, Bar Riva.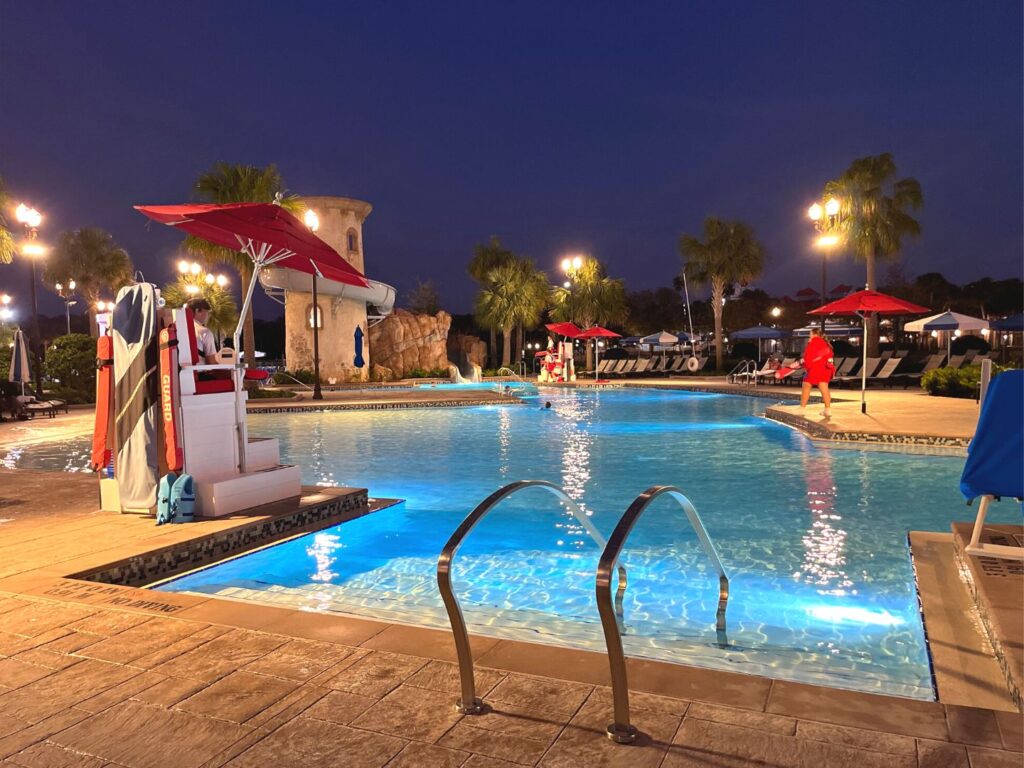 If you're lucky, you may catch the Vivoli il Gelato cart selling Gelato. This is a great treat to beat the heat! 
If you're wanting to kick back and relax together in a quieter environment, Beau Soleil Pool is the perfect place. 
Lawn with games
The fun doesn't have to stop once leaving the pool. Just outside the pool area, sits a lawn with larger-than-life chess and cornhole games. After you're done playing, you can spend some time together on one of the swings enjoying the ambiance and the beautiful views this resort has to offer. 
Dining
Disney's Riviera Resort offers a plethora of dining options. Whether you're looking to participate in a romantic signature dining experience or for something more casual, Disney's Riviera Resort has something for you. 
Topolino's Terrace (character dining at breakfast, signature table-service dinner)

Bar Riva (open-air pool bar)

Le Petit Cafe (bakery and bar)

Primo Piatto
Topolino's Terrace
Although Topolino's Terrace offers Breakfast à la Art with Mickey & Friends, the restaurant is transformed into a signature dining experience for dinner. The restaurant is known for its French and Italian offerings some of which include the Rigatoni ($34), Bouillabaisse ($48), and the Classic Sole Meuniere ($50). 
If you want to end your meal on a sweet note, we recommend the Warm Chocolate Cake ($15) and asking for two spoons! 
If you can make a reservation for dinner, try to align it closest to the time of Epcot's fireworks as you can watch them from the restaurant's balcony. Remember to bring your best attire as there is a dress code. 
The restaurant also has a bar area where you can grab some drinks and enjoy overhead views of the property. 
Important tip: What to Do if You Can't Get a Disney Dining Reservation
Bar Riva
If something casual is what you seek, look no further than Bar Riva. The resort's open-air pool bar and lounge are known for its bar favorite light bites including the Sticky Chicken Wings ($14.99) and Baked Brie ($13.49) in addition to its cocktails such as the Golden Haze Margarita ($16.50) and the Almande Grog ($15.50). 
Le Petit Cafe
If you're looking for a quick bite to eat or a cup of coffee to start your day or are looking for a sweet treat at the end of the night Le Petit Cafe is the perfect spot. 
Whether you're craving a 50th Celebration Cupcake ($6.29) or a French Roast coffee ($3.49), you can find it there.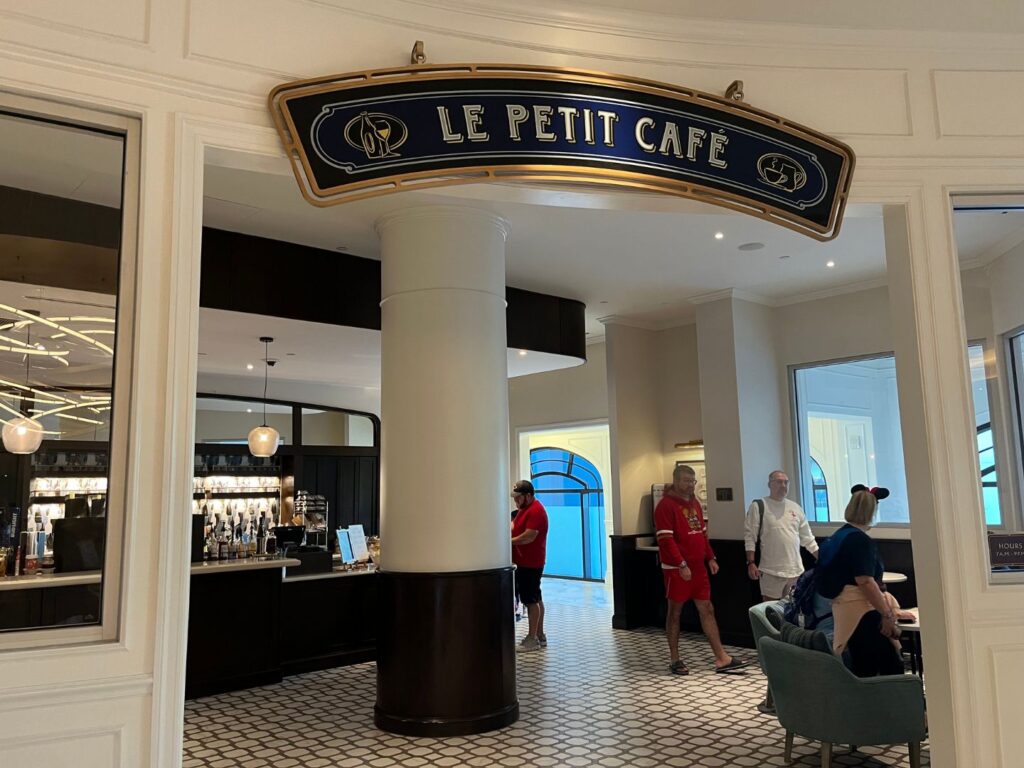 We recommend taking your eats and/or drinks into the next-door Voyageur's Lounge filled with Walt Disney-inspired decor and lots of books.  
Primo Piatto
Primo Piatto is one of the resort's quick-service restaurants serving breakfast, lunch, and dinner. 
Breakfast options include Croque Madame ($12.99) and Primo Piatto Breakfast ($11.99). Lunch and dinner offerings include the Bacon Cheddar Burger ($13.29) and Croque Monsieur ($12.99)
More Disney Romance: