Each year the Tribute Store at Universal Orlando just gets better and better. Throughout the year the Tribute Store changes with the season – from spooky Halloween to exciting Mardi Gras fun. And right now Universal's Holiday Tribute Store is brimming with festive fun.
You won't believe the awesome photo opportunities that make it feel like you're celebrating Christmas at Hogsmeade Village or you've journeyed to Whoville with the classic cartoon Grinch. Plus the shelves are loaded with must-have merchandise.
Inside Look at Universal's Holiday Tribute Store
Universal Orlando Resort invited me to take an inside look at the Holidays at Universal Orlando. I would have to say that my favorite part of the day was visiting this year's all-new Holiday Tribute Store.
The store is inspired by a Macy's-like department store containing four rooms, or in this case, "floors" themed after "New York Holiday," "Wizarding World Christmas" "Whoville," and "Earl's North of the Border." 
Pro-tip: So many people just speed through the Tribute Store. Slow down and really take in the details. Even if you don't buy a single item, it is okay to spend some time thoroughly checking out each room.
"New York City Holiday" 
As someone who was born and raised in NYC, this floor instantly piqued my interest with the New York vintage holiday decor and red brick walls. The details are full of a bygone, elegant era.
You've GOT to take a moment to view each window display in this room.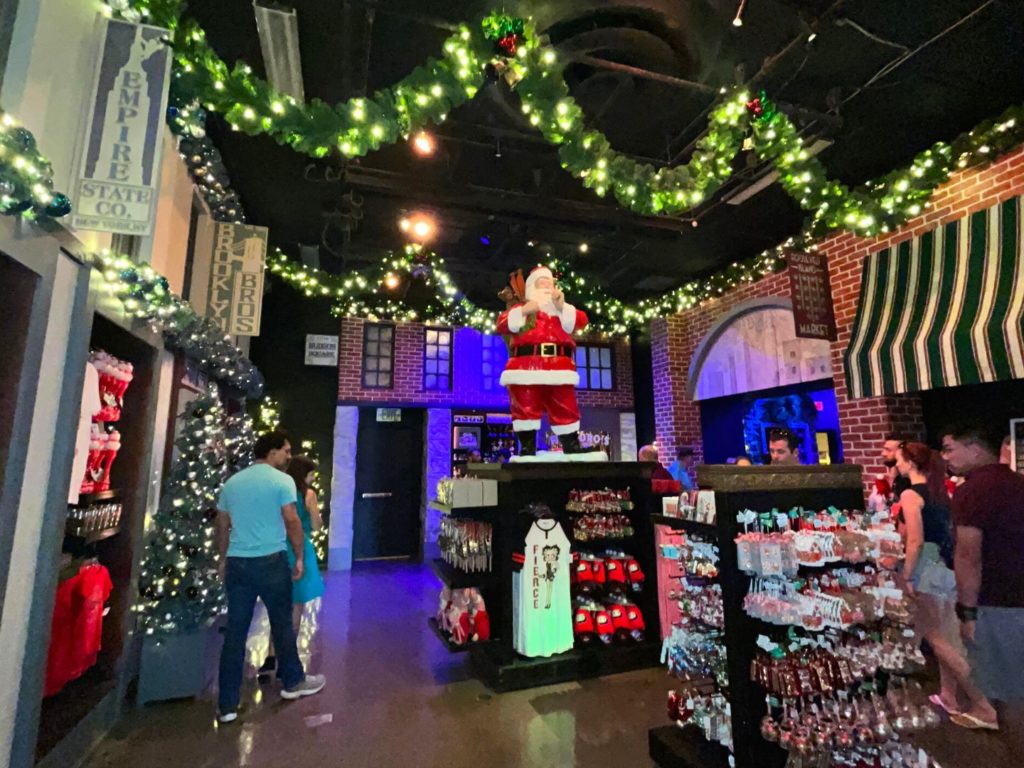 Must-Have Merchandise on the "1st Floor"
If you're looking for Betty Boop merchandise, there is no shortage of it here.
As the winter is approaching and evenings grow colder, you can warm up with a Betty Boop nightgown or pair of red and black slippers.
If you're wanting to add a sprinkle of Betty to your Christmas tree, this room contains multiple Betty Boop ornaments.
Traditional holiday apparel on the "1st floor"
The "1st floor" has a fairly decent mix of character-themed holiday merchandise as well as classic items. I love the design of the Universal Orlando Happy Holidays apparel. 
If you're wanting to brighten up your day at the parks, you can find holiday light necklaces in addition to light-up hats on the "1st floor" as well.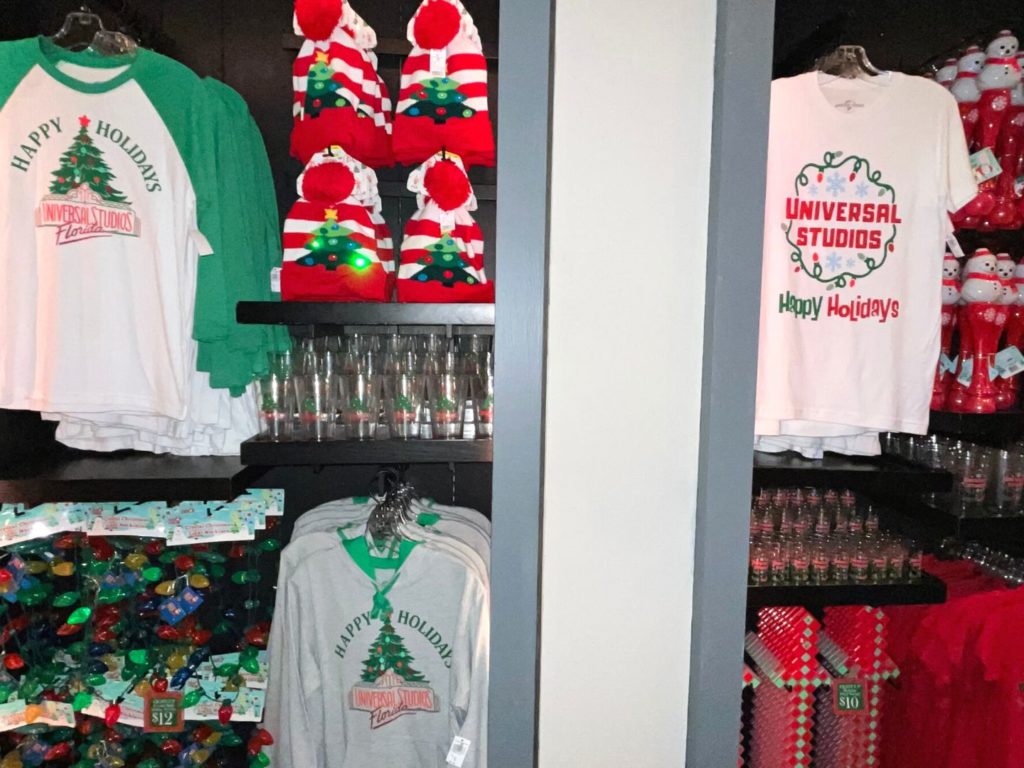 Whether you want a clapperboard or a Universal Studios marquee, these ornaments will add some spirit to your tree.
If you haven't yet been able to snag a Universal Studios ornament, you can find one at the Tribute Store.
"Wizarding World" Christmas at Hogsmeade Village 
If you're a Harry Potter fan, you'll want to make sure not to miss the 2nd floor, also known as "Wizarding World." Guests truly feel as though they are shopping in Hogwarts. 
While there is plenty of holiday magic in both parks with Christmas at the Wizard World of Harry Potter, this second room in Universal's Holiday Tribute Store is extra whimsical.
"Wizarding World" Christmas Ornaments and Decorations 
Add some wizarding magic to your tree. This Hogsmeade Village themed room has several themed ornaments including the well-known Butterbeer. 
You can represent your favorite Hogwarts House with these Gryffindor, Slytherin, Hufflepuff, and Ravenclaw stockings.
This room is also filled with mini plush toys that make for great stocking stuffers or gifts for little wizards.
Puzzles and Potions
Quality time with family and friends around the holidays is one of my favorite parts. "Wizarding World" has plenty of puzzles which make for a great indoor activity as it starts to get chilly.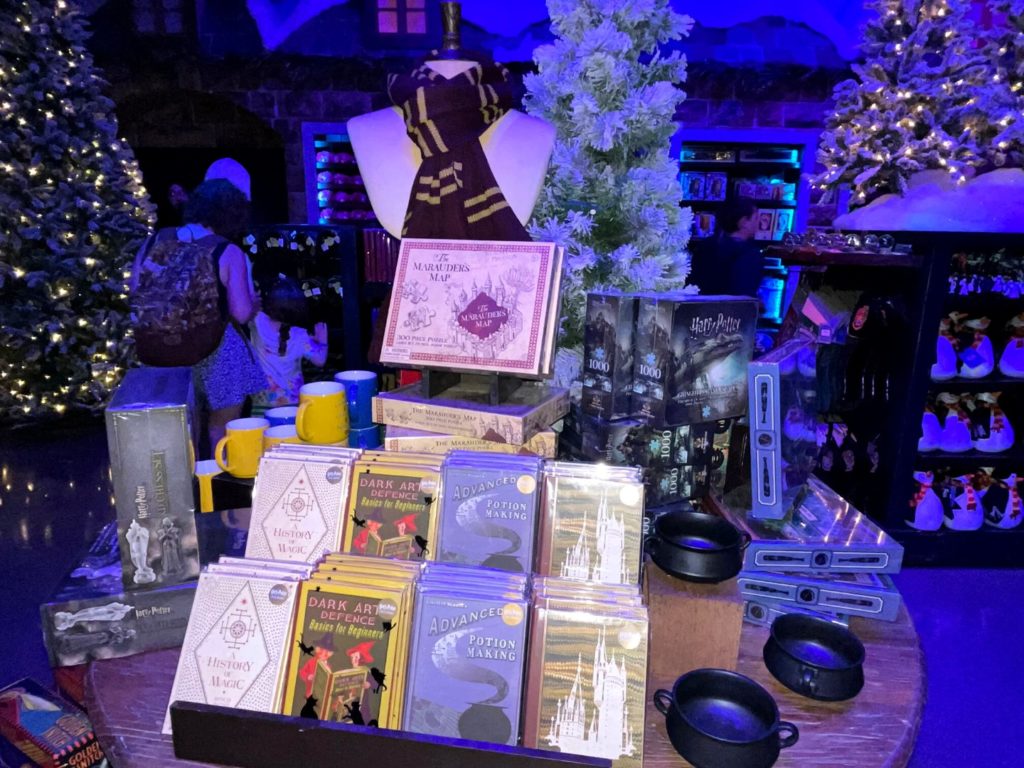 The Hedwig Loungefly backpack is one of the many must-have pieces of merchandise from inside "Wizarding World." It's a great gift idea for any Harry Potter fan.
Journey to "Whoville" inside Universal's Holiday Tribute Store
This way to Whoville!  While Islands of Adventure honors the live-action movie version of The Grinch, this third room inside Universal's Holiday Tribute Store is all about the classic cartoon. This themed room has everything you need to make a Whoville inside your home.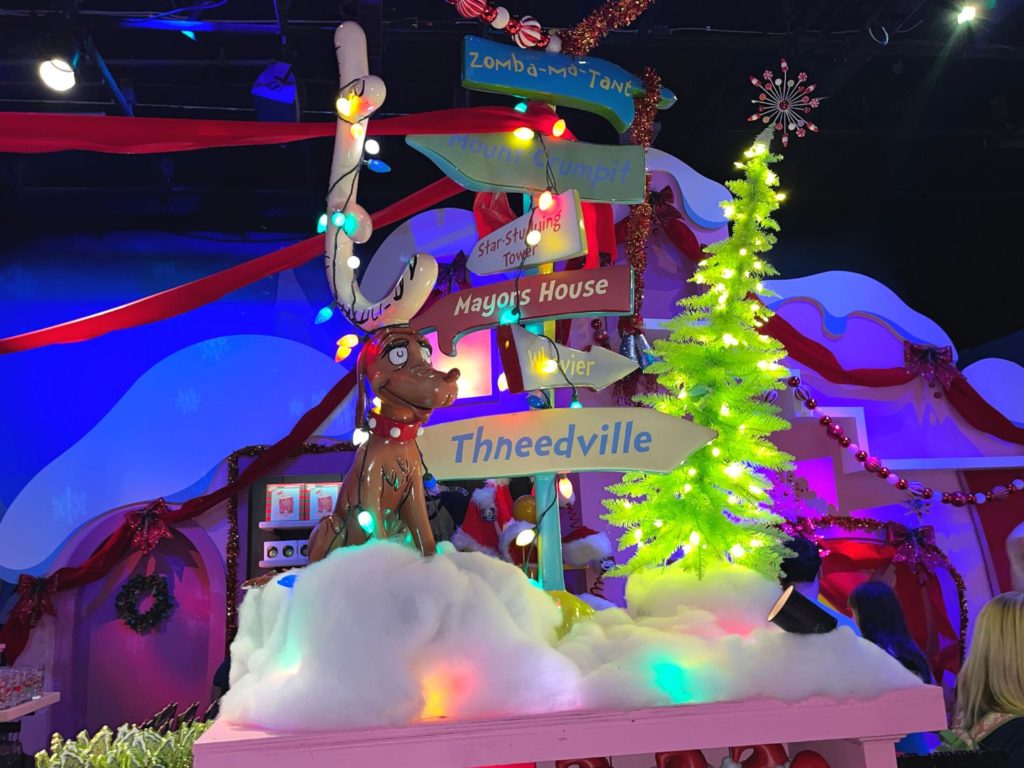 Grinch Goodies 
Whether or not you're looking for a way to eat popcorn in style or simply want to deck your home in all things The Grinch, you don't want to miss out on the Grinchmas popcorn bucket.
Although The Grinch's heart may be hard, the Grinchmas Loungefly backpack sure is soft and will be sure to give your wardrobe some Dr. Seuss pizzazz.
From T-shirts to sweaters filled with The Grinch, this room sure does make it feel like Grinchmas.
There are even pins with The Grinch on them that you can buy to wear on a lanyard or decorate a backpack or anything else you see fit.
Take your photo with The Grinch statue
If you don't have time to wait hours to meet The Grinch during your visit to Universal, there is a statue of The Grinch that makes for a cute photo opportunity.
I love how well-list this photo opportunity is, and it is easy to get to. Kids and couples alike can easily snap a festive photo here.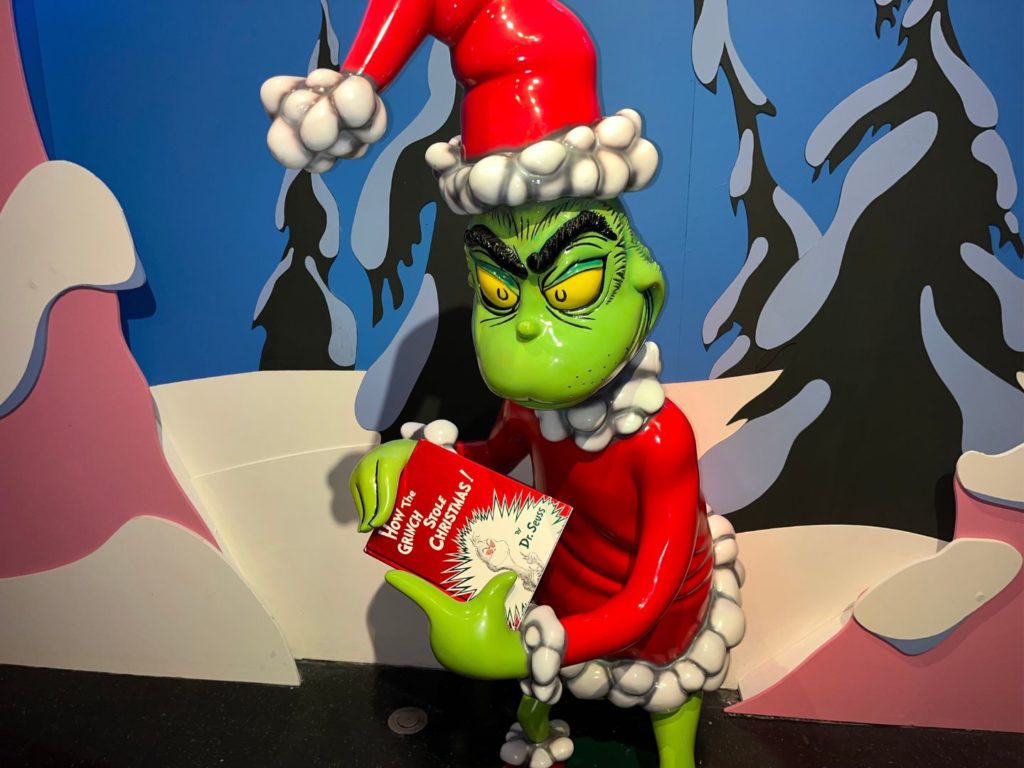 The finale: "Earl's North of the Border"   
It can't get any more Earl the Squirrel than it does in the final room of the Tribute Store. This room screams traditional Christmas with its lighted decor and other Christmas garb.  
Quick backstory: Earl the Squirrel has become the icon of Holidays at Universal Orlando because of an actual squirrel. Many years ago a squirrel was found inside the towering Christmas tree at Universal Studios Florida after it would not light. Turns out some wires had been chewed through.
The culprit squirrel was found and named Earl by Universal Team Members. Over the years the popularity of Earl the Squirrel has grown, like many acorns on an oak tree.
A silly photo-op
This photo spot will make any Instagram feed or holiday card feel more lively featuring its light-filled trees and of course Earl the Squirrel himself.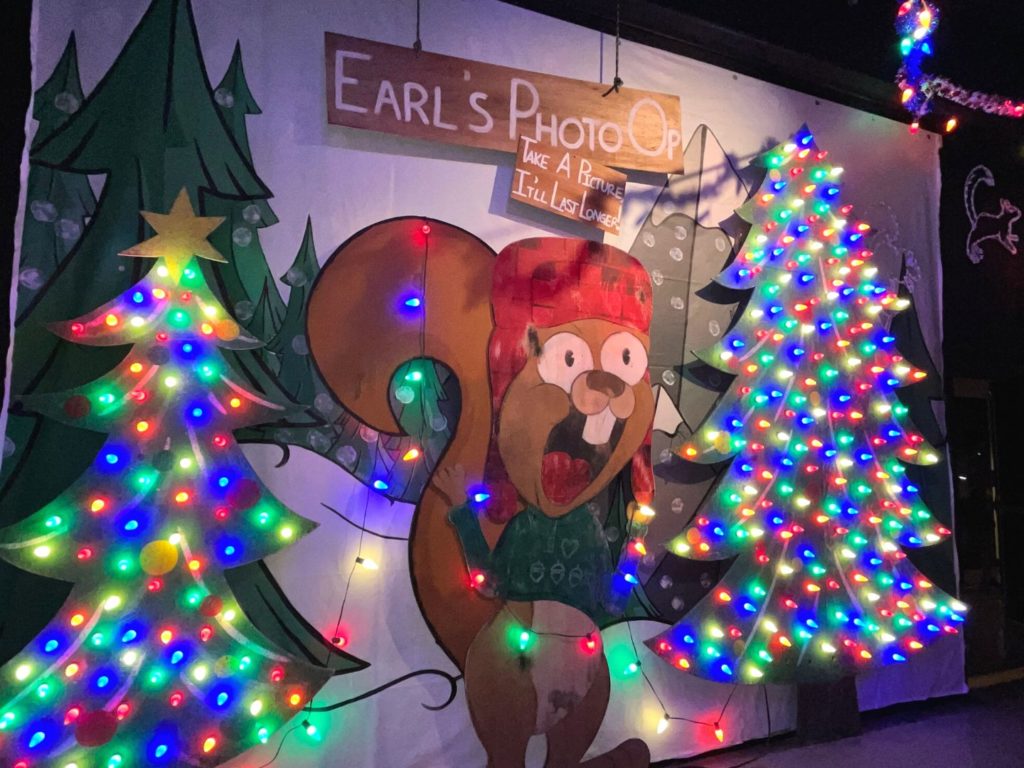 Earl the Squirrel with a mini plush toy
Earl the Squirrel can be purchased to decorate your home in the form of a plush toy. Lots of classic holiday merchandise is in this final room, but the focus is on the food.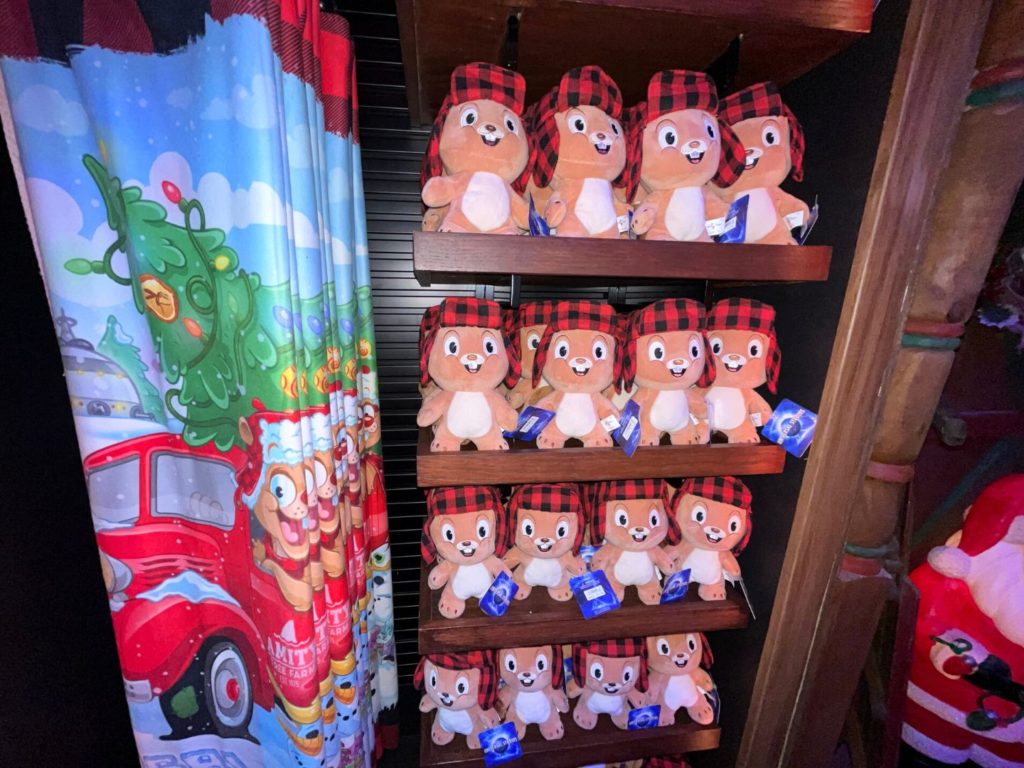 Pick up a sweet treat before leaving
The final room of each version of the Tribute Store always includes a selection of seasonal treats. This is a great way to grab something special to snack on while enjoying a festive atmosphere.
You shouldn't leave this room without checking out the sweet treats available.
As you head out, make sure you check out the "Earl-ando Preview Center" which honors the many events that happen throughout the year at Universal Orlando. It is also full of fun details that theme park fans will go nuts over.
It's the perfect ending to a fun visit to Universal's Holiday Tribute Store – a magical tree-tail therapy experience.