When autumn rolls around, there's nothing I crave more than a steamy bowl of soup. Hot pot cuisine is one of my favorite ways to get something warm on a chilly fall day. In Orlando, you don't have to go far to find a hot pot meal that is both comforting and bursting with diverse flavors. If you want to try something new for your next date night, these hot pot restaurants in Orlando offer a unique dining experience. 
Hot Pot Restaurants For a Cozy Date Night
What Is Hot Pot? 
Hot pot is a Chinese cooking method also known as "soup-food."  When you're seated at a hot pot restaurant, you'll find a large pot of boiling broth in the center of your table with a heating source underneath. Some restaurants also have personal cooking pots at each individual seat. Then, you order raw ingredients that you'll cook yourself by dropping them in the hot broth.
Typical hot pot ingredients include beef, seafood, spam, tofu, noodles, and vegetables. When you're served your chosen ingredients, all you do is plop them in the pot until they're cooked, take them out to eat, then sip the broth after.
The best part? The variety of ingredients will change the flavor of the broth base throughout the night, so you'll never get bored.
Hot pot is all about community and interactivity, which makes for such a thrilling date night. 
Best Hot Pot Restaurants in Orlando 
U & Me Revolving Hot Pot 
Address: 12384 S Apopka Vineland Rd, Orlando, FL 32836
U & Me Revolving Hot Pot definitely sets itself apart from other hot pot restaurants in Orlando. You don't have to order anything from a server here–your raw ingredients will come to you on a conveyor belt that snakes through the restaurant, making sure you have the chance to try a little bit of everything. There's also a self-serve buffet where you can grab any other ingredients you may need, from meat to seafood and more. 
That's not even the best part of this eccentric dining experience–U & Me is infamous for its super cute robotic server, Peanut.
Peanut will roll up to your table to bring you drinks, clear your empty dishes, and make your date night so much more vibrant. While this restaurant is super quirky and distinctive, the hot pot dishes are also still authentic and delicious.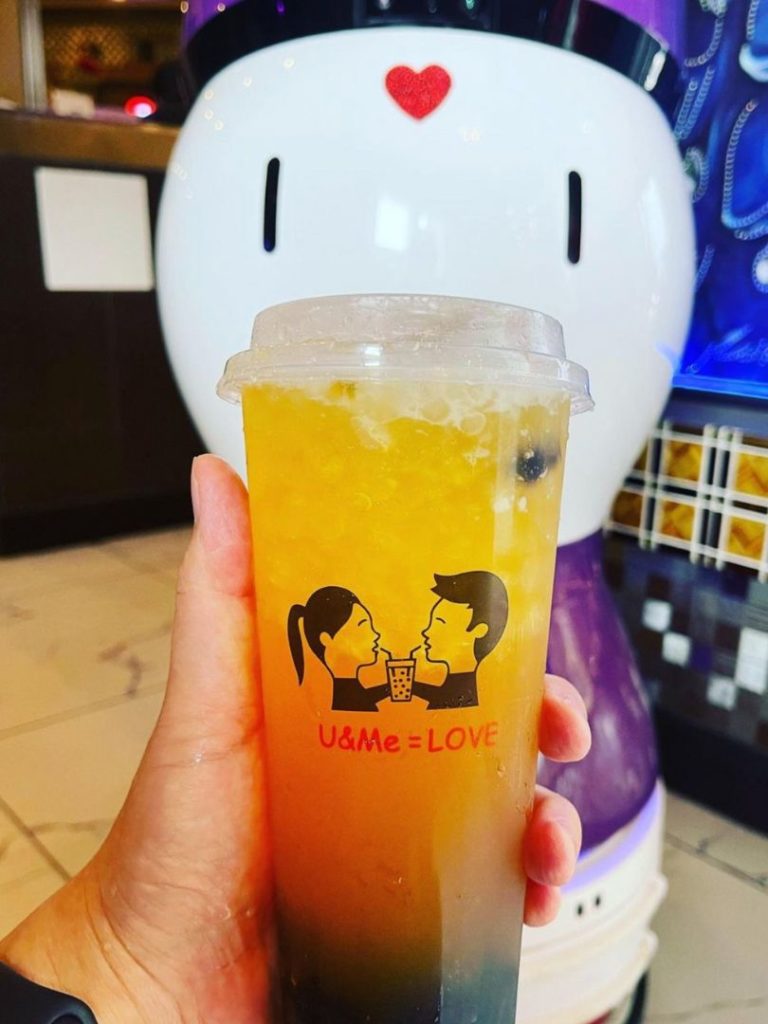 Bashu Hot Pot 
Address: 5600 W Colonial Dr #103, Orlando, FL 32808
If you're a novice to hot pot dining, Bashu Hot Pot is a great place to start. The atmosphere in this restaurant is spacious and low-key, decked out with tons of comfy seating options and traditional Chinese decor. Here, you'll find an expansive variety of authentic dishes and ingredients for a really good price.
You can opt for the all-you-can-eat option, where you have 2 hours to order anything you want for $27.99. Kids aged 4-7 can eat for $9.99, and kids aged 8-11 eat for $12.99.
If you can take a bit of heat, the Beef Tallow Spicy Soup is their most popular (and hot) dish. 
Nine Spices Hot Pot 
Address:  5320 S Kirkman Rd, Orlando, FL 32819
Nestled on Kirkman Road behind Universal Orlando, Nine Spices Hot Pot is another modern and laid-back hot pot restaurant to get your soup fix. This venue also utilizes a conveyor belt to transport yummy ingredients straight to your table. You can also pair your tasty dishes with one of their many sweet boba milk tea options.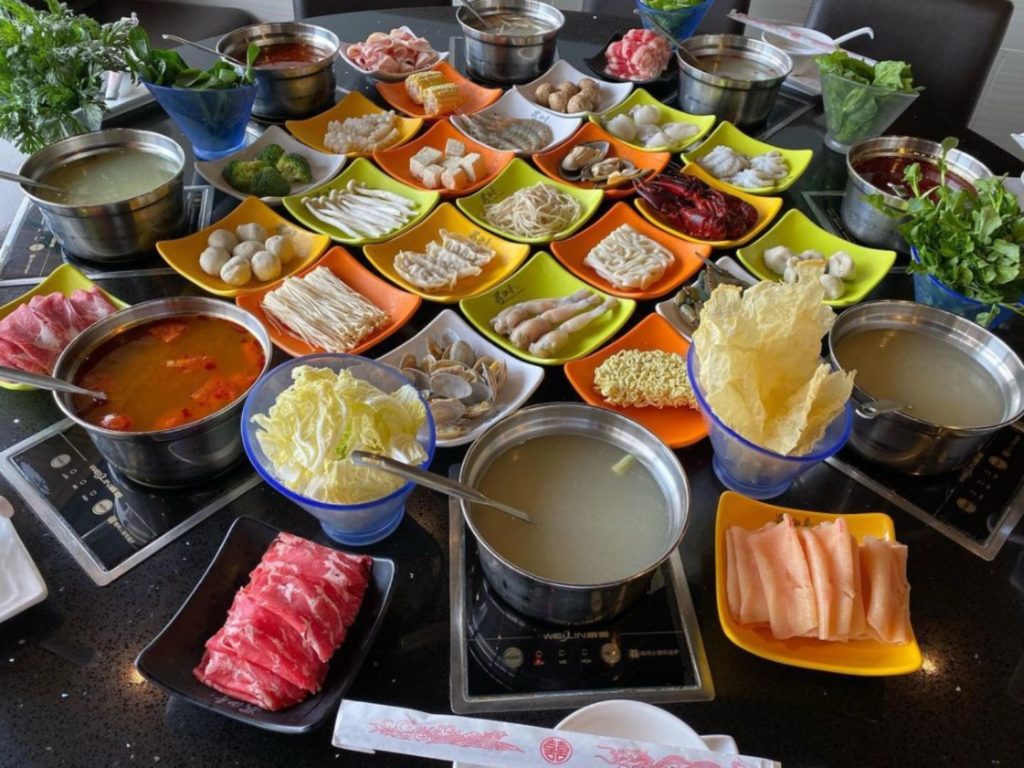 I love Nine Spices Hot Pot because of their Hot Pot At Home take-out menu. If you'd rather have a night in with your date, you can still enjoy some hot pot delicacies in your pajamas. Their to-go menu includes a combo of 2 broths, 5 side orders, 1 order of noodles, and 2 sauces for $27.95. Just make sure you order an hour ahead of time.
KPot
Address: 8594 Palm Pkwy, Orlando, FL 32836
KPot brings a unique fusion of Korean flavors to traditional Chinese hot pot. This restaurant also merges Korean BBQ into the dining experience. While your cozy pot of hot soup is boiling, you can start charring your choice of tender meats on the tabletop grill–the best of both worlds. 
The atmosphere is also so chic and refined, with modern dimly-lit chandeliers and sleek, industrial decor. This establishment is ideal for a high quality and hands-on date night. Heads up: there's a new location opening up on Kirkman Road soon. 
JuicyPot
Address: ​​5206 W Colonial Dr Suite 120, Orlando, FL 32808
JuicyPot is a locally-owned business run by a family that grew up in the Orlando community. If you're looking for a chill hot pot experience, this establishment has a stress-free and convenience-oriented environment. Authenticity is definitely a top priority when it comes to their fresh, hearty ingredients. 
If you're unsure what to order, try some of their specialties: homemade shrimp balls, pork meatballs, and crab meatballs.
Worth The Drive Nearby 
Volcano Hot Pot & BBQ
Address: 5877 W Irlo Bronson Memorial Hwy, Kissimmee FL 34746
If you're a Kissimmee local, or willing to venture outside proper Orlando for some good hot pot, Volcano Hot Pot & BBQ is worth the try. This space is so electric and lively, perfect for a social evening or group date.
My favorite aspect of this spot is the diverse variety of broth bases–you can choose from original, herbal, spicy, pork bone, tomato, miso, or Tom Yum soup. There's also an expansive buffet so you can self-serve your toppings and add-ins.
Volcano Hot Pot also has a location on International Drive.
Still hungry? Check out these Korean BBQ Restaurants in Orlando. Or plan the ultimate date night at the Most Romantic Restaurants in Orlando.