The tastiest holiday of the year is near. For many couples, Thanksgiving means more than time with family. It also means having friends over for Friendsgiving. Sharing your blessings and thankfulness with everyone you care about is such a joy.
Our guide to a fantastic Friendsgiving includes the basics of hosting, gourmet markets in Orlando to put together the perfect meal, plus ideas on games to play and other things to do for Friendsgiving.
How to Create a Fantastic Friendsgiving
In our guide to hosting Friendsgiving you'll find the following sections:
Theme ideas
Friendsgiving food you can easily pick up
Restaurants to host a Friendsgiving
Game ideas and activities
Choose a Theme
Setting a theme for Friendsgiving can help break the ice and make your celebration unique. How deep into the theme you go is up to you. We live in the land of theme parks and world-class entertainment. It can be pretty easy to come up with a fun theme for Friendsgiving.
Some of our favorite Orlando Friendsgiving theme ideas:
Hogwarts / Harry Potter
Disney royalty
Select a fall color
Orlando icons or landmarks (I-4 Eyesore, we're looking at you)
World cultures (get each friend to bring a dish from their heritage or a traditional drink)
Friendsgiving Food
It just isn't a proper Friendsgiving without delicious food. Between the trending butter boards and classic cheese boards, plus grazing tables and more, there are so many ways to entertain.
You can easily put together some amazing Friendsgiving appetizers and grazing boards with these options in town.
If you're hosting Friendsgiving right around Thanksgiving itself, then consider making it easy on yourself and order Thanksgiving dinner to go at these local restaurants.
Stasio's Italian Deli & Market
2320 E Robinson St, Orlando, FL 32803
In addition to the prepared food at the deli and market, those wanting to cook a special meal at home don't need to look any further for gourmet ingredients. You'll be able to curate meats and incredible Italian cheeses such as Locatelli brand to prepare a charcuterie board that would rival the pros. Your Friendsgiving cheese board is sure to be a hit!
Additionally, Stasio's carries a selection of chocolates and wafers, several types of pasta, a selection of wines, pasta sauces, and coffee. Don't leave without a box of Grisbi hazelnut-filled cookies for a Friendsgiving dessert treat.
Antonio's Italian Restaurante and Cafe
611 S Orlando Ave, Maitland, FL 32751
This restaurant continues to be loved by locals year after year, but many overlook their downstairs market and deli. Browse the aisles for imported Italian goods and groceries.
The selection of wine is incredible. And the deli cases are full of gourmet meat, cheeses, and prepared foods as well. This place can be lifesaving for Friendsgiving gatherings.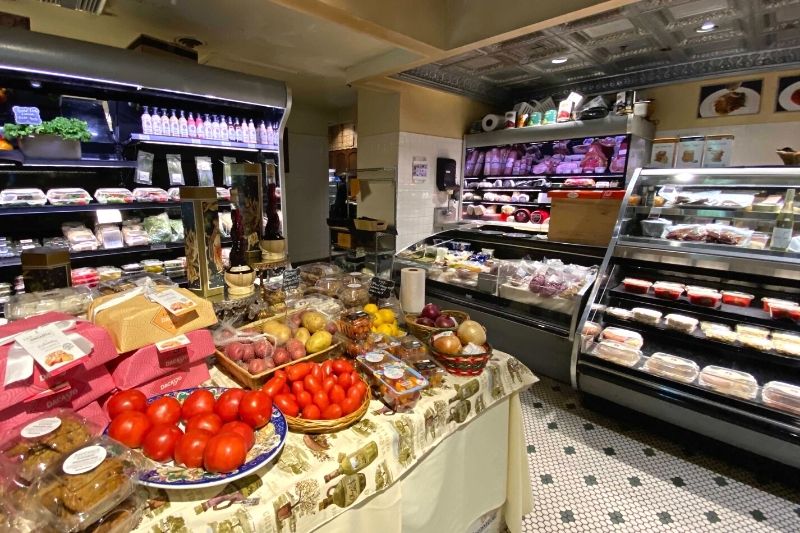 Orlando Meats – Michelin Guide Recommended
1035 Orlando Ave #105, Winter Park, FL 32789
Born out of an appreciation for good food, Orlando Meats sources their selection of meats from local farms and ranches that follow humane practices. These animals are pasture-raised whenever possible as they believe this produces a higher quality of meat that is better for you and for the environment.
You'll find a mixture of ready-to-eat foods, prepared meals, sauces, broths, and pickles among the selection of ethically-raised meats. Look in the case and take your pick of house-made sausages, fresh-cut steaks, roasts and organ meats. You can also purchase bones and fat which help during the season process or creation of stews.
Make Friendsgiving easy on yourself and order a cheese board or charcuterie board. These Orlando shops can put together a great board or a couple of snack boxes for your Friendsgiving gathering.
La Femme Du Fromage
3201 Corrine Dr #106, Orlando, FL 32803
If you're looking for an opportunity to build your own Friendsgiving charcuterie board or just have some delicious cheeses as an appetizer, La Femme Du Fromage deserves a visit. The gourmet cheese and wine stand is proudly within the walls of East End Market.
You can grab a 3 or 5-cheese board that comes with crackers, fruits, and other accompaniments, a charcuterie board that features olives, mustard, and 3 different assortments of cured meats, or select your own handcrafted, artisanal cheeses that hail from the United States and around the world. Specialty cheeses include La Tur, a delicate blend of Goat, Sheep & Cows milk from Italy's Alta Langa.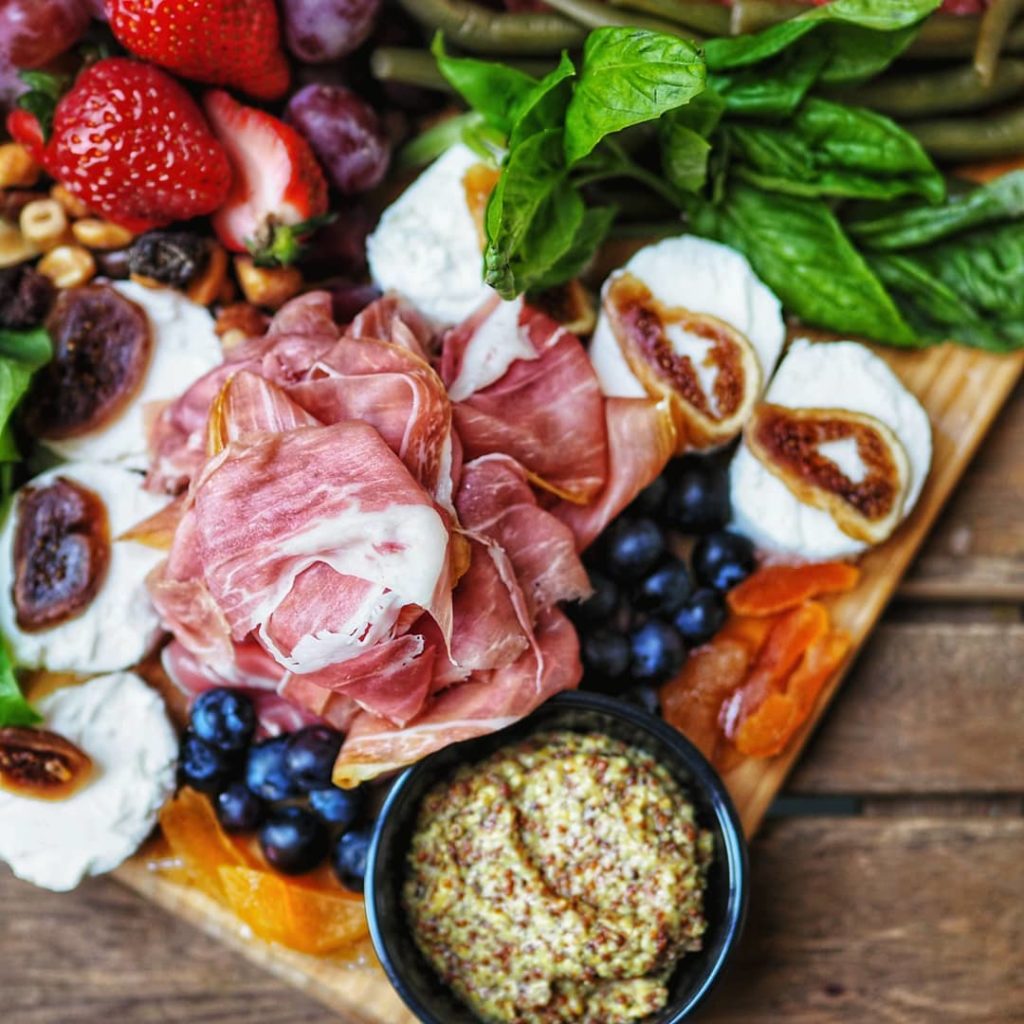 Simply Cheese
2258 Aloma Ave, Winter Park, FL 32792
*Vegan and plant-based selections available
NEW! A welcome addition to the Aloma area of Winter Park, Simply Cheese is simply perfect. This adorable little cheese shop offers way more than cheese, but their approach to cheese sets it apart. Locally made goods, unique gourmet foods you won't find anywhere else, and precious gift ideas all await.
If you're having a Friendsgiving dinner at a restaurant in Orlando, consider stopping at Simply Cheese for gift ideas for your family and friends.
The selection of over 40 different kinds of artisan cheese is not only impressive, but yours to sample.
Their Vegan and plant-based selections are plentiful. You can find plant-based cheeses and many other selections so you can create a plant-based Friendsgiving charcuterie board.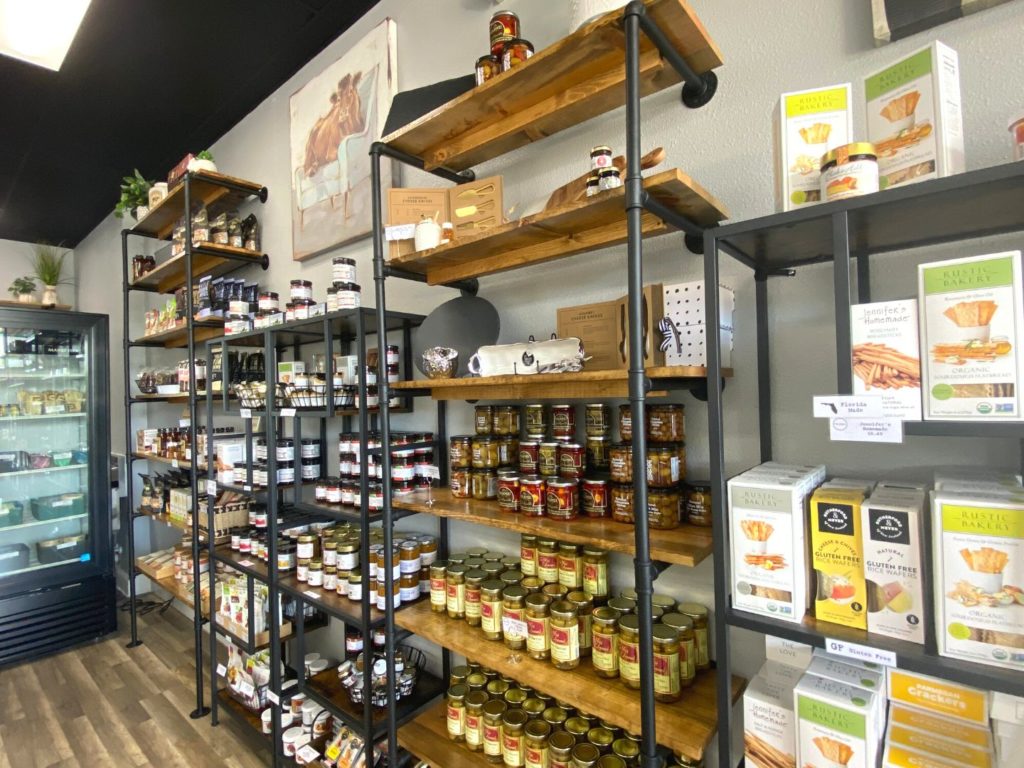 The Modern Host
636 S Dillard St, Winter Garden, FL 34787
Okay, are you ready to cheat a little? Let The Modern Host do the work and just order an incredible Friendsgiving board. The Modern Host started as a side business of making charcuterie boards and is now an adorable shop in Winter Garden.
If you want it to be the best Friendsgiving ever then you've got to end it on a sweet note. Order a few sweets from some of our favorite local bakeries.
SE7EN BITES 
Address: 617 Primrose Dr, Orlando, FL 32803
Se7en Bites is an Orlando staple for Southern flavors and sweet treats. This locally-owned restaurant in the heart of the Milk District offers a bakery counter with pastries and pies made daily by scratch. Their baked goods are so decadent and comforting, especially with their Southern flair.
Every year, they announce a new holiday-inspired menu of pies and cakes. In the past, they've offered a Mile High pumpkin pie, cranberry apple orange pie, bourbon caramel praline pecan bread pudding, and a moist pumpkin cake with cream cheese frosting.
Keep up with their Instagram to see what Friendsgiving-worthy desserts they're baking this year.
VALHALLA BAKERY
Address: 2603 E South St, Orlando, FL 32803
Friendsgiving can be a bit tricky when you're a vegan or have other dietary restrictions. No worries–Orlando has so many vegan and dairy-free food offerings for the holidays, especially when it comes to dessert.
During the month of November, you must pre-order your pie or pick up one of their grab-and-go (first come, first serve) Thanksgiving pies in-store.
Get even more ideas with these Local Bakeries in Orlando to Grab Your Thanksgiving Desserts.
Friendsgiving games and activities
Make Friendsgiving whatever you want it to be. Having some games and activities certainly makes it more memorable.
With Orlando weather usually being very pleasant this time of your get outside and play some yard games. Life-size Jenga will sure be fun after consuming all that yummy Friendsgiving food. Or if you'd rather rest your feat then classic board games or card games are easy.
Think out-of-the-box and get creative, you may find some inspiration with our stay at home date ideas.
More ideas for Thanksgiving weekend fun:
Thanksgiving dinner in Orlando: